Phyllite
Phyllite is a fine-grained metamorphic rock formed by the recrystallization of fine-grained, parent sedimentary rocks, such as mudstones or shales. The term (from the Greek phyllos, leaf, a reference to its characteristic cleavage) was first used by C. F. Naumann in the late 1850s, but the original reference is lost.
Phyllite has a marked fissility (a tendency to split into sheets or slabs) due to the parallel alignment of platy minerals; it may have a sheen on its surfaces due to tiny plates of micas. Its grain size is larger than that of slate but smaller than that of schist. Phyllite is formed by relatively low-grade metamorphic conditions in the lower part of the greenschist facies. The dominant mineral composition is the same as that of slate, with dimensionally aligned muscovite, chlorite, and quartz the major constituents. The most common minor constituents are iron ores (magnetite or pyrite) and feldspar clasts, with biotite sometimes present although generally where metamorphism reached this grade the rock is a schist.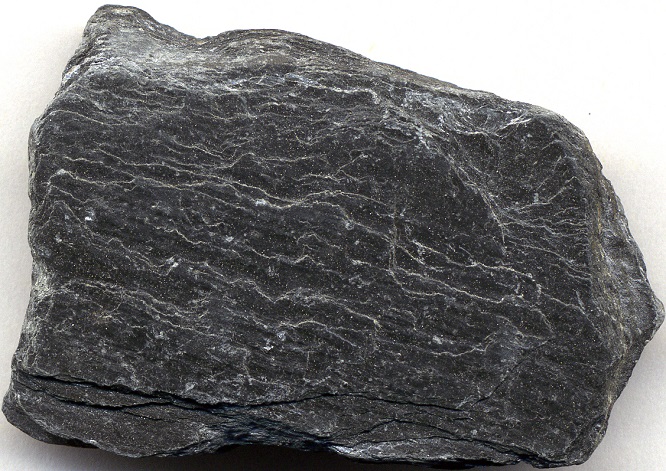 Phyllite. From James St. John.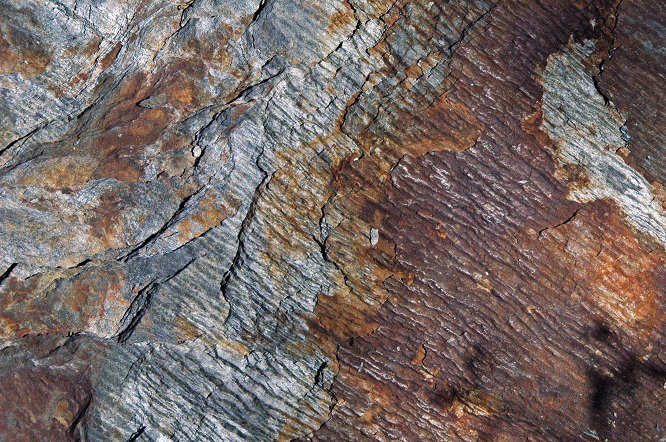 Phyllites (Anakeesta Formation) Great Smoky Mountains, Tennessee, USA. From James St. John.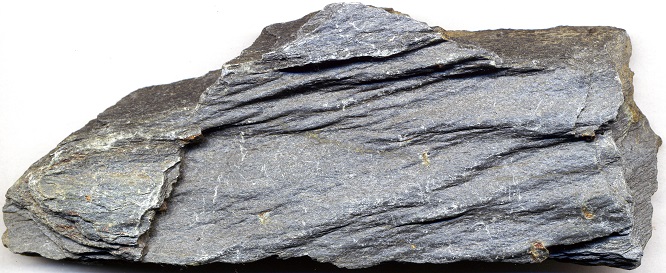 Phyllite (French Slate) Medicine Bow Mountains, Wyoming, USA. From James St. John.
Bibliography
• Bucher, K., & Grapes, R. (2011). Petrogenesis of metamorphic rocks. Springer Science & Business Media.
• Fossen, H. (2016). Structural geology. Cambridge University Press.
• Howie, R. A., Zussman, J., & Deer, W. (1992). An introduction to the rock-forming minerals (p. 696). Longman.
• Passchier, Cees W., Trouw, Rudolph A. J: Microtectonics (2005).
• Philpotts, A., & Ague, J. (2009). Principles of igneous and metamorphic petrology. Cambridge University Press.
• Shelley, D. (1993). Igneous and metamorphic rocks under the microscope: classification, textures, microstructures and mineral preferred-orientations.
• Vernon, R. H. & Clarke, G. L. (2008): Principles of Metamorphic Petrology. Cambridge University Press.
• Vernon, R. H. (2018). A practical guide to rock microstructure. Cambridge university press.
Photo

| | | |
| --- | --- | --- |
| Graphite-rich phyllite with crenulation clivage. Nepal. PPL image, 2x (Field of view = 7mm) | Graphite-rich phyllite with crenulation clivage. Nepal. PPL image, 2x (Field of view = 7mm) | Graphite-rich phyllite with crenulation clivage. Nepal. PPL image, 2x (Field of view = 7mm) |
| Graphite-rich phyllite with crenulation clivage. Nepal. PPL image, 2x (Field of view = 7mm) | Graphite-rich phyllite with crenulation clivage. Nepal. PPL image, 2x (Field of view = 7mm) | Graphite-rich phyllite with crenulation clivage. Nepal. PPL image, 2x (Field of view = 7mm) |
| Graphite-rich phyllite with crenulation clivage. Nepal. PPL image, 2x (Field of view = 7mm) | Graphite-rich phyllite with crenulation clivage. Nepal. PPL image, 2x (Field of view = 7mm) | Graphite-rich phyllite with crenulation clivage. Nepal. PPL image, 2x (Field of view = 7mm) |
| Graphite-rich phyllite with crenulation clivage. Nepal. PPL image, 2x (Field of view = 7mm) | Graphite-rich phyllite with crenulation clivage. Nepal. PPL image, 2x (Field of view = 7mm) | Graphite-rich phyllite with crenulation clivage. Nepal. PPL image, 2x (Field of view = 7mm) |
| Graphite-rich phyllite with crenulation clivage. Nepal. PPL image, 2x (Field of view = 7mm) | Graphite-rich phyllite with crenulation clivage. Nepal. PPL image, 2x (Field of view = 7mm) | Graphite-rich phyllite with crenulation clivage. Nepal. PPL image, 2x (Field of view = 7mm) |
| phyllite with mica-rich band with crenulation and quartz-rich band (without crenulation). Gerrei, Sardinia (Italy). PPL image, 2x (Field of view = 7mm) | phyllite with mica-rich band with crenulation and quartz-rich band (without crenulation). Gerrei, Sardinia (Italy). PPL image, 2x (Field of view = 7mm) | phyllite with mica-rich band with crenulation and quartz-rich band (without crenulation). Gerrei, Sardinia (Italy). PPL image, 2x (Field of view = 7mm) |
| phyllite with mica-rich band with crenulation and quartz-rich band (without crenulation). Gerrei, Sardinia (Italy). XPL image, 2x (Field of view = 7mm) | phyllite with mica-rich band with crenulation and quartz-rich band (without crenulation). Gerrei, Sardinia (Italy). PPL image, 2x (Field of view = 7mm) | Mica-rich band with crenulation and thin quartz-rich band folded and faulted by "pressure-solution" surface. Gerrei, Sardegna. Immagine a N//, 2x (lato lungo = 7mm) |
| Mica-rich band with crenulation and thin quartz-rich band folded and faulted by "pressure-solution" surface. Gerrei, Sardegna. Immagine a N//, 2x (lato lungo = 7mm) | phyllite with mica-rich band with crenulation and quartz-rich band (without crenulation). Gerrei, Sardinia (Italy). PPL image, 2x (Field of view = 7mm) | phyllite with mica-rich band with crenulation and quartz-rich band (without crenulation). Gerrei, Sardinia (Italy). PPL image, 2x (Field of view = 7mm) |
| Folded phyllite with mica-rich band and quartz-rich band. PPL image, 2x (Field of view = 7mm) | phyllite with mica-rich band with crenulation and quartz-rich band (without crenulation). PPL image, 2x (Field of view = 7mm) | Folded phyllite. PPL image, 2x (Field of view = 7mm) |
| Folded phyllite. PPL image, 2x (Field of view = 7mm) | phyllite with mica-rich band with crenulation and quartz-rich band (without crenulation). PPL image, 2x (Field of view = 7mm) | phyllite with mica-rich band with crenulation and quartz-rich band (without crenulation). PPL image, 2x (Field of view = 7mm) |
| phyllite with mica-rich band with crenulation and quartz-rich band (without crenulation). Solanas, Sardinia (Italy). PPL image, 2x (Field of view = 7mm) | phyllite with mica-rich band with crenulation and quartz-rich band (without crenulation). Solanas, Sardinia (Italy). PPL image, 2x (Field of view = 7mm) | Deformed quartz vein in a phyllite. Solanas, Sardinia (Italy). PPL image, 2x (Field of view = 7mm) |
| Deformed quartz vein in a phyllite. Solanas, Sardinia (Italy). XPL image, 2x (Field of view = 7mm) | Deformed quartz vein in a phyllite. Solanas, Sardinia (Italy). PPL image, 10x (Field of view = 2mm) | Deformed quartz vein in a phyllite. Solanas, Sardinia (Italy). XPL image, 10x (Field of view = 2mm) |
| crenulation clivage in a phyllite. PPL image, 10x (Field of view = 2mm) | crenulation clivage in a phyllite. PPL image, 10x (Field of view = 2mm) | crenulation clivage in a phyllite. PPL image, 10x (Field of view = 2mm) |
| crenulation clivage in a phyllite. PPL image, 2x (Field of view = 7mm) | crenulation clivage in a phyllite. PPL image, 2x (Field of view = 7mm) | crenulation clivage in a phyllite. PPL image, 2x (Field of view = 7mm) |
| crenulation clivage in a phyllite. PPL image, 2x (Field of view = 7mm) | crenulation clivage in a phyllite. XPL image, 2x (Field of view = 7mm) | crenulation clivage in a phyllite. PPL image, 2x (Field of view = 7mm) |