Benmoreite
Benmoretite is an extrusive igneous rock consisting of anorthoclase, sodic plagioclase, and iron-rich olivine, and found as a member of the alkali basalt magma series. With increasing differentiation shown by increasing SiO2 content, the series is alkali basalt–hawaiite–mugearite–benmoreite–trachyte. The type locality after which the rock is named is Ben More on the Isle of Mull, Scotland.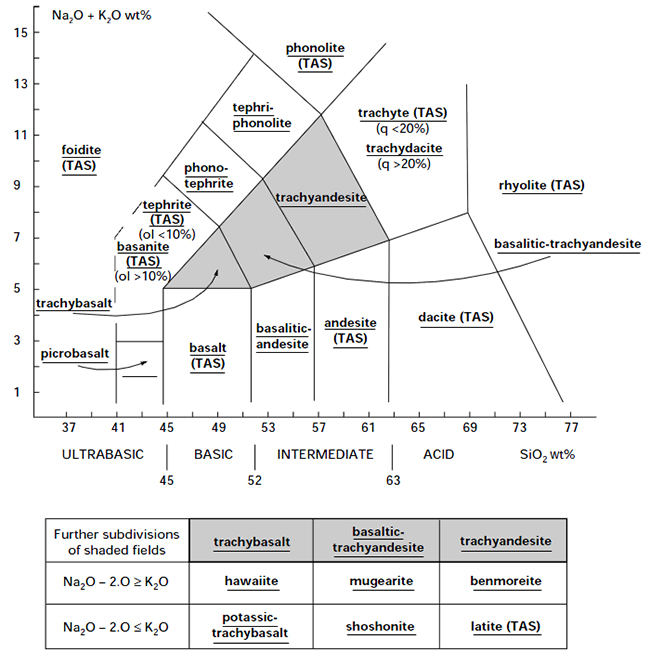 Chemical classification and nomenclature of fine-grained crystalline rocks using the total alkali silica (TAS) diagram (after Le Bas et al., 1986). Rocks falling on the shaded areas may be further subdivided as shown in the table underneath the diagram. The line drawn between the foidite field and the basanitetephrite field is dashed to indicate that further criteria must be used to separate these types. Abbreviations: q = normative quartz; ol = normative olivine. From IUGS recommendations
Bibliography
• David Shelley (1983): Igneous and metamorphic rocks under the microscope. Campman & Hall editori.
• Vernon, R. H. & Clarke, G. L. (2008): Principles of Metamorphic Petrology. Cambridge University Press
• Shelley D (1992): Igneous and Metamorphic Rocks under the Microscope: Classification, textures, microstructures and mineral preferred orientation
• Cox et al. (1979): The Interpretation of Igneous Rocks, George Allen and Unwin, London.
• Eric A.K. (1985): Middlemost Magmas and Magmatic Rocks. Longman, London
• D'Amico C., Innocenti F. & Sassi F.P. (1987): Magmatismo e metamorfismo. UTET
• Innocenti F., Rocchi S. & Triglia R. (1999:) La classificazione delle rocce vulcaniche e subvulcaniche: schema operativo per il progetto CARG.
• Carmichael I.S.E., Turner F.J. & Verghoogen J. (1974): Igneous Petrology. McGraw-Hill.
Photo


Plagioclase and altered Olivine in a pilotassitic groundmass. PPL image, 2x (Field of view = 7mm)


Plagioclase and altered Olivine in a pilotassitic groundmass. XPL image, 2x (Field of view = 7mm)


Plagioclase crystals in a pilotassitic groundmass. PPL image, 2x (Field of view = 7mm)


Plagioclase and pyroxene crystals in a pilotassitic groundmass. XPL image, 2x (Field of view = 7mm)


Plagioclase crystals in a pilotassitic groundmass. XPL image, 2x (Field of view = 7mm)


Plagioclase and pyroxene crystals in a pilotassitic groundmass. XPL image, 2x (Field of view = 7mm)


Plagioclase and pyroxene crystals in a pilotassitic groundmass. XPL image, 2x (Field of view = 7mm)