Ilmenite - FeTiO3
Ilmenite is named after the locality of its discovery in the Il'menski Mountains, (Russia). It is a titanium-iron oxide mineral with formula FeTiO
3
.
The ilmenite crystal structure is an ordered derivative of the corundum structure; in corundum all cations are identical but in ilmenite Fe
2+
and Ti
4+
ions occupy alternating layers perpendicular to the trigonal c axis.
Ilmenite most often contains appreciable quantities of magnesium and manganese and the full chemical formula can be expressed as (Fe,Mg,Mn,Ti)O
3
. Ilmenite forms a solid solution with geikielite (MgTiO
3
) and pyrophanite (MnTiO
3
).
Altered ilmenite forms the mineral leucoxene, an important source of titanium in heavy mineral sands ore deposits. Leucoxene is a typical component of altered gabbro and diorite and is generally indicative of ilmenite in the unaltered rock.
Ilmenite is a common accessory mineral found in metamorphic and igneous rocks. It is found in large concentrations in layered intrusions where it forms as part of a cumulate layer within the silicate stratigraphy of the intrusion. Ilmenite generally occurs within the pyroxenitic portion.
Magnesian ilmenite is indicative of kimberlitic paragenesis and forms part of the MARID association of minerals (Mica-Amphibole-Rutile-Ilmenite-Diopside) assemblage of glimmerite xenoliths; Ilmenite is commonly recognized in altered igneous rocks by the presence of a white alteration product, the pseudo-mineral leucoxene. Often ilmenites are rimmed with leucoxene, which allows ilmenite to be distinguished from magnetite and other iron-titanium oxides.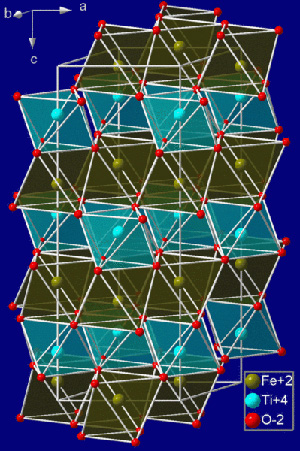 Crystal structure of Ilmenite.
Bibliography
• E. W. M. Heinrich (1956): Microscopic Petrografy. Mcgraw-hill book company,inc
• David Shelley (1983): Igneous and metamorphic rocks under the microscope. Campman & Hall editori.
• Vernon, R. H. & Clarke, G. L. (2008): Principles of Metamorphic Petrology. Cambridge University Press
• Shelley D (1992): Igneous and Metamorphic Rocks under the Microscope: Classification, textures, microstructures and mineral preferred orientation
• Cox et al. (1979): The Interpretation of Igneous Rocks, George Allen and Unwin, London.
Photo


Skeletal Ilmenite crystals in a Basalt. PPL image, 10x (Field of view = 2mm)


Skeletal Ilmenite crystals in a Basalt. PPL image, 10x (Field of view = 2mm)


Skeletal Ilmenite crystals in a Basalt. PPL image, 10x (Field of view = 2mm)


Elongated Ilmenite crystals, plagioclase and skeletal pyroxene crystals (the fibrous-brown crystals between plagioclase). PPL image, 10x (Field of view = 2mm)


Elongated Ilmenite crystals, plagioclase and skeletal pyroxene crystals (the fibrous-brown crystals between plagioclase). PPL image, 10x (Field of view = 2mm)


Elongated Ilmenite crystals, plagioclase and skeletal pyroxene crystals (the fibrous-brown crystals between plagioclase). PPL image, 10x (Field of view = 2mm)


Elongated Ilmenite crystals, plagioclase and skeletal pyroxene crystals (the fibrous-brown crystals between plagioclase). PPL image, 10x (Field of view = 2mm)


Elongated Ilmenite crystals, plagioclase and skeletal pyroxene crystals (the fibrous-brown crystals between plagioclase). PPL image, 10x (Field of view = 2mm)


Elongated Ilmenite crystals, plagioclase and skeletal pyroxene crystals (the fibrous-brown crystals between plagioclase). PPL image, 10x (Field of view = 2mm)


Elongated Ilmenite crystals, plagioclase and skeletal pyroxene crystals (the fibrous-brown crystals between plagioclase). PPL image, 10x (Field of view = 2mm)


Elongated Ilmenite crystals, plagioclase and skeletal pyroxene crystals (the fibrous-brown crystals between plagioclase). PPL image, 10x (Field of view = 2mm)


Elongated Ilmenite crystals, plagioclase and skeletal pyroxene crystals (the fibrous-brown crystals between plagioclase). PPL image, 10x (Field of view = 2mm)


Elongated Ilmenite crystals, plagioclase and skeletal pyroxene crystals (the fibrous-brown crystals between plagioclase). PPL image, 10x (Field of view = 2mm)