Carbonatite
Three types of carbonatites can be distinguished based on the geological setting and petrography:
1) Middle to coarse-grained calcite-carbonatite (sovite) form subvolcanic intrusions in the center. Their outcrop area is about 1 km2.
2) Numerous dikes of alvikites, generally less than 1 m, often only one or a few centimeters thick. Some of these dikes have porphyritic textures.
3) Extrusive carbonatites are similar to the alvikitic dikes. The droplet-shaped lapilli, Pele's tears, of the carbonatitic melt are a rather unique occurrence of volcanic calcite carbonatites.
Calcite, magnetite, apatite are the essential mineral in the carbonatites. Carbonates are almost exclusively calcitic, only a few late-stage veins with ankeritic dolomite have been described. Small amounts of the following accessories may be present: forsterite, diopsidic augite, melanite, Nb-perovskite, pyrochlore, baryte, pyrite and rarely zirkonolite, baddeleyite, zirkon. Several micas are known: phlogopite, and Ba-phlogopite.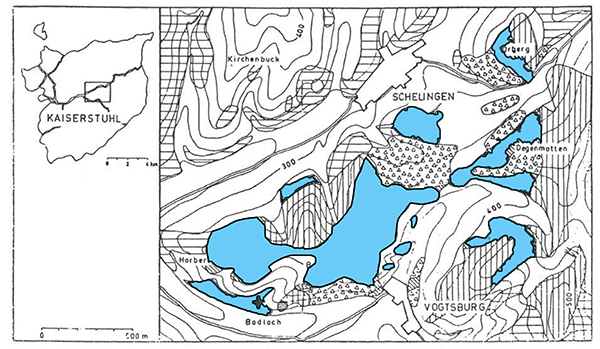 Schelingen carbonatites (blue).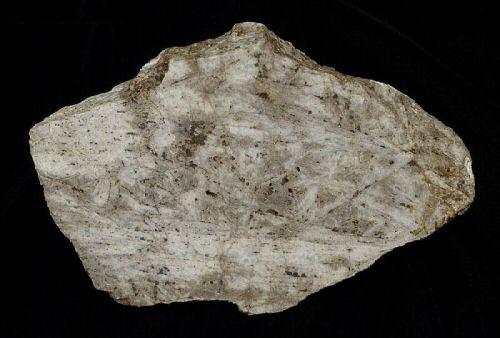 Schelingen carbonatite salmple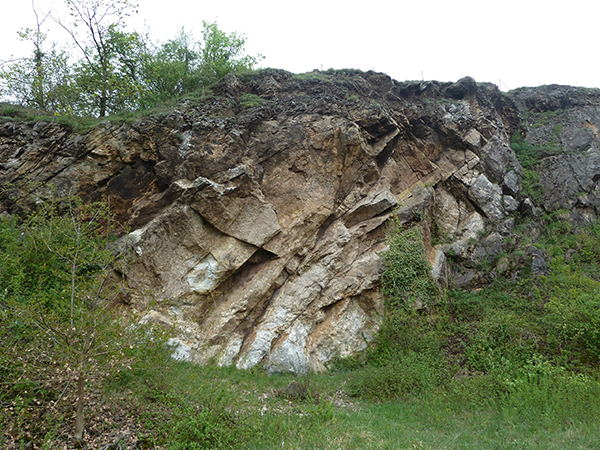 Schelingen carbonatites outcrop
Bibliography
• Exkursion zur Vulkanologie und Tektonik des Oberrheingrabens. Gerhard Brügmann und Dieter Mertz
• Lixian-xun W; Michael A.W. Marsk; Thomas W.; Annette Von der Handt; Jorg. K.; Holger T.; Gregor M. (2004): Apatites from the Kaiserstuhl Volcanic Complex, Germany: new constraints on the relationship between carbonatite and associated silicate rocks. Eur. J. Mineral. 2014, 26, 397–414
• Ulianov. A; Muntener. O; Ulmer. P; Pettke.T (2007): Entrained Macrocryst Minerals as a Key to the Source Region of Olivine Nephelinites: Humberg, Kaiserstuhl, Germany. J. Of Petrology, vol.48, N.6. 1079-1118 (2007)
Photo


Oriented calcite crystals and dark magnetite crystals. Schelingen, Kaiserstuhl, Germany. PPL image, 2x (Field of view = 7mm)


Oriented calcite crystals and dark magnetite crystals. Schelingen, Kaiserstuhl, Germany. XPL image, 2x (Field of view = 7mm)


Oriented calcite crystals and dark magnetite crystals. Schelingen, Kaiserstuhl, Germany. XPL image, 2x (Field of view = 7mm)


Oriented calcite crystals and dark magnetite crystals. Schelingen, Kaiserstuhl, Germany. XPL image, 2x (Field of view = 7mm)


Oriented calcite crystals and dark magnetite crystals. Schelingen, Kaiserstuhl, Germany. XPL image, 2x (Field of view = 7mm)


Oriented calcite crystals and dark magnetite crystals. Schelingen, Kaiserstuhl, Germany. XPL image, 2x (Field of view = 7mm)


Oriented calcite crystals and dark magnetite crystals. Schelingen, Kaiserstuhl, Germany. XPL image, 2x (Field of view = 7mm)


Oriented calcite crystals and dark magnetite crystals. Schelingen, Kaiserstuhl, Germany. XPL image, 2x (Field of view = 7mm)


Oriented calcite crystals and dark magnetite crystals. Schelingen, Kaiserstuhl, Germany. XPL image, 2x (Field of view = 7mm)


Oriented calcite crystals and dark magnetite crystals. Schelingen, Kaiserstuhl, Germany. XPL image, 2x (Field of view = 7mm)


Oriented calcite crystals and dark magnetite crystals. Schelingen, Kaiserstuhl, Germany. XPL image, 2x (Field of view = 7mm)


Oriented calcite crystals and dark magnetite crystals. Schelingen, Kaiserstuhl, Germany. XPL image, 2x (Field of view = 7mm)


Oriented calcite crystals and dark magnetite crystals. Schelingen, Kaiserstuhl, Germany. XPL image, 2x (Field of view = 7mm)


Oriented calcite crystals and dark magnetite crystals. Schelingen, Kaiserstuhl, Germany. XPL image, 2x (Field of view = 7mm)


Oriented calcite crystals and dark magnetite crystals. Schelingen, Kaiserstuhl, Germany. PPL image, 2x (Field of view = 7mm)


Oriented calcite crystals and dark magnetite crystals. Schelingen, Kaiserstuhl, Germany. XPL image, 2x (Field of view = 7mm)


Oriented calcite crystals and dark magnetite crystals. Schelingen, Kaiserstuhl, Germany. PPL image, 2x (Field of view = 7mm)


Oriented calcite crystals and dark magnetite crystals. Schelingen, Kaiserstuhl, Germany. XPL image, 2x (Field of view = 7mm)


Oriented calcite crystals and dark magnetite crystals. Schelingen, Kaiserstuhl, Germany. XPL image, 2x (Field of view = 7mm)


Oriented calcite crystals and dark magnetite crystals. Schelingen, Kaiserstuhl, Germany. XPL image, 2x (Field of view = 7mm)


Oriented calcite crystals and dark magnetite crystals. Schelingen, Kaiserstuhl, Germany. XPL image, 2x (Field of view = 7mm)


Calcite crystals, dark magnetite crystals and brown Koppite crystals. Schelingen, Kaiserstuhl, Germany. PPL image, 2x (Field of view = 7mm)


Calcite crystals, dark magnetite crystals and brown Koppite crystals. Schelingen, Kaiserstuhl, Germany. PPL image, 2x (Field of view = 7mm)


Calcite crystals, dark magnetite crystals and brown Koppite crystals. Schelingen, Kaiserstuhl, Germany. PPL image, 10x (Field of view = 2mm)


Calcite crystals, dark magnetite crystals and brown Koppite crystals. Schelingen, Kaiserstuhl, Germany. PPL image, 10x (Field of view = 2mm)


Calcite crystals, dark magnetite crystals and brown Koppite crystals. Schelingen, Kaiserstuhl, Germany. PPL image, 10x (Field of view = 2mm)


Calcite crystals, dark magnetite crystals and brown Koppite crystals. Schelingen, Kaiserstuhl, Germany. PPL image, 10x (Field of view = 2mm)


Calcite crystals, dark magnetite crystals and brown Koppite crystals. Schelingen, Kaiserstuhl, Germany. PPL image, 10x (Field of view = 2mm)


Calcite crystals, dark magnetite crystals and brown Koppite crystals. Schelingen, Kaiserstuhl, Germany. PPL image, 10x (Field of view = 2mm)