komatiite (Zimbawe)
Komatiites are rare ultramafic volcanic and subvolcanic rocks that occur, predominantly, in Archean and Paleoproterozoic greenstone belts. Komatiites were first recognized in the late 1960s in the Barberton Mountainland greenstone belt in South Africa and were named from their type locality along the Komati River.
Although the typology and classification of komatiites has been terminologically debated, komatiites are petrologically defined as ultramafic extrusive volcanic rocks, which derived from highly magnesian magmas. Their MgO contents exceed 18 wt% compared to 10 - 15 wt% for the majority of mafic rocks. From Viljoen and Viljoen (1969), they are classified in two groups, based on their composition, the basaltic komatiites (18 – 24 % MgO) and the peridotitic komatiites (> 24 % MgO). komatiites are also distinguished from other magnesium-rich rocks, such as picrites, by having spinifex texture (after an Australian spiky grass - Triodia spinifex), characterized by spectacular arrays of subparallel or randomly-oriented skeletal, platy and bladed olivine crystals set in a glassy groundmass.
Similar ultramafic lavas were soon described from other Archean and Paleoproterozoic belts particularly from Canada, Africa, Australia and Finland. Most are Neoarchean to Paleoproterozoic but extend into the Phanerozoic, including Permian–Triassic komatiites from NW Vietnam and C retaceous (90 Ma) komatiites from Gorgona Island off the coast of Columbia.
Fig.1: Proportion of KOmatiite in packages of greenstone belts as function of Age. From Condie (2001).
The predominance of komatiites in the Archean, their decreasing occurrence in the Proterozoic, and extreme rarity in the Phanerozoic have been interpreted to reflect secular cooling of the mantle (fi. 1).
Komatiites occur either as lava flows or subvolcanic bodies; rarely, they are also pyroclastic. Komatiite lavas range from thin (a few cm) to massive to thick (> 100 m) and are distinctly layered. Individual flows displaying well-developed layering show a textural division that includes an upper part (Zone A), characterized by spinifex-textured rock, and a lower part (Zone B) containing a high proportion of equant olivine crystals resembling various peridotite to dunite cumulates (Fig. 2). Both zones have been further subdivided into several subzones.
Spinifex-textured flows have a chilled flow-top (A1) containing a small proportion of solid olivine phenocrysts and a larger proportion of skeletal hopper olivine grains in an augite-glass matrix. Underlying the chilled zone is spinifex-textured lava, Ross & Hopkins (1975) recognized two zones, an upper zone (A2) containing relatively small randomly oriented chain-like crystals, and a lower zone (A3) in which larger platy crystals are arranged in intersecting, upward-pointing cones.
The lower cumulate section (B zone) of spinifex-textured flows is enriched in polyhedral or rounded or less commonly, elongate skeletal grains of olivine. The uppermost part (B1) contains hopper grains oriented rougbly parallel to the flow top. In some flows, a knobby weathering zone (B3) that contains irregular patches of pyroxene-glass matrix material occurs part way through the olivine cumulate zone, dividing it into two similarly textured divisions (B2 and B4), each of which contains polyhedral or granular olivine in a sparse Augite-glass matrix.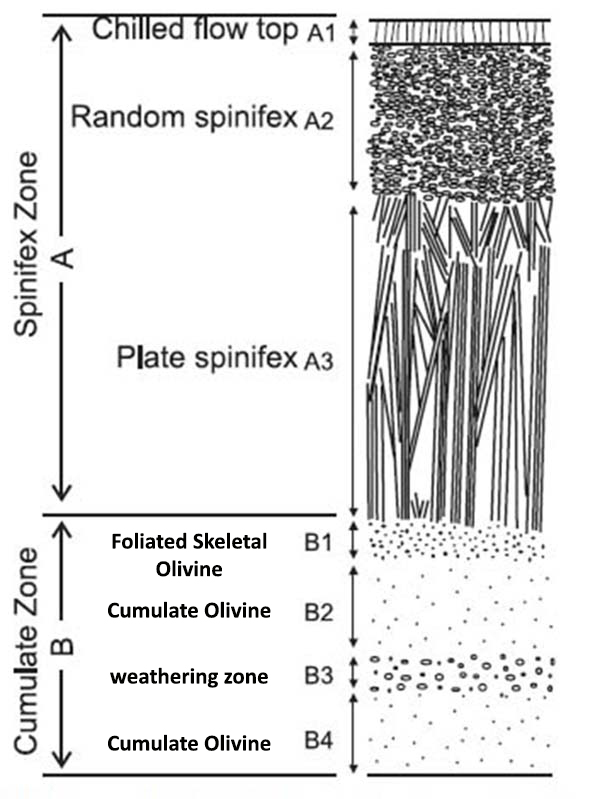 Fig.2: Textural variation in a Komatiitic Flow.
The characteristic layering of komatiite flows is produced during crystallization of ponded lava. Polyhedral olivine grains, which were present before eruption or crystallized during flowage, settle to the base of the flow or crystallize in situ to form the lower cumulate layer (Fig. 2). At the same time, the spinifex-textured upper part of the flow crystallizes through downward growth of crystals from the crust of the flow.
From the time of their discovery, there has been active debate about the melting conditions required to produce liquids of komatiitic composition. Because the MgO contents of anhydrous magmas are proportionally related to their melting temperature (higher MgO results from higher melting temperatures), komatiite melts require significantly higher temperatures than the 1250–1350°C responsible for recent MORB. Traditionally, most petrologists have accepted that during the Archean and Paleoproterozoic, komatiite melting temperatures ranged from 1600–1900°C probably at depth of 150 to 200 km by massive partial melting of the Archean mantle.
Because CaO/Al
2
O
3
is strongly pressure dependent, Herzberg (1995) used an Al
2
O
3
-CaO/Al
2
O
3
plot to estimate the depth of melting of komatiite magmas. Figure 3 shows that the Paleoarchean komatiites, which have low Al
2
O
3
and high CaO/Al
2
O
3
, were generated at depths of 300-450 km (9-14 GPa), Neoarchean komatiites from depths of 150-200 km (5-6.5 GPa), and young komatiites (< 100 Ma old) from depths of 100-130 km (3-4 GPa).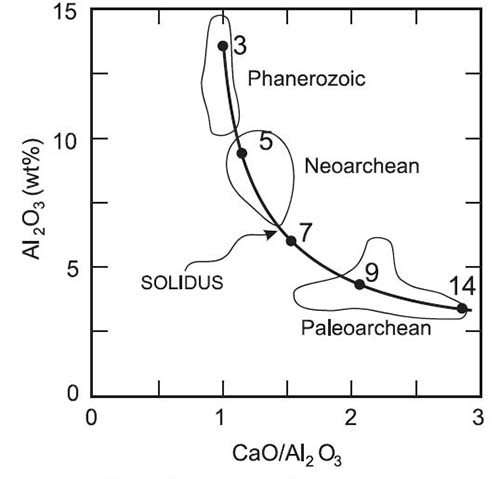 Fig.3: Al2O3-Cao/Al2O3 diagram showing the distribution of komatiites relative to the mantle solidus (heavy solid line). The komatiites are subdivided according to their age. From Herzberg (1995)
Komatiites and related rocks have been affected to variable degrees by metamorphism, hydrothermal and seafloor alteration, and deformation, which have, at least in part, obliterated the original textures and primary mineralogy. Hence, komatiites generally contain metamorphic minerals in place of their primary assemblages, relics of which may nonetheless be fortuitously preserved in some instances. Lowgrade metamorphism of komatiites produced mineral assemblages dominated by serpentine–antigorite, chlorite, talc, tremolite, magnesite - dolomite and magnetite. At higher metamorphic grades, metamorphosed komatiites contain anthophyllite, enstatite, olivine and diopside.
Belingwe greenstone belt komatiite
The Belingwe greenstone belt is located in the southern part of Zimbabwe Craton (Fig.4; Fig.5), north of the Limpopo orogenic belt and directly east of the Great Dyke. It is divided into two groups: the 2.9 Ga lower greenstone belt (Mtshingwe Group) and the 2.7 Ga upper greenstone belt (Ngezi Group). The Belingwe greenstone belt is synformally refolded and cut by several late faults. It is bordered on the east and west by 3.5 and 2.9 Ga gneissic complexes. The northern and southern borders of the Belingwe greenstone belt are intruded by 2.6 Ga batholiths. The Ngezi Group comprises a very thick (typically 4-6 km) volcanic sequence of ultramafic to mafic lavas (the Reliance and Zeederbergs Formations), which occur between sedimentary units of the Manjeri and Cheshire Formations. The Manjeri Formation is a thin clastic sedimentary succession (maximum thickness 250 m) deposited unconformably on an older felsic basement.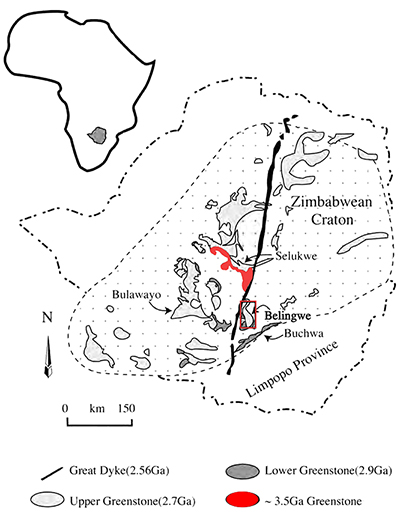 Fig.4: Map of the Zimbabwe Craton showing location of Belingwe.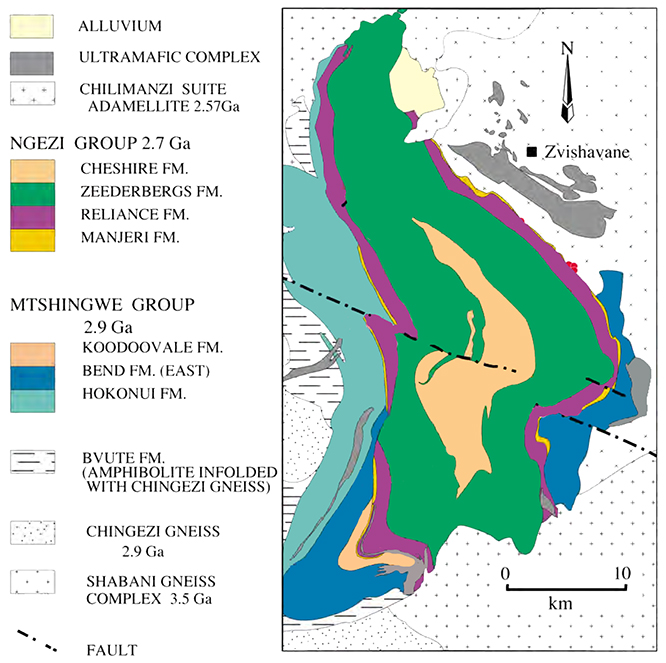 Fig.5: Geological map of Belingwe greenstone belt modified after Nisbet et al. (1977).
Stratigraphic division of the Belingwe greenstone belt
Basement Gneiss Complex
The basement, or rocks upon which the greenstone belt rests, consists of many different units (Quartzo-feldspathic gneissic rocks, metapelitic gneiss, and mafic intrusions.
Mtshingwe Group
Mtshingwe Group consisting of mafic, ultramafic, intermediate, and felsic volcanic rocks, pyroclastic deposits, and a variety of sedimentary rocks of the Hokonui, Bend and Koodoovale Formations estimated to be several kilometers thick.
Ngezi Group
•
Manjeri Formation
The Manjeri Formation is of variable thickness, ranging from 600 m in the south to, to 250 m near Zvishavane. The Manjeri Formation consisting of conglomerates, beach sandstones, limestones and turbidites.
•
Reliance Formation
The Reliance Formation (2692 Ma) consists of a group of variably high-magnesium basalts, komatiites, and locally least altered komatiites exist. High-strain zones are common in the lowermost part of the Formation.
•
Zeederbergs Formation
The Zeederbergs Formation consists predominantly of tholeiitic basalts, which are typically pillowed and massive lava, with minor komatiitic basalts, sheared tuffs and diabase sills. Thickness of the basaltic sequences clearly exceeds 4 km without any sedimentary rocks among them. Formation boundaries of Reliance-Zeederbergs are not sharp, but the Zeederbergs Formation seems to overlie the Reliance Formation, directly and conformably.
•
Cheshire Formation
The Cheshire Formation is a heterogeneous succession of sedimentary rocks that forms the stratigraphically highest level of the Ngezi Group. It is approximately 2.5 km thick and consists of a variety of lithofacies including conglomerate, sandstone, siltstone, argillite, limestone, cherty limestone, stromatolitic limestone, and minor banded iron formation of very low metamorphic grade.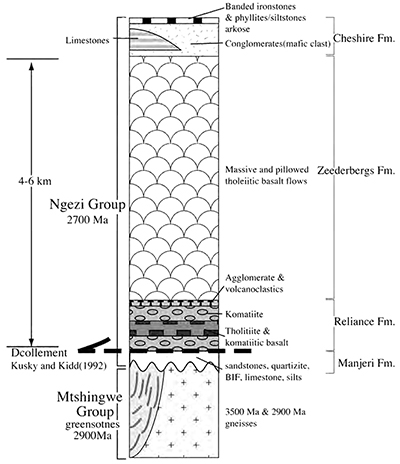 Fig.6: Stratigraphic column of the Belingwe greenstone belt. Kusky and Kidd (1992).
Belingwe greenstone belt Komatiites flow
Typical komatiite flows in Belingwe greenstone belt consist of upper spinifextextured layers (A zone) and lower layers of olivine cumulate (B zone); see Fig.2. A zones which are one third thick of the flow are composed mainly of random olivine spinifex and oriented, or bladed olivine spinifex. B zones that are two thirds thick of the flow are divided into two zones: thin skeletal and hopper olivine layer (B1 zone) at the upper olivine cumulate zone, and euhedral olivine layer at lower cumulate zone.
•
Spinifex zone (A zone)
In spinifex zone, random spinifex textured olivines gradually become longer down to the flow, ranging from 1cm to 5cm in length. And suddenly the length of spinifex textured olivines become much longer (maximum length of them is 80cm), and oriented vertically to the flow, then spinifex textured olivines again become smaller and randomly oriented, continuing to B1 zone. Random spinifex zones contain spinifex olivine and clinopyroxene and Cr-spinel as igneous relicts. They also contain, As secondary phases, chlorite, magnetite, sulfide (mainly pyrite) serpentine. Most of the olivines remain original igneous texture, only rims and cracks of them are serpentinized.
•
Upper cumulate zone (B1 zone)
Upper cumulate zone (B1 zone) contains euhedral and mainly skeletal and hopper olivines. Plumose clinopyroxene dominates the groundmass. Renner et al. (1993) and Silva et al. (1997) suggest from texture and chemical composition of B1 zone, that the B1 zones of komatiite flows are the very last liquid to solidify in komatiite flows.
•
Cumulate zone
Closer to the bottom of the flow, more dominantly fine-grained olivines become in mode. Down to the flow, clinopyroxene spinifex becomes wider and longer, and clinopyroxene spinifex changes, plumose or chain, blocky or columnar hollow crystals in the shape.
Evolution of the Belingwe greenstone belt
At the base of the volcanic sequence in the Reliance Formation, less contaminated basalts (D-basalts) dominate. Above this D-basalt flow, highly contaminated komatiitic basalts occur. The least contaminated and least fractionated komatiite flow lies between contaminated komatiitic basalts. Above the uppermost komatiitic basalt flow in the Reliance Formation, komatiites or komatiitic basalts are absent. The Zeederbergs Formation is composed of dominantly basaltic rocks. Such a stratigraphy for komatiite–basalt occurrences is common for Archean greenstone belts.
Komatiites and D-basalts are slightly depleted in both their isotopic and trace element compositions. Chemical variations in the komatiites and D-basalts were primarily due to mainly fractional crystallization of olivine and minor pyroxene from a primary komatiitic magma. Komatiitic basalts and E-basalts are more siliceous and have more radiogenic isotopic and trace element compositions.
The volcanic stratigraphy of the Ngezi (Fig.3) sequence indicates that komatiites and komatiitic basalts are restricted to near the base of the succession, and that basalts predominate throughout the sequence. The least contaminated komatiite lies between highly contaminated komatiitic basalts. Contaminated basalts appear to have erupted in similar volumes to the less contaminated basalts. The evolution of the 2.7 Ga Belingwe volcanic sequence is interpreted as shown in Fig.7. A considerable amount of komatiitic magma was produced during a high-degree melting event in a mantle plume of extraordinary high temperature (1800 C) at a depth of 150 km (5 GP under anhydrous conditions).
Assuming that the komatiitic magma migrated through continental crust with a typical structure, the komatiite magma may stagnate at the upper-lower crust boundary because here the density of the Belingwe komatiitic magma (2.72 g/cm3 at an anhydrous condition) is lower than that of the lower continental crust (3.0 g/cm3), but higher than that of upper continental crust (2.65 g/cm3).
During the early stages of magmatism, the high temperature komatiite magmas could have assimilated upper continental crust extensively to form the contaminated komatiitic basalts (Fig.7 a). The temperature of the lower crust, however, may not have been high enough at this stage for it to be easily assimilated by the komatiites. As the magma flow rate increased and the volcanic conduits became wider, the komatiite magma erupted through the crust without major assimilation or crystal fractionation (Fig.7 b).
The magmatic activity should be its peak at this stage. As the magmatic activity decreased with time, the komatiitic magmas would have stagnated in the continental crust and magma chambers were formed (Fig.7 c).
The komatiite thermally assimilates upper continental crust in the upper part of the magma chamber, forming komatiitic basalt. During the later stages, the komatiite is contaminated mainly with lower continental crust, thus forming E-basalts as the temperature of the lower crust becomes high enough for it to be partially melted by the continuous supply of heat from the rising komatiitic magma. At the same stage, the komatiites fractionally differentiated within the magma chamber to form the D-basalts (Fig.7 d).
Fig.7: Schematic diagrams illustrating the evolution of the 2.7 Ga volcanic sequence in the Belingwe greenstone belt. (a) Early komatiitic basalt eruption. (b) Komatiite eruption. (c) Later komatiitic basalt eruption. (d) E-basalt and D-basalt eruptions. From K.Shimizu (2005)
Fig.8: Komatiite sample. Belingwe greenstone belt.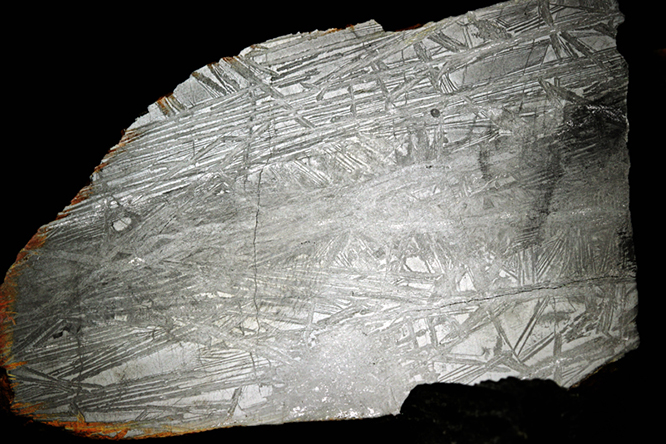 Fig.8: Komatiite sample. Belingwe greenstone belt.
Sample kindly given to me by Kevin Walsh
Bibliography
• Arndt, N.T. and Fowler, A.D. (2004): Textures in komatiites and variolitic basalts. In: The PreCambrian Earth: Tempos and Events. Pat Eriksson, Wlady Altermann, David Nelson, Wulf Muller, and Octavian Catuneanu (eds.). Developments in Precambrian Geology 12.
• K.Shimizu; E.Nakamura; S.Maruyama (2005): The Geochemistry of Ultramafic to Mafic Volcanics from the Belingwe Greenstone Belt, Zimbabwe: Magmatism in an Archean Continental Large Igneous Province. Journal of Petrology. Vol. 46; N. 11; pp 2367-2394
Photo


Skeletal olivine crystals (Serpentinized) in a groundmass of skeletal Pyroxenes. Belingwe greenstone belt. PPL image, 2x (Field of view = 7mm)


Skeletal olivine crystals in a groundmass of skeletal Pyroxenes. Belingwe greenstone belt. XPL image, 2x (Field of view = 7mm)


Skeletal olivine crystals (Serpentinized) in a groundmass of skeletal Pyroxenes. Belingwe greenstone belt. PPL image, 2x (Field of view = 7mm)


Skeletal olivine crystals in a groundmass of skeletal Pyroxenes. Belingwe greenstone belt. XPL image, 2x (Field of view = 7mm)


Skeletal olivine crystals (Serpentinized) in a groundmass of skeletal Pyroxenes. Belingwe greenstone belt. PPL image, 2x (Field of view = 7mm)


Skeletal olivine crystals in a groundmass of skeletal Pyroxenes. Belingwe greenstone belt. XPL image, 2x (Field of view = 7mm)


skeletal Pyroxenes. Belingwe greenstone belt. PPL image, 2x (Field of view = 7mm)


Skeletal olivine crystals (Serpentinized) in a groundmass of skeletal Pyroxenes. Belingwe greenstone belt. PPL image, 2x (Field of view = 7mm)


Skeletal olivine crystals in a groundmass of skeletal Pyroxenes. Belingwe greenstone belt. XPL image, 2x (Field of view = 7mm)


Skeletal olivine crystals (Serpentinized) in a groundmass of skeletal Pyroxenes. Belingwe greenstone belt. PPL image, 2x (Field of view = 7mm)


Skeletal olivine crystals in a groundmass of skeletal Pyroxenes. Belingwe greenstone belt. XPL image, 2x (Field of view = 7mm)


Skeletal olivine crystals (Serpentinized) in a groundmass of skeletal Pyroxenes. Belingwe greenstone belt. PPL image, 2x (Field of view = 7mm)


Skeletal olivine crystals in a groundmass of skeletal Pyroxenes. Belingwe greenstone belt. XPL image, 2x (Field of view = 7mm)


Skeletal olivine crystals (Serpentinized) in a groundmass of skeletal Pyroxenes. Belingwe greenstone belt. PPL image, 2x (Field of view = 7mm)


Skeletal olivine crystals in a groundmass of skeletal Pyroxenes. Belingwe greenstone belt. XPL image, 2x (Field of view = 7mm)


Skeletal olivine crystals (Serpentinized) in a groundmass of skeletal Pyroxenes. Belingwe greenstone belt. PPL image, 2x (Field of view = 7mm)


Skeletal olivine crystals in a groundmass of skeletal Pyroxenes. Belingwe greenstone belt. XPL image, 2x (Field of view = 7mm)


Skeletal olivine crystals (Serpentinized) in a groundmass of skeletal Pyroxenes. Belingwe greenstone belt. PPL image, 2x (Field of view = 7mm)


Skeletal olivine crystals in a groundmass of skeletal Pyroxenes. Belingwe greenstone belt. XPL image, 2x (Field of view = 7mm)


Skeletal olivine crystals (Serpentinized) in a groundmass of skeletal Pyroxenes. Belingwe greenstone belt. PPL image, 2x (Field of view = 7mm)


Skeletal olivine crystals in a groundmass of skeletal Pyroxenes. Belingwe greenstone belt. XPL image, 2x (Field of view = 7mm)


Skeletal olivine crystals (Serpentinized) in a groundmass of skeletal Pyroxenes. Belingwe greenstone belt. PPL image, 2x (Field of view = 7mm)


Skeletal olivine crystals in a groundmass of skeletal Pyroxenes. Belingwe greenstone belt. XPL image, 2x (Field of view = 7mm)


Skeletal olivine crystals (Serpentinized) in a groundmass of skeletal Pyroxenes. Belingwe greenstone belt. PPL image, 2x (Field of view = 7mm)


Skeletal olivine crystals in a groundmass of skeletal Pyroxenes. Belingwe greenstone belt. XPL image, 2x (Field of view = 7mm)


Skeletal olivine crystals (Serpentinized) in a groundmass of skeletal Pyroxenes. Belingwe greenstone belt. PPL image, 2x (Field of view = 7mm)


Skeletal olivine crystals (Serpentinized) in a groundmass of skeletal Pyroxenes. Belingwe greenstone belt. PPL image, 2x (Field of view = 7mm)


Skeletal olivine crystals (Serpentinized) in a groundmass of skeletal Pyroxenes. Belingwe greenstone belt. PPL image, 2x (Field of view = 7mm)


Skeletal olivine crystals in a groundmass of skeletal Pyroxenes. Belingwe greenstone belt. XPL image, 2x (Field of view = 7mm)


Skeletal olivine crystals (Serpentinized) in a groundmass of skeletal Pyroxenes. Belingwe greenstone belt. PPL image, 2x (Field of view = 7mm)


Skeletal olivine crystals (Serpentinized) in a groundmass of skeletal Pyroxenes. Belingwe greenstone belt. PPL image, 2x (Field of view = 7mm)


Skeletal olivine crystals (Serpentinized) in a groundmass of skeletal Pyroxenes. Belingwe greenstone belt. PPL image, 2x (Field of view = 7mm)


Skeletal pyroxen between olivine crystals. Belingwe greenstone belt. PPL image, 10x (Field of view = 2mm)


Skeletal pyroxen between olivine crystals. Belingwe greenstone belt. PPL image, 10x (Field of view = 2mm)


Skeletal pyroxen between olivine crystals. Belingwe greenstone belt. XPL image, 10x (Field of view = 2mm)


Skeletal pyroxen between olivine crystals. Belingwe greenstone belt. PPL image, 10x (Field of view = 2mm)


Skeletal pyroxen between olivine crystals. Belingwe greenstone belt. PPL image, 10x (Field of view = 2mm)


Skeletal pyroxen between olivine crystals. Belingwe greenstone belt. XPL image, 10x (Field of view = 2mm)