Ol Doinyo Lengai
Oldoinyo Lengai (2951 m) is located in the eastern branch of the East African Rift System, south of Lake Natron and close to the ca. 400 m high Natron Escarpment of the Gregory Rift, which formed 1.2 Ma ago (
Fig.1
). Volcanic activity in the Gregory Rift started about 10 Ma ago in its northern part and propagated to the SW to the site of recent volcanic activity of Oldoinyo Lengai on the southern edge of the Lake Natron basin. The volcano is located at the boundary between the Archaean Tanzanian Craton and the reworked craton margin that was overthrust and buried by rocks of the Mozambique mobile belt. The whole evolution of Oldoinyo Lengai is considered geologically young, belonging entirely to the Quaternary, most likely to the upper Quaternary.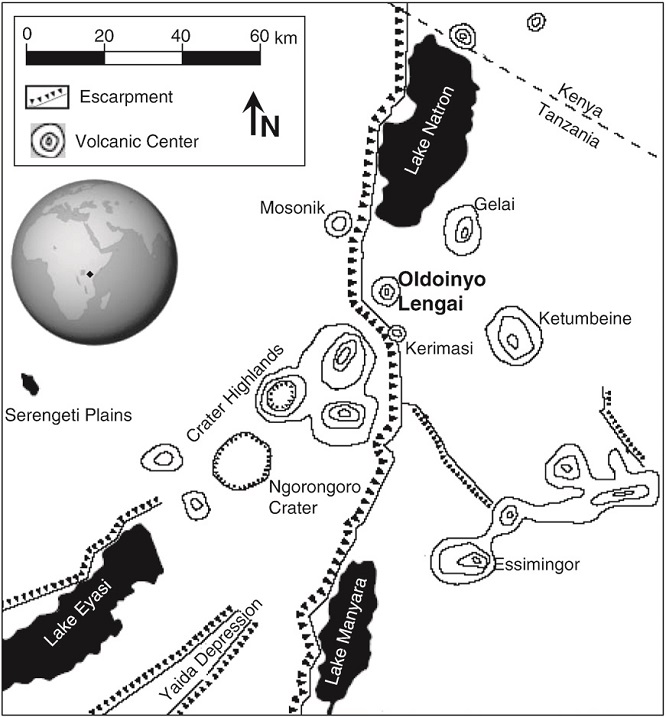 Fig.1: Location of Oldoinyo Lengai and regional geology. From Vaughan, R. G (2008).
Oldoinyo Lengai is the only active carbonatite volcano in the world and is known for the unusually alkali-rich composition of its carbonatite lavas. Natrocarbonatite characterises the recent activity which is expressed by the current quiet effusions in the northern summit crater. It is inferred from historical reports that this type of activity goes back more than 100 years. A natrocarbonatite lava platform, similar to the recent crater filling, was present when the first explorers reached the summit in 1904 (Uhlig, 1907). Explosive eruptions have interrupted the quiet extrusion of natrocarbonatite several times in the historical record (
Fig.2
), ejecting mixed ashes and lapilli of a silicate melt that is contemporaneously available at Oldoinyo Lengai with the natrocarbonatite.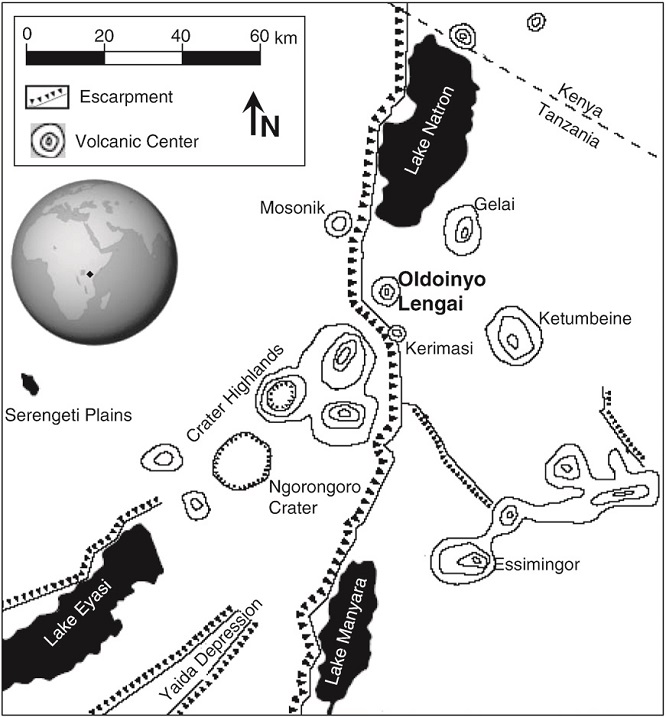 Fig.2: Morphological evolution of the Lengai volcano active crater from 2003 to 2008 illustrated by aerial photographs. In 2003, the crater was filled by natrocarbonatite lavas, emitted by small craters and hornitos. In 2008 started an explosive volcanic phase which destroyed the natrocarbonatite platform.
Oldoinyo Lengai is mostly explosive and consists of pyroclastic deposits. In the middle and upper portions of the edifice, lava flows are interbedded with the pyroclastics and reach the lower slopes at the eastern and southern flanks. Dawson (1962) first established a stratigraphy:
•
Lengai I:
phonolite tuffs and phonolite lavas
•
Lengai II A:
nephelinite tuffs and nephelinite lavas
•
Lengai II B:
nephelinite tuffs, nephelinite lavas, gray melilite-bearing nephelinite tuffs and carbonatite tuffs and lavas of the active northern crater.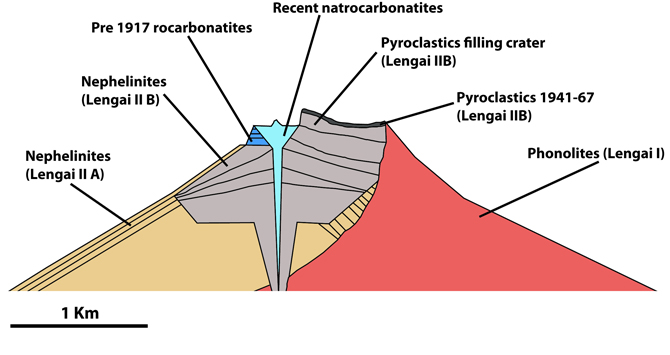 Fig.3: Cross section of the Oldoinyo Lengai upper cone showing geometry and stratigraphic relations of units Lengai I and Lengai II. Modified from Klaudius, J. (2006).
Phonolites are dominant in the early southern cone of Lengai I, while nephelinites of Lengai II characterize the pyroclastics and lavas of the northern cone. Primary deposits of Lengai II A occupy the middle part of the northern cone, whereas the Lengai II B unit forms the upper cone including the summit area. A buried sector collapse scarp separates Lengai I and Lengai II. This means that Lengai II formed after a major sector collapse event, which affected approximately 18% of the recent cone volume at around 10 ka ago.
Lengai II A is separated from Lengai II B by a crater-rim unconformity visible at the upper northern flank. Most of the summit area is covered by gray colored Combeite-wollastonite-nephelinite and melilite-bearing Combeite-wollastonite-nephelinite pyroclastics of recent explosive eruptions (1917, 1940 and 1966/67), which consist of agglomerates, spherical lapilli, crystal lapilli and ash. Lengai I forms approximately 60% of the volcano's volume, Lengai II = 35% and carbonatites are subordinate with less than 5%.
Combeite-wollastonite-nephelinite are mineralogically and geochemically unusual and unique at Oldoinyo Lengai, where they represent the dominant magma composition of Lengai II. They were erupted during a major cone building stage following a north-directed sector collapse of a phonolitic edifice. Lengai I phonolite and Lengai II Combeite-wollastonite-nephelinite form chemical distinct groups that are not linked genetically to each other in a simple manner.
Within the volcano's temporal evolution, phonolite and nephelinite show a distinct trend to more silica undersaturated compositions and increasing peralkalinity, especially within the Combeite-wollastonite-nephelinites of Lengai II. This trend is manifested in several ways including the appearance of combeite, a Na-Ca phase without Al in its structure, an indicator for high peralkalinity.
Several groups of peralkaline magma types are involved in the evolution of Oldoinyo Lengai. Specifically, these are olivine melilitite, phonolite, nephelinite and natrocarbonatite. Phonolite and nephelinite constitute the cone-building silicate pyroclastics and lavas; olivine melilitite pyroclastics and lavas form parasitic cones and craters, whereas natrocarbonatite is restricted to the active crater of Oldoinyo Lengai. Peterson (1989) argues that olivine nephelinites evolve by fractionation towards mildly peralkaline nephelinites and associated calciocarbonatites, as at Shombole volcano, Kenya, whereas at Lengai the parental magma is thought to be melilititic, and the fractionation is directed towards highly peralkaline combeite-wollastonite nephelinites. From these, natrocarbonatite exsolves in the final stage of the evolution.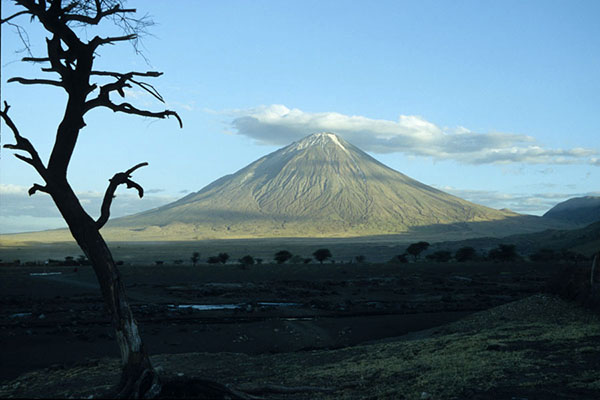 Ol Doinyo Lengai cone. From Dr Richard Roscoe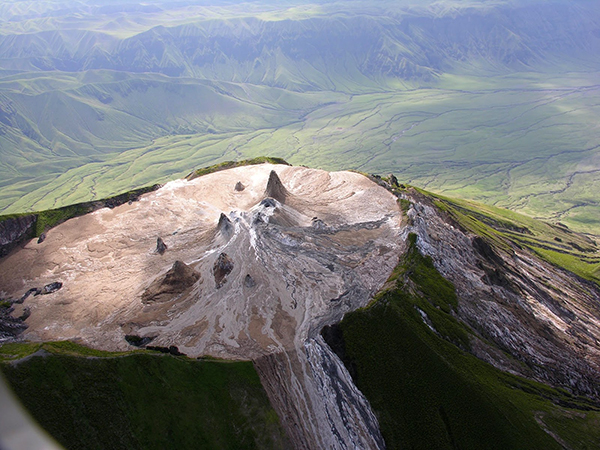 View from summit ridge of Oldoinyo Lengai (2004).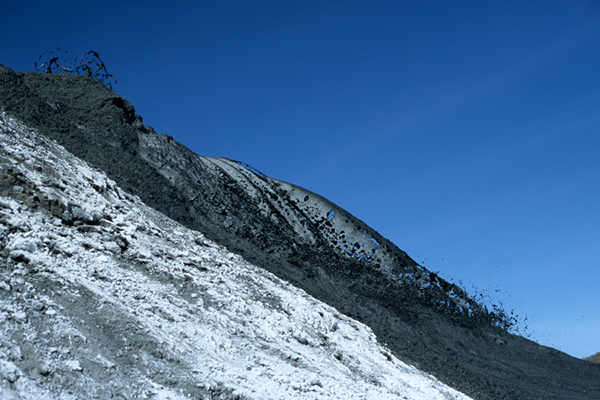 Lava cascading down flank of an hornito. (2004). From Dr Richard Roscoe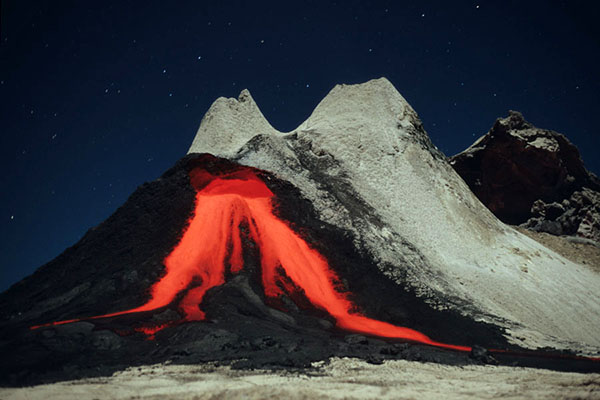 Nighttime eruption of hornito in center of crater, July 2004. From Dr Richard Roscoe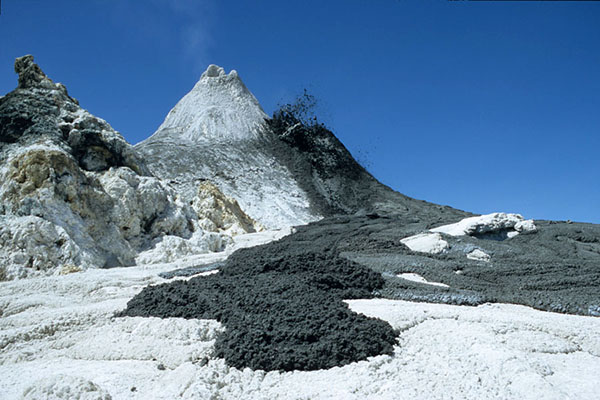 Lava flow from vent in flank of hornito in center of crater, July 2004. From Dr Richard Roscoe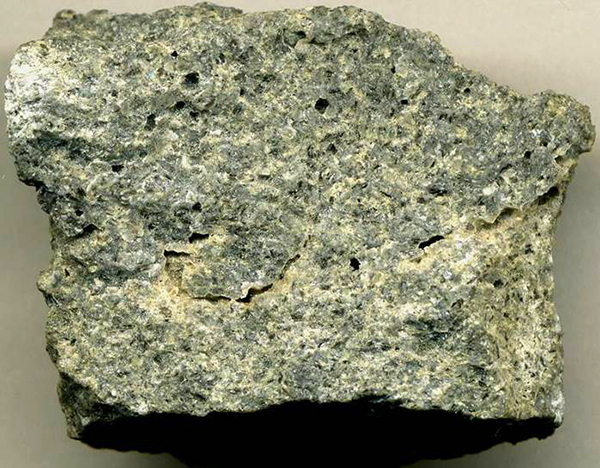 Natrocarbonatite from a freshly flowing pahoehoe lava flow at Ol Doinyo Lengai Volcano back in 1963. From James St. John.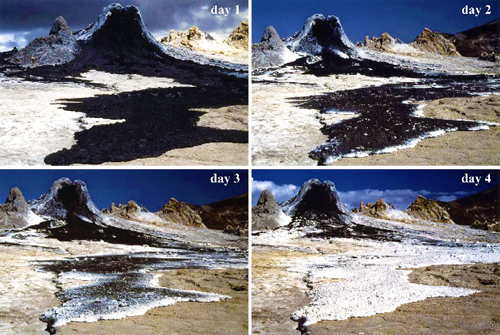 Lavas erupted at Ol Doinyo Lengai are unstable at the Earth's surface and susceptible to rapid weathering, the minerals are anhydrous and when they come into contact with the moisture of the atmosphere, they begin to react extremely quickly. The black or dark brown lava and ash erupted begins to turn white within a few hours
Bibliography
• J. Klaudius; J. Keller (2006): Peralkaline silicate lavas at Oldoinyo Lengai, Tanzania. Lithos 91 (2006) 173–190
• A. N. Zaitsev; J. Keller (2006): Mineralogical and chemical transformation of Oldoinyo Lengai natrocarbonatites, Tanzania. Lithos 91 (2006) 191–207
• Keller, J., Zaitsev, A. N., & Wiedenmann, D. (2006). Primary magmas at Oldoinyo Lengai: the role of olivine melilitites. Lithos, 91(1), 150-172.
• Vaughan, R. G., Kervyn, M., Realmuto, V., Abrams, M., & Hook, S. J. (2008). Satellite measurements of recent volcanic activity at Oldoinyo Lengai, Tanzania. Journal of Volcanology and Geothermal Research, 173(3), 196-206.