Leucitites
The term alkalic is generally used to describe magmatic rocks that contain more of the alkali metals (Na2O and K2O) than is considered normal for the group of rocks to which they belong. In petrology, the term alkaline, is usually used either as synonym for alkali, ore it is used in the expression "alkaline igneous rocks" to describe those rocks that contain essential amounts of Foids.
The alkaline rocks can be divided into five major groups:
• Peralkaline Silica-oversaturated rocks
• Peralkaline Silica-saturated rocks
• Foid-bearing rocks in which foids constitute less than 10% of the felsic minerals
• Feldspar-foid rocks in which foids constitute between 10 and 60 % of the felsic minerals
• Foidites and foidolites in which foids constitute over 60% of the felsic minerals
the Leucite-bearing rocks are a unique group of alkaline rocks that are found in a widely scattered localities all over the Earth like:
Toro-Ankole procince in Uganda, Birunga province in Rwanda, Central massif in France, Roman magmatic province in Italy, Laacher see in Germany Mauricia and Almaria province in Spain, Leucite hills in USA, Kimberly region in South Africa, Java and Sulawesi in Indonesia.
The Roman magmatic province, is probably the most and best studied ultrapotassic province; Situated in central Italy, includes Vico volcano, Sabatini and Vulsini volcanoes, Alban Hills and Ernici-Roccamonfina volcanoes (see the page "Roman magatic province") in the "Italian magmatic provinces" section).
Petrographic characteristics of alkaline rocks:
Phonolites:
From the Greek phone = sound and lithos = stone, term introduced by Klaproth in 1801; phonolites are extrusive rocks that are essentially composed of alkali feldspar (anorthoclase and sanidine), mafic minerals such as alkali amphiboles, alkali pyroxenes, augite, biotite and olivine) and one or more foids. Streckeisen (1967) proposed that the term Phonolite should normally be preceded by the name of the dominant foid observed in the rock. Phonolite also occur as Pyroclastic rocks, pumice deposits, ash-fall and ash-flow deposit and glassy rocks (well developed in Tenerife and Canary island).
Tephrites:
From the Greek tephra = ashes, term introduced by Fritsch in 1865; tephrites are extrusive rocks that are essentially composed of calcic plagioclase, clinopyroxene and foids. Foids normally constitute more than 10 % of the felsic minerals. Tephrites differ from basanites on that they do not contain essential olivine. Tephrites also contain minor amounts of alkali feldspar and they thus grade with increasing alkali feldspar contents into the phonolitic tephrites and tephritic Phonolites. Both sodium rich and potassium rich tephrites are found. Sodium rich varieties are known in Canary island and Thaiti while potassium rich varieties are known in the Roman magmatic provinces and Vesuvius.
Basanites:
Are a group of tephritic rocks that essentially contain calcic plagioclase, clinopyroxene, foids (more than 10% of the felsic minerals) and olivine. Basanites con be Na ore K-rich.
The Alkaline rocks that are essentially devoid of feldspar are called foidites and they include nephelinites, melilitites and leucitites.
Nephelinites
are fine grained extrusive rocks composed by Nepheline and clinopyroxene; nephelinites in which mafic minerals are more than foids are called melanephelinites.
Leucitites
are a groups of fine-grained, often porphyritic extrusive or subvolcanic rocks composed essentially of Leucite and clinopyroxene (Titanoaugite, diopside or aegirine). The term was used for the first time by Rosenbush in 1877.
Petrogenesis of Alkaline rocks
Alkaline rocks occur in many different tectonic setting, petrological associations and have such diverse chemical compositions, so it is evident that no single parental magma is able to produce all the alkaline rocks. Their occurrence on oceanic islands and seamounts demonstrates that at least some of the parental magmas can be generated within the mantle and that these magmas can evolve in an environment far removed from any possible contamination by continental crust materials. Most petrologist now believe that the majority of alkaline rocks have evolved from parental magmas generated by partial melting within the mantle; and also that fractional crystallization, and other differentiation processes are usually only able to accentuate an alkaline tendency that has already been imparted to the parental magma.
According to Bailey (1983) alkaline magmatic activity is strictly controlled by the release of volatile-charged magmas from deep mantle source. Fractures through the continental lithosphere act as channel ways for these magmas, and volatiles and incompatible elements are drained through narrow fractures and rift zones. The latter process results in metasomatims; the composition of the ascending magma is to a large extent controlled by wall-rock reactions and polybaric fractional crystallization. Heat from the magma results in a gradual increase in the amount of partial melting and, depending on the composition of the materials being melted, a wide variety of different magmas may be generated.
Has been proposed that undersaurated alkaline rocks are normally generated within the mantle at a depth of at least 80Km; and that the generation of these magmas tend to be triggered by the influx of low-viscosity fluids from degasing mantle.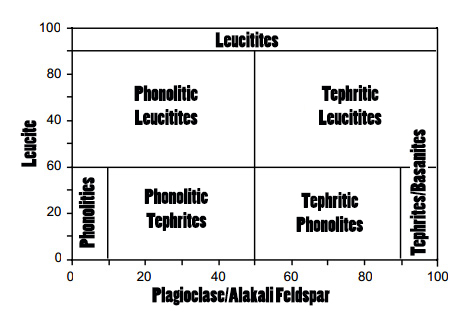 Fig. 1: Nepheline-bearing rocks classification (Le Bas, 1989).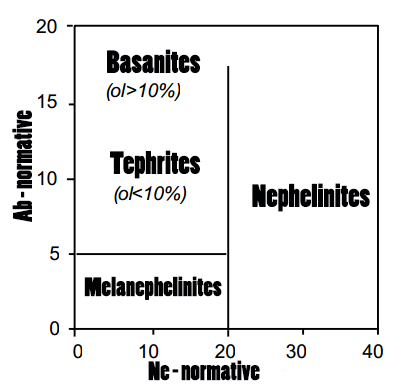 Fig. 2: Alkaline Leucite-bearing rocks Calssification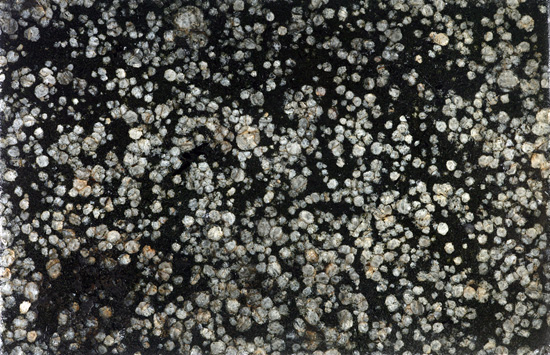 Leucitite Samples. From "Museo di storia naturale dell'accademia dei fisiocratici".
Bibliography
• David Shelley (1983): Igneous and metamorphic rocks under the microscope. Campman & Hall editori.
• Vernon, R. H. & Clarke, G. L. (2008): Principles of Metamorphic Petrology. Cambridge University Press
• Shelley D (1992): Igneous and Metamorphic Rocks under the Microscope: Classification, textures, microstructures and mineral preferred orientation
• Cox et al. (1979): The Interpretation of Igneous Rocks, George Allen and Unwin, London.
• Eric A.K. (1985): Middlemost Magmas and Magmatic Rocks. Longman, London
• D'Amico C., Innocenti F. & Sassi F.P. (1987): Magmatismo e metamorfismo. UTET
• Innocenti F., Rocchi S. & Triglia R. (1999:) La classificazione delle rocce vulcaniche e subvulcaniche: schema operativo per il progetto CARG.
• Carmichael I.S.E., Turner F.J. & Verghoogen J. (1974): Igneous Petrology. McGraw-Hill.
Photo


Leucite, Clinopyroxene and magnetite crystals. PPL image, 10x (Field of view = 2mm)


Leucite, Clinopyroxene, magnetite crystals and secondary interstitial calcite. XPL image, 10x (Field of view = 2mm)


Leucite, Clinopyroxene and magnetite crystals. PPL image, 10x (Field of view = 2mm)


Leucite, Clinopyroxene, magnetite crystals and secondary interstitial calcite. XPL image, 10x (Field of view = 2mm)


Leucite, Clinopyroxene and magnetite crystals. XPL image, 10x (Field of view = 2mm)


Leucite, Clinopyroxene and magnetite crystals. XPL image, 10x (Field of view = 2mm)


Small Leucite and Clinopyroxene crystals. PPL image, 2x (Field of view = 7mm)


Small Leucite and Clinopyroxene crystals. PPL image, 2x (Field of view = 7mm)


Small Leucite and Clinopyroxene crystals. XPL image, 2x (Field of view = 7mm)


Small Leucite and Clinopyroxene crystals. XPL image, 2x (Field of view = 7mm)


Small Leucite and Clinopyroxene crystals. PPL image, 2x (Field of view = 7mm)


Small Leucite and Clinopyroxene crystals. XPL image, 2x (Field of view = 7mm)


Small Leucite and Clinopyroxene crystals. PPL image, 2x (Field of view = 7mm)


Small Leucite and Clinopyroxene crystals. PPL image, 2x (Field of view = 7mm)


Small Leucite and Clinopyroxene crystals. XPL image, 2x (Field of view = 7mm)


Skeletal leucite crystals in a leucitite from Albann hills (Italy). PPL image, 10x (Field of view = 2mm)


Skeletal leucite crystals in a leucitite from Albann hills (Italy). PPL image, 10x (Field of view = 2mm)


Skeletal leucite crystals in a leucitite from Albann hills (Italy). PPL image, 10x (Field of view = 2mm)


Skeletal leucite crystals in a leucitite from Albann hills (Italy). PPL image, 2x (Field of view = 7mm)


Skeletal leucite crystals in a leucitite from Albann hills (Italy). PPL image, 2x (Field of view = 7mm)


Skeletal leucite crystals in a leucitite from Albann hills (Italy). PPL image, 2x (Field of view = 7mm)


Skeletal leucite crystals in a leucitite from Albann hills (Italy). PPL image, 2x (Field of view = 7mm)


Skeletal leucite crystals in a leucitite from Albann hills (Italy). PPL image, 10x (Field of view = 2mm)


leucite crystals in a leucitite from Albann hills (Italy). PPL image, 2x (Field of view = 7mm)


leucite crystals in a leucitite from Albann hills (Italy). PPL image, 2x (Field of view = 7mm)


leucite crystals in a leucitite from Albann hills (Italy). PPL image, 2x (Field of view = 7mm)


leucite crystals in a leucitite from Albann hills (Italy). PPL image, 2x (Field of view = 7mm)


leucite crystals in a leucitite from Albann hills (Italy). XPL image, 2x (Field of view = 7mm)


leucite crystals in a leucitite from Albann hills (Italy). PPL image, 2x (Field of view = 7mm)


leucite crystals in a leucitite from Albann hills (Italy). XPL image, 2x (Field of view = 7mm)


leucite and pyroxene crystals in a leucitite from Albann hills (Italy). PPL image, 2x (Field of view = 7mm)


leucite and pyroxene crystals in a leucitite from Albann hills (Italy). PPL image, 2x (Field of view = 7mm)


leucite and pyroxene crystals in a leucitite from Albann hills (Italy). PPL image, 2x (Field of view = 7mm)


leucite and pyroxene crystals in a leucitite from Albann hills (Italy). PPL image, 2x (Field of view = 7mm)


leucite and pyroxene crystals in a leucitite from Albann hills (Italy). PPL image, 2x (Field of view = 7mm)


leucite and pyroxene crystals in a leucitite from Albann hills (Italy). PPL image, 2x (Field of view = 7mm)


leucite and pyroxene crystals in a leucitite from Albann hills (Italy). PPL image, 2x (Field of view = 7mm)


leucite and pyroxene crystals in a leucitite from Albann hills (Italy). PPL image, 2x (Field of view = 7mm)


leucite and pyroxene crystals in a leucitite from Vulsini (Italy). XPL image, 2x (Field of view = 7mm)


leucite and pyroxene crystals in a leucitite from Vulsini (Italy). PPL image, 2x (Field of view = 7mm)


leucite and pyroxene crystals in a leucitite from Vulsini (Italy). XPL image, 2x (Field of view = 7mm)


leucite and pyroxene crystals in a leucitite from Vulsini (Italy). PPL image, 2x (Field of view = 7mm)


leucite and pyroxene crystals in a leucitite from Vulsini (Italy). PPL image, 2x (Field of view = 7mm)


leucite and pyroxene crystals in a leucitite from Vulsini (Italy). XPL image, 2x (Field of view = 7mm)


leucite and pyroxene crystals in a leucitite from Vulsini (Italy). PPL image, 2x (Field of view = 7mm)


leucite and pyroxene crystals in a leucitite from Vulsini (Italy). PPL image, 2x (Field of view = 7mm)


leucite and pyroxene crystals in a leucitite from Vulsini (Italy). PPL image, 2x (Field of view = 7mm)


leucite and pyroxene crystals in a leucitite from Vulsini (Italy). PPL image, 2x (Field of view = 7mm)


leucite and pyroxene crystals in a leucitite from Vulsini (Italy). XPL image, 2x (Field of view = 7mm)


leucite and pyroxene crystals in a leucitite from Vulsini (Italy). PPL image, 2x (Field of view = 7mm)