Pillow Lava
One of the most common types of submarine lava is called pillow lava because it consists of roughly spherical or rounded pillow-shaped forms. Pillow lava forms not only in the deep sea, but also when on-land lava flows into the sea, rivers, or lakes. Pillow lava has been observed forming in shallow water off the coast of Hawaii, where lava from Kilauea volcano enters the sea and continues to flow underwater. The glassy surfaces of pillows are not smooth but have cracks, corrugations, and linear grooves, many of which intersect at right angles. The outer crust of pillows forms adjacent to spreading cracks, which act like tiny versions of mid-ocean ridges. Corrugations form at right angles to the spreading cracks, and together, the corrugations and spreading cracks define a crosshatched pattern on the pillow surface. The spreading cracks form when the outer pillow crust fractures.
Submersible photo of a pillow on the Mid-Atlantic Ridge. The T points to a spreading crack from which the mirrorimage pillow lobes grew. Prior to this growth, points S and U were adjacent. Note the cross-hatched pattern of tension cracks and perpendicular corrugations. From Ballard, R. D., and Moore, J. G. (1977).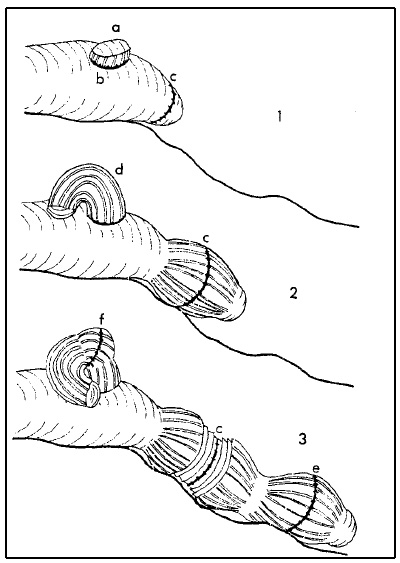 Schematic diagram to show growth of pillow lava. Growth from a circular crack (b) produces a trap door pillow (a), which eventually grows to a toothpaste pillow (d) with a spreading crack (f) producing another lobe. Spreading at tension crack (c) produces corrugated pillow lobes, then slows down and stops, after which a new crack develops at (e). From Ballard, R. D., and Moore, J. G. (1977).
Lava pillows are found in a wide variety of shapes including near-spherical bulbous pillows, flattened pillows, elongate and tubular pillows, and trapdoor pillows. In three-dimensional exposures on land, pillows commonly consist of interconnected tubes. They vary in diameter from several tens of centimeters to several meters, with typical sizes of 0.5-1 m.
The interiors of pillows cool more slowly than the quenched glass rind, and so are more crystalline. Progressive crystallization at slower cooling rates toward the interior produces a variety of rock textures, and the interiors of large pillows may be almost entirely crystalline. Vesicles are common and are usually concentrated in concentric layers parallel to the outer surface. In on-land pillows, radial pipe vesicles are common. Many pillows are completely solid, although it is common for pillows to have central cavities ranging from small tubular channels in a mostly solid pillow to pillows that are entirely hollow.
These cavities form when lava drains back out of a newly formed pillow, or when lava pushes aside a portion of the outer pillow crust and drains out through the hole to form a spilled pool outside the broken pillow.
Bibliography
• David Shelley (1983): Igneous and metamorphic rocks under the microscope. Campman & Hall editori.
• Vernon, R. H. & Clarke, G. L. (2008): Principles of Metamorphic Petrology. Cambridge University Press
• Shelley D (1992): Igneous and Metamorphic Rocks under the Microscope: Classification, textures, microstructures and mineral preferred orientation
• Cox et al. (1979): The Interpretation of Igneous Rocks, George Allen and Unwin, London.
• Eric A.K. (1985): Middlemost Magmas and Magmatic Rocks. Longman, London
• D'Amico C., Innocenti F. & Sassi F.P. (1987): Magmatismo e metamorfismo. UTET
• Innocenti F., Rocchi S. & Triglia R. (1999:) La classificazione delle rocce vulcaniche e subvulcaniche: schema operativo per il progetto CARG.
• Carmichael I.S.E., Turner F.J. & Verghoogen J. (1974): Igneous Petrology. McGraw-Hill.
Photo

| | | |
| --- | --- | --- |
| Skeletal plagioclase and pyroxene (interstitial) crystals in a Pillow. PPL image, 2x (Field of view = 7mm) | Skeletal plagioclase and pyroxene (interstitial) crystals in a Pillow. PPL image, 2x (Field of view = 7mm) | Skeletal plagioclase and pyroxene (interstitial) crystals in a Pillow. PPL image, 2x (Field of view = 7mm) |
| Skeletal plagioclase and pyroxene (interstitial) crystals in a Pillow. PPL image, 2x (Field of view = 7mm) | Skeletal plagioclase and pyroxene (interstitial) crystals in a Pillow. PPL image, 2x (Field of view = 7mm) | Skeletal plagioclase and pyroxene (interstitial) crystals in a Pillow. PPL image, 2x (Field of view = 7mm) |
| Skeletal plagioclase and pyroxene (interstitial) crystals in a Pillow. PPL image, 2x (Field of view = 7mm) | Skeletal plagioclase and pyroxene (interstitial) crystals in a Pillow. PPL image, 2x (Field of view = 7mm) | Skeletal plagioclase and pyroxene (interstitial) crystals in a Pillow. PPL image, 2x (Field of view = 7mm) |
| Skeletal plagioclase and pyroxene (interstitial) crystals in a Pillow. PPL image, 10x (Field of view = 2mm) | Skeletal plagioclase and pyroxene (interstitial) crystals in a Pillow. PPL image, 10x (Field of view = 2mm) | Skeletal plagioclase and pyroxene (interstitial) crystals in a Pillow. PPL image, 10x (Field of view = 2mm) |
| Skeletal plagioclase and pyroxene (interstitial) crystals in a Pillow. PPL image, 10x (Field of view = 2mm) | Skeletal plagioclase and pyroxene (interstitial) crystals in a Pillow. PPL image, 10x (Field of view = 2mm) | Skeletal plagioclase and pyroxene (interstitial) crystals in a Pillow. PPL image, 10x (Field of view = 2mm) |
| Skeletal plagioclase crystals in a Pillow. PPL image, 2x (Field of view = 7mm) | Skeletal plagioclase crystals in a Pillow. XPL image, 2x (Field of view = 7mm) | Skeletal plagioclase crystals in a Pillow. PPL image, 2x (Field of view = 7mm) |
| Skeletal plagioclase crystals in a Pillow. PPL image, 2x (Field of view = 7mm) | Skeletal plagioclase crystals in a Pillow. PPL image, 2x (Field of view = 7mm) | Skeletal plagioclase crystals in a Pillow. PPL image, 2x (Field of view = 7mm) |
| Skeletal plagioclase crystals in a Pillow. PPL image, 20x (Field of view = 1mm) | Skeletal plagioclase crystals in a Pillow. PPL image, 20x (Field of view = 1mm) | Skeletal plagioclase crystals in a Pillow. PPL image, 20x (Field of view = 1mm) |
| Skeletal plagioclase crystals in a Pillow. PPL image, 20x (Field of view = 1mm) | Skeletal plagioclase crystals in a Pillow. PPL image, 20x (Field of view = 1mm) | Skeletal plagioclase crystals in a Pillow. PPL image, 20x (Field of view = 1mm) |
| Skeletal plagioclase crystals in a Pillow. PPL image, 2x (Field of view = 7mm) | Skeletal plagioclase crystals in a Pillow. PPL image, 2x (Field of view = 7mm) | Skeletal plagioclase crystals in a Pillow. PPL image, 2x (Field of view = 7mm) |
| Skeletal plagioclase and magnetite crystals in a Pillow. PPL image, 20x (Field of view = 1mm) | Skeletal plagioclase and magnetite crystals in a Pillow. PPL image, 20x (Field of view = 1mm) | Skeletal plagioclase and magnetite crystals in a Pillow. PPL image, 20x (Field of view = 1mm) |