Pitchstone
Pitchstone is glassy, usually silica-rich, igneous rock with a characteristic lustre resembling that of broken pitch. Pitchstones are generally held to be hydrated equivalents of obsidians.
The International Union of Geological Sciences has recently published a comprehensive nomenclature scheme for these and other igneous rocks (Le Maitre, 2002). Here, the term pitchstone is restricted to hydrated glassy rocks (typically 3–10% H2O), while obsidians are nearly anhydrous (< 1% H2O). Most pitchstones have > 5% H2O, and most obsidians < 0.5%
Glassy rocks, including Arran pitchstones, often show flow-banding or other heterogeneity. This is largely a consequence of the very high viscosity of these melts, resulting in laminar flow during intrusion, and hence little mixing or homogenisation, compared with a turbulently convecting, low-viscosity magma. The banding is almost always emphasised by weathering, or other alteration.
Pitchstones can occur geologically in a variety of environments. They result from the rapid cooling of silica-rich magmas (the same magmas as give rise to granitic rocks and rhyolites). Such rapid cooling is restricted to surface and near-surface geological settings. Pitchstones can therefore form as lavas or as shallow-level intrusions.
This thin section come from Arran (See map).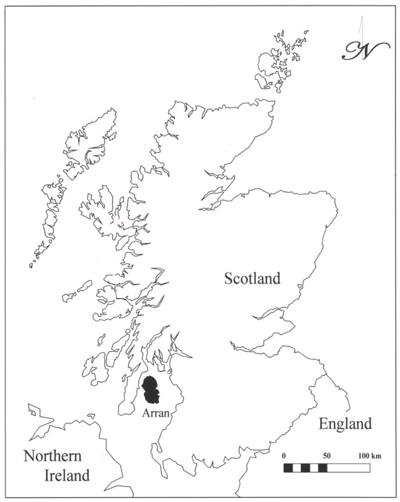 Location of Arran (balck)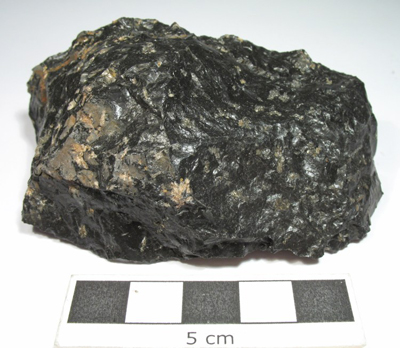 Pitchstone from Arran, Scotland, plagioclase (white) Hornblende (dark). From Hunterian Museum Geology Collections
Bibliography
• David Shelley (1983): Igneous and metamorphic rocks under the microscope. Campman & Hall editori.
• Vernon, R. H. & Clarke, G. L. (2008): Principles of Metamorphic Petrology. Cambridge University Press
• Shelley D (1992): Igneous and Metamorphic Rocks under the Microscope: Classification, textures, microstructures and mineral preferred orientation
• Cox et al. (1979): The Interpretation of Igneous Rocks, George Allen and Unwin, London.
• Eric A.K. (1985): Middlemost Magmas and Magmatic Rocks. Longman, London
• D'Amico C., Innocenti F. & Sassi F.P. (1987): Magmatismo e metamorfismo. UTET
• Innocenti F., Rocchi S. & Triglia R. (1999:) La classificazione delle rocce vulcaniche e subvulcaniche: schema operativo per il progetto CARG.
• Carmichael I.S.E., Turner F.J. & Verghoogen J. (1974): Igneous Petrology. McGraw-Hill.
Photo

| | | |
| --- | --- | --- |
| Skeletal (dendritic) Hornblende crystals in a Pitchstone from Arran, Scotland. PPL image, 2x (Field of view = 7mm) | Skeletal (dendritic) Hornblende crystals in a Pitchstone from Arran, Scotland. PPL image, 2x (Field of view = 7mm) | Skeletal (dendritic) Hornblende crystals in a Pitchstone from Arran, Scotland. PPL image, 2x (Field of view = 7mm) |
| Skeletal (dendritic) Hornblende crystals in a Pitchstone from Arran, Scotland. PPL image, 2x (Field of view = 7mm) | Skeletal (dendritic) Hornblende crystals in a Pitchstone from Arran, Scotland. PPL image, 2x (Field of view = 7mm) | Skeletal (dendritic) Hornblende crystals in a Pitchstone from Arran, Scotland. PPL image, 2x (Field of view = 7mm) |
| Skeletal (dendritic) Hornblende crystals in a Pitchstone from Arran, Scotland. PPL image, 10x (Field of view = 2mm) | Skeletal (dendritic) Hornblende crystals in a Pitchstone from Arran, Scotland. PPL image, 10x (Field of view = 2mm) | Skeletal (dendritic) Hornblende crystals in a Pitchstone from Arran, Scotland. PPL image, 10x (Field of view = 2mm) |
| Skeletal (dendritic) Hornblende crystals in a Pitchstone from Arran, Scotland. PPL image, 10x (Field of view = 2mm) | Skeletal (dendritic) Hornblende crystals in a Pitchstone from Arran, Scotland. PPL image, 10x (Field of view = 2mm) | Skeletal (dendritic) Hornblende crystals in a Pitchstone from Arran, Scotland. PPL image, 10x (Field of view = 2mm) |
| Skeletal (dendritic) Hornblende crystals in a Pitchstone from Arran, Scotland. PPL image, 10x (Field of view = 2mm) | Skeletal (dendritic) Hornblende crystals in a Pitchstone from Arran, Scotland. PPL image, 10x (Field of view = 2mm) | Skeletal (dendritic) Hornblende crystals in a Pitchstone from Arran, Scotland. PPL image, 10x (Field of view = 2mm) |
| Skeletal (dendritic) Hornblende crystals in a Pitchstone from Arran, Scotland. PPL image, 10x (Field of view = 2mm) | Skeletal (dendritic) Hornblende crystals in a Pitchstone from Arran, Scotland. PPL image, 10x (Field of view = 2mm) | Skeletal (dendritic) Hornblende crystals in a Pitchstone from Arran, Scotland. PPL image, 10x (Field of view = 2mm) |
| Skeletal (dendritic) Hornblende crystals in a Pitchstone from Arran, Scotland. PPL image, 20x (Field of view = 1mm) | Skeletal (dendritic) Hornblende crystals in a Pitchstone from Arran, Scotland. PPL image, 20x (Field of view = 1mm) | Skeletal (dendritic) Hornblende crystals in a Pitchstone from Arran, Scotland. PPL image, 20x (Field of view = 1mm) |
| Skeletal (dendritic) Hornblende crystals in a Pitchstone from Arran, Scotland. PPL image, 10x (Field of view = 1mm) | Cristalli dendritici di anfibolo in una pitchstone, Arran, Scozia. mmagine a N//, 10x (lato lungo = 2mm) | Cristalli dendritici di anfibolo in una pitchstone, Arran, Scozia. mmagine a N//, 10x (lato lungo = 2mm) |
| Skeletal (dendritic) Hornblende crystals in a Pitchstone from Arran, Scotland. PPL image, 10x (Field of view = 1mm) | Skeletal (dendritic) Hornblende crystals in a Pitchstone from Arran, Scotland. PPL image, 10x (Field of view = 1mm) | Skeletal (dendritic) Hornblende crystals in a Pitchstone from Arran, Scotland. PPL image, 10x (Field of view = 1mm) |