Plagioclase - NaAlSi3O8--CaAl2Si2O8
The plagioclase feldspars are a complete solid solution series between Ab and An, and can contain small amounts of the or component. Names are given to the various ranges of composition:
Albite
: Ab100-90% - An0-10%
Oligoclase
: Ab90-70% - An10-30%
Andesine
: Ab70-50% - An30-50%
Labradorite
: Ab50-30% - An50-70%
Bytownite
: Ab30-10% - An70-90%
Anorthite
: Ab10-0% - An90-100%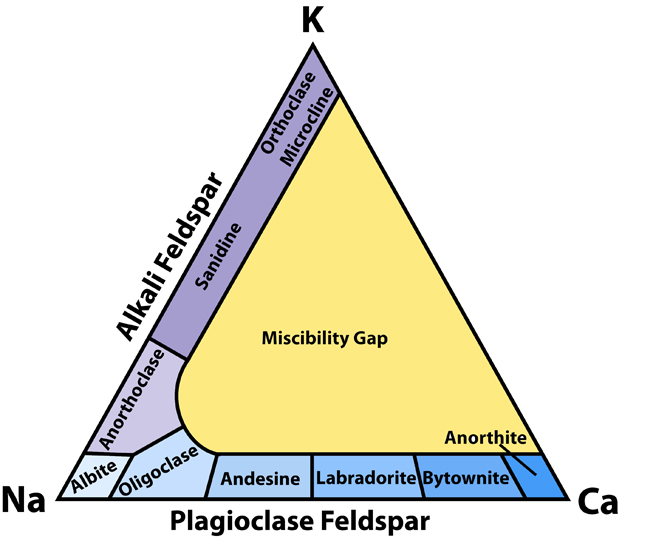 Feldspar classification: This diagram shows how feldspar minerals are classified on the basis of their chemical composition. The sequence of minerals along the base of the triangle represents the solid solution series of plagioclase between albite and anorthite.
In thin section, plagioclase commonly shows the characteristic albite polysynthetic twinning. This twinning is the most characteristic identifying feature of plagioclase, and makes its identification easy when present.
Although some cross-hatched twinning may also occur in plagioclase, it is always very simple with only one or two cross twins per grain. Thus, be careful not to identify plagioclase as microcline. The cross-hatched twinning in microcline is always much more complex.
Zoning
crystal zoning is a texture developed in solid-solution minerals and characterized optically by changes in the colour or extinction angle of the mineral from the core to the rim. This optical zoning is a reflection of chemical zoning in the mineral. For example, a plagioclase can be zoned from a Ca-rich core to an Na-rich rim. Zoning results from the mineral's inability to maintain chemical equilibrium with a magma during rapid cooling; the zonation represents a frozen picture of the continuous reaction series for that mineral.
Zoning can be of three types, the first two applying mostly to plagioclase feldspars.
(a) Normal zoning
is where the mineral is zoned from a high-temperature core composition to a low-temperature rim composition.
(b) Reverse zoning
is where a mineral is zoned from a low-temperature core composition to a high-temperature rim composition.
(c) Oscillatory zoning
is where the mineral chemistry continuously oscillates between high- and low-temperature compositions going from the core to the rim.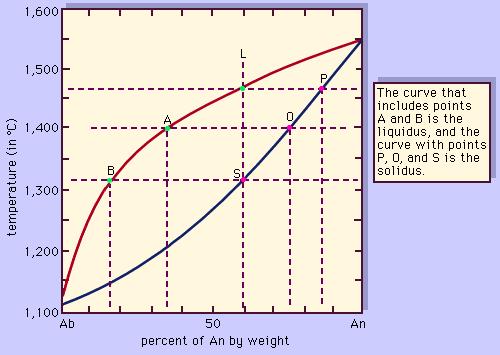 Phase diagram of the albite (Ab)–anorthite (An) system at one atmosphere of pressure. Encyclopedia Britannica
Crystallization behaviour is illustrated best by using the NaAlSi
3
O
8
(albite)–CaAl
2
Si
2
O
8
(anorthite) plagioclase system. Consider a liquid of composition
L
(60 percent An + 40 percent Ab) which is at an initial temperature of 1,500 °C. On cooling it will begin crystallizing plagioclase with 85 percent An (point
P
on the solidus) at the liquidus temperature of about 1,470 °C.
As cooling continues further, the liquid will move down the liquidus toward
B
while simultaneously reacting continuously with the early-formed plagioclase to convert it to a homogeneous plagioclase that is more albitic and in equilibrium with the liquid. For example, when the liquid has reached
A
, at 1,400 °C, about 65 percent plagioclase with about 73 percent An (point
O
on the solidus) has crystallized from the liquid, which is now at about 36 percent An and 64 percent Ab.
Finally, when the temperature of about 1,330 °C is reached (
B
in the figure), the last small amount of the liquid of composition 20 percent An + 80 percent Ab is consumed in the reaction and a homogeneous plagioclase of 60 percent An + 40 percent Ab remains (point
S
).
Now consider the case in which the liquid is prevented from reacting with the early-formed plagioclase. This may be achieved by physically removing the plagioclase immediately after its formation or by cooling the liquid faster than the reaction process can consume the plagioclase. The liquid could theoretically reach the pure Ab composition at 1,100 °C, where it will disappear into the crystallizing albite. A whole range of plagioclase compositions from An
84
to An
100
will be preserved in the cooling process.
crystallization sequence in Ab-An System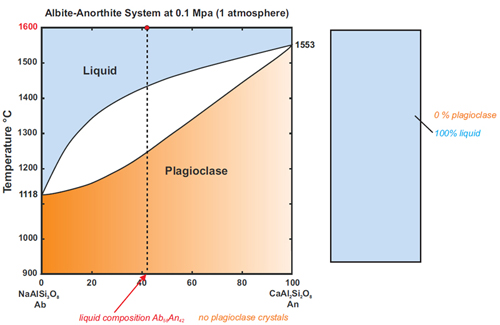 Ab-An Diagrm at 1atm and 1600 °C.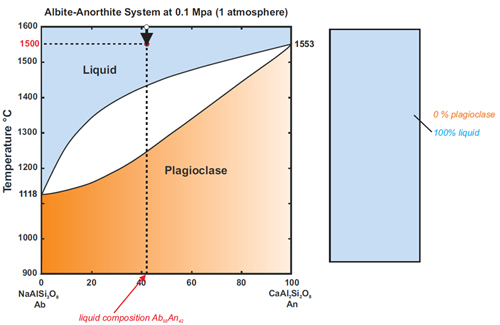 Ab-An Diagrm at 1atm and 1500 °C.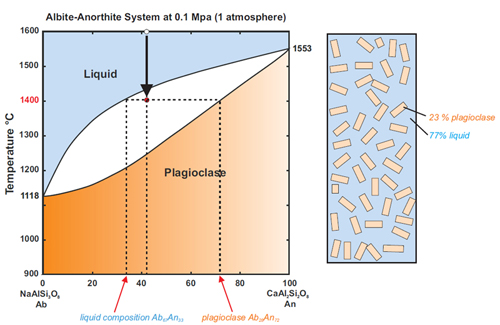 Ab-An Diagrm at 1atm and 1400 °C; beginning of crystallization Plg (Ab28 An72); Liquid (Ab67 An33).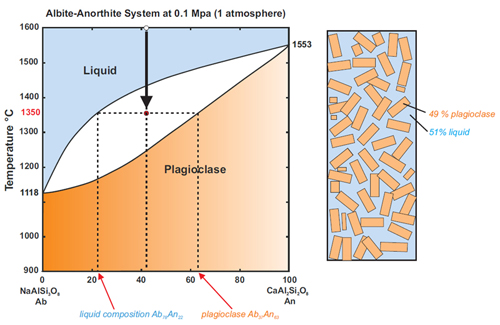 Ab-An Diagrm at 1atm and 1350 °C; Plg (Ab37 An63); Liquid (Ab78 An22).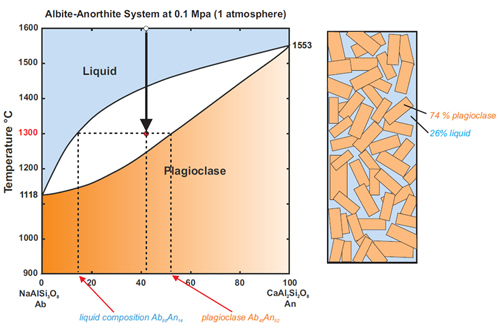 Ab-An Diagrm at 1atm and 1300 °C; Plg (Ab48 An52); Liquid (Ab86 An14).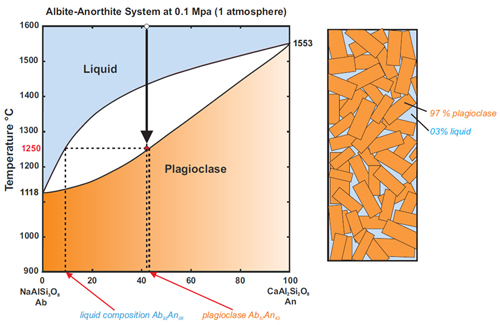 Ab-An Diagrm at 1atm and 1250 °C; Plg (Ab57 An43); Liquid (Ab92 An8).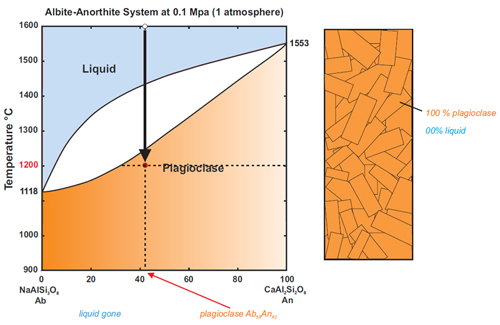 Ab-An Diagrm at 1atm and 1200 °C; System 100% solid Plg (Ab58 An42).
Bibliography
• Deer, W.A., Howie, R.A., Zussman, J. (1998) Rock-forming Minerals.
• Optical Mineralogy : The Nonopaque Minerals by Phillips / Griffen
• E. WM. Heinrich (1956): Microscopic Petrografy. Mcgraw-hill book company,inc
Photo


Plagioclase Phenocryst. XPL image , 2x (Field of view = 7mm)


Plagioclase Phenocrysts. XPL image , 2x (Field of view = 7mm)


Plagioclase Phenocrysts. XPL image , 2x (Field of view = 7mm)


Plagioclase Phenocrysts. XPL image , 2x (Field of view = 7mm)


Zoned Plagioclase Phenocryst. XPL image , 2x (Field of view = 7mm)


Zoned Plagioclase Phenocryst. XPL image , 2x (Field of view = 7mm)


Plagioclase Phenocryst. XPL image , 2x (Field of view = 7mm)


Plagioclase Phenocrysts. XPL image , 2x (Field of view = 7mm)


Plagioclase Phenocryst. XPL image , 2x (Field of view = 7mm)


Plagioclase Phenocrysts. XPL image , 2x (Field of view = 7mm)


Plagioclase Phenocrysts with Sieve texture. XPL image , 2x (Field of view = 7mm)


Plagioclase Phenocrysts. XPL image , 2x (Field of view = 7mm)


Plagioclase Phenocryst. XPL image , 2x (Field of view = 7mm)


Plagioclase Phenocryst in a bsaltic scoria. XPL image , 2x (Field of view = 7mm)


Plagioclase Phenocryst with Sieve texture. XPL image , 2x (Field of view = 7mm)


Plagioclase Phenocrysts with Sieve texture. PPL image , 10x (Field of view = 2mm)


Plagioclase Phenocryst partially resorbed. XPL image , 10x (Field of view = 2mm)


Plagioclase Phenocryst with glass inclusions. PPL image , 10x (Field of view = 2mm)


Zoned Plagioclase Phenocryst. XPL image , 2x (Field of view = 7mm)


Zoned Plagioclase Phenocryst. XPL image , 2x (Field of view = 7mm)


Zoned Plagioclase Phenocryst. XPL image , 2x (Field of view = 7mm)


Zoned Plagioclase Phenocryst. XPL image , 2x (Field of view = 7mm)


Plagioclase Phenocryst with sieve texture. XPL image , 2x (Field of view = 7mm)


Plagioclase Phenocryst with sieve texture. XPL image , 2x (Field of view = 7mm)


Plagioclase Phenocrysts in a trachyte, Bingol (turkey). XPL image , 2x (Field of view = 7mm)


Plagioclase Phenocrysts in a trachyte, Bingol (turkey). XPL image , 2x (Field of view = 7mm)


Plagioclase Phenocryst with Carlsbad twinning in a trachyte, Bingol (turkey). XPL image , 2x (Field of view = 7mm)


Plagioclase Phenocrysts in a trachyte, Bingol (turkey). XPL image , 2x (Field of view = 7mm)