Rhyolite
A Rhyolite is a fine-grained acid igneous rock dominated by quartz (>20%) and alkali feldspar (>35%). Rhyolites are often porphyritic and a fine-grained or glassy groundmass. Granite is the coarse-grained equivalent of rhyolite. It is often difficult to identify rhyolites without chemical analysis due to their glassy groundmasses. Many rhyolites consist mainly of glass, and are termed obsidian, or are partially devitrified, and termed pitchstones. Most are banded due to small differences in composition in the glass leading to differences in the content of crystallites. Alkali rhyolites are those in which >90% of feldspars are alkali feldspars. These rocks are peralkaline and usually contain alkali amphiboles and/or pyroxenes. The terms pantellerite and commendite have been used for alkali rhyolites.
Comendite
is a hard, peralkaline igneous rock, a type of light blue grey rhyolite. Phenocrysts are sodic sanidine with minor albite and bipyrimidal quartz. The blue colour is caused by very small crystals of riebeckite or arfvedsonite. Comendite derives its name from the area of Le Commende on San Pietro Island in Italy, where the rock type is found.
Pantellerite
is a peralkaline rhyolite. It has a higher iron and lower aluminium composition than comendite. It is named after Pantelleria, a volcanic island in the Strait of Sicily and the type location for this rock. On Pantelleria the rock is usually found as a vitrophyre containing phenocrysts of anorthoclase or sanidine. Quartz is found only in the most strongly peralkaline rocks. Mafic minerals may include aegirine, fayalite, aenigmatite, ilmenite, and sodic amphibole (often arfvedsonite or ferrorichterite).
Rhyolites are known from all parts of the Earth and from all geologic ages. They are mostly confined, like granites, to the continents or their immediate margins, but they are not entirely lacking elsewhere. Small quantities of rhyolite (or quartz trachyte) have been described from oceanic islands remote from any continent.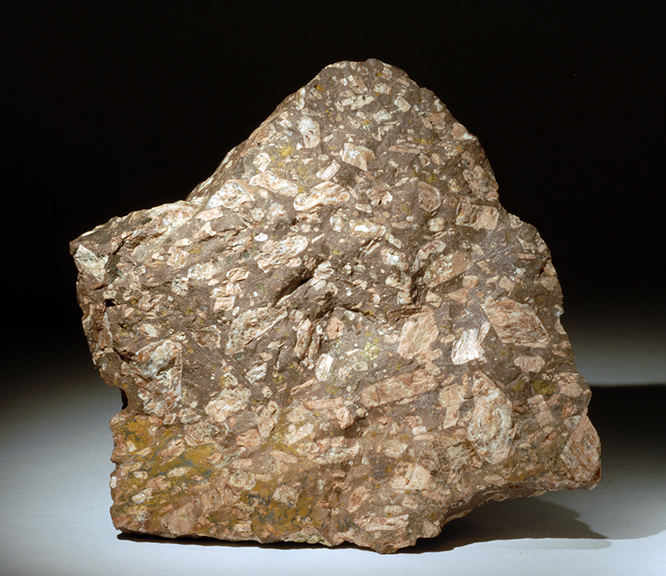 Rhyolite - Porphyritic. From Natalie Teager, Arizona State University.
QAPF Diagram Rhyolites field in blue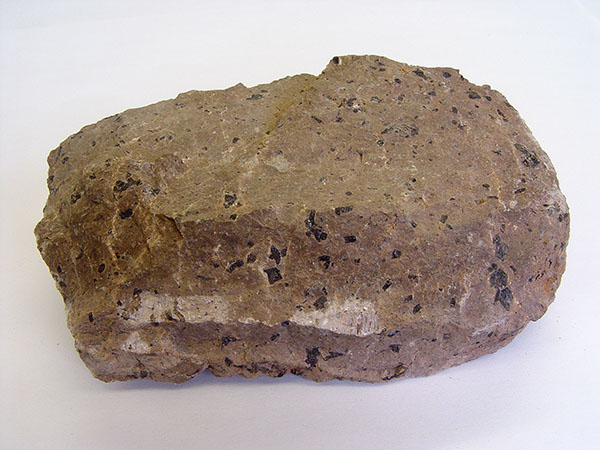 Rhyolite sample. The crystals are quartz.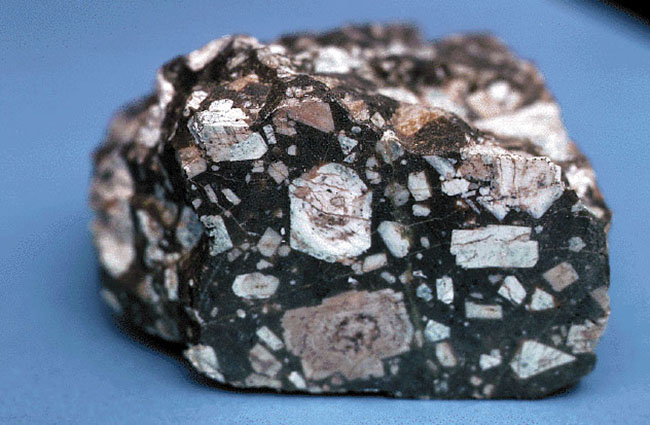 porphyritic rhyolite. Note the zoned plagioclase. From Eastern Illinois University.
Bibliography
• David Shelley (1983): Igneous and metamorphic rocks under the microscope. Campman & Hall editori.
• Vernon, R. H. & Clarke, G. L. (2008): Principles of Metamorphic Petrology. Cambridge University Press
• Shelley D (1992): Igneous and Metamorphic Rocks under the Microscope: Classification, textures, microstructures and mineral preferred orientation
• Cox et al. (1979): The Interpretation of Igneous Rocks, George Allen and Unwin, London.
• Eric A.K. (1985): Middlemost Magmas and Magmatic Rocks. Longman, London
• D'Amico C., Innocenti F. & Sassi F.P. (1987): Magmatismo e metamorfismo. UTET
• Innocenti F., Rocchi S. & Triglia R. (1999:) La classificazione delle rocce vulcaniche e subvulcaniche: schema operativo per il progetto CARG.
• Carmichael I.S.E., Turner F.J. & Verghoogen J. (1974): Igneous Petrology. McGraw-Hill.
Photo


Quartz crystal in a Rhyolite with felsic groundmass. XPL image, 2x (Field of view = 7mm)


Sanidine crystal in a Rhyolite with felsic groundmass. XPL image, 2x (Field of view = 7mm)


Quartz and Biotite crystals in a Rhyolite with felsic groundmass. XPL image, 2x (Field of view = 7mm)


Quartz and plagioclase crystal in a Rhyolite with felsic groundmass. XPL image, 2x (Field of view = 7mm)


Quartz and plagioclase crystals in a Rhyolite with felsic groundmass. XPL image, 2x (Field of view = 7mm)


Sanidinecrystal in a Rhyolite with felsic groundmass. XPL image, 2x (Field of view = 7mm)


Quartz crystal in a Rhyolite with felsic groundmass. XPL image, 2x (Field of view = 7mm)


Quartz crystals in a Rhyolite with felsic groundmass. XPL image, 2x (Field of view = 7mm)


Quartz crystals in a Rhyolite with felsic groundmass. XPL image, 2x (Field of view = 7mm)


Quartz crystals in a Rhyolite with felsic groundmass. XPL image, 2x (Field of view = 7mm)


Quartz crystals in a Rhyolite with felsic groundmass. XPL image, 2x (Field of view = 7mm)


Quartz crystals in a Rhyolite with felsic groundmass. XPL image, 2x (Field of view = 7mm)


Quartz and plagioclase crystals in a Rhyolite with felsic groundmass. XPL image, 2x (Field of view = 7mm)


Quartz and sanidine crystals in a Rhyolite with felsic groundmass. XPL image, 2x (Field of view = 7mm)


Plagioclase crystal in a Rhyolite with felsic groundmass. XPL image, 2x (Field of view = 7mm)


Quartz and sanidine crystals in a Rhyolite with felsic groundmass. XPL image, 2x (Field of view = 7mm)


Quartz and plagioclase crystals in a Rhyolite with felsic groundmass. XPL image, 2x (Field of view = 7mm)


Quartz and biotite crystals in a Rhyolite with felsic groundmass. XPL image, 2x (Field of view = 7mm)


Quartz, sanidine, plagioclase (colorless) and biotite in a Rhyolite with felsic groundmass from S.Vincenzo (Italy). PPL image, 2x (Field of view = 7mm)


Quartz, sanidine, plagioclase, biotite and altered Cordierite (in the right corner of the photo) in a Rhyolite with felsic groundmass from S.Vincenzo (Italy). XPL image, 2x (Field of view = 7mm)


Quartz (embayed), sanidine, plagioclase (colorless) and biotite in a Rhyolite with felsic groundmass from S.Vincenzo (Italy). PPL image, 2x (Field of view = 7mm)


Quartz (embayed), sanidine, plagioclase and biotite in a Rhyolite with felsic groundmass from S.Vincenzo (Italy). XPL image, 2x (Field of view = 7mm)


Big sanidine crystal in a Rhyolite with felsic groundmass from S.Vincenzo (Italy). XPL image, 2x (Field of view = 7mm)


Quartz crystal in a Rhyolite with felsic groundmass from S.Vincenzo (Italy). XPL image, 2x (Field of view = 7mm)


Big sanidine crystal in a Rhyolite with felsic groundmass from S.Vincenzo (Italy). XPL image, 2x (Field of view = 7mm)


Altered cordierite (in pinite) crystal (the square crystal at the center of the photo). XPL image, 2x (Field of view = 7mm)


Altered cordierite (in pinite) crystal. PPL image, 10x (Field of view = 2mm)


Altered cordierite (in pinite) crystal. XPL image, 10x (Field of view = 2mm)


Biotite. XPL image, 2x (Field of view = 7mm)


Altered cordierite (in pinite) crystal. PPL image, 10x (Field of view = 2mm)


Altered cordierite (in pinite) crystal. XPL image, 10x (Field of view = 2mm)


Sanidine crystal. XPL image, 10x (Field of view = 2mm)


Quartz crystals. PPL image, 10x (Field of view = 2mm)


Quartz crystals. XPL image, 10x (Field of view = 2mm)


Felsic groundmass. XPL image, 10x (Field of view = 2mm)


Altered cordierite (in pinite) crystal. XPL image, 10x (Field of view = 2mm)


Felsic groundmass. XPL image, 10x (Field of view = 2mm)