Skeletal Texture
Skeletal is a term used to describe the habit of euhedral to subhedral crystals in igneous rocks containing crystallographically orientated hollows and gaps. typically the voids within skeletal crystals are filled with groundmass materials.
Skeletal crystals form under large supercooling and indicate disequilibrium. They form by preferential growth of the corners of crystals, a diffusion controlled growth process. Skeletal morphologies are relatively common in olivine and plagioclase crystals in volcanic rocks. Skeletal olivine crystals are sometimes called hoppers. Dendrite and paralllel growth crystals are other crystal habits associated with large supercooling.
In a poly-component system (such as a silicate melt), if low-temperature components not wanted by the growing crystal cannot diffuse away into the liquid fast enough, they become concentrated in a narrow zone adjacent to the interface, especially if their diffusion rates (D) in the liquid are very low at the temperature concerned. The concentrated "impurity" components effectively lower the equilibrium freezing temperature (liquidus), which reduces the degree of supersaturation for the crystallizing mineral at the interface.
In most minerals, the crystal has a higher concentration of the higher-temperature melting components (like Anorthite for plagioclase), so that the expelled lower-temperature melting components (like albite for plagioclase) concentrates at the interface.
The accumulation of "impurity" components around the crystal means that the supersaturation of the melt increases with increasing distance from the interface until reaches a steady value (
see diagram 1
). Further crystal growth is only possible in liquid further away from the interface, where liquid of normal composition is available.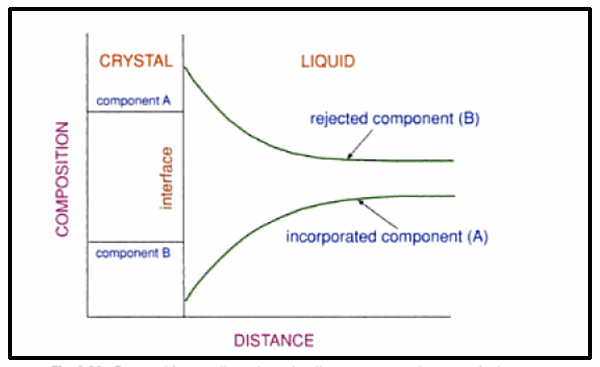 Diagram 1: Composition gradients in melt adjacent to a growing crystal when diffusion is not fast enough to eliminate gradient. From Kirkpatrick (1981)
A planar crystal is unstable under this conditions, and change into a collection of projections or Spike; the reason is that if a part of the interface advance ahead of the rest, it encounters liquid that is poorer in impurity components, and richer in nutrient components, and so it can continue to grow. The projections or Spike may originate at small protuberance on planar crystal, like on the corner, this is due to the larger ratio of melt volume to crystal surface area at the corner (where there is a lower concentration of impurity components).
Skeletal, dendritic and spiky crystals (plagioclase, olivine, pyroxene, magnetite) occurs in quenched volcanic rocks, including submarine basalt and Komatites. Lofgren (1974) and Donaldson (1976) have found that the shape of plagioclase crystals, grown experimentally from the melt, vary considerably with degree of undercooling (Δ T). they range from tabular at small Δ T to skeletal to dendritic and finally to spherulitic (Δ T about 400 degree).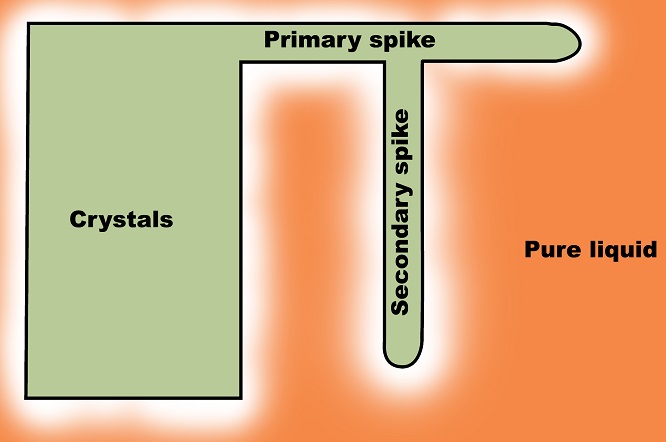 Diagram 2: Sketch showing development of secondary spike in response to accumulation of impurity components around primary spike. from Vernon
Bibliography
• E. WM. Heinrich (1956): Microscopic Petrografy. Mcgraw-hill book company,inc
• David Shelley (1983): Igneous and metamorphic rocks under the microscope. Campman & Hall editori.
• Vernon, R. H. & Clarke, G. L. (2008): Principles of Metamorphic Petrology. Cambridge University Press
• Shelley D (1992): Igneous and Metamorphic Rocks under the Microscope: Classification, textures, microstructures and mineral preferred orientation
• Cox et al. (1979): The Interpretation of Igneous Rocks, George Allen and Unwin, London.
Etruscan Furnace Slag

| | | |
| --- | --- | --- |
| Skeletal pyroxene crystals in a Etruscan Furnace Slag, Campiglia Marittima (Livorno), Italy. PPL image, 10x (Field of view = 2mm) | Skeletal pyroxene crystals in a Etruscan Furnace Slag, Campiglia Marittima (Livorno), Italy. PPL image, 10x (Field of view = 2mm) | Skeletal pyroxene crystals in a Etruscan Furnace Slag, Campiglia Marittima (Livorno), Italy. PPL image, 2x (Field of view = 7mm) |
| Skeletal pyroxene crystals in a Etruscan Furnace Slag, Campiglia Marittima (Livorno), Italy. PPL image, 10x (Field of view = 2mm) | Skeletal pyroxene crystals in a Etruscan Furnace Slag, Campiglia Marittima (Livorno), Italy. PPL image, 10x (Field of view = 2mm) | Skeletal pyroxene crystals in a Etruscan Furnace Slag, Campiglia Marittima (Livorno), Italy. PPL image, 10x (Field of view = 2mm) |
| Skeletal pyroxene crystals in a Etruscan Furnace Slag, Campiglia Marittima (Livorno), Italy. XPL image, 10x (Field of view = 2mm) | Skeletal pyroxene crystals in a Etruscan Furnace Slag, Campiglia Marittima (Livorno), Italy. XPL image, 10x (Field of view = 2mm) | Skeletal pyroxene crystals in a Etruscan Furnace Slag, Campiglia Marittima (Livorno), Italy. XPL image, 2x (Field of view = 7mm) |
| Skeletal pyroxene crystals in a Etruscan Furnace Slag, Campiglia Marittima (Livorno), Italy. PPL image, 2x (Field of view = 7mm) | Skeletal pyroxene crystals in a Etruscan Furnace Slag, Campiglia Marittima (Livorno), Italy. XPL image, 2x (Field of view = 7mm) | Skeletal pyroxene crystals in a Etruscan Furnace Slag, Campiglia Marittima (Livorno), Italy. PPL image, 10x (Field of view = 2mm) |
| Skeletal pyroxene and olivine (colorless) crystals in a Etruscan Furnace Slag, Campiglia Marittima (Livorno), Italy. PPL image, 10x (Field of view = 2mm) | Skeletal pyroxene and olivine (colorless) crystals in a Etruscan Furnace Slag, Campiglia Marittima (Livorno), Italy. PPL image, 10x (Field of view = 2mm) | Skeletal pyroxene and olivine crystals in a Etruscan Furnace Slag, Campiglia Marittima (Livorno), Italy. XPL image, 10x (Field of view = 2mm) |
Skeletal Plagioclase

| | | |
| --- | --- | --- |
| Skeletal plagioclase crystals in a pillow lava. PPL image, 10x (Field of view = 2mm) | Skeletal plagioclase crystals in a pillow lava. PPL image, 2x (Field of view = 7mm) | Skeletal plagioclase crystals in a pillow lava. PPL image, 10x (Field of view = 2mm) |
| Skeletal plagioclase crystals in a pillow lava. XPL image, 10x (Field of view = 2mm) | Skeletal plagioclase crystals in a pillow lava. XPL image, 10x (Field of view = 2mm) | Skeletal plagioclase crystals in a pillow lava. PPL image, 10x (Field of view = 2mm) |
| Skeletal plagioclase crystal with internal void in a pillow lava. PPL image, 40x (Field of view = 0,2mm) | Skeletal plagioclase crystal with complex form in a pillow lava. PPL image, 40x (Field of view = 0,2mm) | Skeletal plagioclase crystal with complex form in a pillow lava. PPL image, 40x (Field of view = 0,2mm) |
| Skeletal plagioclase crystals (feathery) in a pillow lava. PPL image, 20x (Field of view = 1mm) | Plagioclasi scheletrici. Immagine a N//, 10x (lato lungo = 2mm) | Skeletal plagioclase crystal with long spikes. XPL image, 10x (Field of view = 2mm) |
| Skeletal plagioclase crystals. PPL image, 2x (Field of view = 7mm) | Skeletal plagioclase crystals. PPL image, 10x (Field of view = 2mm) | Skeletal plagioclase crystals. PPL image, 10x (Field of view = 2mm) |
| Skeletal plagioclase crystals. PPL image, 10x (Field of view = 2mm) | Skeletal plagioclase crystals. PPL image, 10x (Field of view = 2mm) | Skeletal plagioclase crystals. PPL image, 2x (Field of view = 7mm) |
| Skeletal plagioclase crystals. PPL image, 2x (Field of view = 7mm) | Skeletal plagioclase crystals. XPL image, 2x (Field of view = 7mm) | Skeletal plagioclase crystals. PPL image, 10x (Field of view = 2mm) |
| Skeletal plagioclase crystals. PPL image, 2x (Field of view = 7mm) | Skeletal plagioclase crystals. PPL image, 10x (Field of view = 2mm) | Skeletal plagioclase crystals. PPL image, 10x (Field of view = 2mm) |
Skeletal Leucite ("cartwheel")


Skeletal leucite crystals in a Tephrite from Alban Hills (Italy). PPL image, 10x (Field of view = 2mm)


Skeletal leucite crystals in a Tephrite from Alban Hills (Italy). PPL image, 10x (Field of view = 2mm)


Skeletal leucite crystals in a Tephrite from Alban Hills (Italy). PPL image, 10x (Field of view = 2mm)


Skeletal leucite crystals in a Tephrite from Alban Hills (Italy). PPL image, 10x (Field of view = 2mm)


Skeletal leucite crystals in a Tephrite from Alban Hills (Italy). PPL image, 10x (Field of view = 2mm)


Skeletal leucite crystals in a Tephrite from Alban Hills (Italy). PPL image, 10x (Field of view = 2mm)


Skeletal leucite crystals in a Tephrite from Alban Hills (Italy). PPL image, 10x (Field of view = 2mm)


Skeletal leucite crystals in a Tephrite from Alban Hills (Italy). PPL image, 10x (Field of view = 2mm)


Skeletal leucite crystals in a Tephrite from Alban Hills (Italy). PPL image, 10x (Field of view = 2mm)


Skeletal leucite crystals in a Tephrite from Alban Hills (Italy). PPL image, 10x (Field of view = 2mm)


Skeletal leucite crystals in a Tephrite from Alban Hills (Italy). PPL image, 10x (Field of view = 2mm)


Skeletal leucite crystals in a Tephrite from Alban Hills (Italy). PPL image, 10x (Field of view = 2mm)


Skeletal leucite crystals in a Tephrite from Alban Hills (Italy). PPL image, 10x (Field of view = 2mm)


Skeletal leucite crystals in a Tephrite from Alban Hills (Italy). PPL image, 10x (Field of view = 2mm)


Skeletal leucite crystals in a Tephrite from Alban Hills (Italy). PPL image, 10x (Field of view = 2mm)


Skeletal leucite crystals in a Tephrite from Vulsini volcano (Italy). PPL image, 10x (Field of view = 2mm)


Skeletal leucite crystals in a Tephrite from Vulsini volcano (Italy). PPL image, 10x (Field of view = 2mm)


Skeletal leucite crystals in a Tephrite from Vulsini volcano (Italy). PPL image, 10x (Field of view = 2mm)


Skeletal leucite crystals in a Tephrite from Vulsini volcano (Italy). PPL image, 10x (Field of view = 2mm)


Skeletal leucite crystals in a Tephrite from Vulsini volcano (Italy). PPL image, 10x (Field of view = 2mm)


Skeletal leucite crystals in a Tephrite from Vulsini volcano (Italy). PPL image, 10x (Field of view = 2mm)


Skeletal leucite crystals in a Tephrite from Vulsini volcano (Italy). PPL image, 10x (Field of view = 2mm)


Skeletal leucite crystals in a Tephrite from Vulsini volcano (Italy). PPL image, 10x (Field of view = 2mm)
Skeletal Olivine


Skeletal olivine in a Pillow lava. The brown material are spherulites. PPL image, 10x (Field of view = 2mm)


Skeletal olivine in a Pillow lava. XPL image, 10x (Field of view = 2mm)


Skeletal olivine in a Pillow lava. The brown material are spherulites. PPL image, 10x (Field of view = 2mm)


Skeletal olivine in a Pillow lava. XPL image, 10x (Field of view = 2mm)


Skeletal olivine in a Pillow lava. The brown material are spherulites. PPL image, 10x (Field of view = 2mm)


Skeletal olivine in a Pillow lava. The brown material are spherulites. PPL image, 10x (Field of view = 2mm)


Skeletal olivine in a Basalt from Radicofani volcano (Italy). PPL image, 10x (Field of view = 2mm)


Skeletal olivine in a Basalt from Radicofani volcano (Italy). PPL image, 10x (Field of view = 2mm)


Skeletal olivine in a Basalt from Radicofani volcano (Italy). PPL image, 10x (Field of view = 2mm)


Skeletal olivine in a Basalt from Radicofani volcano (Italy). PPL image, 10x (Field of view = 2mm)


Skeletal olivine in a Basalt from Radicofani volcano (Italy). PPL image, 10x (Field of view = 2mm)


Skeletal olivine (altered by iddingsite) in a Basalt from Radicofani volcano (Italy). PPL image, 10x (Field of view = 2mm)


Skeletal olivine (altered by iddingsite) in a Basalt from Radicofani volcano (Italy). PPL image, 10x (Field of view = 2mm)


Skeletal olivine (altered by iddingsite) in a Basalt from Radicofani volcano (Italy). PPL image, 10x (Field of view = 2mm)


Skeletal olivine (altered by iddingsite) in a Basalt from Radicofani volcano (Italy). PPL image, 10x (Field of view = 2mm)


Skeletal olivine (altered by iddingsite) in a Basalt from Radicofani volcano (Italy). PPL image, 10x (Field of view = 2mm)


Skeletal olivine (altered by iddingsite) in a Basalt from Radicofani volcano (Italy). PPL image, 10x (Field of view = 2mm)


Skeletal olivine (altered by iddingsite) in a Basalt from Radicofani volcano (Italy). PPL image, 10x (Field of view = 2mm)


Skeletal olivine (altered by iddingsite) in a Basalt from Radicofani volcano (Italy). PPL image, 10x (Field of view = 2mm)


Skeletal olivine. PPL image, 10x (Field of view = 2mm)


Skeletal olivine. XPL image, 10x (Field of view = 2mm)


Skeletal olivine. PPL image, 10x (Field of view = 2mm)
Skeletal Pyroxene

| | | |
| --- | --- | --- |
| Skeletal elongated pyroxene crystals. XPL image, 10x (Field of view = 2mm) | Skeletal elongated pyroxene crystals. XPL image, 10x (Field of view = 2mm) | Skeletal elongated pyroxene crystals. PPL image, 10x (Field of view = 2mm) |
| Skeletal elongated pyroxene crystals. XPL image, 10x (Field of view = 2mm) | Skeletal elongated pyroxene crystals. XPL image, 10x (Field of view = 2mm) | Skeletal elongated pyroxene crystals. PPL image, 10x (Field of view = 2mm) |
| Skeletal elongated pyroxene crystals. XPL image, 10x (Field of view = 2mm) | Skeletal pyroxene crystal with internal void. XPL image, 10x (Field of view = 2mm) | Skeletal pyroxene crystal (basal section) with internal void. XPL image, 10x (Field of view = 2mm) |
| Skeletal pyroxene crystals (basal section) with internal void. XPL image, 10x (Field of view = 2mm) | Skeletal pyroxene crystal (basal section) with internal void. PPL image, 10x (Field of view = 2mm) | Skeletal pyroxene crystal (basal section) with internal void. XPL image, 10x (Field of view = 2mm) |
| Skeletal Augite crystals in a alkaline basalt. PPL image, 10x (Field of view = 2mm) | Skeletal Augite crystals in a alkaline basalt. PPL image, 10x (Field of view = 2mm) | Skeletal Augite crystals in a alkaline basalt. PPL image, 10x (Field of view = 2mm) |
| Skeletal Augite crystals in a alkaline basalt. PPL image, 10x (Field of view = 2mm) | Skeletal Augite crystals in a alkaline basalt. PPL image, 10x (Field of view = 2mm) | Skeletal Augite crystals in a alkaline basalt. PPL image, 10x (Field of view = 2mm) |
| Skeletal Augite crystals in a alkaline basalt. PPL image, 10x (Field of view = 2mm) | Skeletal Augite crystals in a alkaline basalt. PPL image, 10x (Field of view = 2mm) | Skeletal Augite crystals in a alkaline basalt. PPL image, 10x (Field of view = 2mm) |
| Skeletal Augite crystals in a alkaline basalt. PPL image, 10x (Field of view = 2mm) | Skeletal Augite crystals in a alkaline basalt. PPL image, 10x (Field of view = 2mm) | Skeletal Augite crystals in a alkaline basalt. PPL image, 10x (Field of view = 2mm) |
Skeletal Phlogopite

| | | |
| --- | --- | --- |
| Skeletal Phlogopite crystal in a lamproite from Orciatico (Tuscany, Italy). PPL image, 2x (Field of view = 7mm) | Skeletal Phlogopite crystal in a lamproite from Orciatico (Tuscany, Italy). PPL image, 2x (Field of view = 7mm) | Skeletal Phlogopite crystal in a lamproite from Orciatico (Tuscany, Italy). PPL image, 10x (Field of view = 2mm) |
| Skeletal Phlogopite crystal in a lamproite from Orciatico (Tuscany, Italy). PPL image, 10x (Field of view = 2mm) | Skeletal Phlogopite crystal in a lamproite from Orciatico (Tuscany, Italy). PPL image, 10x (Field of view = 2mm) | Skeletal Phlogopite crystal in a lamproite from Orciatico (Tuscany, Italy). PPL image, 10x (Field of view = 2mm) |
| Skeletal Phlogopite crystal in a lamproite from Orciatico (Tuscany, Italy). PPL image, 10x (Field of view = 2mm) | Skeletal Phlogopite crystal in a lamproite from Orciatico (Tuscany, Italy). PPL image, 10x (Field of view = 2mm) | Skeletal Phlogopite crystal in a lamproite from Orciatico (Tuscany, Italy). PPL image, 10x (Field of view = 2mm) |
Skeletal Sanidine

| | | |
| --- | --- | --- |
| Fibrous Skeletal Sanidine crystals in a lamproite from Orciatico (Tuscany, Italy). PPL image, 10x (Field of view = 2mm) | Fibrous Skeletal Sanidine crystals in a lamproite from Orciatico (Tuscany, Italy). PPL image, 10x (Field of view = 2mm) | Skeletal Sanidine crystals (with spike) in a lamproite from Orciatico (Tuscany, Italy). PPL image, 10x (Field of view = 2mm) |
| Skeletal Sanidine crystals (with spike) in a lamproite from Orciatico (Tuscany, Italy). PPL image, 10x (Field of view = 2mm) | Skeletal Sanidine crystals (with spike) in a lamproite from Orciatico (Tuscany, Italy). PPL image, 10x (Field of view = 2mm) | Skeletal Sanidine crystals (with spike) in a lamproite from Orciatico (Tuscany, Italy). PPL image, 10x (Field of view = 2mm) |
| Skeletal Sanidine crystals (with spike) in a lamproite from Orciatico (Tuscany, Italy). PPL image, 2x (Field of view = 7mm) | Skeletal Sanidine crystals (with spike) in a lamproite from Orciatico (Tuscany, Italy). PPL image, 10x (Field of view = 2mm) | Skeletal Sanidine crystals (with spike) in a lamproite from Orciatico (Tuscany, Italy). PPL image, 10x (Field of view = 2mm) |
Skeletal Magnetite

| | | |
| --- | --- | --- |
| Skeletal Pyroxenes and Skeletal Magneitite. komatiite di Alexo, Canada. PPL image, 10x (Field of view = 2mm) | Skeletal Pyroxenes and Skeletal Magneitite. komatiite di Alexo, Canada. PPL image, 10x (Field of view = 2mm) | Skeletal Pyroxenes and Skeletal Magneitite. komatiite di Alexo, Canada. PPL image, 10x (Field of view = 2mm) |
| Skeletal Pyroxenes and Skeletal Magneitite. komatiite di Alexo, Canada. PPL image, 10x (Field of view = 2mm) | Skeletal Pyroxenes and Skeletal Magneitite. komatiite di Alexo, Canada. PPL image, 10x (Field of view = 2mm) | Skeletal Pyroxenes and Skeletal Magneitite. komatiite di Alexo, Canada. PPL image, 10x (Field of view = 2mm) |