Vosegite
The lamprophyres are a complex group of rocks that have mineralogical similarities to some kimberlites and lamproites. Lamprophyres are difficult to classify unambiguously using existing criteria. They are not amenable to classification according to modal proportions, such as the system QAPF, nor compositional discrimination diagrams, such as TAS. It seems unlikely that a simple taxonomic system will be found unless appropriate genetic criteria are applied, that is, unless the classification takes into account the genesis of the rocks.
The term "lamprophyre" was introduced by von Gumbel in 1874 for a group of dark rocks that form minor intrusions, contain phenocrystal brown mica and hornblende, but lack feldspar phenocrysts. Following its introduction, the term was used by Rosenbusch (1877) to encompass a wide variety of hypabyssal rocks containing ferromagnesian phenocrysts (minette, kersantite, camptonite and vogesite. Eventually, spessartite, monchiquite and alnöite also were included in the group. Thus, the group became a repository for any mafic-phenocryst-rich rock that was difficult to categorize. Subsequently, Middlemost (1986) and Rock (1986, 1991) extended the definition further to include kimberlites, lamproites and even rocks containing feldspar and leucite phenocrysts. According to Streckeisen, lamprophyres are
"not simply textural varieties of common plutonic volcanic rocks"
as they are
"more or less distinguished from plutonic and volcanic rocks by their mineral composition and texture, and to varying degrees, also by their chemical composition"
He regards the following features as characteristics of the lamprophyres:
1) They are mesocratic to melanocratic, rarely ultramafic, porphyritic rocks
2) They contain essential biotite-phlogopite and/or Amphiboles, together with clinopyroxene, olivine and occasionally malilite
3) Feldspar and/or feldspathoids (when present) are restricted to the groundmass
4) Hydrothermal alteration of olivine, pyroxene, biotite-phlogopite and feldspar are common
5) Calcite, zeolite and other hydrothermal minerals are common
6) They usually have comparatively high K2O (or K
2
O + Na
2
O) contents at relatively low SiO2 contents.
7) Their H
2
O, CO
2
, S, P
2
O
5
and Ba contents are generally high as compared to rocks of similar SiO
2
content.
Streckeisen recognized three main type of lamprophyres:
A) Calc-alkaline lamprophyres
B) Melilitic lamprophyres
C) Alkaline lamprophyres
calc-alkaline lamprophyres
The calc-alkaline lamprophyres are also known as ordinary lamprophyres and they consist of Minettes, Vosegites, Kersantites and Spessartites. This lamprophyres are, in term of average chemical composition, virtually indistinguishable.
This four lamprophyres are most readily classified using modal data:
Vosegites:
From Vosges in Northern France. A vogesite is a porphyritic alkaline igneous rock dominated by essential amphibole, usually hornblende, and potassic feldspar, often with augite and plagioclase present as accessories within the groundmass.
Minettes:
From an old term used by miners in the Vosges, are alkali-feldspar. A minette is a porphyritic alkaline igneous rock dominated by essential biotite and potassic feldspar, often with augite and plagioclase present as accessories within the groundmass.
Spessartites:
From Spessart mountains east of Aschaffenburg in Germany. A spessartite is a porphyritic alkaline igneous rock dominated by essential amphibole, usually hornblende, and plagioclase feldspar, often with augite present as an accessory. Plagioclase occurs in the groundmass and potassic feldspar is absent or present in low abundance.
Kersantites:
From Kersanton, a village in France, are Plagioclase, Honrblende, Augite lamprophyres.
Alkaline lamprophyres and melilitic lamprophyres
The Alkaline and melilitic lamprophyres will be considered together, because both groups contain alkaline rocks and are usually associated with alkaline complexes and the rocks of the Carbonatite-nepheline-ijolite association. The common alkaline lamprophyres are comptonites, Sannaites and monchiquites and they are chemically akin to the alkaline basalt, basanites and Nephelinites.
Comptonites:
From Campton in the New Hampshire (USA). A camptonite is a porphyritic alkaline igneous rock dominated by essential plagioclase and brown amphibole, usually hornblende, often with titanaugite. Plagioclase occurs in the groundmass.
Sannaites:
From Sannavand, Fen complex, Sweden. Sannaites are broadly to Comptonites, except that they contain alkali feldspar in place of plagioclase.
Monchiquites:
From Sierra de Monchique in Southern Portugal. A monchiquite is a porphyritic alkaline igneous rock dominated by essential olivine, titanaugite and brown hornblende.
Alnöite:
From Alno island, Sweden. A alnöite is a porphyritic alkaline igneous rock dominated by essential olivine, biotite and pyroxene, in a groundmass containing melilite. It can contain monticellite.
Polenzite:
From Polzen area of the Bohemian massif, Czechoslovakia. Is a melilitic lamprophyre that usually contain between 10-30% of feldspathoids (Nepheline and Hauyne) and it normally contains the same minerals as occur in alnöite.
Petrographically, lamprophyres are set apart from most other igneous rocks by the presence of mafics, by the lack of feldspar phenocrysts, and by the abundance of mafics combined with alkali-rich feldspar. Chemically, the lamprophyres are unique because of their low silica content and a high iron, magnesium, and alkali content. The commonest lamprophyres are associated with large masses of granite and diorite. Classic examples occur in the Highlands and southern uplands of Scotland, the Lake District of Ireland, the Vosges, the Black Forest, and the Harz Mountains. Lamprophyres show a strong tendency to weather and decompose. Many have been altered, undoubtedly while the rocks lay some distance beneath the surface. The common alteration products include carbonate, chlorite, serpentine, and limonite.
Ordinary lamprophyres tend to occur in association with late orogenic or anorogenic granites, Syenites monzonites and other midly-alkaline rocks. This group of lamprophyres is generally considered to have evolved from a hybrid magma that was produced by the mixing of an alkali basaltic magma, particularly a potassium-rich magma, and the residual liquids in a partly crystallized body of plutonic rocks.
The alkaline lamprophyres are generally interpreted as being derived from hydrous basanitic, or tephritic magmas that evolved in areas of crustal doming, and they may be emplaced during the early stages of continental rifting.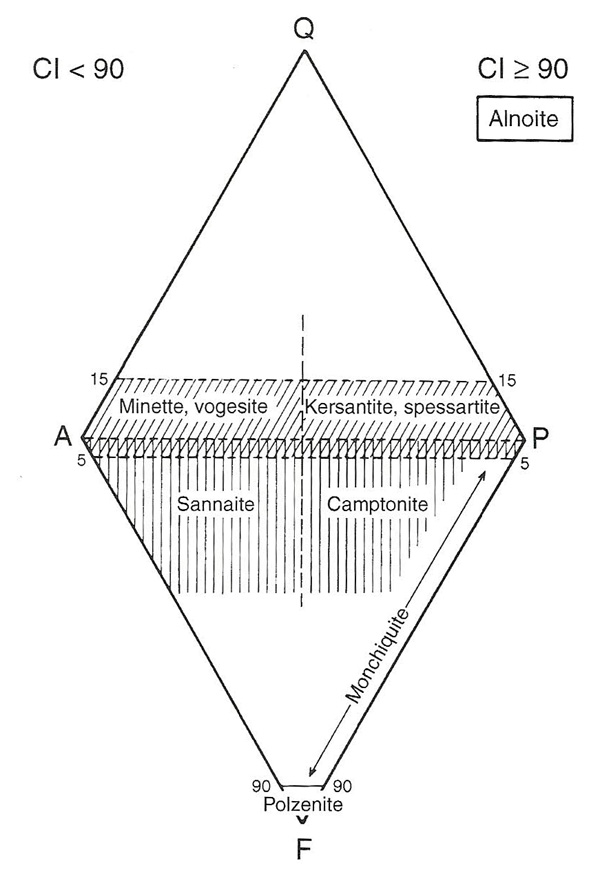 QAPF diagramm for lamprophyres classification. CL = Color index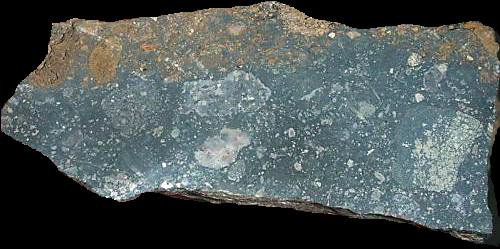 Alnöite sample from Malawi. From Michael P. Klimetz.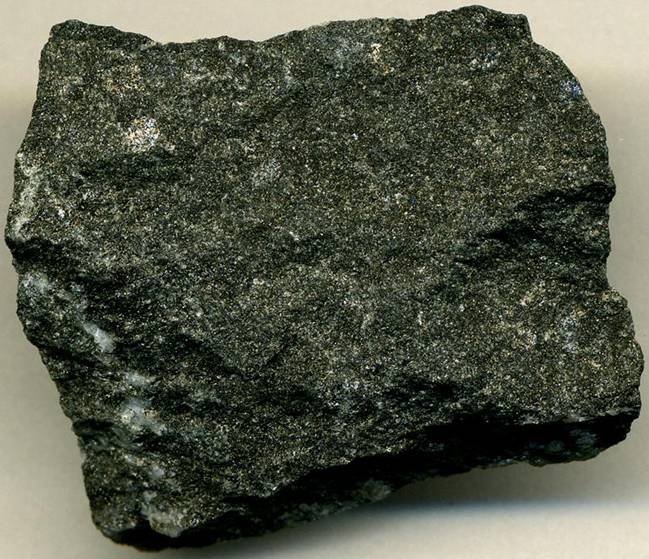 Minette sample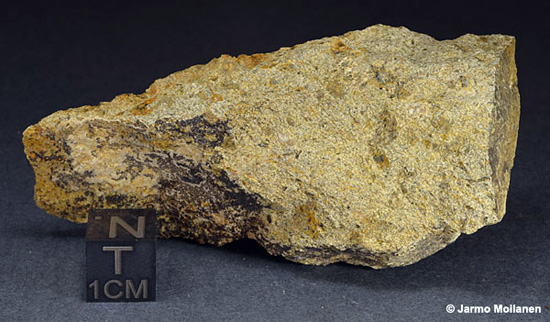 Kersantite sample from Germany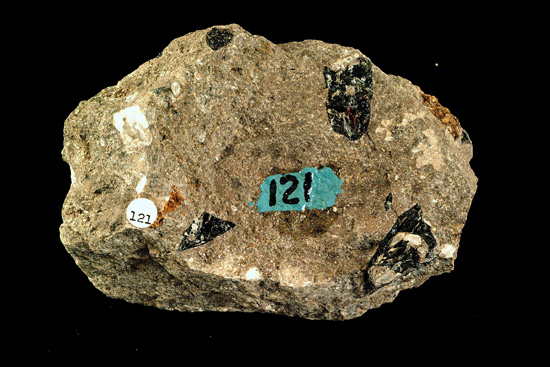 Camptonite Sample from Arizona (USA). Note the large Amphibole crystals. From Dexter Perkins 2001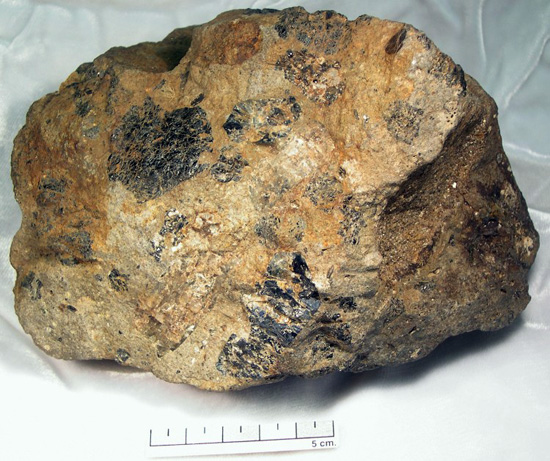 Monchiquite sample from Scotland. Note the large Amphibole and Biotite crystals. From The Hunterian Museum and Art Gallery, University of Glasgow.

Thin section of Vosegite from Scotland. The pictures below are taken from this thin section.
Bibliography
• David Shelley (1983): Igneous and metamorphic rocks under the microscope. Campman & Hall editori.
• Vernon, R. H. & Clarke, G. L. (2008): Principles of Metamorphic Petrology. Cambridge University Press
• Shelley D (1992): Igneous and Metamorphic Rocks under the Microscope: Classification, textures, microstructures and mineral preferred orientation
• Cox et al. (1979): The Interpretation of Igneous Rocks, George Allen and Unwin, London.
• Eric A.K. (1985): Middlemost Magmas and Magmatic Rocks. Longman, London
• D'Amico C., Innocenti F. & Sassi F.P. (1987): Magmatismo e metamorfismo. UTET
• Innocenti F., Rocchi S. & Triglia R. (1999:) La classificazione delle rocce vulcaniche e subvulcaniche: schema operativo per il progetto CARG.
• Carmichael I.S.E., Turner F.J. & Verghoogen J. (1974): Igneous Petrology. McGraw-Hill.
Photo


Hornblende, Magnetite, Biotite and Pyroxene phenocrysts and Sericitized feldspar in the groundmass. PPL image, 2x (Field of view = 7mm)


Hornblende, Magnetite, Biotite and Pyroxene phenocrysts and Sericitized feldspar in the groundmass. PPL image, 2x (Field of view = 7mm)


Hornblende, Magnetite, Biotite and Pyroxene phenocrysts and Sericitized feldspar in the groundmass. PPL image, 2x (Field of view = 7mm)


Hornblende, Magnetite, Biotite and Pyroxene phenocrysts and Sericitized feldspar in the groundmass. XPL image, 2x (Field of view = 7mm)


Hornblende, Magnetite, Biotite and Pyroxene phenocrysts and Sericitized feldspar in the groundmass. PPL image, 2x (Field of view = 7mm)


Hornblende, Magnetite, Biotite and Pyroxene phenocrysts and Sericitized feldspar in the groundmass. XPL image, 2x (Field of view = 7mm)


Hornblende, Magnetite, Biotite and Pyroxene phenocrysts and Sericitized feldspar in the groundmass. PPL image, 2x (Field of view = 7mm)


Hornblende, Magnetite, Biotite and Pyroxene phenocrysts and Sericitized feldspar in the groundmass. XPL image, 2x (Field of view = 7mm)


Hornblende, Magnetite, Biotite and Pyroxene phenocrysts and Sericitized feldspar in the groundmass. PPL image, 2x (Field of view = 7mm)


Hornblende, Magnetite, Biotite and Pyroxene phenocrysts and Sericitized feldspar in the groundmass. XPL image, 2x (Field of view = 7mm)


Hornblende, Magnetite and Pyroxene phenocrysts and Sericitized feldspar in the groundmass. PPL image, 2x (Field of view = 7mm)


Hornblende, Magnetite, Biotite and Pyroxene phenocrysts and Sericitized feldspar in the groundmass. PPL image, 2x (Field of view = 7mm)


Hornblende, Magnetite and Pyroxene phenocrysts and Sericitized feldspar in the groundmass. XPL image, 2x (Field of view = 7mm)


Hornblende, Magnetite and Pyroxene phenocrysts and Sericitized feldspar in the groundmass. PPL image, 2x (Field of view = 7mm)


Hornblende, Magnetite and Pyroxene phenocrysts and Sericitized feldspar in the groundmass. XPL image, 2x (Field of view = 7mm)


Hornblende, Magnetite and Pyroxene phenocrysts and Sericitized feldspar in the groundmass. PPL image, 2x (Field of view = 7mm)


Hornblende, Magnetite and Pyroxene phenocrysts and Sericitized feldspar in the groundmass. XPL image, 2x (Field of view = 7mm)


Hornblende, Magnetite and Pyroxene phenocrysts and Sericitized feldspar in the groundmass. XPL image, 2x (Field of view = 7mm)


Hornblende, Magnetite and Pyroxene phenocrysts and Sericitized feldspar in the groundmass. XPL image, 2x (Field of view = 7mm)


Hornblende, Magnetite and Pyroxene phenocrysts and Sericitized feldspar in the groundmass. XPL image, 2x (Field of view = 7mm)


Hornblende, Magnetite and Pyroxene phenocrysts and Sericitized feldspar in the groundmass. XPL image, 2x (Field of view = 7mm)


Magnetite, Biotite and Pyroxene (partially alterted by chlorite) phenocrysts and Sericitized feldspar in the groundmass. PPL image, 10x (Field of view = 2mm)


Magnetite, Biotite and Pyroxene (partially alterted by chlorite) phenocrysts and Sericitized feldspar in the groundmass. XPL image, 10x (Field of view = 2mm)


Pyroxene (partially alterted by chlorite) phenocrysts and Sericitized feldspar in the groundmass. PPL image, 10x (Field of view = 2mm)


Pyroxene (partially alterted by chlorite) phenocrysts and Sericitized feldspar in the groundmass. XPL image, 10x (Field of view = 2mm)


Magnetite, Biotite and Pyroxene (partially alterted by chlorite) phenocrysts and Sericitized feldspar in the groundmass. XPL image, 10x (Field of view = 2mm)