Sisco lamproitic Sill
Sisco lamproitic body (
Fig.1
) is a small sill that cuts through Alpine high-pressure metamorphic terrain occurs in Corsica, north of Sisco village.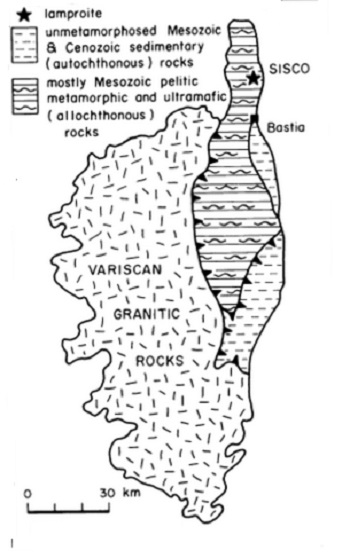 Fig.1: Schematic geoligical map of Corsica showing the location of Sisco lamproite (after Zwart and Dornslepen 1978).
The Sisco lamproite is a leucite- and plagioclase-free ultrapotassic rocks with intersertal texture and a parageneses made of phlogopite, clinopyroxene, olivine (altered), sanidine, and K-richterite associated to subordinate abundance of chromian spinel, ilmenite, pseudobroockite and priderite. Rare roedderite has also been found. The age is about 14 Ma. The Sisco rock is a peralkaline high-silica lamproite exhibiting high concentrations MgO, Ni, Co and Cr and moderate Sc and V abundances.
The Sisco lamproite has a peralkaline index > 1, with high MgO (6.4-7.1 wt.%, Peccerillo et al., 1988). Sisco lamproite has the highest K
2
O and the lowest Al
2
O
3
among the whole Central Mediterranean lamproites
Bibliography
• Peccerillo, A. (2005). Plio-quaternary volcanism in Italy (Vol. 365). Springer-Verlag Berlin Heidelberg.
• Conticelli, S., et al. (2004): "Petrologic, geochemical, and isotopic characteristics of potassic and ultrapotassic magmatism in Central-Southern Italy: inferences on its genesis and on the nature of mantle sources." Periodico di Mineralogia 73.1: 153-164.
Photo


Phlogopite (brown) and sanidine (with feathery texture) crystals. Sisco lamproite, Corsica. PPL image, 2x (Field of view = 7mm)


Phlogopite and sanidine (I order gray) crystals. Sisco lamproite, Corsica. XPL image, 2x (Field of view = 7mm)


Phlogopite (brown) and sanidine (with feathery texture) crystals. Sisco lamproite, Corsica. PPL image, 2x (Field of view = 7mm)


Phlogopite and sanidine (I order gray) crystals. Sisco lamproite, Corsica. XPL image, 2x (Field of view = 7mm)


Phlogopite (brown) and sanidine (with feathery texture) crystals. Sisco lamproite, Corsica. PPL image, 2x (Field of view = 7mm)


Phlogopite and sanidine (I order gray) crystals. Sisco lamproite, Corsica. XPL image, 2x (Field of view = 7mm)


Phlogopite (brown) and sanidine (with feathery texture) crystals. Sisco lamproite, Corsica. PPL image, 2x (Field of view = 7mm)


Phlogopite and sanidine (I order gray) crystals. Sisco lamproite, Corsica. XPL image, 2x (Field of view = 7mm)


Phlogopite (brown) and sanidine (with feathery texture) crystals. Sisco lamproite, Corsica. PPL image, 2x (Field of view = 7mm)


Phlogopite and sanidine (I order gray) crystals. Sisco lamproite, Corsica. XPL image, 2x (Field of view = 7mm)


Phlogopite and sanidine (I order gray) crystals. Sisco lamproite, Corsica. XPL image, 2x (Field of view = 7mm)


Phlogopite (brown) and sanidine (with feathery texture) crystals. Sisco lamproite, Corsica. PPL image, 2x (Field of view = 7mm)


Phlogopite and sanidine (I order gray) crystals. Sisco lamproite, Corsica. XPL image, 2x (Field of view = 7mm)


Phlogopite and sanidine (I order gray) crystals. Sisco lamproite, Corsica. XPL image, 2x (Field of view = 7mm)


Phlogopite (brown) and sanidine (with feathery texture) crystals. Sisco lamproite, Corsica. PPL image, 2x (Field of view = 7mm)


Phlogopite (brown) and sanidine (with feathery texture) crystals. Sisco lamproite, Corsica. PPL image, 2x (Field of view = 7mm)


Phlogopite and sanidine (I order gray) crystals. Sisco lamproite, Corsica. XPL image, 2x (Field of view = 7mm)


Phlogopite and sanidine (I order gray) crystals. Sisco lamproite, Corsica. XPL image, 2x (Field of view = 7mm)


Phlogopite and sanidine (I order gray) crystals. Sisco lamproite, Corsica. XPL image, 2x (Field of view = 7mm)


Phlogopite (brown) and sanidine (with feathery texture) crystals. Sisco lamproite, Corsica. PPL image, 2x (Field of view = 7mm)


Phlogopite and sanidine (I order gray) crystals. Sisco lamproite, Corsica. XPL image, 2x (Field of view = 7mm)


Phlogopite and sanidine (I order gray) crystals. Sisco lamproite, Corsica. XPL image, 2x (Field of view = 7mm)


Phlogopite and sanidine (I order gray) crystals. Sisco lamproite, Corsica. XPL image, 2x (Field of view = 7mm)


Phlogopite and sanidine (I order gray) crystals. Sisco lamproite, Corsica. XPL image, 2x (Field of view = 7mm)


Phlogopite and sanidine (I order gray) crystals. Sisco lamproite, Corsica. XPL image, 2x (Field of view = 7mm)


Skeletal sanidine (I order gray) crystals. Sisco lamproite, Corsica. XPL image, 10x (Field of view = 2mm)


Skeletal sanidine (I order gray) crystals. Sisco lamproite, Corsica. XPL image, 10x (Field of view = 2mm)


Phlogopite (brown) sanidine (with feathery texture) crystals. Sisco lamproite, Corsica. PPL image, 2x (Field of view = 7mm)


Phlogopite (brown) sanidine (with feathery texture) crystals. Sisco lamproite, Corsica. PPL image, 2x (Field of view = 7mm)


Phlogopite (brown) sanidine (with feathery texture) crystals. Sisco lamproite, Corsica. PPL image, 2x (Field of view = 7mm)


Phlogopite (brown) sanidine (with feathery texture) crystals. Sisco lamproite, Corsica. PPL image, 2x (Field of view = 7mm)


Phlogopite (brown) sanidine (with feathery texture) crystals. Sisco lamproite, Corsica. PPL image, 2x (Field of view = 7mm)


Phlogopite (brown) sanidine (with feathery texture) crystals. Sisco lamproite, Corsica. PPL image, 2x (Field of view = 7mm)


Phlogopite (brown) sanidine (with feathery texture) crystals. Sisco lamproite, Corsica. PPL image, 2x (Field of view = 7mm)


Phlogopite (brown) sanidine (with feathery texture) crystals. Sisco lamproite, Corsica. PPL image, 2x (Field of view = 7mm)


Phlogopite and sanidine (I order gray) crystals. Sisco lamproite, Corsica. XPL image, 2x (Field of view = 7mm)


Phlogopite (brown) sanidine (with feathery texture) crystals. Sisco lamproite, Corsica. PPL image, 2x (Field of view = 7mm)


Phlogopite and sanidine (I order gray) crystals. Sisco lamproite, Corsica. XPL image, 2x (Field of view = 7mm)


Phlogopite (brown) sanidine (with feathery texture) crystals. Sisco lamproite, Corsica. PPL image, 2x (Field of view = 7mm)


Phlogopite (brown) sanidine (with feathery texture) crystals. Sisco lamproite, Corsica. PPL image, 2x (Field of view = 7mm)


Skeletal sanidine (with feathery texture) crystals. Sisco lamproite, Corsica. PPL image, 10x (Field of view = 2mm)


Skeletal sanidine (with feathery texture) crystals. Sisco lamproite, Corsica. PPL image, 10x (Field of view = 2mm)


Skeletal sanidine (with feathery texture) crystals. Sisco lamproite, Corsica. PPL image, 10x (Field of view = 2mm)


Skeletal sanidine (I order gray) crystals. Sisco lamproite, Corsica. XPL image, 10x (Field of view = 2mm)