Ultramafic diatreme breccia
Around Vogtsburg several localities of so called intrusive "breccien", interpreted as diatreme pipes are exposed. These breccias are closely related to the sovite intrusions. They are composed to 25 - 50% of fragments of mafic minerals (pyroxene, amphiboile, mica, magnetite, ilmenite) and carry a great variety of rocks as xenolith inclusions.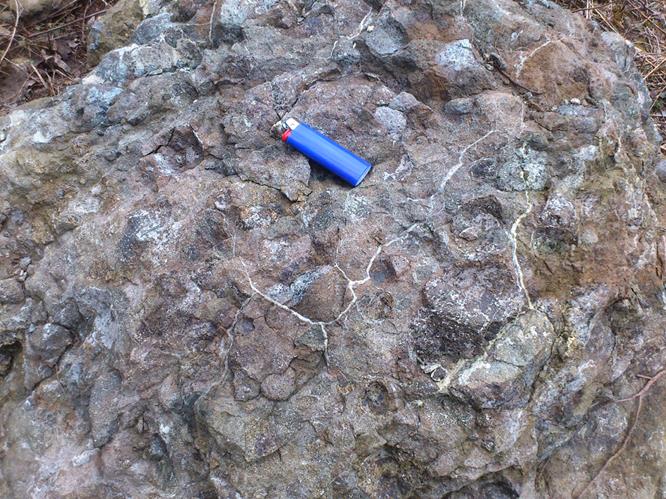 Volcanic breccias. From Geologische Streifzüge
Bibliography
• Ulianov, A., Müntener, O., Ulmer, P., & Pettke, T. (2007). Entrained macrocryst minerals as a key to the source region of olivine nephelinites: Humberg, Kaiserstuhl, Germany. Journal of Petrology, 48(6), 1079-1118.
• Walter, B. F., Marks, M. A. W., & Markl, G. (2016). The Kaiserstuhl natural laboratory-an introduction and first results. Abstract Malawi Expert Council.
• Weisenberger, T. B., Spürgin, S., & Lahaye, Y. (2014). Hydrothermal alteration and zeolitization of the Fohberg phonolite, Kaiserstuhl Volcanic Complex, Germany. International Journal of Earth Sciences, 103(8), 2273-2300.
• Weisenberger, T., & Spuergin, S. (2009). Zeolites in alkaline rocks of the Kaiserstuhl Volcanic Complex, SW Germany–new microprobe investigation and the relationship of zeolite mineralogy to the host rock. Geologica Belgica
Photo


Fragments of mafic minerals (pyroxene and mica) and altered xenoliths in a diatreme breccia from Vogtsburg. PPL image, 2x (Field of view = 7mm)


Fragments of mafic minerals (pyroxene and mica) and altered xenoliths in a diatreme breccia from Vogtsburg. XPL image, 2x (Field of view = 7mm)


Fragments of mafic minerals (pyroxene and magnetite) and altered xenoliths in a diatreme breccia from Vogtsburg. PPL image, 2x (Field of view = 7mm)


Fragments of mafic minerals (pyroxene and magnetite) and altered xenoliths in a diatreme breccia from Vogtsburg. PPL image, 2x (Field of view = 7mm)


Fragments of mafic minerals (pyroxene and magnetite) and altered xenoliths in a diatreme breccia from Vogtsburg. PPL image, 2x (Field of view = 7mm)


Fragments of mafic minerals (pyroxene and magnetite) and altered xenoliths in a diatreme breccia from Vogtsburg. PPL image, 2x (Field of view = 7mm)


Fragments of mafic minerals (pyroxene and magnetite) and altered xenoliths in a diatreme breccia from Vogtsburg. PPL image, 2x (Field of view = 7mm)


Fragments of mafic minerals (pyroxene and magnetite) and altered xenoliths in a diatreme breccia from Vogtsburg. PPL image, 2x (Field of view = 7mm)


Fragments of mafic minerals (pyroxene and phlogopite) and altered xenoliths in a diatreme breccia from Vogtsburg. PPL image, 2x (Field of view = 7mm)


Fragments of mafic minerals (pyroxene and phlogopite) and altered xenoliths in a diatreme breccia from Vogtsburg. XPL image, 2x (Field of view = 7mm)


Fragments of mafic minerals (pyroxene and magnetite) and altered xenoliths in a diatreme breccia from Vogtsburg. PPL image, 2x (Field of view = 7mm)


Fragments of mafic minerals (pyroxene and magnetite) and altered xenoliths in a diatreme breccia from Vogtsburg. XPL image, 2x (Field of view = 7mm)


Fragments of mafic minerals (pyroxene and magnetite) and altered xenoliths in a diatreme breccia from Vogtsburg. PPL image, 2x (Field of view = 7mm)


Fragments of mafic minerals (pyroxene and magnetite) and altered xenoliths in a diatreme breccia from Vogtsburg. XPL image, 2x (Field of view = 7mm)


Fragments of mafic minerals (pyroxene and magnetite), big calcite fragment and altered xenoliths in a diatreme breccia from Vogtsburg. PPL image, 10x (Field of view = 2mm)


Fragments of mafic minerals (pyroxene and magnetite), big calcite fragment and altered xenoliths in a diatreme breccia from Vogtsburg. XPL image, 10x (Field of view = 2mm)