Kimberlite, Sturgeon Lake (Canada)
The Sturgeon Lake 01 body was the first kimberlite discovered in Saskatchewan area. It was found by heavy mineral sampling and shown to be diamondiferous, but not economic. The Sturgeon Lake 01 crop out in a gravel pit, 30 km northwest of Prince Albert. The body is a glacially transported mega-block of crater-facies volcaniclastic kimberlite that is at least 200 m by 125 m by 40 m in size. The block, which is 98 Ma in age, occurs within 100 m of glacial sediments that overlie Cretaceous bedrock shale. Marine shale of a similar age occurs adjacent to the kimberlite and appears to represent a separate glacial block(s).
The Sturgeon Lake 01 kimberlite contain two generations of olivine, macrocrysts of ilmenite, garnet, spinel and mica together with groundmass mica, spinel, perovskite, apatite, carbonate and serpentine. Texturally, the Sturgeon Lake 01 kimberlite is a subaerial pyroclastic air-fall lapilli tuff. The juvenile lapilli have amoeboid shapes and are vesicular; a feature which is similar to the kimberlites at Fort ą la Corne, but unusual compared to other kimberlites worldwide. This suggests that the Sturgeon Lake 01 kimberlites formed by different emplacement processes to most documented kimberlites; probably by Hawaiian- and Strombolian-style eruptions infilling maar-like craters with no associated diatreme as proposed for the Fort ą la Corne province.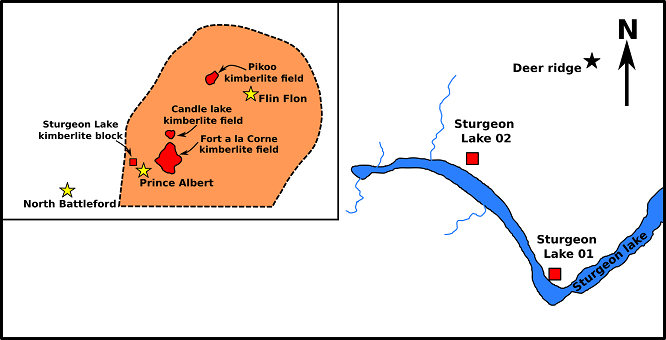 Fig.1: Locations of the Sturgeon Lake kimberlites. The orange area is the north Sask Craton.
Sample kindly given to me by Oliver. L. (Canada)
Bibliography
•Paktunc, A. D., & Hulbert, L. (1996). Mineralogy of the Sturgeon Lake 01 kimberlite, Saskatchewan: A proton microprobe study of the macrocryst phases. Exploration and Mining Geology, 5(3), 263.
Photo


Rounded olivine (serpentinized) crystals, set in a groundmass rich in calcite and serpentine. Sturgeon Lake kimberlite. PPL image, 1x (Field of view = 2mm)


Rounded olivine (serpentinized) crystals, set in a groundmass rich in calcite and serpentine. Sturgeon Lake kimberlite. XPL image, 1x (Field of view = 2mm)


Rounded olivine (serpentinized) crystals, set in a groundmass rich in calcite and serpentine. Sturgeon Lake kimberlite. PPL image, 1x (Field of view = 2mm)


Rounded olivine (serpentinized) crystals, set in a groundmass rich in calcite and serpentine. Sturgeon Lake kimberlite. XPL image, 1x (Field of view = 2mm)


Rounded olivine (serpentinized) crystals, set in a groundmass rich in calcite and serpentine. Sturgeon Lake kimberlite. PPL image, 1x (Field of view = 2mm)


Rounded olivine (serpentinized) crystals, set in a groundmass rich in calcite and serpentine. Sturgeon Lake kimberlite. XPL image, 1x (Field of view = 2mm)


Rounded olivine (serpentinized) crystals, set in a groundmass rich in calcite and serpentine. Sturgeon Lake kimberlite. PPL image, 1x (Field of view = 2mm)


Rounded olivine (serpentinized) crystals, set in a groundmass rich in calcite and serpentine. Sturgeon Lake kimberlite. XPL image, 1x (Field of view = 2mm)


Rounded olivine (serpentinized) crystals and sedimentary xenolith, set in a groundmass rich in calcite and serpentine. Sturgeon Lake kimberlite. PPL image, 1x (Field of view = 2mm)


Rounded olivine (serpentinized) crystals and sedimentary xenolith, set in a groundmass rich in calcite and serpentine. Sturgeon Lake kimberlite. XPL image, 1x (Field of view = 2mm)


Rounded olivine (serpentinized) crystals, set in a groundmass rich in calcite and serpentine. Sturgeon Lake kimberlite. PPL image, 1x (Field of view = 2mm)


Rounded olivine (serpentinized) crystals, set in a groundmass rich in calcite and serpentine. Sturgeon Lake kimberlite. XPL image, 1x (Field of view = 2mm)


Rounded olivine (serpentinized) crystals, set in a groundmass rich in calcite and serpentine. Sturgeon Lake kimberlite. PPL image, 1x (Field of view = 2mm)


Rounded olivine (serpentinized) crystals, set in a groundmass rich in calcite and serpentine. Sturgeon Lake kimberlite. XPL image, 1x (Field of view = 2mm)


Rounded olivine (serpentinized) crystals, set in a groundmass rich in calcite and serpentine. Sturgeon Lake kimberlite. PPL image, 1x (Field of view = 2mm)


Rounded olivine (serpentinized) crystals, set in a groundmass rich in calcite and serpentine. Sturgeon Lake kimberlite. PPL image, 1x (Field of view = 2mm)


Rounded olivine (serpentinized) crystals, set in a groundmass rich in calcite and serpentine. Sturgeon Lake kimberlite. PPL image, 1x (Field of view = 2mm)


Rounded olivine (serpentinized) crystals, set in a groundmass rich in calcite and serpentine. Sturgeon Lake kimberlite. XPL image, 1x (Field of view = 2mm)


Rounded olivine (serpentinized) crystals, set in a groundmass rich in calcite and serpentine. Sturgeon Lake kimberlite. PPL image, 1x (Field of view = 2mm)


Rounded olivine (serpentinized) crystals, set in a groundmass rich in calcite and serpentine. Sturgeon Lake kimberlite. XPL image, 1x (Field of view = 2mm)


Rounded olivine (serpentinized) crystals, set in a groundmass rich in calcite and serpentine. Sturgeon Lake kimberlite. PPL image, 1x (Field of view = 2mm)


Rounded olivine (serpentinized) crystals, set in a groundmass rich in calcite and serpentine. Sturgeon Lake kimberlite. XPL image, 1x (Field of view = 2mm)


Rounded olivine (serpentinized) crystals, set in a groundmass rich in calcite and serpentine. Sturgeon Lake kimberlite. PPL image, 1x (Field of view = 2mm)


Rounded olivine (serpentinized) crystals, set in a groundmass rich in calcite and serpentine. Sturgeon Lake kimberlite. XPL image, 1x (Field of view = 2mm)


Rounded olivine (serpentinized) crystals, set in a groundmass rich in calcite and serpentine. Sturgeon Lake kimberlite. PPL image, 2x (Field of view = 7mm)


Rounded olivine (serpentinized) crystals, set in a groundmass rich in calcite and serpentine. Sturgeon Lake kimberlite. XPL image, 2x (Field of view = 7mm)


Rounded olivine (serpentinized) crystals, set in a groundmass rich in calcite and serpentine. Sturgeon Lake kimberlite. PPL image, 2x (Field of view = 7mm)


Rounded olivine (serpentinized) crystals, set in a groundmass rich in calcite and serpentine. Sturgeon Lake kimberlite. XPL image, 2x (Field of view = 7mm)


Rounded olivine (serpentinized) crystals, set in a groundmass rich in calcite and serpentine. Sturgeon Lake kimberlite. PPL image, 2x (Field of view = 7mm)


Rounded olivine (serpentinized) crystals, set in a groundmass rich in calcite and serpentine. Sturgeon Lake kimberlite. XPL image, 2x (Field of view = 7mm)


Rounded olivine (serpentinized) crystals, set in a groundmass rich in calcite and serpentine. Sturgeon Lake kimberlite. PPL image, 2x (Field of view = 7mm)


Rounded olivine (serpentinized) crystals, set in a groundmass rich in calcite and serpentine. Sturgeon Lake kimberlite. XPL image, 2x (Field of view = 7mm)


Rounded olivine (serpentinized) crystals, set in a groundmass rich in calcite and serpentine. Sturgeon Lake kimberlite. PPL image, 2x (Field of view = 7mm)


Rounded olivine (serpentinized) crystals, set in a groundmass rich in calcite and serpentine. Sturgeon Lake kimberlite. XPL image, 2x (Field of view = 7mm)


Rounded olivine (serpentinized) crystals, set in a groundmass rich in calcite and serpentine. Sturgeon Lake kimberlite. PPL image, 2x (Field of view = 7mm)


Rounded olivine (serpentinized) crystals, set in a groundmass rich in calcite and serpentine. Sturgeon Lake kimberlite. XPL image, 2x (Field of view = 7mm)


Rounded olivine (serpentinized) crystals, set in a groundmass rich in calcite and serpentine. Sturgeon Lake kimberlite. PPL image, 2x (Field of view = 7mm)


Rounded olivine (serpentinized) crystals, set in a groundmass rich in calcite and serpentine. Sturgeon Lake kimberlite. XPL image, 2x (Field of view = 7mm)


Rounded olivine (serpentinized) crystals, set in a groundmass rich in calcite and serpentine. Sturgeon Lake kimberlite. PPL image, 2x (Field of view = 7mm)


Rounded olivine (serpentinized) crystals, set in a groundmass rich in calcite and serpentine. Sturgeon Lake kimberlite. XPL image, 2x (Field of view = 7mm)


Rounded olivine (serpentinized) crystals, set in a groundmass rich in calcite and serpentine. Sturgeon Lake kimberlite. XPL image, 2x (Field of view = 7mm)


Rounded olivine (serpentinized) crystals, set in a groundmass rich in calcite and serpentine. Sturgeon Lake kimberlite. XPL image, 2x (Field of view = 7mm)


Rounded olivine (serpentinized) crystals, set in a groundmass rich in calcite and serpentine. Sturgeon Lake kimberlite. XPL image, 2x (Field of view = 7mm)


Rounded olivine (serpentinized) crystals, set in a groundmass rich in calcite and serpentine. Sturgeon Lake kimberlite. XPL image, 2x (Field of view = 7mm)


Rounded olivine (serpentinized) crystals, set in a groundmass rich in calcite and serpentine. Sturgeon Lake kimberlite. XPL image, 2x (Field of view = 7mm)


Rounded olivine (serpentinized) crystals, set in a groundmass rich in calcite and serpentine. Sturgeon Lake kimberlite. XPL image, 2x (Field of view = 7mm)


Rounded olivine (serpentinized) crystals, set in a groundmass rich in calcite and serpentine. Sturgeon Lake kimberlite. XPL image, 2x (Field of view = 7mm)


Rounded olivine (serpentinized) crystals, set in a groundmass rich in calcite and serpentine. Sturgeon Lake kimberlite. XPL image, 2x (Field of view = 7mm)


Rounded olivine (serpentinized) crystals, set in a groundmass rich in calcite and serpentine. Sturgeon Lake kimberlite. PPL image, 2x (Field of view = 7mm)


Rounded olivine (serpentinized) crystals, set in a groundmass rich in calcite and serpentine. Sturgeon Lake kimberlite. XPL image, 2x (Field of view = 7mm)


Rounded olivine (serpentinized) crystals, mica (brown) and spinel (black), set in a groundmass rich in calcite and serpentine. Sturgeon Lake kimberlite. PPL image, 2x (Field of view = 7mm)


Rounded olivine (serpentinized) crystals, set in a groundmass rich in calcite and serpentine. Sturgeon Lake kimberlite. PPL image, 2x (Field of view = 7mm)


Rounded olivine (serpentinized) crystals, set in a groundmass rich in calcite and serpentine. Sturgeon Lake kimberlite. XPL image, 2x (Field of view = 7mm)


Rounded garnet with fibrous reaction rim. Sturgeon Lake kimberlite. PPL image, 2x (Field of view = 7mm)


Rounded garnet (isotropic) with fibrous reaction rim. Sturgeon Lake kimberlite. PPL image, 2x (Field of view = 7mm)


Rounded garnet with fibrous reaction rim. Sturgeon Lake kimberlite. PPL image, 10x (Field of view = 2mm)


Rounded garnet (isotropic) with fibrous reaction rim. Sturgeon Lake kimberlite. XPL image, 10x (Field of view = 2mm)


Rounded garnet with fibrous reaction rim. Sturgeon Lake kimberlite. PPL image, 10x (Field of view = 2mm)


Rounded garnet (isotropic) with fibrous reaction rim. Sturgeon Lake kimberlite. XPL image, 10x (Field of view = 2mm)


Rounded garnet (isotropic) with fibrous reaction rim. Sturgeon Lake kimberlite. XPL image, 20x (Field of view = 1mm)