Spessartite
Spessartites:
From Spessart mountains east of Aschaffenburg in Germany. A spessartite is a porphyritic alkaline (shoshonitic) lamprophyre, dominated by essential amphibole, usually hornblende, and plagioclase feldspar, often with augite present as an accessory. Plagioclase occurs in the groundmass and potassic feldspar is absent or present in low abundance.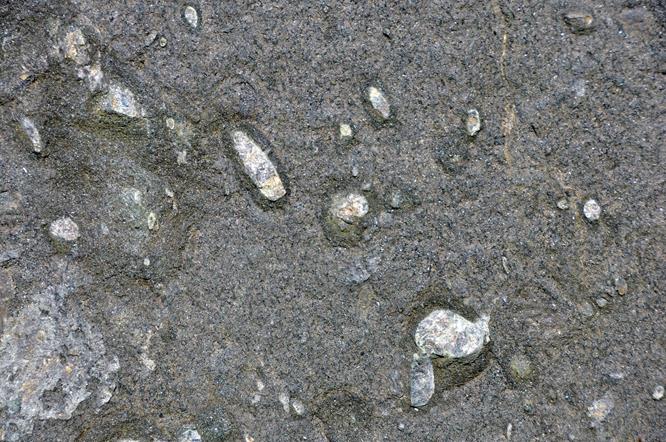 Spessartite dyke with altered mantle xenoliths (light colored objects), Wawa, northern Ontario, Canada. From James St. John.
Bibliography
• Mitchell, R. H. (1994). The lamprophyre facies. Mineralogy and Petrology, 51(2), 137-146.
• Rock, N. S. (1977). The nature and origin of lamprophyres: some definitions, distinctions, and derivations. Earth-Science Reviews, 13(2), 123-169.
• Rock, N. M. S. (1986). The nature and origin of ultramafic lamprophyres: alnöites and allied rocks. Journal of Petrology, 27(1), 155-196.
• Rock, N. M. (1987). The nature and origin of lamprophyres: an overview. Geological Society, London, Special Publications, 30(1), 191-226.
Photo

| | | |
| --- | --- | --- |
| Hornblende, Phlogopite and Pyroxene phenocrysts with feldspar in the groundmass. Spessartite from Assynt, Scotland.. PPL image, 2x (Field of view = 7mm) | Hornblende, Phlogopite and Pyroxene phenocrysts with feldspar in the groundmass. Spessartite from Assynt, Scotland. PPL image, 2x (Field of view = 7mm) | Hornblende, Phlogopite and Pyroxene phenocrysts with feldspar in the groundmass. Spessartite from Assynt, Scotland. PPL image, 2x (Field of view = 7mm) |
| Hornblende, Phlogopite and Pyroxene phenocrysts with feldspar in the groundmass. Spessartite from Assynt, Scotland. PPL image, 2x (Field of view = 7mm) | Hornblende, Phlogopite and Pyroxene phenocrysts with feldspar in the groundmass. Spessartite from Assynt, Scotland. PPL image, 2x (Field of view = 7mm) | Hornblende, Phlogopite and Pyroxene phenocrysts with feldspar in the groundmass. Spessartite from Assynt, Scotland. PPL image, 2x (Field of view = 7mm) |
| Hornblende, Phlogopite and Pyroxene phenocrysts with feldspar in the groundmass. Spessartite from Assynt, Scotland. XPL image, 2x (Field of view = 7mm) | Hornblende, Phlogopite and Pyroxene phenocrysts with feldspar in the groundmass. Spessartite from Assynt, Scotland. XPL image, 2x (Field of view = 7mm) | Hornblende, Phlogopite and Pyroxene phenocrysts with feldspar in the groundmass. Spessartite from Assynt, Scotland. XPL image, 2x (Field of view = 7mm) |
| Hornblende, Phlogopite and Pyroxene phenocrysts with feldspar in the groundmass. Spessartite from Assynt, Scotland. XPL image, 2x (Field of view = 7mm) | Hornblende, Phlogopite and Pyroxene phenocrysts with feldspar in the groundmass. Spessartite from Assynt, Scotland. XPL image, 2x (Field of view = 7mm) | Hornblende, Phlogopite and Pyroxene phenocrysts with feldspar in the groundmass. Spessartite from Assynt, Scotland. XPL image, 2x (Field of view = 7mm) |