Fiamme
Fiamme, from the italian word for "flames", are a structures found in welded tuff and ignimbrite. Fiamme are small, dark lenses of glassy material thought to represent bits of pumice that were softened and compressed into the tuff during this welding episode. A tuff with fiamme is said to have flame structure. A single "flame" is a fiamma, and a fiamme-bearing tuff may be called a piperno (or peperine). Some fiamme represent fragments of volcanic ejecta, often pumice lapilli that have been flattened by compaction and/or shear. Some fiamme are formed from flattened hot, relatively low viscosity, high porosity fragments of volcanic glass or pumice.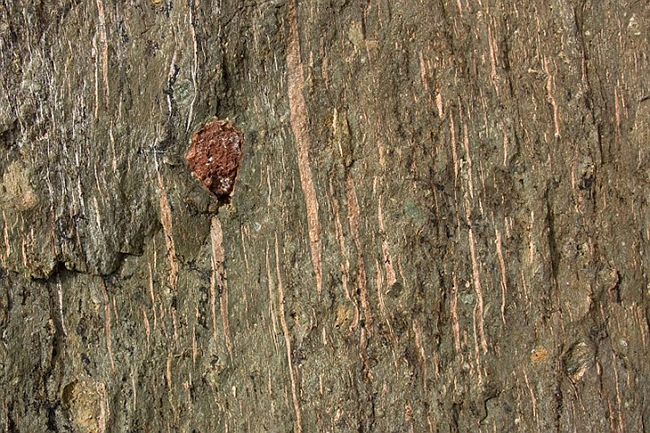 Ignimbrite sample from the Southern coast of Gran Canaria. Note the strongly flattened pumice fragments (fiamme). From Sand Atlas.
Bibliography
• Cox et al. (1979): The Interpretation of Igneous Rocks, George Allen and Unwin, London.
• Howie, R. A., Zussman, J., & Deer, W. (1992). An introduction to the rock-forming minerals (p. 696). Longman.
• Le Maitre, R. W., Streckeisen, A., Zanettin, B., Le Bas, M. J., Bonin, B., Bateman, P., & Lameyre, J. (2002). Igneous rocks. A classification and glossary of terms, 2. Cambridge University Press.
• Middlemost, E. A. (1986). Magmas and magmatic rocks: an introduction to igneous petrology.
• Shelley, D. (1993). Igneous and metamorphic rocks under the microscope: classification, textures, microstructures and mineral preferred-orientations.
• Vernon, R. H. & Clarke, G. L. (2008): Principles of Metamorphic Petrology. Cambridge University Press.
Photo

| | | |
| --- | --- | --- |
| Ignimbrite with fiamme. PPL image, 2x (Field of view = 7mm) | Ignimbrite with fiamme. PPL image, 2x (Field of view = 7mm) | Ignimbrite with fiamme. PPL image, 2x (Field of view = 7mm) |
| Ignimbrite with fiamme. PPL image, 2x (Field of view = 7mm) | Ignimbrite with fiamme. PPL image, 2x (Field of view = 7mm) | Ignimbrite with fiamme. PPL image, 2x (Field of view = 7mm) |
| Feldspar crystals (colorless) embedded in brown glassy fiamme. Ignimbrite from S.Pietro island, Sardinia, Italy. PPL image, 2x (Field of view = 7mm) | Feldspar crystals (colorless) embedded in brown glassy fiamme. Ignimbrite from S.Pietro island, Sardinia, Italy. PPL image, 2x (Field of view = 7mm) | Feldspar crystals (colorless) and brown glassy fiamme. Ignimbrite from S.Pietro island, Sardinia, Italy. PPL image, 2x (Field of view = 7mm) |
| Feldspar crystals (colorless) and brown glassy fiamme. Ignimbrite from S.Pietro island, Sardinia, Italy. PPL image, 2x (Field of view = 7mm) | Feldspar crystals (colorless) and brown glassy fiamme. Ignimbrite from S.Pietro island, Sardinia, Italy. PPL image, 2x (Field of view = 7mm) | Feldspar crystals (colorless) and brown glassy fiamme. Ignimbrite from S.Pietro island, Sardinia, Italy. PPL image, 2x (Field of view = 7mm) |
| Feldspar crystals (colorless) and brown glassy fiamme. Ignimbrite from S.Pietro island, Sardinia, Italy. PPL image, 2x (Field of view = 7mm) | Feldspar crystals (colorless) and brown glassy fiamme. Ignimbrite from S.Pietro island, Sardinia, Italy. PPL image, 2x (Field of view = 7mm) | Feldspar crystals (colorless) and brown glassy fiamme. Ignimbrite from S.Pietro island, Sardinia, Italy. PPL image, 2x (Field of view = 7mm) |
| Feldspar crystals (colorless) and brown glassy fiamme. Ignimbrite from S.Pietro island, Sardinia, Italy. PPL image, 2x (Field of view = 7mm) | Feldspar crystals (colorless) and brown glassy fiamme. Ignimbrite from S.Pietro island, Sardinia, Italy. PPL image, 2x (Field of view = 7mm) | Feldspar crystals (colorless) and brown glassy fiamme. Ignimbrite from S.Pietro island, Sardinia, Italy. PPL image, 2x (Field of view = 7mm) |