Hyaloclastite
A hyaloclastite breccia is a pyroclastic rock consisting of glassy juvenile clasts contained in a fine-grained matrix dominated by glassy shards. Hyaloclastite breccias are typically products of phreatomagmatic eruptions in particular associated with the eruption of magmas into bodies of water and form by fragmentation of chilled magma. They are often formed from basaltic magmas and are associated with pillow lavas and sheet flows.
They occur on many types of volcanoes, and virtually all magmatic compositions are represented. Hyaloclastites and other hydroclastic rocks are known to form during subglacial eruptions, by phreatomagmatic fragmentation, under shallow submarine conditions at emergent islands, and in the deep-sea in island arcs, midocean ridges, and seamounts. In ancient submarine volcanic deposits preserved on land, submarine lava flows are almost invariably associated closely with hyaloclastites and a variety of other fragmental breccia deposits.
Hyaloclastite breccias may be formed by explosive Surtseyan activity but are also produced by the fragmentation of the chilled margins of pillow lavas. They are major components of submarine volcanic edifices and subglacial tuya, in particular forming debris flows on steep slopes. Often the fine-grained matrix of hyaloclastites has been altered to palagonite.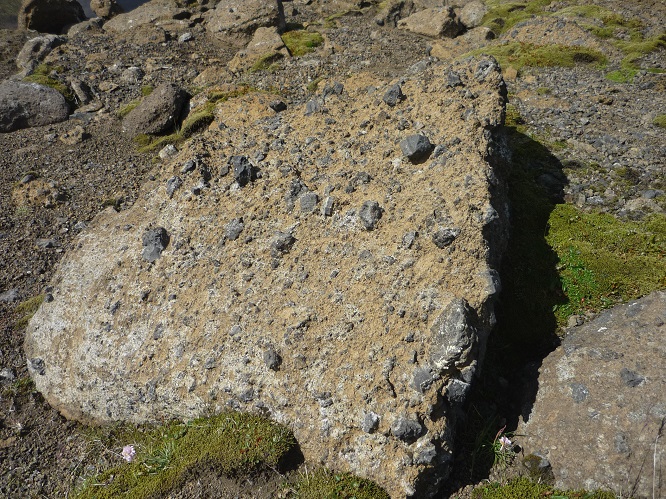 Hyaloclastite. Laki, Iceland. From Wikipedia.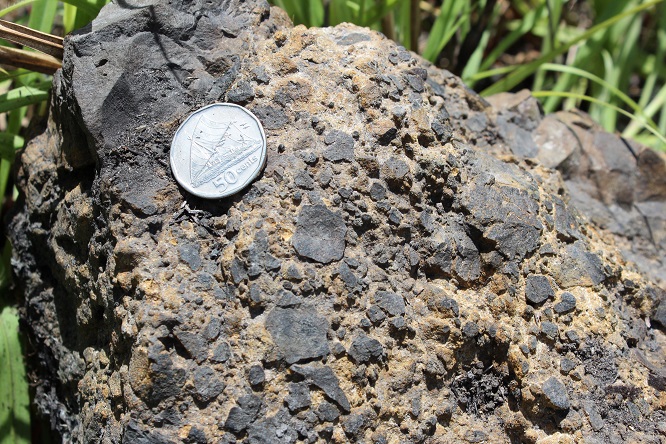 Aphyric, glassy basalt in a hyaloclastite with palagonite matrix. Ba volcanic group, Viti Levu, Fiji. From Bhaskar Rao.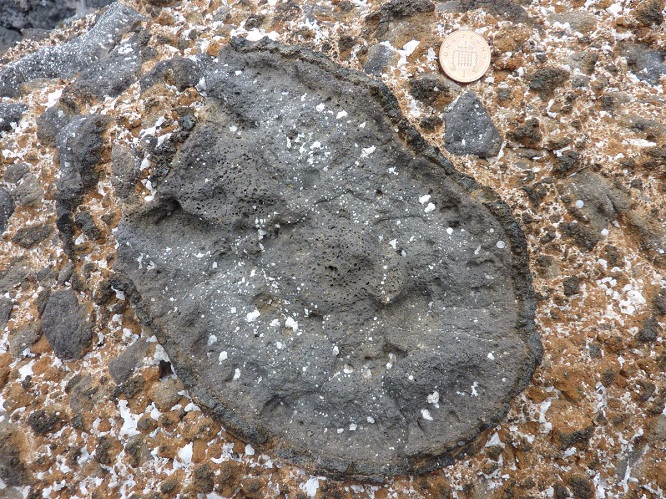 Basalt fragments in a hyaloclastite. Acicastello, Sicily, Italy. From Keele Petrology.
Bibliography
• Cox et al. (1979): The Interpretation of Igneous Rocks, George Allen and Unwin, London.
• Howie, R. A., Zussman, J., & Deer, W. (1992). An introduction to the rock-forming minerals (p. 696). Longman.
• Le Maitre, R. W., Streckeisen, A., Zanettin, B., Le Bas, M. J., Bonin, B., Bateman, P., & Lameyre, J. (2002). Igneous rocks. A classification and glossary of terms, 2. Cambridge University Press.
• Middlemost, E. A. (1986). Magmas and magmatic rocks: an introduction to igneous petrology.
• Shelley, D. (1993). Igneous and metamorphic rocks under the microscope: classification, textures, microstructures and mineral preferred-orientations.
• Vernon, R. H. & Clarke, G. L. (2008): Principles of Metamorphic Petrology. Cambridge University Press.
Photo

| | | |
| --- | --- | --- |
| Pale brown glass fragment, rimmbed by yellow palagonite. Volcanic xelolith in balck. PPL image, 2x (Field of view = 7mm) | Pale brown glass fragment, rimmbed by yellow palagonite. Volcanic xelolith in balck. PPL image, 2x (Field of view = 7mm) | Pale brown glass fragment, rimmbed by yellow palagonite. Volcanic xelolith in balck. PPL image, 2x (Field of view = 7mm) |
| Pale brown glass fragment, rimmbed by yellow palagonite. Volcanic xelolith in balck. PPL image, 2x (Field of view = 7mm) | Pale brown glass fragment, rimmbed by yellow palagonite. Volcanic xelolith in balck. PPL image, 2x (Field of view = 7mm) | Pale brown glass fragment, rimmbed by yellow palagonite. Volcanic xelolith in balck. PPL image, 2x (Field of view = 7mm) |
| Pale brown glass fragment, rimmbed by yellow palagonite. PPL image, 2x (Field of view = 7mm) | Olivine and plagioclase crystals. XPL image, 2x (Field of view = 7mm) | Olivine and plagioclase crystals. XPL image, 2x (Field of view = 7mm) |
| Pale brown glass fragment, rimmbed by yellow palagonite. PPL image, 2x (Field of view = 7mm) | Pale brown glass fragment, rimmbed by yellow palagonite. PPL image, 2x (Field of view = 7mm) | Pale brown glass fragment, rimmbed by yellow palagonite. PPL image, 2x (Field of view = 7mm) |
| Olivine (with chromite inclusions) and plagioclase. PPL image, 10x (Field of view = 2mm) | Skeletal Plagioclase. PPL image, 10x (Field of view = 2mm) | Skeletal Plagioclase. PPL image, 20x (Field of view = 1mm) |
| Pale brown glass fragment, rimmbed by yellow palagonite and basaltic xenolith. PPL image, 2x (Field of view = 7mm) | Pale brown glass fragment, rimmbed by yellow palagonite. PPL image, 2x (Field of view = 7mm) | Pale brown glass fragment, rimmbed by yellow palagonite. PPL image, 2x (Field of view = 7mm) |
| Olivine and plagioclase. PPL image, 2x (Field of view = 7mm) | Pale brown glass fragment, rimmbed by yellow palagonite. PPL image, 2x (Field of view = 7mm) | Pale brown glass fragment, rimmbed by yellow palagonite. PPL image, 2x (Field of view = 7mm) |
| Pale brown glass fragment, rimmbed by yellow palagonite. PPL image, 2x (Field of view = 7mm) | Pale brown glass fragment, rimmbed by yellow palagonite. PPL image, 2x (Field of view = 7mm) | Basaltic xenolith and pale brown glass fragment, rimmbed by yellow palagonite.PPL image, 2x (Field of view = 7mm) |
| Skeletal olivine crystal. PPL image, 10x (Field of view = 2mm) | Skeletal olivine crystal. PPL image, 20x (Field of view = 2mm) | Glass fragment and vesicles in a Hyaloclastite. PPL image, 2x (Field of view = 7mm) |
| Glass fragment and vesicles in a Hyaloclastite. PPL image, 2x (Field of view = 7mm) | Pale brown glass fragment, rimmbed by yellow palagonite. PPL image, 2x (Field of view = 7mm) | Glass fragment, rimmbed by fibrous palagonite/zeolite. XPL image, 2x (Field of view = 7mm) |
| Glass fragment and vesicles in a Hyaloclastite. PPL image, 2x (Field of view = 7mm) | Glass fragment, rimmbed by fibrous palagonite/zeolite. XPL image, 2x (Field of view = 7mm) | Glass fragment and vesicles in a Hyaloclastite. PPL image, 2x (Field of view = 7mm) |
| Glass fragment, plagiolcase crystals and vesicles in a Hyaloclastite. PPL image, 2x (Field of view = 7mm) | Glass fragment, plagiolcase crystals and vesicles in a Hyaloclastite. PPL image, 10x (Field of view = 2mm) | Deformed vesicles in a Hyaloclastite. PPL image, 10x (Field of view = 2mm) |
| Glass fragment, plagiolcase crystals and vesicles in a Hyaloclastite. PPL image, 2x (Field of view = 7mm) | Glass fragment, plagiolcase crystals and vesicles in a Hyaloclastite. PPL image, 2x (Field of view = 7mm) | Glass fragment, plagiolcase crystals and vesicles in a Hyaloclastite. PPL image, 2x (Field of view = 7mm) |
| Vesicles filled by secondary Calcite in a Hyaloclastite. XPL image, 2x (Field of view = 7mm) | Vesicles filled by secondary Calcite in a Hyaloclastite. XPL image, 2x (Field of view = 7mm) | Vesicles filled by secondary Calcite in a Hyaloclastite. PPL image, 2x (Field of view = 7mm) |
| Vesicles filled by secondary Calcite in a Hyaloclastite. XPL image, 2x (Field of view = 7mm) | Vesicles filled by secondary Calcite in a Hyaloclastite. XPL image, 2x (Field of view = 7mm) | Vesicles filled by secondary Calcite in a Hyaloclastite. XPL image, 2x (Field of view = 7mm) |