Ammonites (subclass Ammonoidea)
(Devonian – Cretaceous)
Most famous category of Cephalopods, with Nautiloids. They lived exclusively in oceanic environment with nektonic mode of life; their shells are planispiral and usually involute, although some have exposed their inner coils (evolute), with bilateral symmetry.
Morphology
Shell of Cephalopods (Fig.1) inside is dived into a number of chambers (camerae) separated by walls (septa), which become increasingly larger along the spiral. The first chamber is called mantle cavity and the entire chambered part of the shell is called phragmocone. About swimming, hyponome has the most important rule, since, pumping out water from the mantle cavity very fast, it produces rapid spurts of movement. Regard Ammonoids, in all of them, except one group, the siphuncle (fleshy stalk extending from the back of the body which penetrates through a hole in the center of each septum) is ventral.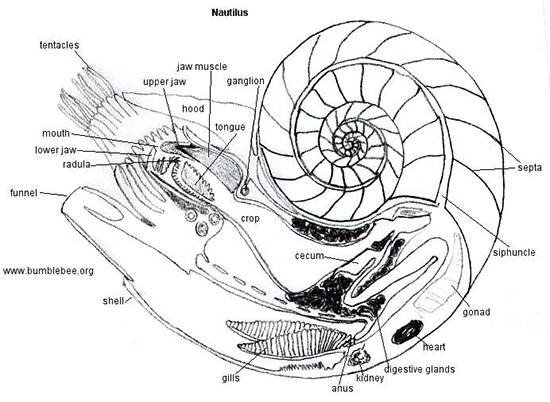 Fig.1: internal featuers of Nautilus
The most important taxonomic features on ammonoid shells is the
suture
(Fig.2), the line of contact between the inner shell wall and the septum. The suture line shows usually lobes (concavities) and saddles (convex), giving particular configurations.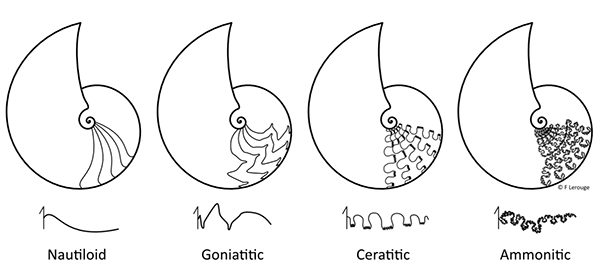 Fig.2: Ammonites sutura
The earliest ammonoids (Devonian) had straight suture lines, since the septa were flat or slightly curved. Secondly, they had goniatitic suture (eight saddles and lobes with simple curves or zig – zag patterns), ceratitic suture (smooth U-shaped saddles and lobes with small crenulations) and ammonitic sutures (both lobes and saddles with crenulations).
Uses in Paleontology
Ammonoids are the most used biostratigraphic tool for Triassic (genera have small range, so species are perfect for this scope). Since they are guide fossils, they had wide geographical distribution, but some of them are typical of few latitudes.
page created by Dalila Grilli (Department of Earth Sciences, Milan, Italy)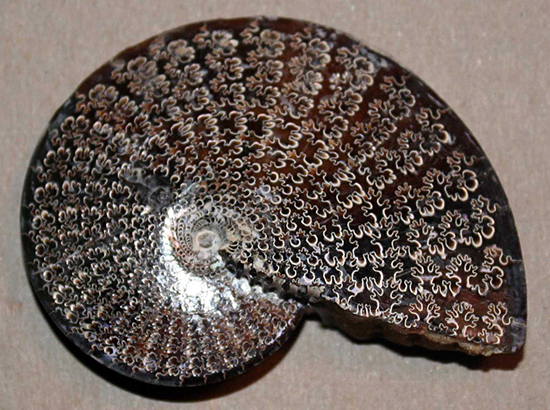 Sphenodiscus lenticularis with Ammonitic sutura. Fox Hills Formation, South Dakota, U.S.A. From Louisville fossils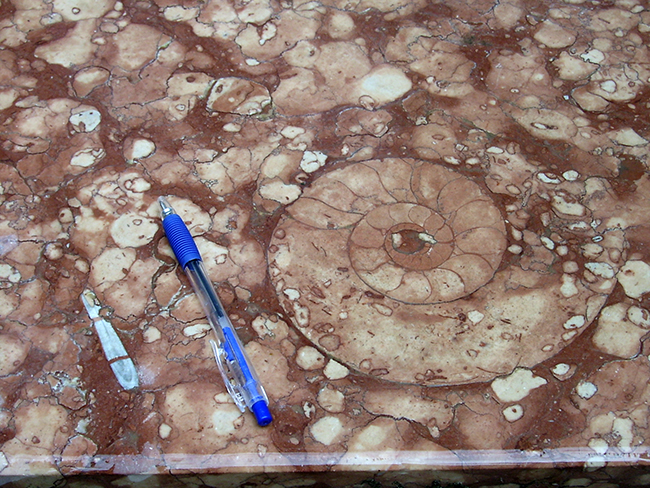 Ammonites fossil in Rosso Ammonitico Lombardo.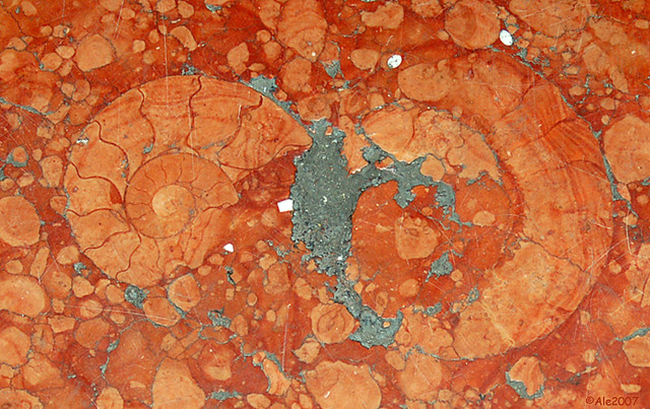 Ammonites fossils in Rosso Ammonitico Lombardo. from "L'angolo della Geologia".
Bibliography
• Prothero D.R., Bringing Fossils to Life, 2004 – pp. 308 – 310
Photo


ammonite fragments (replaced by Calcite). Rosso Ammonitico from Italian Alps. PPL image, 2x (Field of view = 7mm)


Ammonite and Ammonite fragments (replaced by Calcite). Rosso Ammonitico from Italian Alps. PPL image, 2x (Field of view = 7mm)


Ammonite and Ammonite fragments (replaced by Calcite). Rosso Ammonitico from Italian Alps. XPL image, 2x (Field of view = 7mm)


Ammonite and Ammonite fragments (replaced by Calcite). Rosso Ammonitico from Italian Alps. PPL image, 2x (Field of view = 7mm)


Ammonite and Ammonite fragments (replaced by Calcite). Rosso Ammonitico from Italian Alps. PPL image, 2x (Field of view = 7mm)


Ammonite and Ammonite fragments (replaced by Calcite). Rosso Ammonitico from Italian Alps. XPL image, 2x (Field of view = 7mm)


Ammonite and Ammonite fragments (replaced by Calcite). Rosso Ammonitico from Italian Alps. PPL image, 2x (Field of view = 7mm)


Ammonites and Ammonite fragments (replaced by Calcite). Rosso Ammonitico from Italian Alps. PPL image, 2x (Field of view = 7mm)


Ammonite and Ammonite fragments (replaced by Calcite). Rosso Ammonitico from Italian Alps. PPL image, 2x (Field of view = 7mm)


Ammonite and Ammonite fragments (replaced by Calcite). Rosso Ammonitico from Italian Alps. XPL image, 2x (Field of view = 7mm)


brachiopods (the square section) and Ammonite fragments. Rosso Ammonitico from Italian Alps. PPL image, 2x (Field of view = 7mm)


brachiopods (the square section) and Ammonite fragments. Rosso Ammonitico from Italian Alps. XPL image, 2x (Field of view = 7mm)


Ammonite fragments (replaced by Calcite). Rosso Ammonitico from Italian Alps. PPL image, 2x (Field of view = 7mm)


Ammonite fragments (replaced by Calcite). Rosso Ammonitico from Italian Alps. PPL image, 2x (Field of view = 7mm)


Ammonite fragments (replaced by Calcite). Rosso Ammonitico from Italian Alps. XPL image, 2x (Field of view = 7mm)


Big Ammonite fragment (replaced by Calcite). Rosso Ammonitico from Italian Alps. PPL image, 2x (Field of view = 7mm)


Big Ammonite fragment (replaced by Calcite). Rosso Ammonitico from Italian Alps. XPL image, 2x (Field of view = 7mm)


Big Ammonite fragment (replaced by Calcite). Rosso Ammonitico from Italian Alps. PPL image, 2x (Field of view = 7mm)


Ammonite fragments (replaced by Calcite). Rosso Ammonitico from Italian Alps. PPL image, 2x (Field of view = 7mm)


Ammonite fragments (replaced by Calcite). Rosso Ammonitico from Italian Alps. PPL image, 2x (Field of view = 7mm)


Ammonite fragments (replaced by Calcite). Rosso Ammonitico from Italian Alps. PPL image, 2x (Field of view = 7mm)


Ammonite and Ammonite fragments (replaced by Calcite). Rosso Ammonitico from Italian Alps. PPL image, 2x (Field of view = 7mm)


Ammonite fragments (replaced by Calcite). Rosso Ammonitico from Italian Alps. PPL image, 2x (Field of view = 7mm)


Ammonite fragments (replaced by Calcite). Rosso Ammonitico from Italian Alps. PPL image, 2x (Field of view = 7mm)


Ammonite section (replaced by Calcite). Rosso Ammonitico from Italian Alps. PPL image, 2x (Field of view = 7mm)


Ammonite (replaced by Calcite). Rosso Ammonitico from Italian Alps. PPL image, 2x (Field of view = 7mm)


Ammonite (replaced by Calcite). Rosso Ammonitico from Italian Alps. XPL image, 2x (Field of view = 7mm)


Ammonite sections (replaced by Calcite). Rosso Ammonitico from Italian Alps. PPL image, 2x (Field of view = 7mm)


Ammonite sections (replaced by Calcite). Rosso Ammonitico from Italian Alps. XPL image, 2x (Field of view = 7mm)


Ammonite sections (replaced by Calcite). Rosso Ammonitico from Italian Alps. XPL image, 2x (Field of view = 7mm)


Ammonite sections (replaced by Calcite). Rosso Ammonitico from Italian Alps. PPL image, 2x (Field of view = 7mm)


Ammonite sections (replaced by Calcite). Rosso Ammonitico from Italian Alps. XPL image, 2x (Field of view = 7mm)


Ammonite (replaced by Calcite). Rosso Ammonitico from Italian Alps. PPL image, 10x (Field of view = 2mm)


Ammonite (replaced by Calcite). Rosso Ammonitico from Italian Alps. XPL image, 10x (Field of view = 2mm)


Ammonite sections (replaced by Calcite). Rosso Ammonitico from Italian Alps. PPL image, 2x (Field of view = 7mm)


Ammonite sections (replaced by Calcite). Rosso Ammonitico from Italian Alps. XPL image, 2x (Field of view = 7mm)


Ammonite section (replaced by Calcite). Rosso Ammonitico from Italian Alps. PPL image, 2x (Field of view = 7mm)


Ammonite section (replaced by Calcite). Rosso Ammonitico from Italian Alps. PPL image, 2x (Field of view = 7mm)


Ammonite sections (replaced by Calcite). Rosso Ammonitico from Italian Alps. PPL image, 2x (Field of view = 7mm)


Ammonite section (replaced by Calcite). Rosso Ammonitico from Italian Alps. XPL image, 2x (Field of view = 7mm)


Ammonite (replaced by Calcite). Rosso Ammonitico from Italian Alps. PPL image, 2x (Field of view = 7mm)


Ammonite (replaced by Calcite). Rosso Ammonitico from Italian Alps. XPL image, 2x (Field of view = 7mm)


Ammonite (replaced by Calcite). Rosso Ammonitico from Italian Alps. PPL image, 2x (Field of view = 7mm)


Ammonite (replaced by Calcite). Rosso Ammonitico from Italian Alps. PPL image, 2x (Field of view = 7mm)


Ammonite (replaced by Calcite). Rosso Ammonitico from Italian Alps. XPL image, 2x (Field of view = 7mm)


Ammonite (replaced by Calcite). Rosso Ammonitico from Italian Alps. PPL image, 2x (Field of view = 7mm)


small Ammonites. Rosso Ammonitico from Italian Alps. PPL image, 2x (Field of view = 7mm)


small Ammonites. Rosso Ammonitico from Italian Alps. PPL image, 2x (Field of view = 7mm)


Gastropod section. Rosso Ammonitico from Italian Alps. XPL image, 10x (Field of view = 2mm)


small Ammonites. Rosso Ammonitico from Italian Alps. PPL image, 2x (Field of view = 7mm)


small Ammonites. Rosso Ammonitico from Italian Alps. PPL image, 2x (Field of view = 7mm)


small Ammonite. Rosso Ammonitico from Italian Alps. PPL image, 10x (Field of view = 2mm)


small Ammonite. Rosso Ammonitico from Italian Alps. PPL image, 10x (Field of view = 2mm)


small Ammonite. Rosso Ammonitico from Italian Alps. PPL image, 10x (Field of view = 2mm)


Ammonite aptychus. Rosso Ammonitico from Italian Alps. PPL image, 10x (Field of view = 2mm)


Ammonite aptychus. Rosso Ammonitico from Italian Alps. XPL image, 10x (Field of view = 2mm)