Bivalves (Class Bivalvia)
(Cambrian – Present)
Water molluscs with bilateral symmetry. The shell is composed by two valves and it is symmetrical between valves. Bivalves have gills and a foot. Some group have byssus, with which bivalve attaches itself to the substrate.
Morphology
The internal shell cavity (Fig.1) of the bivalve consists of mainly visceral mass. The largest part of the shell volume is occupied by the gills, which serve not only to exchange gases with the seawater, but also as the main filter-feeding apparatus.
The opening of the valves is linked with a couple of adductor muscles (usually one in front and one in back). When the adductors relax, horny ligaments adjacent to the hinge area act as a spring, constantly pulling the valves apart, allowing the opening of valves. After bivalve dies, its valves naturally open (the ligaments cede) and frequently become disarticulated. The adductor muscles leave large, oval or circular scars (muscle scars) and the edge of mantle leaves a scar along the inside of the shell called the pallial line.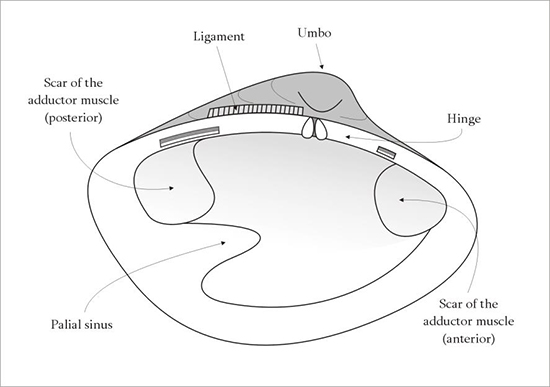 Fig.1: Interior view of a left valve
About the external shell, the convex "hump" at the top of the shell is called umbo. Describing bivalves, it's necessary to pay attention to the hinge (cardinal area). Within it can be a variety of combinations of teeth and sockets that articulate the two valves.
Depending on the number of teeth and sockets, it's possible distinguish different types of hinge (Fig.2):
taxodont
(rows of numerous subparallel teeth of a similar size),
heterodont
(two or three teeth below the umbo),
dysodont
(few simple teeth at the edge of the valve),
isodont
(few large teeth located on either side of a large pit),
schizodont
(teeth very large with a number of parallel grooves),
desmodont
(cardinal teeth are reduced or absent, but accessory lateral ridges along the hinge margin take their place) and
pachydont
(huge and blunt teeth).
The most frequent ornamentations are surely growth lines, costae and plications.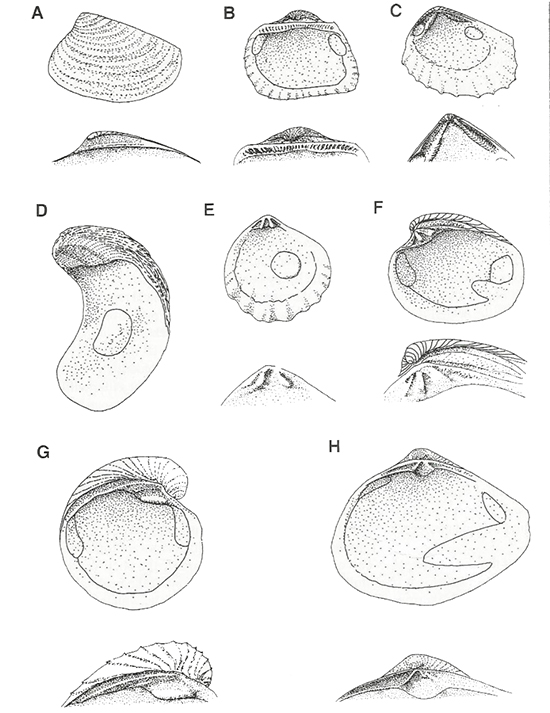 Fig.2: Types of hinge: (A) no hinge teeth; (B) taxodont; (C) schizodont; (D) dysodont; (E) isodont; (F) heterodont; (G) pachydont; (H) desmodont
Bivalves in thin section
Bivalves are aragonitic and consist of several layers of internal microstructure. The most common structure observed in bivalves is an inner layer composed of sheets of aragonite tablets and an outer layer of aragonite (or calcite) prisms. Sometimes, it's possible to observe the replacement of aragonite with drusy calcite spar (more stable).
Uses in Paleontology
Usually they are used as tool for paleoecology, whereas some group are used for biostratigraphy (in particular pelagic bivalves during Triassic).
page created by Dalila Grilli (Department of Earth Sciences, Milan, Italy)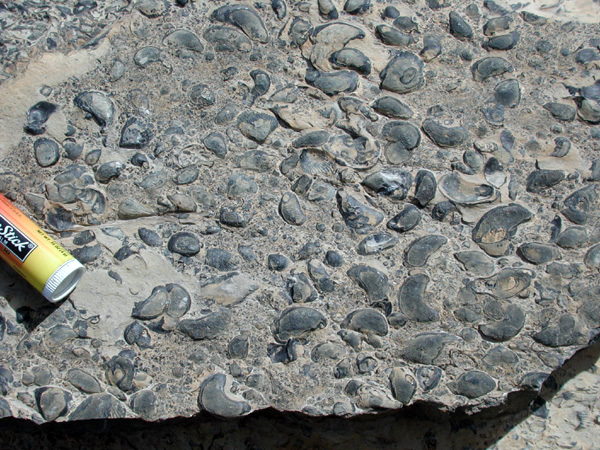 bivalves in Mesozoic limestone, near Marpha (Nepal)
Bibliography
D.R Prothero, Bringing Fossils to Life, 2004 – pp 295 – 299
Photo

| | | |
| --- | --- | --- |
| Bivalves shell in a fossiliferous limestone. Gottingen, Germany. PPL image, 2x (Field of view = 7mm) | Bivalves shell in a fossiliferous limestone. Gottingen, Germany. XPL image, 2x (Field of view = 7mm) | Bivalves shell in a fossiliferous limestone. Gottingen, Germany. PPL image, 2x (Field of view = 7mm) |
| Bivalves shell in a fossiliferous limestone. Gottingen, Germany. PPL image, 2x (Field of view = 7mm) | Bivalves shell in a fossiliferous limestone. Gottingen, Germany. XPL image, 2x (Field of view = 7mm) | Bivalves shell in a fossiliferous limestone. Gottingen, Germany. PPL image, 2x (Field of view = 7mm) |
| Bivalves shell in a fossiliferous limestone. Gottingen, Germany. PPL image, 2x (Field of view = 7mm) | Bivalves shell in a fossiliferous limestone. Gottingen, Germany. XPL image, 2x (Field of view = 7mm) | Bivalves shell in a fossiliferous limestone. Gottingen, Germany. PPL image, 2x (Field of view = 7mm) |
| Bivalves shell in a fossiliferous limestone. Gottingen, Germany. PPL image, 2x (Field of view = 7mm) | Bivalves shell in a fossiliferous limestone. Gottingen, Germany. PPL image, 2x (Field of view = 7mm) | Bivalves shell in a fossiliferous limestone. Gottingen, Germany. PPL image, 2x (Field of view = 7mm) |