Radiolarite
Radiolarite is a siliceous fine-grained chert-like rock that is composed predominantly of the microscopic remains of radiolarians. Radiolarites varies greatly in color (from white to black), but most often manifests as gray, brown, grayish brown and light green to rusty red; its color is an expression of trace elements present in the rock, and both red and green are most often related to traces of iron (in its oxidized and reduced forms respectively).
Radiolarites are biogenic, marine, finely layered sedimentary rocks. Radiolarites deposited in relatively shallow depths can interleave with carbonate layers. Yet most often radiolarites are pelagic, deep water sediments.
Radiolarites are composed mainly of radiolarian tests and their fragments. The skeletal material consists of amorphous silica. Radiolarians are marine, planktonic protists with an inner skeleton. Their sizes range from 0.1 to 0.5 millimeters.
Radiolarians stay for 2 to 6 weeks in the euphotic zone (productive surface layer to 200 meters water depth) before they start sinking, Takahashi (1983). Their descent through 5000 meters of ocean water can take from two weeks to as long as 14 months. After death, individual tests are at least partially dissolved, during settling through the water column, while they lie on the bottom and finally within the sediment.
The rate of silica dissolution is highest in surface waters, specifically the upper 500-1000 m, and does not increase with depth (Takahashi1981), in contrast to the rate of dissolution of carbonates. Upon reaching the sediment/water interface the dissolution drastically increases again. Several centimeters below this interface the dissolution continues also within the sediment, but at a much reduced rate.
After deposition diagenetic processes start affecting the freshly laid down sediment. The silica skeletons are etched and the original opal slowly commences to transform into opal with crystallites of cristobalite and tridymite. With increasing temperature and pressure the transformation proceeds to chalcedony and finally to stable, cryptocrystalline quartz. These phase changes are accompanied by a decrease in porosity of the ooze which becomes manifest as a compaction of the sediment.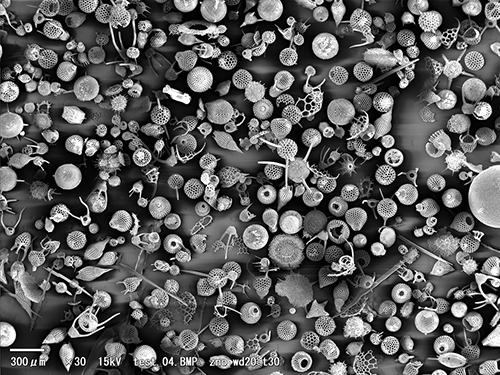 SEM image of radiolarian ooze with different type of radiolarians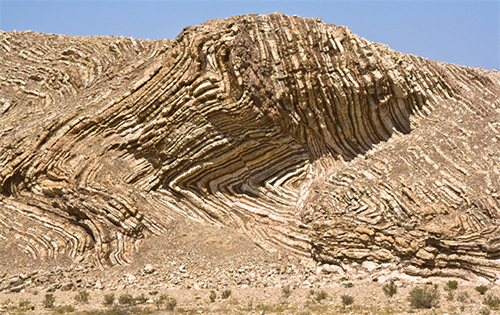 outcrop of radiolarites.Batain, Oman.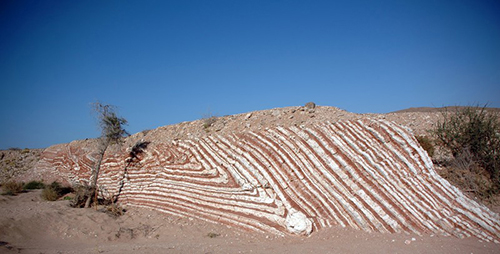 outcrop of radiolarites.Batain, Oman.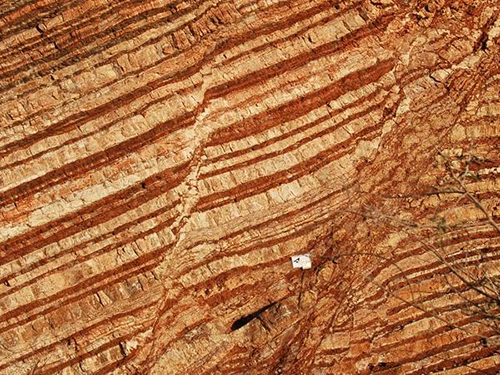 outcrop of radiolarites.Batain, Oman.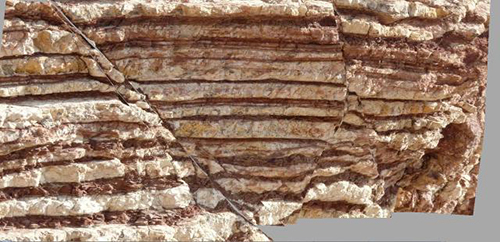 outcrop of radiolarites.Batain, Oman.
Bibliography
• Prothero D.R., Bringing Fossils to Life, 2004.
Photo

| | | |
| --- | --- | --- |
| Remains of rounded radiolarians in a radiolarite. PPL image, 2x (Field of view = 7mm) | Remains of rounded radiolarians (transformed in chalcedony) in a radiolarite. XPL image, 2x (Field of view = 7mm) | Remains of rounded radiolarians in a radiolarite. PPL image, 2x (Field of view = 7mm) |
| Remains of rounded radiolarians in a radiolarite. PPL image, 2x (Field of view = 7mm) | Remains of rounded radiolarians (transformed in chalcedony) in a radiolarite. XPL image, 2x (Field of view = 7mm) | Remains of rounded radiolarians in a radiolarite. PPL image, 2x (Field of view = 7mm) |
| Remains of rounded radiolarians in a radiolarite. PPL image, 10x (Field of view = 2mm) | Remains of rounded radiolarians in a radiolarite. PPL image, 10x (Field of view = 2mm) | Remains of rounded radiolarians (transformed in chalcedony) in a radiolarite. XPL image, 10x (Field of view = 2mm) |
| Remains of rounded radiolarians in a radiolarite. PPL image, 10x (Field of view = 2mm) | Remains of rounded radiolarians in a radiolarite. PPL image, 10x (Field of view = 2mm) | Remains of rounded radiolarians (transformed in chalcedony) in a radiolarite. XPL image, 10x (Field of view = 2mm) |
| Remains of rounded radiolarians in a radiolarite. PPL image, 10x (Field of view = 2mm) | Remains of rounded radiolarians in a radiolarite. PPL image, 10x (Field of view = 2mm) | Remains of rounded radiolarians (transformed in chalcedony) in a radiolarite. XPL image, 10x (Field of view = 2mm) |
| Remains of rounded radiolarians in a radiolarite. PPL image, 20x (Field of view = 1mm) | Remains of rounded radiolarians in a radiolarite. PPL image, 20x (Field of view = 1mm) | Remains of rounded radiolarians in a radiolarite. The fossil (central part of the picture) is presumably a preserved radiolarian. PPL image, 20x (Field of view = 1mm) |
| Remains of rounded radiolarians in a radiolarite rich in calcite-filling veins. PPL image, 2x (Field of view = 7mm) | Remains of rounded radiolarians in a radiolarite rich in calcite-filling veins. XPL image, 2x (Field of view = 7mm) | Remains of rounded radiolarians in a radiolarite rich in calcite-filling veins. PPL image, 2x (Field of view = 7mm) |
| Remains of rounded radiolarians in a radiolarite rich in calcite-filling veins. PPL image, 2x (Field of view = 7mm) | Remains of rounded radiolarians in a radiolarite rich in calcite-filling veins. PPL image, 2x (Field of view = 7mm) | Remains of rounded radiolarians in a radiolarite rich in calcite-filling veins. XPL image, 2x (Field of view = 7mm) |
| Remains of rounded radiolarians in a radiolarite rich in calcite-filling veins. PPL image, 2x (Field of view = 7mm) | Remains of rounded radiolarians in a radiolarite rich in calcite-filling veins. XPL image, 2x (Field of view = 7mm) | Remains of rounded radiolarians in a radiolarite rich in calcite-filling veins. PPL image, 2x (Field of view = 7mm) |
| Remains of rounded radiolarians in a radiolarite rich in calcite-filling veins. PPL image, 10x (Field of view = 2mm) | Remains of rounded radiolarians in a radiolarite rich in calcite-filling veins. PPL image, 10x (Field of view = 2mm) | Remains of rounded radiolarians in a radiolarite rich in calcite-filling veins. PPL image, 10x (Field of view = 2mm) |
| Remains of rounded radiolarians in a radiolarite rich in calcite-filling veins. PPL image, 10x (Field of view = 2mm) | Remains of rounded radiolarians in a radiolarite rich in calcite-filling veins. PPL image, 10x (Field of view = 2mm) | Remains of rounded radiolarians in a radiolarite rich in calcite-filling veins. PPL image, 10x (Field of view = 2mm) |