Anhydrite - CaSO4
It was, for instance, first discovered, in 1794, in a salt mine near Hall in Tirol. The name anhydrite was given by A. G. Werner in 1804, because of the absence of water of crystallization, as contrasted with the presence of water in gypsum. Some obsolete names for the species are muriacite and karstenite ( in honor of the German mineralogist Dietrich Ludwig Gustav Karsten) ; the former, an earlier name, being given under the impression that the substance was a chloride (muriate). A peculiar variety occurring as contorted concretionary masses is known as tripe-stone, and a scaly granular variety, from Volpino, near Bergamo, in Lombardy, as vulpinite; the latter is cut and polished for ornamental purposes.
Anhydrite is a mineral anhydrous calcium sulfate, CaSO
4
. Distinctly developed crystals are somewhat rare, the mineral usually presenting the form of cleavage masses. When exposed to water, anhydrite readily transforms to the more commonly occurring gypsum, (CaSO
4
*2H
2
O) by the absorption of water. This transformation is reversible, with gypsum forming anhydrite by heating to 200°C under normal atmospheric conditions. Anhydrite is commonly associated with calcite, halite, and sulfides such as galena, chalcopyrite, molybdenite, and pyrite in vein deposits. Anhydrite is most frequently found in evaporite deposits with gypsum by precipitation of calcium sulfate from evaporation of seawater. Anhydrite can also form through the dehydration of gypsum.
From an aqueous solution calcium sulfate is deposited as crystals of gypsum, but when the solution contains an excess of sodium or potassium chloride, anhydrite is deposited if temperature is above 40 °C.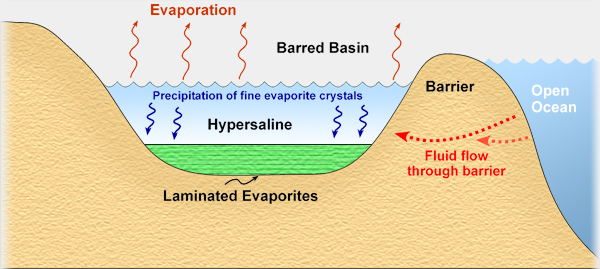 environment for Evaporitic rocks. From "Bureau of Economic Geology (Online Learning Modules)"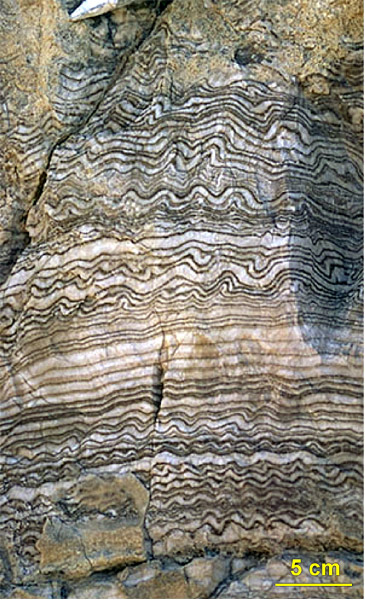 Folded Anhydrite layers. New Mexico. From "Bureau of Economic Geology (Online Learning Modules)"
Optical characteristics
•
Form:
Acicular crystals
•
Cleavage:
Perfect on (001), good on (010) and (100)
•
Twinning:
polysynthetic
•
Colour:
Colourless
•
Birifrangence:
interference colour from low to green of III order
Bibliography
• Deer, W.A., Howie, R.A., Zussman, J. (1998) Rock-forming Minerals.
• Optical Mineralogy : The Nonopaque Minerals by Phillips / Griffen
• E. WM. Heinrich (1956): Microscopic Petrografy. Mcgraw-hill book company,inc
Photo

| | | |
| --- | --- | --- |
| Anhydrite veins (colorless) in a limestone. Bagnore mine (Grosseto), Tuscany, Italy. PPL image, 2x (Field of view = 7mm) | Anhydrite veins (High interference colour) in a limestone. Bagnore mine (Grosseto), Tuscany, Italy. XPL image, 2x (Field of view = 7mm) | Anhydrite veins (colorless) in a limestone. Bagnore mine (Grosseto), Tuscany, Italy. PPL image, 2x (Field of view = 7mm) |
| Anhydrite veins (High interference colour) in a limestone. Bagnore mine (Grosseto), Tuscany, Italy. XPL image, 2x (Field of view = 7mm) | Anhydrite veins (colorless) in a limestone. Bagnore mine (Grosseto), Tuscany, Italy. PPL image, 2x (Field of view = 7mm) | Anhydrite veins (High interference colour) in a limestone. Bagnore mine (Grosseto), Tuscany, Italy. XPL image, 2x (Field of view = 7mm) |
| Anhydrite veins (colorless) in a limestone. Bagnore mine (Grosseto), Tuscany, Italy. PPL image, 2x (Field of view = 7mm) | Anhydrite veins (High interference colour) in a limestone. Bagnore mine (Grosseto), Tuscany, Italy. XPL image, 2x (Field of view = 7mm) | Anhydrite veins (colorless) in a limestone. Bagnore mine (Grosseto), Tuscany, Italy. PPL image, 2x (Field of view = 7mm) |
| Anhydrite veins (High interference colour) in a limestone. Bagnore mine (Grosseto), Tuscany, Italy. XPL image, 2x (Field of view = 7mm) | Anhydrite veins (High interference colour) in a limestone. Bagnore mine (Grosseto), Tuscany, Italy. XPL image, 2x (Field of view = 7mm) | Anhydrite veins (High interference colour) in a limestone. Bagnore mine (Grosseto), Tuscany, Italy. XPL image, 2x (Field of view = 7mm) |
| Anhydrite veins (High interference colour) in a limestone. Bagnore mine (Grosseto), Tuscany, Italy. XPL image, 2x (Field of view = 7mm) | Anhydrite veins (colorless) in a limestone. Bagnore mine (Grosseto), Tuscany, Italy. PPL image, 2x (Field of view = 7mm) | Anhydrite veins (High interference colour) in a limestone. Bagnore mine (Grosseto), Tuscany, Italy. XPL image, 2x (Field of view = 7mm) |
| Anhydrite veins (colorless) in a limestone. Bagnore mine (Grosseto), Tuscany, Italy. PPL image, 10x (Field of view = 2mm) | Anhydrite veins (High interference colour) in a limestone. Bagnore mine (Grosseto), Tuscany, Italy. XPL image, 10x (Field of view = 2mm) | Anhydrite veins (colorless) in a limestone. Bagnore mine (Grosseto), Tuscany, Italy. PPL image, 10x (Field of view = 2mm) |
| Anhydrite veins (colorless) in a limestone. Bagnore mine (Grosseto), Tuscany, Italy. PPL image, 10x (Field of view = 2mm) | Anhydrite veins (High interference colour) in a limestone. Bagnore mine (Grosseto), Tuscany, Italy. XPL image, 10x (Field of view = 2mm) | Anhydrite veins (colorless) in a limestone. Bagnore mine (Grosseto), Tuscany, Italy. PPL image, 10x (Field of view = 2mm) |
| Anhydrite veins (High interference colour) in a limestone. Bagnore mine (Grosseto), Tuscany, Italy. XPL image, 10x (Field of view = 2mm) | Anhydrite veins (High interference colour) in a limestone. Bagnore mine (Grosseto), Tuscany, Italy. XPL image, 10x (Field of view = 2mm) | Anhydrite (colorless) and calcite (high relief). Larderello, Tuscany, Italy. PPL image, 2x (Field of view = 7mm) |
| Anhydrite (High interference colour) and calcite. Larderello, Tuscany, Italy. XPL image, 2x (Field of view = 7mm) | Anhydrite (colorless) and calcite (high relief). Larderello, Tuscany, Italy. PPL image, 2x (Field of view = 7mm) | Anhydrite (High interference colour) and calcite. Larderello, Tuscany, Italy. XPL image, 2x (Field of view = 7mm) |
| Anhydrite (colorless) and calcite (high relief). Larderello, Tuscany, Italy. PPL image, 2x (Field of view = 7mm) | Anhydrite (High interference colour) and calcite. Larderello, Tuscany, Italy. XPL image, 2x (Field of view = 7mm) | Anhydrite (colorless) and calcite (high relief). Larderello, Tuscany, Italy. PPL image, 2x (Field of view = 7mm) |
| Anhydrite (colorless) and calcite (high relief). Larderello, Tuscany, Italy. PPL image, 2x (Field of view = 7mm) | Anhydrite (High interference colour) and calcite. Larderello, Tuscany, Italy. XPL image, 2x (Field of view = 7mm) | Anhydrite (High interference colour) and calcite. Larderello, Tuscany, Italy. XPL image, 2x (Field of view = 7mm) |
| Basal sections of Anhydrite. XPL image, 10x (Field of view = 2mm) | Basal sections of Anhydrite. XPL image, 10x (Field of view = 2mm) | Granular, massive Anhydrite crystals with polysynthetic twinning. XPL image, 2x (Field of view = 7mm) |
| Granular, massive Anhydrite crystals with polysynthetic twinning. XPL image, 2x (Field of view = 7mm) | Granular, massive Anhydrite crystals with polysynthetic twinning. XPL image, 2x (Field of view = 7mm) | Granular, massive Anhydrite crystals with polysynthetic twinning. XPL image, 2x (Field of view = 7mm) |
| Granular, massive Anhydrite crystals with polysynthetic twinning. XPL image, 2x (Field of view = 7mm) | Colorless Anhydrite crystals. XPL image, 2x (Field of view = 7mm) | Granular, massive Anhydrite crystals with polysynthetic twinning. XPL image, 2x (Field of view = 7mm) |
| Granular, massive Anhydrite crystals with polysynthetic twinning. XPL image, 2x (Field of view = 7mm) | Granular, massive Anhydrite crystals with polysynthetic twinning. XPL image, 2x (Field of view = 7mm) | Granular, massive Anhydrite crystals with polysynthetic twinning. XPL image, 2x (Field of view = 7mm) |
| Granular, massive Anhydrite crystals with polysynthetic twinning. XPL image, 2x (Field of view = 7mm) | Granular, massive Anhydrite crystals with polysynthetic twinning. XPL image, 2x (Field of view = 7mm) | Granular, massive Anhydrite crystals with polysynthetic twinning. XPL image, 2x (Field of view = 7mm) |
| Granular, massive Anhydrite crystals with polysynthetic twinning. XPL image, 10x (Field of view = 2mm) | Granular, massive Anhydrite crystals with polysynthetic twinning. XPL image, 10x (Field of view = 2mm) | Granular, massive Anhydrite crystals with polysynthetic twinning. XPL image, 10x (Field of view = 2mm) |
| Anhydrite (colorless) crystals. Roccastrada (Grosseto), Tuscany, Italy. PPL image, 2x (Field of view = 7mm) | Anhydrite (High interference colour) crystals. Roccastrada (Grosseto), Tuscany, Italy. XPL image, 2x (Field of view = 7mm) | Anhydrite (colorless) crystals. Roccastrada (Grosseto), Tuscany, Italy. PPL image, 2x (Field of view = 7mm) |
| Anhydrite (High interference colour) crystals. Roccastrada (Grosseto), Tuscany, Italy. XPL image, 2x (Field of view = 7mm) | Anhydrite (colorless) crystals. Roccastrada (Grosseto), Tuscany, Italy. PPL image, 2x (Field of view = 7mm) | Anhydrite (High interference colour) crystals. Roccastrada (Grosseto), Tuscany, Italy. XPL image, 2x (Field of view = 7mm) |
| Anhydrite (High interference colour) crystals. Roccastrada (Grosseto), Tuscany, Italy. XPL image, 2x (Field of view = 7mm) | Anhydrite (High interference colour) crystals. Roccastrada (Grosseto), Tuscany, Italy. XPL image, 2x (Field of view = 7mm) | Anhydrite (High interference colour) crystals. Roccastrada (Grosseto), Tuscany, Italy. XPL image, 2x (Field of view = 7mm) |
| Anhydrite (High interference colour) crystals. Roccastrada (Grosseto), Tuscany, Italy. XPL image, 2x (Field of view = 7mm) | Anhydrite (High interference colour) crystals. Roccastrada (Grosseto), Tuscany, Italy. XPL image, 2x (Field of view = 7mm) | Anhydrite (High interference colour) crystals. Roccastrada (Grosseto), Tuscany, Italy. XPL image, 2x (Field of view = 7mm) |
| Anhydrite (High interference colour) crystals. Roccastrada (Grosseto), Tuscany, Italy. XPL image, 2x (Field of view = 7mm) | Anhydrite (High interference colour) crystals. Roccastrada (Grosseto), Tuscany, Italy. XPL image, 2x (Field of view = 7mm) | Anhydrite (High interference colour) crystals. Roccastrada (Grosseto), Tuscany, Italy. XPL image, 2x (Field of view = 7mm) |
| Anhydrite (High interference colour) crystals. Roccastrada (Grosseto), Tuscany, Italy. XPL image, 2x (Field of view = 7mm) | Anhydrite (High interference colour) crystals. Roccastrada (Grosseto), Tuscany, Italy. XPL image, 2x (Field of view = 7mm) | Anhydrite (High interference colour) crystals. Roccastrada (Grosseto), Tuscany, Italy. XPL image, 2x (Field of view = 7mm) |
| Fibrous aggregates of Anhydrite. PPL image, 10x (Field of view = 2mm) | Fibrous aggregates of Anhydrite. XPL image, 10x (Field of view = 2mm) | Fibrous aggregates of Anhydrite. XPL image, 10x (Field of view = 2mm) |
| Fibrous aggregates of Anhydrite. XPL image, 10x (Field of view = 2mm) | Fibrous aggregates of Anhydrite. XPL image, 10x (Field of view = 2mm) | Fibrous aggregates of Anhydrite. XPL image, 10x (Field of view = 2mm) |
| Fibrous aggregates of Anhydrite. PPL image, 2x (Field of view = 7mm) | Fibrous aggregates of Anhydrite. XPL image, 2x (Field of view = 7mm) | Fibrous aggregates of Anhydrite. PPL image, 2x (Field of view = 7mm) |
| Fibrous aggregates of Anhydrite. XPL image, 2x (Field of view = 7mm) | Fibrous aggregates of Anhydrite. XPL image, 2x (Field of view = 7mm) | Fibrous aggregates of Anhydrite. PPL image, 2x (Field of view = 7mm) |
| Fibrous aggregates of Anhydrite. XPL image, 10x (Field of view = 2mm) | Fibrous aggregates of Anhydrite. XPL image, 10x (Field of view = 2mm) | Fibrous aggregates of Anhydrite. XPL image, 10x (Field of view = 2mm) |
| Fibrous aggregates of Anhydrite. XPL image, 10x (Field of view = 2mm) | Fibrous aggregates of Anhydrite. XPL image, 10x (Field of view = 2mm) | Fibrous aggregates of Anhydrite. XPL image, 10x (Field of view = 2mm) |