Glauconite - (K,Na)(Fe3+,Al,Mg)2(Si,Al)4O10(OH)2
Named in 1828 from the Greek "glaukos," blue-green, in allusion to its color; Glauconite is an iron potassium phyllosilicate (mica group) mineral.
Normally, glauconite is considered a diagnostic mineral indicative of continental shelf marine depositional environments with slow rates of accumulation. For instance, it appears in Jurassic/lower Cretaceous deposits of greensand, so-called after the coloration caused by glauconite.
It can also be found in sand or clay formations, or in impure limestones and in chalk. Glauconite forms by three principal processes: alteration of the fecal pellets of bottom-dwelling organisms; modification of particles of illitic and biotitic clays by seawater; and direct precipitation from seawater. Particles of glauconite are generally sand-sized or finer.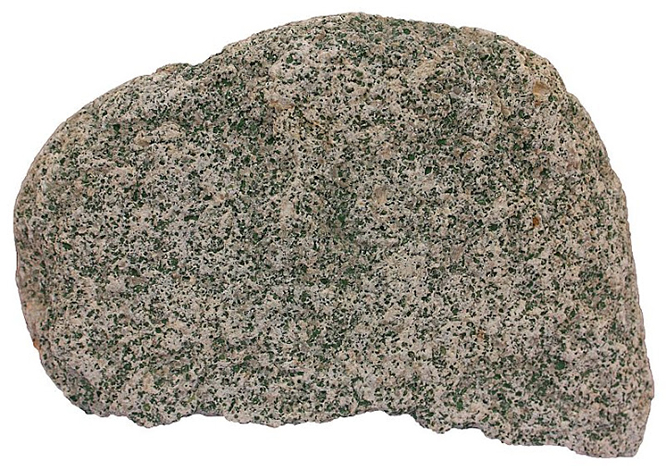 Glauconite grains in limestone. Estonia. From (www.sandatlas.org)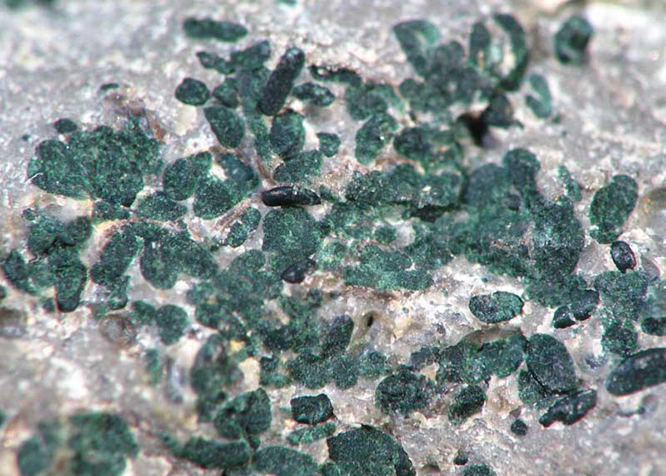 Glauconite. This specimen comes from the Wharf mine in the Black Hills as they were mining through lower Cambrian Deadwood Fm. From Dakota Matrix Minerals
Bibliography
• Deer, W.A., Howie, R.A., Zussman, J. (1998) Rock-forming Minerals.
• Optical Mineralogy : The Nonopaque Minerals by Phillips / Griffen
• E. WM. Heinrich (1956): Microscopic Petrografy. Mcgraw-hill book company,inc
Photo

| | | |
| --- | --- | --- |
| Rounded green Glauconite aggregates in a Bioclastic sandstone. PPL image, 2x (Field of view = 7mm) | Rounded green Glauconite aggregates in a Bioclastic sandstone. PPL image, 2x (Field of view = 7mm) | Rounded green Glauconite aggregates in a Bioclastic sandstone. PPL image, 2x (Field of view = 7mm) |
| Rounded green Glauconite aggregates in a Bioclastic sandstone. PPL image, 2x (Field of view = 7mm) | Rounded green Glauconite aggregates in a Bioclastic sandstone. XPL image, 2x (Field of view = 7mm) | Rounded green Glauconite aggregates in a Bioclastic sandstone. PPL image, 2x (Field of view = 7mm) |
| Rounded green Glauconite aggregates in a Bioclastic sandstone. PPL image, 10x (Field of view = 2mm) | Rounded green Glauconite aggregates in a Bioclastic sandstone. XPL image, 10x (Field of view = 2mm) | Rounded green Glauconite aggregates in a Bioclastic sandstone. PPL image, 10x (Field of view = 2mm) |
| Rounded green Glauconite aggregates in a Bioclastic sandstone. PPL image, 10x (Field of view = 2mm) | Rounded green Glauconite aggregates in a Bioclastic sandstone. XPL image, 10x (Field of view = 2mm) | Rounded green Glauconite aggregates in a Bioclastic sandstone. PPL image, 10x (Field of view = 2mm) |
| Rounded green Glauconite aggregates in a Bioclastic sandstone. PPL image, 10x (Field of view = 2mm) | Rounded green Glauconite aggregates in a Bioclastic sandstone. PPL image, 10x (Field of view = 2mm) | Rounded green Glauconite aggregates in a Bioclastic sandstone. PPL image, 10x (Field of view = 2mm) |
| Glauconite aggregates. PPL image, 40x (Field of view = 0.2mm) | Glauconite aggregates. PPL image, 40x (Field of view = 0.2mm) | Glauconite aggregates. PPL image, 40x (Field of view = 0.2mm) |