Oolitic Ironstones
Iron-rich sedimentary rocks (>15% Fe) have two main types: (1) banded iron formations (BIFs) of Precambrian age and (2) ironstones, which are mostly oolitic and with an age ranging from Late Precambrian to Tertiary.
European oolitic iron deposits, commonly called
Minette-type
deposits, contain ooliths of siderite, a siliceous iron mineral known as chamosite, and goethite. The deposits were formed in shallow, near-shore marine environments and are most extensively developed in England, the Lorraine area of France, Belgium, and Luxembourg.
In North America oolitic iron deposits contain ooliths of hematite, siderite, and chamosite and are called
Clinton-type
deposits. The geologic setting of Clinton-type deposits is very similar to Minette types, the most obvious difference being the presence of goethite in the Minettes and hematite in the Clintons.
Clinton-type deposits are found in the Appalachians from Newfoundland to Alabama, and they are several hundred million years older than the Minette-type deposits. Because goethite dehydrates slowly and spontaneously to hematite, it is probable that the major difference between the two deposit types is age.
The generation of ironstones in the marine environment
There are three broad models for the genesis of ironstones within the marine environment:
(1) The generation of the ferruginous allochems in near shore, probably restricted lagoonal environments during periods of low sea level stand and their reworking into the basin of deposition by storms or during a subsequent transgressive event (Bayer 1989; McGhee & Bayer 1985).
(2) The development of ooidal ironstones on offshore swells which receive little clastic sediment, but on which may the sediments may be intensely reworked by wave activity (Hallam 1975).
(3) The in situ development of ooids on marine shelves during phases of sediment starvation, such as that produced by rising sea level (Young 1989).
These three models are not necessarily mutually exclusive, indeed they all represent methods of generating ironstones in areas of reduced clastic sedimentation. Well documented examples have been used as evidence for each of these models and it seems likely that they can all occur.
Many models for the origin of ferruginous ooids have been proposed, including the replacement of calcareous ooids, crystallization from ferruginous gel precursors , mechanical accretion of clays with subsequent transformation to iron-rich phases, mineralization of calcareous microfossils , biologically controlled environments and derivation from lateritic soils.
Since Sorby (1856) the replacement of calcareous ooids has been quoted as a possible mechanism for the generation of the ooids in ironstones. Kimberley revived the model with a series of papers proposing that ooidal ironstones are generated by the large-scale replacement of ooidal limestones by iron-rich porewaters. This model gained little general acceptance, with much critical discussion, but it has been demonstrated (Kearsley 1989) that local replacement of carbonates by berthierine can occur, although it is unlikely to be capable of generating significant ironstone deposits.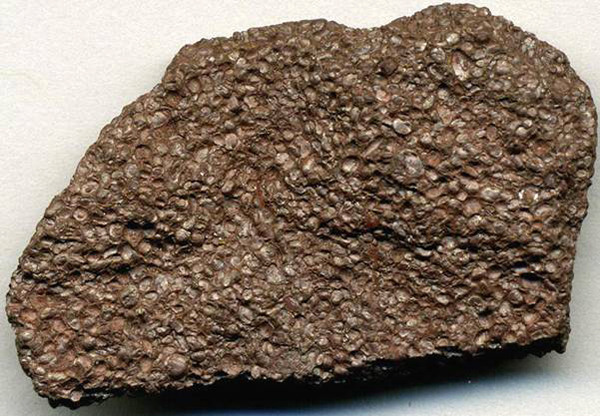 Oolitic Ironstone.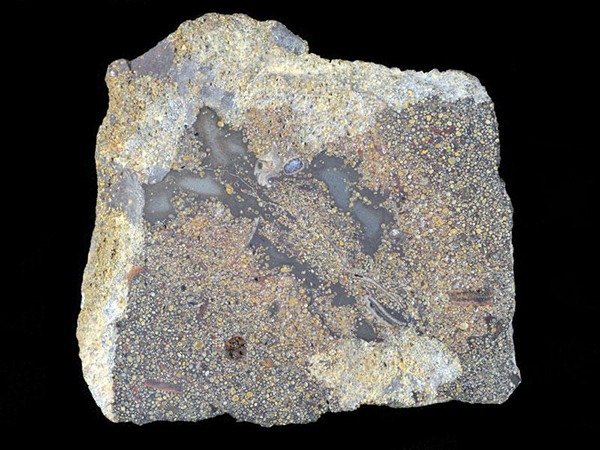 Oolitic Ironstone. Stanion Lane Railway (England). From the "UK Virtual Microscope."
Bibliography
Le informazioni contenute in questa pagina sono tratte da:
• T.P. Young: Phanerozoic ironstones: an introduction and review
Photo


Iron-rich Ooids in a Ironstone. PPL image, 2x (Field of view = 7mm)


Iron-rich Ooids in a Ironstone. PPL image, 2x (Field of view = 7mm)


Iron-rich Ooids in a Ironstone. PPL image, 2x (Field of view = 7mm)


Iron-rich Ooids in a Ironstone. PPL image, 2x (Field of view = 7mm)


Iron-rich Ooids in a Ironstone. PPL image, 2x (Field of view = 7mm)


Iron-rich Ooids in a Ironstone. PPL image, 2x (Field of view = 7mm)


Iron-rich Ooids in a Ironstone. PPL image, 2x (Field of view = 7mm)


Iron-rich Ooids in a Ironstone. PPL image, 2x (Field of view = 7mm)


Iron-rich Ooids in a Ironstone. PPL image, 10x (Field of view = 2mm)


Iron-rich Ooids in a Ironstone. PPL image, 10x (Field of view = 2mm)


Iron-rich Ooids in a Ironstone. PPL image, 10x (Field of view = 2mm)


Iron-rich Ooids in a Ironstone. PPL image, 10x (Field of view = 2mm)


Iron-rich Ooids in a Ironstone. PPL image, 10x (Field of view = 2mm)


Iron-rich Ooids in a Ironstone. PPL image, 10x (Field of view = 2mm)