Actinolite - Ca2(Mg,Fe2+)5[Si8O22](OH,F)2
Named in 1794 by Richard Kirwan from the Greek "aktina" for "ray" and "lithos" for "stone" in allusion to the fibrous nature of the original specimens. Tremolite and Actinolite are two very similar minerals that form a series with each other and essentially share the same chemical formula. Tremolite has a greater presence of magnesium over iron, whereas Actinolite has a greater presence of iron over magnesium.
Actinolite is most common in contact and regionally metamorphosed calcareous sediments. They are also found in metamorphosed mafic and ultramafic rocks and in blueschists. Tremolite and actinolite are also common alteration product of pyroxenes and hornblende known as uralite.
A variety of actinolite, nephrite, is one of the two minerals called jade. Nephrite is more abundant than jadeite and has few color varieties, ranging only from creamy white to green.
Optical Properties:
•
Form
: Subhedral columnar, acicular to fibrous, crystals.
•
Relief
: Medium.
•
Color
: Pale green (Mg-rich actinolite); with increasing Fe
2+
, pale greyish-green, accompanied by a weak pleochroism.
•
Interference colors
: Medium-high and decreases with increasing Fe
2+
content.
•
Extintion
: Oblique (10°- 15°).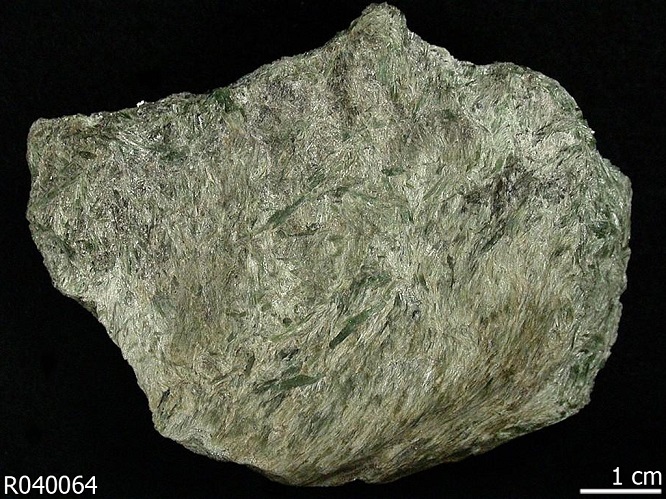 Actinolite: green acicular crystals; Ehime Perfecture, Uma Gun, Japan. From RRUFF.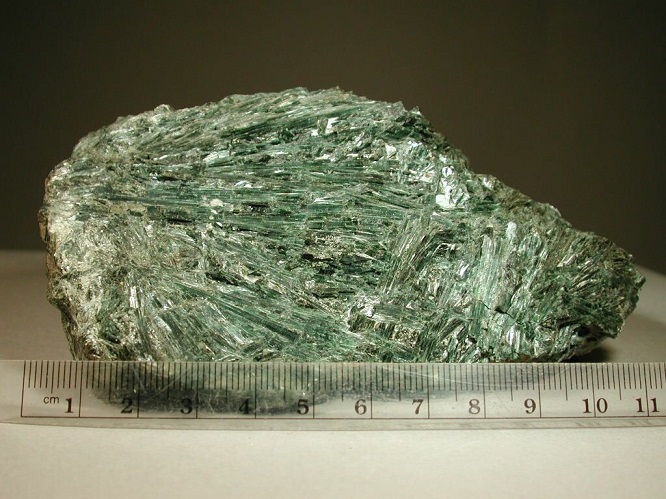 Actinolite: green acicular crystals; Berkeley, California. From RRUFF.
Bibliography
• Bucher, K., & Grapes, R. (2011). Petrogenesis of metamorphic rocks. Springer Science & Business Media.
• Fossen, H. (2016). Structural geology. Cambridge University Press.
• Howie, R. A., Zussman, J., & Deer, W. (1992). An introduction to the rock-forming minerals (p. 696). Longman.
• Passchier, Cees W., Trouw, Rudolph A. J: Microtectonics (2005).
• Philpotts, A., & Ague, J. (2009). Principles of igneous and metamorphic petrology. Cambridge University Press.
• Shelley, D. (1993). Igneous and metamorphic rocks under the microscope: classification, textures, microstructures and mineral preferred-orientations.
• Vernon, R. H. & Clarke, G. L. (2008): Principles of Metamorphic Petrology. Cambridge University Press.
• Vernon, R. H. (2018). A practical guide to rock microstructure. Cambridge university press.
Photo

| | | |
| --- | --- | --- |
| Actinolite crystals. Anzasca valley, Piedmont, Italy. PPL image, 2x (Field of view = 7mm) | Actinolite crystals. Anzasca valley, Piedmont, Italy. PPL image, 2x (Field of view = 7mm) | Actinolite crystals. Anzasca valley, Piedmont, Italy. PPL image, 2x (Field of view = 7mm) |
| Actinolite crystals. Anzasca valley, Piedmont, Italy. PPL image, 2x (Field of view = 7mm) | Actinolite crystals. Anzasca valley, Piedmont, Italy. PPL image, 10x (Field of view = 2mm) | Actinolite crystals. Anzasca valley, Piedmont, Italy. PPL image, 10x (Field of view = 2mm) |
| Actinolite crystals. Anzasca valley, Piedmont, Italy. PPL image, 10x (Field of view = 2mm) | Actinolite crystals. Anzasca valley, Piedmont, Italy. PPL image, 10x (Field of view = 2mm) | Basal section of actinolite. Anzasca valley, Piedmont, Italy. PPL image, 20x (Field of view = 1mm) |
| Basal section of actinolite. Anzasca valley, Piedmont, Italy. XPL image, 20x (Field of view = 1mm) | Basal sections of actinolite. Anzasca valley, Piedmont, Italy. PPL image, 20x (Field of view = 1mm) | Actinolite crystals. Anzasca valley, Piedmont, Italy. PPL image, 20x (Field of view = 1mm) |
| Actinolite crystals. Champdepraz (Valle d'Aosta), Italy. PPL image, 2x (Field of view = 7mm) | Actinolite crystals. Champdepraz (Valle d'Aosta), Italy. XPL image, 2x (Field of view = 7mm) | Actinolite crystals. Champdepraz (Valle d'Aosta), Italy. PPL image, 2x (Field of view = 7mm) |
| Actinolite crystals. Champdepraz (Valle d'Aosta), Italy. XPL image, 2x (Field of view = 7mm) | Actinolite crystals. Champdepraz (Valle d'Aosta), Italy. PPL image, 2x (Field of view = 7mm) | Actinolite crystals. Champdepraz (Valle d'Aosta), Italy. XPL image, 2x (Field of view = 7mm) |
| Actinolite crystals. Champdepraz (Valle d'Aosta), Italy. PPL image, 2x (Field of view = 7mm) | Actinolite crystals. Champdepraz (Valle d'Aosta), Italy. PPL image, 2x (Field of view = 7mm) | Actinolite crystals. Champdepraz (Valle d'Aosta), Italy. PPL image, 2x (Field of view = 7mm) |
| Actinolite crystals. Champdepraz (Valle d'Aosta), Italy. XPL image, 2x (Field of view = 7mm) | Actinolite crystals. Champdepraz (Valle d'Aosta), Italy. PPL image, 2x (Field of view = 7mm) | Actinolite crystals. Champdepraz (Valle d'Aosta), Italy. PPL image, 2x (Field of view = 7mm) |
| Actinolite crystals. Champdepraz (Valle d'Aosta), Italy. XPL image, 2x (Field of view = 7mm) | Actinolite crystals. Champdepraz (Valle d'Aosta), Italy. PPL image, 2x (Field of view = 7mm) | Actinolite crystals. Champdepraz (Valle d'Aosta), Italy. XPL image, 2x (Field of view = 7mm) |
| Actinolite crystals. Champdepraz (Valle d'Aosta), Italy. PPL image, 2x (Field of view = 7mm) | Actinolite crystals. Champdepraz (Valle d'Aosta), Italy. PPL image, 2x (Field of view = 7mm) | Actinolite crystals. Champdepraz (Valle d'Aosta), Italy. XPL image, 2x (Field of view = 7mm) |
| Actinolite crystals. Champdepraz (Valle d'Aosta), Italy. PPL image, 2x (Field of view = 7mm) | Actinolite crystals. Champdepraz (Valle d'Aosta), Italy. PPL image, 2x (Field of view = 7mm) | Actinolite crystals. Champdepraz (Valle d'Aosta), Italy. PPL image, 2x (Field of view = 7mm) |
| Actinolite crystals. Champdepraz (Valle d'Aosta), Italy. PPL image, 2x (Field of view = 7mm) | Actinolite crystals. Champdepraz (Valle d'Aosta), Italy. XPL image, 2x (Field of view = 7mm) | Actinolite crystals. Champdepraz (Valle d'Aosta), Italy. PPL image, 2x (Field of view = 7mm) |
| Actinolite crystals. Champdepraz (Valle d'Aosta), Italy. PPL image, 2x (Field of view = 7mm) | Actinolite crystals. Champdepraz (Valle d'Aosta), Italy. PPL image, 2x (Field of view = 7mm) | Actinolite crystals. Champdepraz (Valle d'Aosta), Italy. PPL image, 2x (Field of view = 7mm) |
| Actinolite crystals in a rock composed only by actinolite. Merano, Italian Alps, Italy. PPL image, 1x (Field of view = 9mm) | Actinolite crystals in a rock composed only by actinolite. Merano, Italian Alps, Italy. XPL image, 1x (Field of view = 9mm) | Actinolite crystals in a rock composed only by actinolite. Merano, Italian Alps, Italy. XPL image, 1x (Field of view = 9mm) |
| Actinolite crystals in a rock composed only by actinolite. Merano, Italian Alps, Italy. XPL image, 1x (Field of view = 9mm) | Actinolite crystals in a rock composed only by actinolite. Merano, Italian Alps, Italy. XPL image, 1x (Field of view = 9mm) | Actinolite crystals in a rock composed only by actinolite. Merano, Italian Alps, Italy. PPL image, 1x (Field of view = 9mm) |
| Actinolite crystals in a rock composed only by actinolite. Merano, Italian Alps, Italy. XPL image, 1x (Field of view = 9mm) | Actinolite crystals in a rock composed only by actinolite. Merano, Italian Alps, Italy. XPL image, 1x (Field of view = 9mm) | Actinolite crystals in a rock composed only by actinolite. Merano, Italian Alps, Italy. XPL image, 1x (Field of view = 9mm) |
| Actinolite crystals in a rock composed only by actinolite. Merano, Italian Alps, Italy. XPL image, 1x (Field of view = 9mm) | Actinolite crystals in a rock composed only by actinolite. Merano, Italian Alps, Italy. PPL image, 1x (Field of view = 9mm) | Actinolite crystals in a rock composed only by actinolite. Merano, Italian Alps, Italy. XPL image, 1x (Field of view = 9mm) |
| Fibrous-radial actinolite crystals (from colorless to pale green). PPL image, 2x (Field of view = 7mm) | Fibrous-radial actinolite crystals (from colorless to pale green). PPL image, 2x (Field of view = 7mm) | Fibrous-radial actinolite crystals (from colorless to pale green). PPL image, 2x (Field of view = 7mm) |
| Fibrous-radial actinolite crystals. XPL image, 2x (Field of view = 7mm) | Fibrous-radial actinolite crystals (from colorless to pale green). PPL image, 2x (Field of view = 7mm) | Fibrous-radial actinolite crystals. XPL image, 2x (Field of view = 7mm) |
| Fibrous-radial actinolite crystals (from colorless to pale green). PPL image, 2x (Field of view = 7mm) | Fibrous-radial actinolite crystals. XPL image, 2x (Field of view = 7mm) | Fibrous-radial actinolite crystals (from colorless to pale green). PPL image, 2x (Field of view = 7mm) |
| Fibrous-radial actinolite crystals (from colorless to pale green). PPL image, 2x (Field of view = 7mm) | Fibrous-radial actinolite crystals. XPL image, 2x (Field of view = 7mm) | Fibrous-radial actinolite crystals (from colorless to pale green). PPL image, 2x (Field of view = 7mm) |
| Actinolite crystals. PPL image, 10x (Field of view = 2mm) | Actinolite crystals. PPL image, 10x (Field of view = 2mm) | Actinolite crystals. PPL image, 10x (Field of view = 2mm) |
| Actinolite crystals. PPL image, 10x (Field of view = 2mm) | Actinolite crystals. PPL image, 10x (Field of view = 2mm) | Actinolite crystals. PPL image, 10x (Field of view = 2mm) |
| Actinolite crystals. PPL image, 20x (Field of view = 1mm) | Actinolite crystals. PPL image, 20x (Field of view = 1mm) | Actinolite crystals. PPL image, 20x (Field of view = 1mm) |