Rhodonite - MnSiO3
Rhodonite was named in 1819 by Christoph Friedrich Jasche from the Greek "rose", referring to its color. Rhodonite (the official gemstone of the Commonwealth of Massachusetts) is a manganese inosilicate and member of the pyroxenoid group of minerals, crystallizing in the triclinic system. Pyroxmangite is the high-pressure, low-temperature polymorph.
The Mn
2+
is often partly replaced by Fe
2+
, Mg, Ca, and sometimes Zn which may sometimes be present in considerable amounts; a greyish-brown variety containing as much as 20% of calcium oxide is called bustamite, (Mn,Ca)SiO
3
; fowlerite is a zinciferous variety containing 7% of zinc oxide. Rhodonite is usually found in metamorphic rocks associated with other manganese minerals. It is also found in rocks that have been altered by contact metamorphism, hydrothermal and metasomatic processes. It is usually massive to granular in occurrence. Rarely, it is found as red triclinic crystals.
Optical Properties of antophyllite and gedrite:
• Color: Colorless to faint pink.
• Pleochroism: Weak, from yellowish red to pinkish red.
• Habit: Crystals rough, with rounded edges, typically tabular and elongated. Commonly granular-massive, cleavable to compact.
• Cleavage: Lamellar.
• Relief: High.
• Interference colors: Moderate.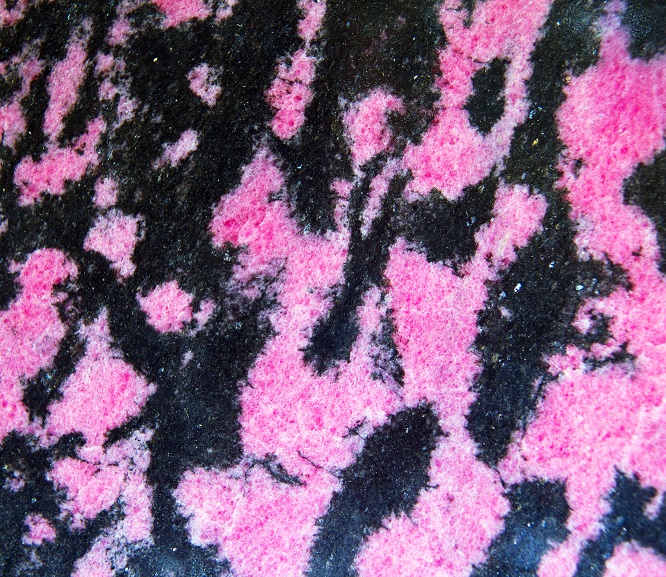 Pink rhodonite with black manganese oxide. From Tony Hisgett.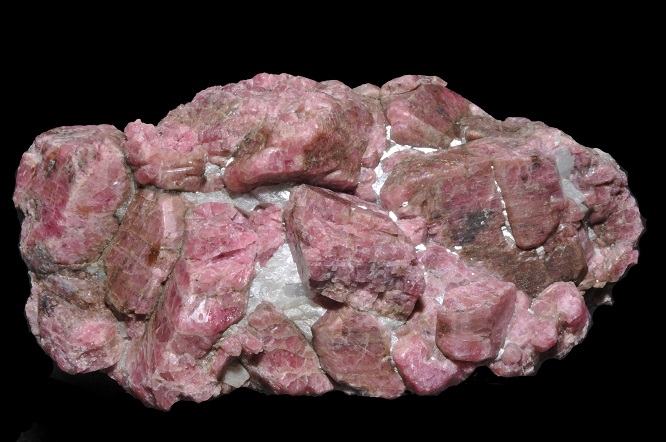 Pink rhodonite crystals. Franklin Mine, New Jersey, USA. From Géry Parent.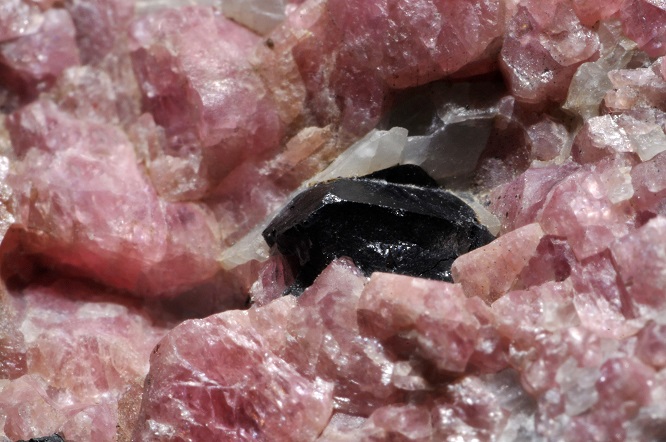 Pink rhodonite crystals, blak ghanite (spinel) and white quartz. Franklin Mine, New Jersey, USA. From Géry Parent.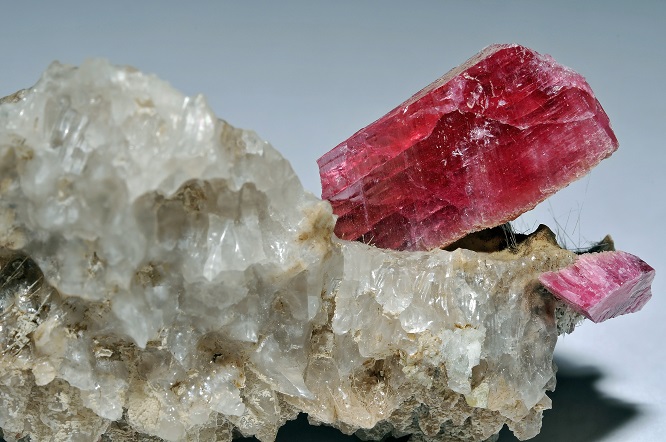 Pink rhodonite and white quartz. Morro da Mina Mine, Minas Gerais, Brazil. From Géry Parent.
Bibliography
• Bucher, K., & Grapes, R. (2011). Petrogenesis of metamorphic rocks. Springer Science & Business Media.
• Fossen, H. (2016). Structural geology. Cambridge University Press.
• Howie, R. A., Zussman, J., & Deer, W. (1992). An introduction to the rock-forming minerals (p. 696). Longman.
• Passchier, Cees W., Trouw, Rudolph A. J: Microtectonics (2005).
• Philpotts, A., & Ague, J. (2009). Principles of igneous and metamorphic petrology. Cambridge University Press.
• Shelley, D. (1993). Igneous and metamorphic rocks under the microscope: classification, textures, microstructures and mineral preferred-orientations.
• Vernon, R. H. & Clarke, G. L. (2008): Principles of Metamorphic Petrology. Cambridge University Press.
• Vernon, R. H. (2018). A practical guide to rock microstructure. Cambridge university press.
Photo

| | | |
| --- | --- | --- |
| Granular rhodonite crystals (colorless). Mn-ore, Prabornaz Mine (Praborna Mine), Saint-Marcel, Aosta Valley, Italy. PPL image, 2x (Field of view = 7mm) | Granular rhodonite crystals. Mn-ore, Prabornaz Mine (Praborna Mine), Saint-Marcel, Aosta Valley, Italy. XPL image, 2x (Field of view = 7mm) | Granular rhodonite crystals (colorless). Mn-ore, Prabornaz Mine (Praborna Mine), Saint-Marcel, Aosta Valley, Italy. PPL image, 2x (Field of view = 7mm) |
| Granular rhodonite crystals. Mn-ore, Prabornaz Mine (Praborna Mine), Saint-Marcel, Aosta Valley, Italy. XPL image, 2x (Field of view = 7mm) | Granular rhodonite crystals (colorless). Mn-ore, Prabornaz Mine (Praborna Mine), Saint-Marcel, Aosta Valley, Italy. PPL image, 2x (Field of view = 7mm) | Granular rhodonite crystals. Mn-ore, Prabornaz Mine (Praborna Mine), Saint-Marcel, Aosta Valley, Italy. XPL image, 2x (Field of view = 7mm) |
| Granular rhodonite crystals (colorless). Mn-ore, Prabornaz Mine (Praborna Mine), Saint-Marcel, Aosta Valley, Italy. PPL image, 2x (Field of view = 7mm) | Granular rhodonite crystals. Mn-ore, Prabornaz Mine (Praborna Mine), Saint-Marcel, Aosta Valley, Italy. XPL image, 2x (Field of view = 7mm) | Granular rhodonite crystals (colorless). Mn-ore, Prabornaz Mine (Praborna Mine), Saint-Marcel, Aosta Valley, Italy. PPL image, 2x (Field of view = 7mm) |
| Granular rhodonite crystals. Mn-ore, Prabornaz Mine (Praborna Mine), Saint-Marcel, Aosta Valley, Italy. XPL image, 2x (Field of view = 7mm) | Granular rhodonite crystals (colorless). Mn-ore, Prabornaz Mine (Praborna Mine), Saint-Marcel, Aosta Valley, Italy. PPL image, 2x (Field of view = 7mm) | Granular rhodonite crystals. Mn-ore, Prabornaz Mine (Praborna Mine), Saint-Marcel, Aosta Valley, Italy. XPL image, 2x (Field of view = 7mm) |
| Granular rhodonite crystals (colorless). Mn-ore, Prabornaz Mine (Praborna Mine), Saint-Marcel, Aosta Valley, Italy. PPL image, 2x (Field of view = 7mm) | Granular rhodonite crystals. Mn-ore, Prabornaz Mine (Praborna Mine), Saint-Marcel, Aosta Valley, Italy. XPL image, 2x (Field of view = 7mm) | Granular rhodonite crystals (colorless). Mn-ore, Prabornaz Mine (Praborna Mine), Saint-Marcel, Aosta Valley, Italy. PPL image, 2x (Field of view = 7mm) |
| Granular rhodonite crystals. Mn-ore, Prabornaz Mine (Praborna Mine), Saint-Marcel, Aosta Valley, Italy. XPL image, 2x (Field of view = 7mm) | Granular rhodonite crystals (colorless). Mn-ore, Prabornaz Mine (Praborna Mine), Saint-Marcel, Aosta Valley, Italy. PPL image, 2x (Field of view = 7mm) | Granular rhodonite crystals. Mn-ore, Prabornaz Mine (Praborna Mine), Saint-Marcel, Aosta Valley, Italy. XPL image, 2x (Field of view = 7mm) |
| Granular rhodonite crystals (colorless). Mn-ore, Prabornaz Mine (Praborna Mine), Saint-Marcel, Aosta Valley, Italy. PPL image, 2x (Field of view = 7mm) | Granular rhodonite crystals. Mn-ore, Prabornaz Mine (Praborna Mine), Saint-Marcel, Aosta Valley, Italy. XPL image, 2x (Field of view = 7mm) | Granular rhodonite crystals (colorless). Mn-ore, Prabornaz Mine (Praborna Mine), Saint-Marcel, Aosta Valley, Italy. PPL image, 2x (Field of view = 7mm) |
| Rhodonite crystals in a vein. Mn-ore, Prabornaz Mine (Praborna Mine), Saint-Marcel, Aosta Valley, Italy. PPL image, 2x (Field of view = 7mm) | Rhodonite crystals in a vein. Mn-ore, Prabornaz Mine (Praborna Mine), Saint-Marcel, Aosta Valley, Italy. XPL image, 2x (Field of view = 7mm) | Rhodonite crystals in a vein. Mn-ore, Prabornaz Mine (Praborna Mine), Saint-Marcel, Aosta Valley, Italy. XPL image, 2x (Field of view = 7mm) |
| Subhedral rhodonite crystals. Mn-ore, Prabornaz Mine (Praborna Mine), Saint-Marcel, Aosta Valley, Italy. PPL image, 10x (Field of view = 2mm) | Subhedral rhodonite crystals. Mn-ore, Prabornaz Mine (Praborna Mine), Saint-Marcel, Aosta Valley, Italy. XPL image, 10x (Field of view = 2mm) | Subhedral rhodonite crystals. Mn-ore, Prabornaz Mine (Praborna Mine), Saint-Marcel, Aosta Valley, Italy. PPL image, 10x (Field of view = 2mm) |
| Subhedral rhodonite crystals. Mn-ore, Prabornaz Mine (Praborna Mine), Saint-Marcel, Aosta Valley, Italy. XPL image, 10x (Field of view = 2mm) | Subhedral rhodonite crystals. Mn-ore, Prabornaz Mine (Praborna Mine), Saint-Marcel, Aosta Valley, Italy. XPL image, 10x (Field of view = 2mm) | Subhedral rhodonite crystals. Mn-ore, Prabornaz Mine (Praborna Mine), Saint-Marcel, Aosta Valley, Italy. XPL image, 10x (Field of view = 2mm) |