Stilpnomelane - (K,Na,Ca)0,6(Mg,Fe2+,Fe3+)6Si8Al(O,OH)27 * 2-4H2O
It was first described in 1827 by Ernst Friedrich Glocke for an occurrence in Moravia in the Czech Republic; the name is derived from the Greek "stilpnos" ("shining"), and "melanos" ("black"), alluding to its appearance. Stilpnomelane is a common mineral in low-grade metagreywackes and blueschist-facies rocks, as well as in metamorphosed iron formations.
Optical Properties
•
Form
: Flaky, radiating and brush-like acicular crystals.
•
Color
: Yellowish, greenish and brownish with strong pleochroism.
•
Interference colors
: From II order to III order, but are masked by the color of the mineral.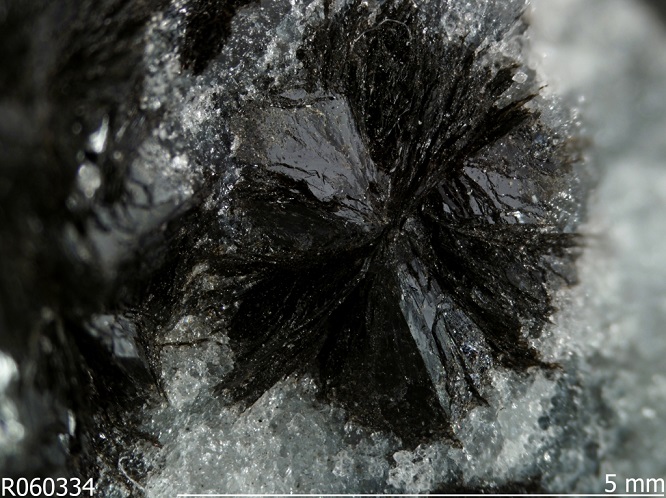 Black platy Radiating stilpnomelane crystals associated with quartz, Blanchard Mountain, Skagit County, Washington, USA. From RRUFF.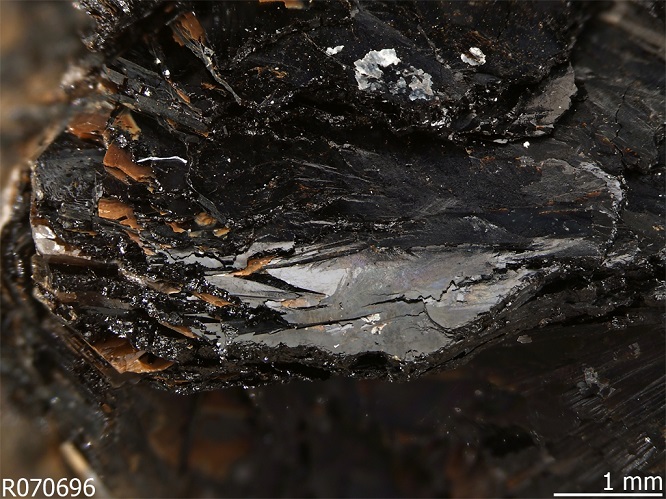 Black platy stilpnomelane crystals associated with quartz, Brunsjo mine, Grythyttan, Vastmanland, Sweden. From RRUFF.
Bibliography
• Bucher, K., & Grapes, R. (2011). Petrogenesis of metamorphic rocks. Springer Science & Business Media.
• Fossen, H. (2016). Structural geology. Cambridge University Press.
• Howie, R. A., Zussman, J., & Deer, W. (1992). An introduction to the rock-forming minerals (p. 696). Longman.
• Passchier, Cees W., Trouw, Rudolph A. J: Microtectonics (2005).
• Philpotts, A., & Ague, J. (2009). Principles of igneous and metamorphic petrology. Cambridge University Press.
• Shelley, D. (1993). Igneous and metamorphic rocks under the microscope: classification, textures, microstructures and mineral preferred-orientations.
• Vernon, R. H. & Clarke, G. L. (2008): Principles of Metamorphic Petrology. Cambridge University Press.
• Vernon, R. H. (2018). A practical guide to rock microstructure. Cambridge university press.
Photo

| | | |
| --- | --- | --- |
| Flaky, Radiating stilpnomelane crystals (brown) in a blueschist. PPL image, 10x (Field of view = 2mm) | Flaky, Radiating stilpnomelane crystals (brown) in a blueschist. PPL image, 10x (Field of view = 2mm) | Flaky, Radiating stilpnomelane crystals (brown) in a blueschist. PPL image, 10x (Field of view = 2mm) |
| Flaky, Radiating stilpnomelane crystals in a Blueschist. PPL image, 10x (Field of view = 2mm) | Flaky, Radiating stilpnomelane crystals in a Blueschist. PPL image, 2x (Field of view = 7mm) | Flaky, Radiating stilpnomelane crystals in a Blueschist. PPL image, 2x (Field of view = 7mm) |
| Flaky, Radiating stilpnomelane crystals in a Blueschist. PPL image, 2x (Field of view = 7mm) | Flaky, Radiating stilpnomelane crystals in a Blueschist. PPL image, 2x (Field of view = 7mm) | Flaky, Radiating stilpnomelane crystals in a Blueschist. XPL image, 2x (Field of view = 7mm) |
| Flaky, Radiating stilpnomelane crystals in a Blueschist. PPL image, 10x (Field of view = 2mm) | Flaky, Radiating stilpnomelane crystals in a Blueschist. XPL image, 10x (Field of view = 2mm) | Flaky, Radiating stilpnomelane crystals in a Blueschist. PPL image, 10x (Field of view = 2mm) |
| Radiating stilpnomelane crystals. Laytonville quarry, California. PPL image, 2x (Field of view = 7mm) | Radiating stilpnomelane crystals. Laytonville quarry, California. PPL image, 2x (Field of view = 7mm) | Radiating stilpnomelane crystals. Laytonville quarry, California. PPL image, 2x (Field of view = 7mm) |
| Radiating stilpnomelane crystals. Laytonville quarry, California. XPL image, 2x (Field of view = 7mm) | Radiating stilpnomelane crystals. Laytonville quarry, California. XPL image, 2x (Field of view = 7mm) | Radiating stilpnomelane crystals. Laytonville quarry, California. PPL image, 2x (Field of view = 7mm) |
| Radiating stilpnomelane crystals. Laytonville quarry, California. PPL image, 2x (Field of view = 7mm) | Radiating stilpnomelane crystals. Laytonville quarry, California. XPL image, 2x (Field of view = 7mm) | Radiating stilpnomelane crystals. Laytonville quarry, California. PPL image, 2x (Field of view = 7mm) |
| Radiating stilpnomelane crystals. Laytonville quarry, California. PPL image, 2x (Field of view = 7mm) | Radiating stilpnomelane crystals. Laytonville quarry, California. XPL image, 2x (Field of view = 7mm) | Radiating stilpnomelane crystals. Laytonville quarry, California. PPL image, 2x (Field of view = 7mm) |
| Radiating stilpnomelane crystals. Laytonville quarry, California. PPL image, 2x (Field of view = 7mm) | Radiating stilpnomelane crystals. Laytonville quarry, California. XPL image, 2x (Field of view = 7mm) | Radiating stilpnomelane crystals. Laytonville quarry, California. PPL image, 10x (Field of view = 2mm) |
| Radiating stilpnomelane crystals. Laytonville quarry, California. PPL image, 2x (Field of view = 7mm) | Radiating stilpnomelane crystals. Laytonville quarry, California. PPL image, 2x (Field of view = 7mm) | Radiating stilpnomelane crystals. Laytonville quarry, California. XPL image, 2x (Field of view = 7mm) |
| Radiating stilpnomelane crystals. Laytonville quarry, California. PPL image, 2x (Field of view = 7mm) | Radiating stilpnomelane crystals. Laytonville quarry, California. PPL image, 2x (Field of view = 7mm) | Radiating stilpnomelane crystals. Laytonville quarry, California. PPL image, 2x (Field of view = 7mm) |
| Radiating stilpnomelane crystals. Laytonville quarry, California. PPL image, 2x (Field of view = 7mm) | Radiating stilpnomelane crystals. Laytonville quarry, California. PPL image, 2x (Field of view = 7mm) | Radiating stilpnomelane crystals. Laytonville quarry, California. PPL image, 10x (Field of view = 2mm) |
| Radiating stilpnomelane crystals. Laytonville quarry, California. PPL image, 10x (Field of view = 2mm) | Radiating stilpnomelane crystals. Laytonville quarry, California. PPL image, 10x (Field of view = 2mm) | Radiating stilpnomelane crystals. Laytonville quarry, California. PPL image, 10x (Field of view = 2mm) |
| Radiating stilpnomelane crystals. Laytonville quarry, California. PPL image, 10x (Field of view = 2mm) | Radiating stilpnomelane crystals. Laytonville quarry, California. PPL image, 10x (Field of view = 2mm) | Radiating stilpnomelane crystals. Laytonville quarry, California. PPL image, 10x (Field of view = 2mm) |
| Radiating stilpnomelane crystals in a quartzite. Tyrol, Italy. PPL image, 10x (Field of view = 2mm) | Radiating stilpnomelane crystals in a quartzite. Tyrol, Italy. XPL image, 10x (Field of view = 2mm) | Radiating stilpnomelane crystals in a quartzite. Tyrol, Italy. PPL image, 10x (Field of view = 2mm) |
| Radiating stilpnomelane crystals in a quartzite. Tyrol, Italy. PPL image, 10x (Field of view = 2mm) | Radiating stilpnomelane crystals in a quartzite. Tyrol, Italy. XPL image, 10x (Field of view = 2mm) | Radiating stilpnomelane crystals in a quartzite. Tyrol, Italy. PPL image, 10x (Field of view = 2mm) |
| Radiating stilpnomelane crystals in a quartzite. Tyrol, Italy. PPL image, 10x (Field of view = 2mm) | Radiating stilpnomelane crystals in a quartzite. Tyrol, Italy. XPL image, 10x (Field of view = 2mm) | Radiating stilpnomelane crystals in a quartzite. Tyrol, Italy. PPL image, 10x (Field of view = 2mm) |
| Radiating stilpnomelane crystals in a quartzite. Tyrol, Italy. XPL image, 10x (Field of view = 2mm) | Radiating stilpnomelane crystals in a quartzite. Tyrol, Italy. PPL image, 10x (Field of view = 2mm) | Radiating stilpnomelane crystals in a quartzite. Tyrol, Italy. PPL image, 10x (Field of view = 2mm) |
| Radiating stilpnomelane crystals in a quartzite. Tyrol, Italy. XPL image, 10x (Field of view = 2mm) | Radiating stilpnomelane crystals in a quartzite. Tyrol, Italy. PPL image, 10x (Field of view = 2mm) | Radiating stilpnomelane crystals in a quartzite. Tyrol, Italy. PPL image, 10x (Field of view = 2mm) |