Kinzigite
Kinzigite:
A coarse-grained metamorphic rock of pelitic composition occurring in the granulite facies. Essential minerals are garnet and biotite, with which occur varying amounts of quartz, K-feldspar, oligoclase, garnet, biotite, muscovite, cordierite, and sillimanite. The name is from Kinzig, Schwarzwald, Germany.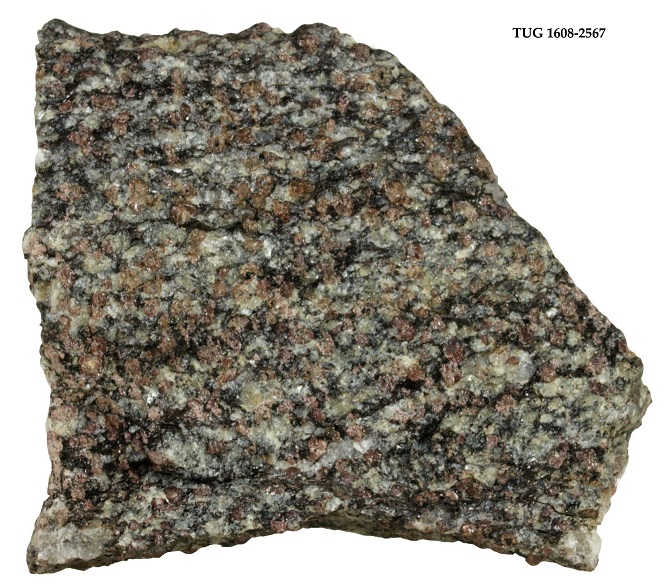 Kinzigite with garnet (pale red), feldspar (white) and biotite (dark). Bohemia. From Geocollections of Estonia.
Bibliography
• Bucher, K., & Grapes, R. (2011). Petrogenesis of metamorphic rocks. Springer Science & Business Media.
• Fossen, H. (2016). Structural geology. Cambridge University Press.
• Howie, R. A., Zussman, J., & Deer, W. (1992). An introduction to the rock-forming minerals (p. 696). Longman.
• Passchier, Cees W., Trouw, Rudolph A. J: Microtectonics (2005).
• Philpotts, A., & Ague, J. (2009). Principles of igneous and metamorphic petrology. Cambridge University Press.
• Shelley, D. (1993). Igneous and metamorphic rocks under the microscope: classification, textures, microstructures and mineral preferred-orientations.
• Vernon, R. H. & Clarke, G. L. (2008): Principles of Metamorphic Petrology. Cambridge University Press.
• Vernon, R. H. (2018). A practical guide to rock microstructure. Cambridge university press.
Photo

| | | |
| --- | --- | --- |
| Garnet, biotite (brown), sillimanite (pale-brown elongate prisms), quartz and feldspar (colorless). Kinzigite from Le Serre, Calabria region, Italy. PPL image, 2x (Field of view = 7mm) | Garnet (isotropic), biotite, sillimanite (yellow-orange birefringence), quartz and feldspar (plagioclase with polysynthetic twinning and microcline with cross hatched twinning). Kinzigite from Le Serre, Calabria region, Italy. XPL image, 2x (Field of view = 7mm) | Garnet and biotite (brown). Kinzigite from Le Serre, Calabria region, Italy. PPL image, 2x (Field of view = 7mm) |
| Garnet and biotite (brown). Kinzigite from Le Serre, Calabria region, Italy. PPL image, 2x (Field of view = 7mm) | Garnet and biotite (brown). Kinzigite from Le Serre, Calabria region, Italy. PPL image, 2x (Field of view = 7mm) | Biotite (brown), sillimanite (pale-brown elongate prisms), quartz and feldspar (colorless). Kinzigite from Le Serre, Calabria region, Italy. PPL image, 2x (Field of view = 7mm) |
| Biotite (brown), sillimanite (pale-brown elongate prisms), quartz and feldspar (colorless). Kinzigite from Le Serre, Calabria region, Italy. PPL image, 2x (Field of view = 7mm) | Biotite (brown), sillimanite (pale-brown elongate prisms), quartz and feldspar (colorless). Kinzigite from Le Serre, Calabria region, Italy. PPL image, 2x (Field of view = 7mm) | Biotite, sillimanite (yellow-orange birefringence), quartz and feldspar (grey birefringence). Kinzigite from Le Serre, Calabria region, Italy. XPL image, 2x (Field of view = 7mm) |
| Biotite (brown), sillimanite (pale-brown elongate prisms), quartz and feldspar (colorless). Kinzigite from Le Serre, Calabria region, Italy. PPL image, 2x (Field of view = 7mm) | Biotite (brown), sillimanite (pale-brown elongate prisms), quartz and feldspar (colorless). Kinzigite from Le Serre, Calabria region, Italy. PPL image, 2x (Field of view = 7mm) | Biotite, sillimanite (yellow-orange birefringence), quartz and feldspar (grey birefringence). Kinzigite from Le Serre, Calabria region, Italy. XPL image, 2x (Field of view = 7mm) |
| Biotite (brown), sillimanite (pale-brown elongate prisms), quartz and feldspar (colorless). Kinzigite from Le Serre, Calabria region, Italy. PPL image, 2x (Field of view = 7mm) | Biotite (brown), sillimanite (pale-brown elongate prisms), quartz and feldspar (colorless). Kinzigite from Le Serre, Calabria region, Italy. PPL image, 2x (Field of view = 7mm) | Biotite, sillimanite (yellow-orange birefringence), quartz and feldspar (grey birefringence). Kinzigite from Le Serre, Calabria region, Italy. XPL image, 2x (Field of view = 7mm) |
| Biotite (brown), sillimanite (pale-brown elongate prisms), quartz and feldspar (colorless). Kinzigite from Le Serre, Calabria region, Italy. PPL image, 2x (Field of view = 7mm) | Biotite (brown), sillimanite (pale-brown elongate prisms), quartz and feldspar (colorless). Kinzigite from Le Serre, Calabria region, Italy. PPL image, 2x (Field of view = 7mm) | Biotite (brown), sillimanite (pale-brown elongate prisms), quartz and feldspar (colorless). Kinzigite from Le Serre, Calabria region, Italy. PPL image, 2x (Field of view = 7mm) |
| Biotite (brown), sillimanite (pale-brown elongate prisms), cordierite (colorless, elongated high relief crystal), quartz and feldspar (colorless). Kinzigite from Le Serre, Calabria region, Italy. PPL image, 2x (Field of view = 7mm) | Biotite (brown), sillimanite (yellow-orange birefringence), cordierite (white birefringence), quartz and feldspar (colorless). Kinzigite from Le Serre, Calabria region, Italy. XPL image, 2x (Field of view = 7mm) | Biotite (brown), sillimanite (pale-brown elongate prisms), cordierite (colorless, elongated high relief crystal), quartz and feldspar (colorless). Kinzigite from Le Serre, Calabria region, Italy. PPL image, 10x (Field of view = 2mm) |
| Biotite (brown), sillimanite (yellow-orange birefringence), and cordierite (white birefringence). Kinzigite from Le Serre, Calabria region, Italy. XPL image, 10x (Field of view = 2mm) | Biotite (brown), sillimanite (pale-brown elongate prisms) and cordierite (colorless, elongated high relief crystal). Kinzigite from Le Serre, Calabria region, Italy. PPL image, 10x (Field of view = 2mm) | Biotite (brown), sillimanite (yellow-orange birefringence) and cordierite (white birefringence). Kinzigite from Le Serre, Calabria region, Italy. XPL image, 10x (Field of view = 2mm) |
| Cordierite (high relief, partially altered), garnet, biotite (brown), quartz and feldspar (colorless). Kinzigite from Le Serre, Calabria region, Italy. PPL image, 10x (Field of view = 2mm) | Cordierite (white birefringence), garnet (isotropic), biotite, quartz and feldspar. Kinzigite from Le Serre, Calabria region, Italy. XPL image, 10x (Field of view = 2mm) | Biotite (brown), sillimanite (pale-brown elongate prisms), quartz and feldspar (colorless). Kinzigite from Le Serre, Calabria region, Italy. PPL image, 10x (Field of view = 2mm) |
| Biotite, sillimanite (yellow-orange birefringence), quartz and feldspar (grey birefringence). Kinzigite from Le Serre, Calabria region, Italy. XPL image, 10x (Field of view = 2mm) | Biotite (brown), sillimanite (pale-brown elongate prisms), quartz and feldspar (colorless). Kinzigite from Le Serre, Calabria region, Italy. PPL image, 10x (Field of view = 2mm) | Biotite, sillimanite (yellow-orange birefringence), quartz and feldspar (grey birefringence). Kinzigite from Le Serre, Calabria region, Italy. XPL image, 10x (Field of view = 2mm) |
| Biotite (brown), sillimanite (pale-brown elongate prisms), quartz and feldspar (colorless). Kinzigite from Le Serre, Calabria region, Italy. PPL image, 10x (Field of view = 2mm) | Biotite, sillimanite (yellow-orange birefringence), quartz and feldspar (grey birefringence). Kinzigite from Le Serre, Calabria region, Italy. XPL image, 10x (Field of view = 2mm) | Biotite (brown), sillimanite (pale-brown elongate prisms), quartz and feldspar (colorless). Kinzigite from Le Serre, Calabria region, Italy. PPL image, 10x (Field of view = 2mm) |
| Biotite, sillimanite (yellow-orange birefringence), quartz and feldspar (grey birefringence). Kinzigite from Le Serre, Calabria region, Italy. XPL image, 10x (Field of view = 2mm) | Biotite (brown), sillimanite (pale-brown elongate prisms), quartz and feldspar (colorless). Kinzigite from Le Serre, Calabria region, Italy. PPL image, 10x (Field of view = 2mm) | Biotite, sillimanite (yellow-orange birefringence), quartz and feldspar (grey birefringence). Kinzigite from Le Serre, Calabria region, Italy. XPL image, 10x (Field of view = 2mm) |
| Biotite, sillimanite (pale-brown elongate prisms), quartz and feldspar (colorless). Kinzigite from Le Serre, Calabria region, Italy. PPL image, 2x (Field of view = 7mm) | Biotite (brown), sillimanite (yellow-orange birefringence), quartz and feldspar (grey birefringence). Kinzigite from Le Serre, Calabria region, Italy. PPL image, 2x (Field of view = 7mm) | Biotite (brown), sillimanite (pale-brown elongate prisms), quartz and feldspar (colorless). Kinzigite from Le Serre, Calabria region, Italy. PPL image, 2x (Field of view = 7mm) |
| Biotite (brown) and sillimanite (prismatic and basal section with well visible cleavage). Kinzigite from Le Serre, Calabria region, Italy. PPL image, 10x (Field of view = 2mm) | Biotite (brown) and sillimanite (prismatic section with yellow-orange birefringence and basal section whit low birefringence). Kinzigite from Le Serre, Calabria region, Italy. XPL image, 10x (Field of view = 2mm) | Biotite (brown) and sillimanite (prismatic and basal section with well visible cleavage). Kinzigite from Le Serre, Calabria region, Italy. PPL image, 10x (Field of view = 2mm) |
| Biotite (brown) and sillimanite (basal section with well visible cleavage). Kinzigite from Le Serre, Calabria region, Italy. PPL image, 10x (Field of view = 2mm) | Biotite (brown) and sillimanite (basal section with well visible cleavage). Kinzigite from Le Serre, Calabria region, Italy. PPL image, 10x (Field of view = 2mm) | Biotite (brown) and sillimanite (basal section with well visible cleavage). Kinzigite from Le Serre, Calabria region, Italy. PPL image, 10x (Field of view = 2mm) |
| Biotite (brown) and sillimanite (basal section with well visible cleavage). Kinzigite from Le Serre, Calabria region, Italy. PPL image, 10x (Field of view = 2mm) | Biotite (brown) and sillimanite (basal section with well visible cleavage). Kinzigite from Le Serre, Calabria region, Italy. PPL image, 10x (Field of view = 2mm) | Biotite and sillimanite (basal section with well visible cleavage and low birefringence). Kinzigite from Le Serre, Calabria region, Italy. XPL image, 10x (Field of view = 2mm) |
| Biotite (brown) and sillimanite (basal section with well visible cleavage). Kinzigite from Le Serre, Calabria region, Italy. PPL image, 10x (Field of view = 2mm) | Biotite (brown) and sillimanite (basal section with well visible cleavage). Kinzigite from Le Serre, Calabria region, Italy. PPL image, 10x (Field of view = 2mm) | Biotite and sillimanite (basal section with well visible cleavage and low birefringence). Kinzigite from Le Serre, Calabria region, Italy. XPL image, 10x (Field of view = 2mm) |
| Biotite (brown) and sillimanite (basal section with well visible cleavage). Kinzigite from Le Serre, Calabria region, Italy. PPL image, 10x (Field of view = 2mm) | Biotite (brown) and sillimanite (basal section with well visible cleavage). Kinzigite from Le Serre, Calabria region, Italy. PPL image, 10x (Field of view = 2mm) | Biotite (brown) and sillimanite (basal section with well visible cleavage). Kinzigite from Le Serre, Calabria region, Italy. PPL image, 10x (Field of view = 2mm) |