Jadeitite
Jadeitite is a metamorphic rock found in blueschist grade metamorphic terrains, in isolated metasomatically altered bodies within serpentinite associated with subduction zone environments. Jadeitite consists almost entirely of jadeite pyroxene and is typically mined as a source of the ornamental rock or gemstone, jade.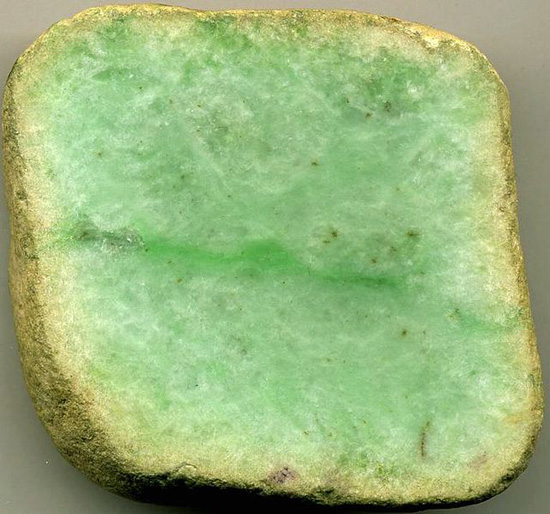 Jadeitite sample. From "James St. John".
Bibliography
• David Shelley (1983): Igneous and metamorphic rocks under the microscope. Campman & Hall editori.
• E. WM. Heinrich (1956): Microscopic Petrografy. Mcgraw-hill book company,inc
• Anthony R. Phillpotts & Jay J. Ague: Principles of igneous and metamorphic petrology. Cambridge editore.
• Passchier, Cees W., Trouw, Rudolph A. J: Microtectonics (2005)
Photo

| | | |
| --- | --- | --- |
| Basal section of Jadeite. Pakistan. PPL image, 10x (Field of view = 2mm) | Basal section of Jadeite. Pakistan. XPL image, 10x (Field of view = 2mm) | Fibrous aggregates of jadeite. Pakistan. PPL image, 2x (Field of view = 7mm) |
| Fibrous aggregates of jadeite. Pakistan. XPL image, 10x (Field of view = 2mm) | Fibrous aggregates of jadeite. Pakistan. XPL image, 10x (Field of view = 2mm) | Cristalli fibrosi di jadeite. Immagine a NX, 10x (lato lungo =2mm) |
| Fibrous aggregates of jadeite. Pakistan. PPL image, 2x (Field of view = 7mm) | Fibrous aggregates of jadeite. Pakistan. PPL image, 2x (Field of view = 7mm) | Fibrous aggregates of jadeite. Pakistan. PPL image, 2x (Field of view = 7mm) |
| Fibrous aggregates of jadeite. Pakistan. PPL image, 2x (Field of view = 7mm) | Fibrous aggregates of jadeite. Pakistan. PPL image, 2x (Field of view = 7mm) | Fibrous aggregates of jadeite. Pakistan. PPL image, 2x (Field of view = 7mm) |
| Fibrous aggregates of jadeite. Pakistan. PPL image, 2x (Field of view = 7mm) | Fibrous aggregates of jadeite. Pakistan. PPL image, 2x (Field of view = 7mm) | Fibrous aggregates of jadeite. Pakistan. PPL image, 2x (Field of view = 7mm) |
| Fibrous aggregates of jadeite. Pakistan. XPL image, 2x (Field of view = 7mm) | Fibrous aggregates of jadeite. Pakistan. XPL image, 2x (Field of view = 7mm) | Fibrous aggregates of jadeite. Pakistan. XPL image, 10x (Field of view = 2mm) |
| Basal section of jadeite. Pakistan. PPL image, 10x (Field of view = 2mm) | Basal section of jadeite. Pakistan. XPL image, 10x (Field of view = 2mm) | Fibrous aggregates of jadeite. Pakistan. XPL image, 2x (Field of view = 7mm) |
| Fibrous aggregates of jadeite. Pakistan. PPL image, 2x (Field of view = 7mm) | Basal section of jadeite. Pakistan. XPL image, 10x (Field of view = 2mm) | Fibrous aggregates of jadeite. Pakistan. XPL image, 10x (Field of view = 2mm) |
| Fibrous aggregates of jadeite. Pakistan. XPL image, 2x (Field of view = 7mm) | Fibrous aggregates of jadeite. Pakistan. XPL image, 2x (Field of view = 7mm) | Fibrous aggregates of jadeite. Pakistan. XPL image, 2x (Field of view = 7mm) |
| Fibrous aggregates of jadeite. Pakistan. XPL image, 2x (Field of view = 7mm) | Fibrous aggregates of jadeite. Pakistan. XPL image, 2x (Field of view = 7mm) | Fibrous aggregates of jadeite. Pakistan. XPL image, 2x (Field of view = 7mm) |
| Fibrous aggregates of jadeite. Pakistan. PPL image, 2x (Field of view = 7mm) | Fibrous aggregates of jadeite. Pakistan. XPL image, 2x (Field of view = 7mm) | Fibrous aggregates of jadeite. Pakistan. PPL image, 2x (Field of view = 7mm) |