Deformation twins
Minerals can deform by deformation twinning (or mechanical twinning or
flame-shape twinning
) in addition to dislocation. Twinning is most common in plagioclase and calcite, but also occurs in dolomite, kyanite, biotite, quartz, diopside and jadeite. Deformation twins are commonly wedge-shaped or tabular and can propagate by movement of the twin tip, or by movement of the twin boundary into the untwinned material, where the twin boundary remains straight.
Deformation twins can commonly be distinguished from growth twins by their shape (
Fig.1
); deformation twins are commonly tapered, while growth twins are commonly straight and stepped. Twins may be restricted to certain parts of a crystal. Growth twins are commonly bounded by zoning, while deformation twins can be concentrated at high strain sites such as the rim of crystals or sites where two crystals touch each other.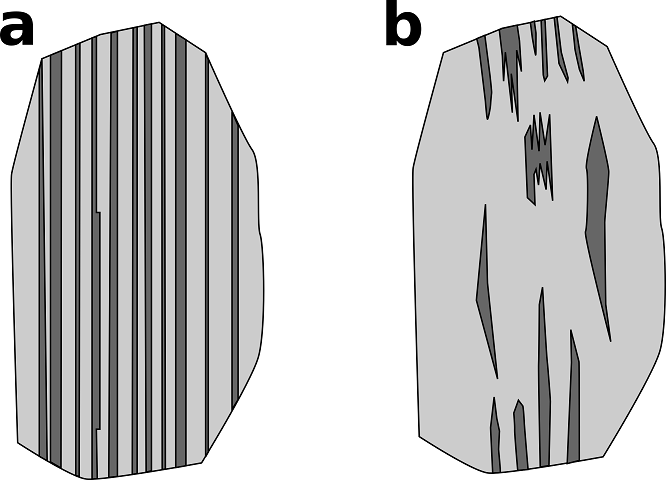 Fig.1: a) Growth twins in plagioclase. b) Deformation twins in plagioclase, with tapering edges nucleated on a high stress site.
Bibliography
• Bucher, K., & Grapes, R. (2011). Petrogenesis of metamorphic rocks. Springer Science & Business Media.
• Fossen, H. (2016). Structural geology. Cambridge University Press.
• Howie, R. A., Zussman, J., & Deer, W. (1992). An introduction to the rock-forming minerals (p. 696). Longman.
• Passchier, Cees W., Trouw, Rudolph A. J: Microtectonics (2005).
• Philpotts, A., & Ague, J. (2009). Principles of igneous and metamorphic petrology. Cambridge University Press.
• Shelley, D. (1993). Igneous and metamorphic rocks under the microscope: classification, textures, microstructures and mineral preferred-orientations.
• Vernon, R. H. & Clarke, G. L. (2008): Principles of Metamorphic Petrology. Cambridge University Press.
• Vernon, R. H. (2018). A practical guide to rock microstructure. Cambridge university press.
Photo
| | | |
| --- | --- | --- |
| Flame-shape twinning in plagioclase. XPL image, 2x (Field of view = 7mm) | Flame-shape twinning in plagioclase. XPL image, 10x (Field of view = 2mm) | Flame-shape twinning in plagioclase. XPL image, 10x (Field of view = 2mm) |
| Flame-shape twinning in plagioclase. XPL image, 10x (Field of view = 2mm) | Flame-shape twinning in plagioclase. XPL image, 10x (Field of view = 2mm) | Flame-shape twinning in plagioclase. XPL image, 10x (Field of view = 2mm) |
| Flame-shape twinning in plagioclase. Deformed Gabbro from sesia-lanzo, Piemonte, Italy. XPL image, 10x (Field of view = 2mm) | Flame-shape twinning in plagioclase. Deformed Gabbro from sesia-lanzo, Piemonte, Italy. XPL image, 10x (Field of view = 2mm) | Flame-shape twinning in plagioclase. Deformed Gabbro from sesia-lanzo, Piemonte, Italy. XPL image, 10x (Field of view = 2mm) |
| Flame-shape twinning in plagioclase. Deformed Gabbro from sesia-lanzo, Piemonte, Italy. XPL image, 10x (Field of view = 2mm) | Flame-shape twinning in plagioclase. Deformed Gabbro from sesia-lanzo, Piemonte, Italy. XPL image, 10x (Field of view = 2mm) | Flame-shape twinning in plagioclase. Deformed Gabbro from sesia-lanzo, Piemonte, Italy. XPL image, 10x (Field of view = 2mm) |