Kyanite - Al2SiO5
Kyanite was named in 1789 by Abraham Gottlieb Werner from the Greek word "kyanos", meaning "blue". Kyanite (also know as disthene) is a mineral, commonly found in aluminium-rich metamorphic rocks. Kyanite in metamorphic rocks generally forms at medium to high pressures and low to moderate temperatures in regional metamorphism of Barrowian type. At higher temperatures kyanite inverts to sillimianite, over a wide range of pressures and high temperatures.
Andalusite, kyanite, and sillimanite are an example of polymorphism because the conditions under which they were formed give rise to their structures. All three of these minerals have the same combination of chemical elements, as indicated by the chemical formula Al
2
SiO
5
. Andalusite is the least dense of this group, having been formed under the lowest pressure, whereas kyanite is the most dense due to formation under the highest pressure conditions. This is consistent with the closely packed sture of kyanite.
Optical properties:
•
Form
: Usually found as subhedral blade-like prisms
•
Color
: Colourless or pale blue
•
Relief
High
•
Cleavage
: (100) and (010) very good
•
Interference colors
: Low to moderate (pale yallow-red-blue)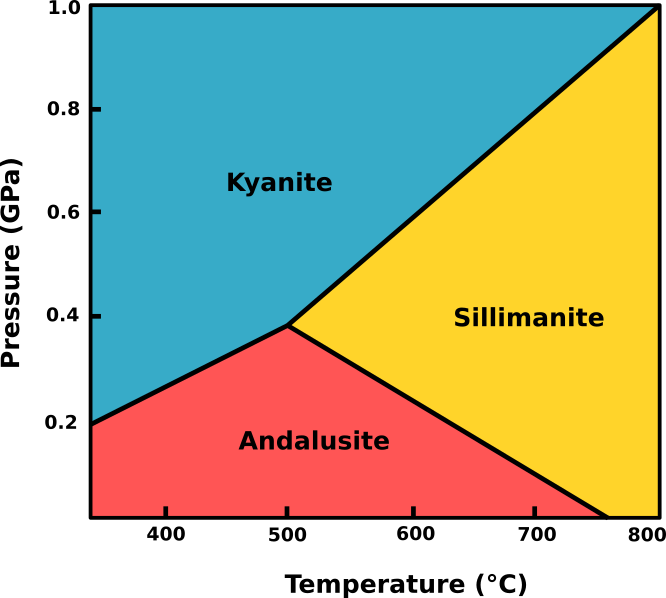 Al2SiO5 phase diagram
Bibliography
• Bucher, K., & Grapes, R. (2011). Petrogenesis of metamorphic rocks. Springer Science & Business Media.
• Fossen, H. (2016). Structural geology. Cambridge University Press.
• Howie, R. A., Zussman, J., & Deer, W. (1992). An introduction to the rock-forming minerals (p. 696). Longman.
• Passchier, Cees W., Trouw, Rudolph A. J: Microtectonics (2005).
• Philpotts, A., & Ague, J. (2009). Principles of igneous and metamorphic petrology. Cambridge University Press.
• Shelley, D. (1993). Igneous and metamorphic rocks under the microscope: classification, textures, microstructures and mineral preferred-orientations.
• Vernon, R. H. & Clarke, G. L. (2008): Principles of Metamorphic Petrology. Cambridge University Press.
• Vernon, R. H. (2018). A practical guide to rock microstructure. Cambridge university press.
Photo

| | | |
| --- | --- | --- |
| Pale-blue kyanite crystals. PPL image, 10x (Field of view = 2mm) | Pale-blue kyanite crystal. PPL image, 20x (Field of view = 1mm) | Pale-blue kyanite crystals. PPL image, 2x (Field of view = 7mm) |
| Pale-blue kyanite crystals. PPL image, 10x (Field of view = 2mm) | Pale-blue kyanite crystals. PPL image, 10x (Field of view = 2mm) | Pale-blue kyanite crystals. PPL image, 10x (Field of view = 2mm) |
| Pale-blue kyanite crystal. PPL image, 20x (Field of view = 1mm) | Pale-blue kyanite crystal. PPL image, 20x (Field of view = 1mm) | Pale-blue kyanite crystal. PPL image, 20x (Field of view = 1mm) |
| Kyanite crystals (colourless, high Relief) in a kyanite gneiss. PPL image, 2x (Field of view = 7mm) | Kyanite crystals in a kyanite gneiss. XPL image, 2x (Field of view = 7mm) | Kyanite crystals (colourless, high Relief) in a kyanite gneiss. PPL image, 2x (Field of view = 7mm) |
| Kyanite crystals in a kyanite gneiss. XPL image, 2x (Field of view = 7mm) | Kyanite crystals (colourless, high Relief) in a kyanite gneiss. PPL image, 2x (Field of view = 7mm) | Kyanite crystals (colourless, high Relief) in a kyanite gneiss. PPL image, 2x (Field of view = 7mm) |
| Kyanite crystals in a kyanite gneiss. XPL image, 2x (Field of view = 7mm) | Kyanite crystals (colourless, high Relief) in a kyanite gneiss. PPL image, 10x (Field of view = 2mm) | Kyanite crystals in a kyanite gneiss. XPL image, 10x (Field of view = 2mm) |
| Twinned kyanite crystal in a kyanite gneiss. XPL image, 10x (Field of view = 2mm) | kyanite crystal in a kyanite gneiss. XPL image, 10x (Field of view = 2mm) | kyanite crystal in a kyanite gneiss. XPL image, 10x (Field of view = 2mm) |
| Kyanite crystals (colourless, high Relief) and rounded garnet in a kyanite gneiss. PPL image, 1x (Field of view = 9mm) | Kyanite crystals and rounded garnet (isotropic) in a kyanite gneiss. XPL image, 1x (Field of view = 9mm) | Kyanite crystals and rounded garnet (isotropic) in a kyanite gneiss. XPL image, 1x (Field of view = 9mm) |
| Kyanite crystals (colourless, high Relief) and biotite in a kyanite gneiss. PPL image, 1x (Field of view = 9mm) | Kyanite crystals and biotite in a kyanite gneiss. XPL image, 1x (Field of view = 9mm) | Kyanite crystals (colourless, high Relief), garnet and biotite in a kyanite gneiss. PPL image, 1x (Field of view = 9mm) |
| Kyanite crystals, garnet (isotropic) and biotite in a kyanite gneiss. XPL image, 1x (Field of view = 9mm) | Kyanite crystals (colourless, high Relief), garnet and biotite in a kyanite gneiss. PPL image, 1x (Field of view = 9mm) | Kyanite crystals, garnet (isotropic) and biotite in a kyanite gneiss. XPL image, 1x (Field of view = 9mm) |
| Kyanite crystals and biotite in a kyanite gneiss. XPL image, 1x (Field of view = 9mm) | Kyanite crystals (colourless, high Relief) and biotite in a kyanite gneiss. PPL image, 1x (Field of view = 9mm) | Kyanite crystals (one of them is twinned) and biotite in a kyanite gneiss. XPL image, 1x (Field of view = 9mm) |
| Kyanite crystals (colourless, high Relief) and biotite in a kyanite gneiss. PPL image, 1x (Field of view = 9mm) | Kyanite crystals and biotite in a kyanite gneiss. XPL image, 1x (Field of view = 9mm) | Twinned Kyanite crystal and biotite in a kyanite gneiss. XPL image, 1x (Field of view = 9mm) |
| Kyanite crystal (colourless, high Relief) and biotite in a kyanite gneiss. PPL image, 2x (Field of view = 7mm) | Kyanite crystal and biotite in a kyanite gneiss. XPL image, 2x (Field of view = 7mm) | Twinned Kyanite crystals and biotite in a kyanite gneiss. XPL image, 2x (Field of view = 7mm) |
| Twinned Kyanite crystals and biotite in a kyanite gneiss. XPL image, 2x (Field of view = 7mm) | Kyanite crystal (colourless, high Relief) and biotite in a kyanite gneiss. PPL image, 2x (Field of view = 7mm) | Kyanite crystal and biotite in a kyanite gneiss. XPL image, 2x (Field of view = 7mm) |
| Kyanite crystals (colourless, high Relief) and biotite in a kyanite gneiss. PPL image, 2x (Field of view = 7mm) | Kyanite crystals and biotite in a kyanite gneiss. XPL image, 2x (Field of view = 7mm) | Kyanite crystal and biotite in a kyanite gneiss. XPL image, 2x (Field of view = 7mm) |
| Kyanite crystal bordered by Biotite. PPL image, 10x (Field of view = 2mm) | Kyanite crystal bordered by Biotite. XPL image, 10x (Field of view = 2mm) | Kyanite crystal within a quartz layer. PPL image, 10x (Field of view = 2mm) |
| Kyanite crystal within a quartz layer. XPL image, 10x (Field of view = 2mm) | Kyanite crystal (gray) bordered by Biotite. XPL image, 10x (Field of view = 2mm) | Kyanite crystal (colorless) bordered by Biotite. PPL image, 10x (Field of view = 2mm) |
| Kyanite crystal bordered by Biotite. XPL image, 10x (Field of view = 2mm) | Kyanite crystal bordered by Biotite. XPL image, 10x (Field of view = 2mm) | Kyanite crystal bordered by Biotite. XPL image, 10x (Field of view = 2mm) |
| Kyanite crystal bordered by Biotite. XPL image, 10x (Field of view = 2mm) | Kyanite crystal bordered by muscovite. PPL image, 10x (Field of view = 2mm) | Kyanite crystal bordered by muscovite. XPL image, 10x (Field of view = 2mm) |
| Kyanite crystals. PPL image, 10x (Field of view = 2mm) | Kyanite crystals. One crystal is twinned. XPL image, 10x (Field of view = 2mm) | Kyanite crystals. PPL image, 10x (Field of view = 2mm) |
| Kyanite crystals. XPL image, 10x (Field of view = 2mm) | Kyanite crystals. PPL image, 10x (Field of view = 2mm) | Kyanite crystals. XPL image, 10x (Field of view = 2mm) |
| Kyanite crystals. PPL image, 10x (Field of view = 2mm) | Kyanite crystals. XPL image, 10x (Field of view = 2mm) | Big Kyanite crystals. PPL image, 2x (Field of view = 7mm) |
| Big twinned Kyanite crystals. XPL image, 2x (Field of view = 7mm) | Kyanite crystals borded by Biotite. XPL image, 10x (Field of view = 2mm) | Kyanite crystal within a biotite layer. PPL image, 10x (Field of view = 2mm) |
| Kyanite crystals borded by Biotite. XPL image, 10x (Field of view = 2mm) | Kyanite crystals borded by Biotite. One crystals is twinned. XPL image, 10x (Field of view = 2mm) | Big twinned Kyanite crystals. XPL image, 2x (Field of view = 7mm) |
| Anhedral kyanite crystal. PPL image, 10x (Field of view = 2mm) | Anhedral kyanite crystal. XPL image, 10x (Field of view = 2mm) | Anhedral kyanite crystal. PPL image, 2x (Field of view = 7mm) |
| Anhedral kyanite crystal. XPL image, 10x (Field of view = 2mm) | Anhedral kyanite crystal. PPL image, 10x (Field of view = 2mm) | Anhedral kyanite crystal. XPL image, 10x (Field of view = 2mm) |
| Anhedral kyanite crystal. PPL image, 10x (Field of view = 2mm) | Anhedral kyanite crystal. XPL image, 10x (Field of view = 2mm) | Anhedral kyanite crystal. PPL image, 10x (Field of view = 2mm) |
| Anhedral kyanite crystal. PPL image, 10x (Field of view = 2mm) | Anhedral kyanite crystal. XPL image, 10x (Field of view = 2mm) | Anhedral kyanite crystal. PPL image, 10x (Field of view = 2mm) |
| Anhedral kyanite crystals in a Ky-Gneiss. PPL image, 1x (Field of view = 9mm) | Anhedral kyanite crystals in a Ky-Gneiss. XPL image, 1x (Field of view = 9mm) | Anhedral kyanite crystals in a Ky-Gneiss. XPL image, 1x (Field of view = 9mm) |
| Kyanite crystal in a Ky-Gneiss. PPL image, 10x (Field of view = 2mm) | Kyanite crystal in a Ky-Gneiss. XPL image, 10x (Field of view = 2mm) | Anhedral kyanite crystals in a Ky-Gneiss. PPL image, 2x (Field of view = 7mm) |
| Anhedral kyanite crystals in a Ky-Gneiss. XPL image, 2x (Field of view = 7mm) | Kyanite crystal with garnet inclusions in a Ky-Gneiss. PPL image, 2x (Field of view = 7mm) | Kyanite crystal with garnet inclusions in a Ky-Gneiss. XPL image, 2x (Field of view = 7mm) |