Malachite- (Cu2CO3(OH)2)
Named in antiquity (Pliny the Elder, 79 CE) molochitus after the Greek, "mallows," in allusion to the green color of the leaves. Known in the new spelling, malachites, at least by 1661. Malachite and azurite are two common minerals found in the oxidized zone of copper deposits, especially in regions where limestone is present. Characteristic physical features of these two carbonate minerals are their colours: the banded grass green of malachite and the deep blue of azurite.
Malachite is a green, very common secondary copper mineral with a widely variable habit. Typically it is found as crystalline aggregates or crusts, often banded in appearence, like agates. It is also often found as botryoidal clusters of radiating crystals, and as mammillary aggregates as well. Single crystals and clusters of distinguishable crystals are uncommon, but when found they are typically acicular to prismatic. It is also frequently found as a pseudomorph after Azurite crystals, which are generally more tabular in shape.
Optical properties
•
Form:
Most common habit is as large crusts of microscopic crystals. Large individual crystals are very rare and are usually pseudomorphs after azurite or cuprite. When they are not pseudomorphs, they are prismatic and tabular. Also occurs acicular, radiating, reniform, botryoidal, as banded masses, earthy, stalactitic, tuberose, as thin wires, and as thin films coating other minerals.
•
Color:
Mallow green; sometimes banded with darker and lighter shades of green.
•
Interference colors:
High-order greys in sections or fragments. However, they are usually masked by the green colour.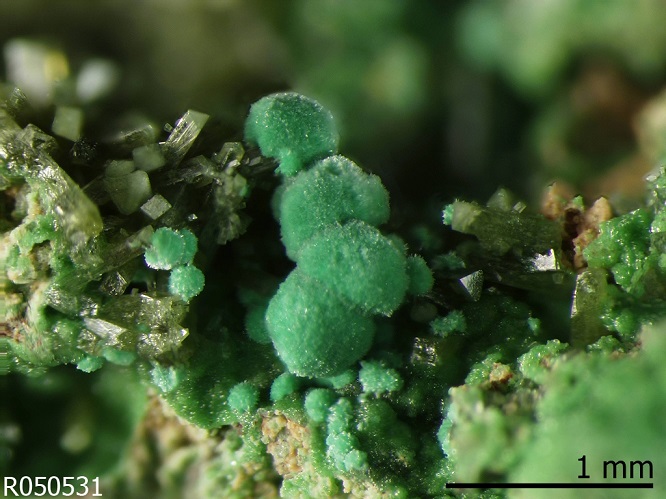 Spherical aggregates of green radiating acicular malachite crystals, sumeb mine, Tsumeb, Otavi District, Oshikoto, Namibia. From RRUFF.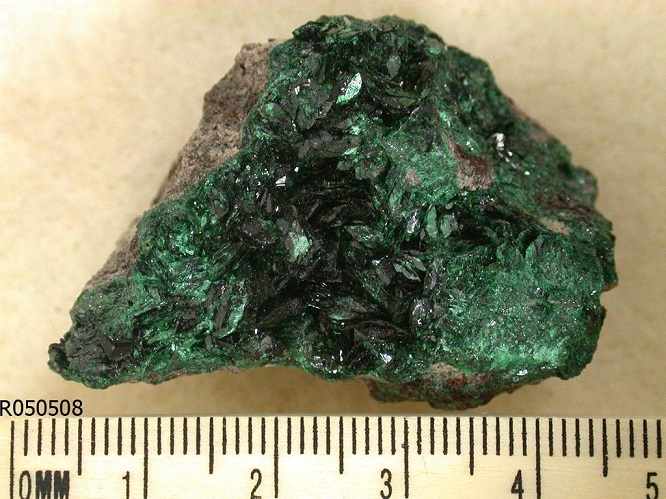 Green short bladed malachite crystals, Kambova, Kantanga, Zaire. From RRUFF.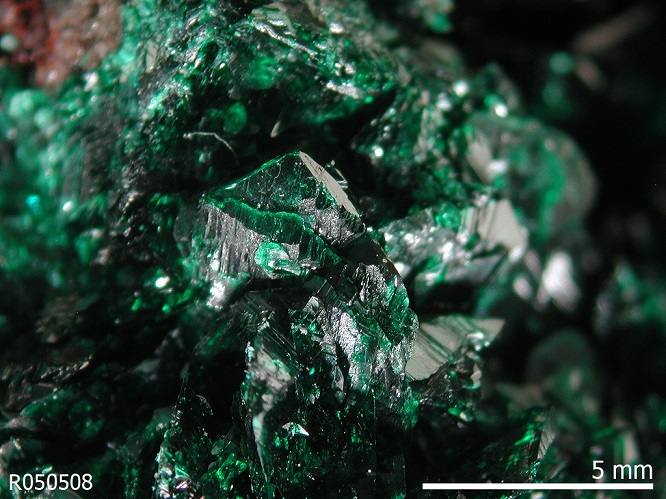 Green short bladed malachite crystals, Kambova, Kantanga, Zaire. From RRUFF.
Bibliography
• Bucher, K., & Grapes, R. (2011). Petrogenesis of metamorphic rocks. Springer Science & Business Media.
• Fossen, H. (2016). Structural geology. Cambridge University Press.
• Howie, R. A., Zussman, J., & Deer, W. (1992). An introduction to the rock-forming minerals (p. 696). Longman.
• Passchier, Cees W., Trouw, Rudolph A. J: Microtectonics (2005).
• Philpotts, A., & Ague, J. (2009). Principles of igneous and metamorphic petrology. Cambridge University Press.
• Shelley, D. (1993). Igneous and metamorphic rocks under the microscope: classification, textures, microstructures and mineral preferred-orientations.
• Vernon, R. H. & Clarke, G. L. (2008): Principles of Metamorphic Petrology. Cambridge University Press.
• Vernon, R. H. (2018). A practical guide to rock microstructure. Cambridge university press.
Photo


Acicular, radiating crystals of malachite with darker and lighter shades of green. PPL image, 2x (Field of view = 7mm)


Acicular, radiating crystals of malachite. XPL image, 2x (Field of view = 7mm)


Acicular, radiating crystals of malachite with darker and lighter shades of green. PPL image, 2x (Field of view = 7mm)


Acicular, radiating crystals of malachite. XPL image, 2x (Field of view = 7mm)


Acicular, radiating crystals of malachite with darker and lighter shades of green. PPL image, 2x (Field of view = 7mm)


Acicular, radiating crystals of malachite with darker and lighter shades of green. PPL image, 2x (Field of view = 7mm)


Acicular, radiating crystals of malachite. XPL image, 2x (Field of view = 7mm)


Acicular, radiating crystals of malachite with darker and lighter shades of green. PPL image, 2x (Field of view = 7mm)


Acicular, radiating crystals of malachite. XPL image, 2x (Field of view = 7mm)


Acicular to prismatic malachite crystals. PPL image, 10x (Field of view = 2mm)


Acicular to prismatic malachite crystals. XPL image, 10x (Field of view = 2mm)


Acicular to prismatic malachite crystals. PPL image, 10x (Field of view = 2mm)


Acicular to prismatic malachite crystals. PPL image, 10x (Field of view = 2mm)


Acicular to prismatic malachite crystals. PPL image, 10x (Field of view = 2mm)


Acicular to prismatic malachite crystals. XPL image, 10x (Field of view = 2mm)


Acicular, radiating crystals of malachite with darker and lighter shades of green. PPL image, 2x (Field of view = 7mm)


Acicular, radiating crystals of malachite. XPL image, 2x (Field of view = 7mm)


Acicular, radiating crystals of malachite. PPL image, 2x (Field of view = 7mm)


Acicular, radiating crystals of malachite. XPL image, 2x (Field of view = 7mm)


Banded masses of acicular and radiating crystals of malachite with darker and lighter shades of green. XPL image, 2x (Field of view = 7mm)


Banded masses of acicular and radiating crystals of malachite with darker and lighter shades of green. PPL image, 2x (Field of view = 7mm)


Banded masses of acicular and radiating crystals of malachite with darker and lighter shades of green. XPL image, 2x (Field of view = 7mm)


Banded masses of acicular and radiating crystals of malachite with darker and lighter shades of green. PPL image, 2x (Field of view = 7mm)


Banded masses of acicular and radiating crystals of malachite with darker and lighter shades of green. XPL image, 2x (Field of view = 7mm)


Banded masses of acicular and radiating crystals of malachite with darker and lighter shades of green. PPL image, 2x (Field of view = 7mm)


Banded masses of acicular and radiating crystals of malachite with darker and lighter shades of green. XPL image, 2x (Field of view = 7mm)


Banded masses of acicular and radiating crystals of malachite with darker and lighter shades of green. PPL image, 2x (Field of view = 7mm)


Banded masses of acicular and radiating crystals of malachite with darker and lighter shades of green. PPL image, 2x (Field of view = 7mm)


Banded masses of acicular and radiating crystals of malachite with darker and lighter shades of green. XPL image, 2x (Field of view = 7mm)


Banded masses of acicular and radiating crystals of malachite with darker and lighter shades of green. PPL image, 2x (Field of view = 7mm)


Acicular to prismatic malachite crystals. PPL image, 10x (Field of view = 2mm)


Acicular to prismatic malachite crystals. PPL image, 10x (Field of view = 2mm)


Acicular to prismatic malachite crystals. PPL image, 10x (Field of view = 2mm)


Acicular to prismatic malachite crystals. XPL image, 10x (Field of view = 2mm)