Spotted Slate (outer spotted slate zone)
This rock is a fine-grained, poorly foliated, porphyroblastic metamorphic rock, dominated by poikiloblasts of cordierite and biotite, in a matrix of biotite, muscovite, quartz and graphite with rare chiastolite (andalusite) porphyroblasts. Cordierite poikiloblasts are anhedral, rounded crystals up to 2.5 mm in size and contain inclusions of quartz, muscovite and graphite. Most cordierites exhibit lamellar or cyclic twinning and have rims altered to pale yellow pinite.
This sample represents the product of thermal metamorphism of a graphitic slate protolith due to contact metamorphism by the Skiddaw granite. The presence of cordierite and andalusite suggest peak temperatures in the hornblende hornfels facies.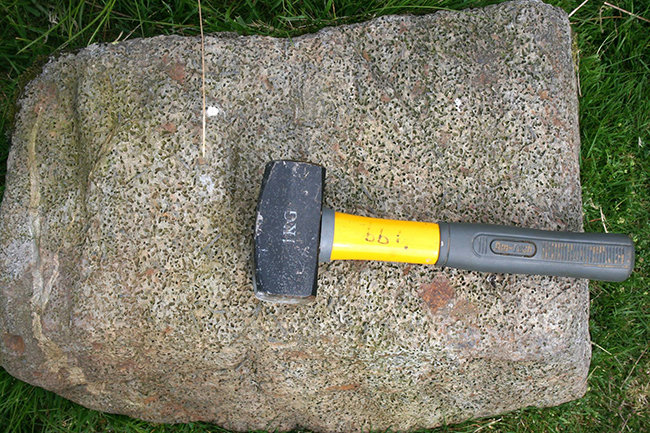 Spotted Slate. The voids are crystals of cordierite removed by weathering. Photo by Kevin Walsh.





Bibliography
• David Shelley (1983): Igneous and metamorphic rocks under the microscope. Campman & Hall editori.
• Gray.E Bebout; Derek. C Cooper; A. Don Bradley; Seth J. Sadofsky (1999): Nitrogen-isotope record of fluid-rock interactions in the Skiddaw Aureole and granite, English Lake District. American Mineralogist, Volume 84, pages 1495–1505, 1999
Photo

| | | |
| --- | --- | --- |
| poikiloblasts of cordierite (with minute inclusions) in a fine-grained matrix. The pale yellow material is pinite. Roughtenghyll, Cumbria, England. PPL image, 2x (Field of view = 7mm) | poikiloblasts of cordierite (with minute inclusions). Roughtenghyll, Cumbria, England. XPL image, 2x (Field of view = 7mm) | poikiloblasts of cordierite (with minute inclusions) in a fine-grained matrix. The pale yellow material is pinite. Roughtenghyll, Cumbria, England. PPL image, 2x (Field of view = 7mm) |
| poikiloblasts of cordierite (with minute inclusions) in a fine-grained matrix. The pale yellow material is pinite. Roughtenghyll, Cumbria, England. PPL image, 2x (Field of view = 7mm) | poikiloblasts of cordierite (with minute inclusions). Roughtenghyll, Cumbria, England. XPL image, 2x (Field of view = 7mm) | poikiloblasts of cordierite (with minute inclusions) in a fine-grained matrix. The pale yellow material is pinite. Roughtenghyll, Cumbria, England. PPL image, 2x (Field of view = 7mm) |
| poikiloblasts of cordierite (with minute inclusions) in a fine-grained matrix. The pale yellow material is pinite. Roughtenghyll, Cumbria, England. PPL image, 2x (Field of view = 7mm) | poikiloblasts of cordierite (with minute inclusions) in a fine-grained matrix. The pale yellow material is pinite. Roughtenghyll, Cumbria, England. PPL image, 2x (Field of view = 7mm) | poikiloblasts of cordierite (with minute inclusions) in a fine-grained matrix. The pale yellow material is pinite. Roughtenghyll, Cumbria, England. PPL image, 2x (Field of view = 7mm) |
| poikiloblasts of cordierite (with minute inclusions). Roughtenghyll, Cumbria, England. XPL image, 2x (Field of view = 7mm) | poikiloblasts of cordierite (with minute inclusions). Roughtenghyll, Cumbria, England. XPL image, 2x (Field of view = 7mm) | poikiloblasts of cordierite (with minute inclusions) in a fine-grained matrix. The pale yellow material is pinite. Roughtenghyll, Cumbria, England. PPL image, 2x (Field of view = 7mm) |
| poikiloblasts of cordierite (with minute inclusions) in a fine-grained matrix. The pale yellow material is pinite. Roughtenghyll, Cumbria, England. PPL image, 2x (Field of view = 7mm) | poikiloblasts of cordierite (with minute inclusions) in a fine-grained matrix. The pale yellow material is pinite. Roughtenghyll, Cumbria, England. PPL image, 2x (Field of view = 7mm) | poikiloblasts of cordierite (with minute inclusions). Roughtenghyll, Cumbria, England. XPL image, 2x (Field of view = 7mm) |
| poikiloblasts of cordierite (with minute inclusions). Roughtenghyll, Cumbria, England. XPL image, 2x (Field of view = 7mm) | poikiloblasts of cordierite (with minute inclusions) in a fine-grained matrix. The pale yellow material is pinite. Roughtenghyll, Cumbria, England. PPL image, 2x (Field of view = 7mm) | poikiloblasts of cordierite (with minute inclusions). Roughtenghyll, Cumbria, England. XPL image, 2x (Field of view = 7mm) |
| poikiloblasts of cordierite (with minute inclusions) in a fine-grained matrix. The pale yellow material is pinite. Roughtenghyll, Cumbria, England. PPL image, 2x (Field of view = 7mm) | poikiloblasts of cordierite (with minute inclusions). Roughtenghyll, Cumbria, England. XPL image, 2x (Field of view = 7mm) | poikiloblasts of cordierite (with minute inclusions) in a fine-grained matrix. The pale yellow material is pinite. Roughtenghyll, Cumbria, England. PPL image, 2x (Field of view = 7mm) |
| poikiloblasts of cordierite (with minute inclusions). Roughtenghyll, Cumbria, England. XPL image, 2x (Field of view = 7mm) | poikiloblasts of cordierite (with minute inclusions) in a fine-grained matrix. The pale yellow material is pinite. Roughtenghyll, Cumbria, England. PPL image, 2x (Field of view = 7mm) | poikiloblasts of cordierite (with minute inclusions). Roughtenghyll, Cumbria, England. XPL image, 2x (Field of view = 7mm) |
| poikiloblasts of cordierite (with minute inclusions). Roughtenghyll, Cumbria, England. XPL image, 2x (Field of view = 7mm) | poikiloblasts of cordierite (with minute inclusions) in a fine-grained matrix. The pale yellow material is pinite. Roughtenghyll, Cumbria, England. PPL image, 2x (Field of view = 7mm) | poikiloblasts of cordierite (with minute inclusions). Roughtenghyll, Cumbria, England. XPL image, 2x (Field of view = 7mm) |