Mesh texture
In olivine-rich rocks such as dunites and peridotites, serpentinization may or may not be complete. If the transformation is incomplete we can observe a serpentine mesh structure composed of a lattice work of longitudinally divided cross-fibre veins enclosing olivine cores. Each olivine grain may be divided into several cores which retain their original orientation without disturbance. Generally, the serpentine veins contain two parallel series of fibrous material separated by a black band of minute magnetite aggregates. If the transformation is complete, the inner parts of the mesh structure are filled by serpentine micro aggregates.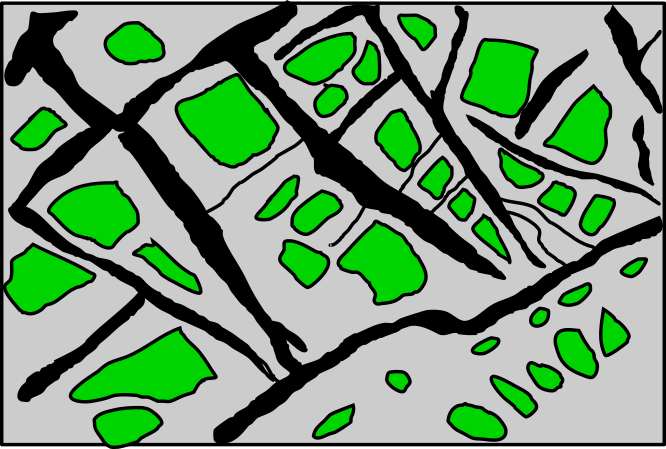 schematic representation of mesh texture. Grey = serpentine; green = olivine core; black = magnetite.
Bibliography
• Bucher, K., & Grapes, R. (2011). Petrogenesis of metamorphic rocks. Springer Science & Business Media.
• Fossen, H. (2016). Structural geology. Cambridge University Press.
• Howie, R. A., Zussman, J., & Deer, W. (1992). An introduction to the rock-forming minerals (p. 696). Longman.
• Passchier, Cees W., Trouw, Rudolph A. J: Microtectonics (2005).
• Philpotts, A., & Ague, J. (2009). Principles of igneous and metamorphic petrology. Cambridge University Press.
• Shelley, D. (1993). Igneous and metamorphic rocks under the microscope: classification, textures, microstructures and mineral preferred-orientations.
• Vernon, R. H. & Clarke, G. L. (2008): Principles of Metamorphic Petrology. Cambridge University Press.
• Vernon, R. H. (2018). A practical guide to rock microstructure. Cambridge university press.
Photo

| | | |
| --- | --- | --- |
| Mesh texture in olivine. Each olivine grain is surrounded by fibrous serpentine and black magnetite aggregates. PPL image, 2x (Field of view = 7mm) | Mesh texture in olivine. Each olivine grain is surrounded by fibrous serpentine and black magnetite aggregates. XPL image, 2x (Field of view = 7mm) | Mesh texture in olivine. Each olivine grain is surrounded by fibrous serpentine and black magnetite aggregates. PPL image, 2x (Field of view = 7mm) |
| Mesh texture in olivine. Each olivine grain is surrounded by fibrous serpentine and black magnetite aggregates. XPL image, 2x (Field of view = 7mm) | Mesh texture in olivine. Each olivine grain is surrounded by fibrous serpentine and black magnetite aggregates. PPL image, 10x (Field of view = 2mm) | Mesh texture in olivine. Each olivine grain is surrounded by fibrous serpentine and black magnetite aggregates. XPL image, 10x (Field of view = 2mm) |
| Mesh texture in olivine. Each olivine grain is surrounded by fibrous serpentine and black magnetite aggregates. PPL image, 10x (Field of view = 2mm) | Mesh texture in olivine. Each olivine grain is surrounded by fibrous serpentine and black magnetite aggregates. XPL image, 10x (Field of view = 2mm) | Mesh texture in olivine. Each olivine grain is surrounded by fibrous serpentine and black magnetite aggregates. PPL image, 10x (Field of view = 2mm) |
| Mesh texture in olivine. Each olivine grain is surrounded by fibrous serpentine and black magnetite aggregates. XPL image, 10x (Field of view = 2mm) | Mesh texture in olivine. Each olivine grain is surrounded by fibrous serpentine and black magnetite aggregates. PPL image, 10x (Field of view = 2mm) | Mesh texture in olivine. Each olivine grain is surrounded by fibrous serpentine and black magnetite aggregates. XPL image, 10x (Field of view = 2mm) |
| Mesh texture in olivine. Each olivine grain is surrounded by fibrous serpentine and black magnetite aggregates. PPL image, 10x (Field of view = 2mm) | Mesh texture in olivine. Each olivine grain is surrounded by fibrous serpentine and black magnetite aggregates. XPL image, 10x (Field of view = 2mm) | Mesh texture in olivine. Each olivine grain is surrounded by fibrous serpentine and black magnetite aggregates. XPL image, 10x (Field of view = 2mm) |
| Mesh texture in olivine. Each olivine grain is surrounded by fibrous serpentine and black magnetite aggregates. PPL image, 2x (Field of view = 7mm) | Mesh texture in olivine. Each olivine grain is surrounded by fibrous serpentine and black magnetite aggregates. XPL image, 2x (Field of view = 7mm) | Mesh texture in olivine. Each olivine grain is surrounded by fibrous serpentine and black magnetite aggregates. PPL image, 2x (Field of view = 7mm) |
| Mesh texture in olivine. Each olivine grain is surrounded by fibrous serpentine and black magnetite aggregates. XPL image, 2x (Field of view = 7mm) | Mesh texture in olivine. Each olivine grain is surrounded by fibrous serpentine and black magnetite aggregates. PPL image, 2x (Field of view = 7mm) | Mesh texture in olivine. Each olivine grain is surrounded by fibrous serpentine and black magnetite aggregates. XPL image, 2x (Field of view = 7mm) |