Stilpnomelano - (K,Na,Ca)0,6(Mg,Fe2+,Fe3+)6Si8Al(O,OH)27 * 2-4H2O
Lo stilpnomelano fu descritto per la prima volta nel 1827 da Ernst Friedrich Glocke in alcune rocce provenienti dalla Moravia (Repubblica Ceca). Il nome deriva dal greco "stilpnos" (che luccica) e "melanos" (scuro). Lo stilpnomelano č un minerale strutturalmente simile ai fillosilicati con una struttura paragonabile a quella del talco in cui strati ottaedrici continui sono alternati a strati tetraedrici discontinui che condividono anioni OH e O con gli strati ottaedrici. Č un minerale tipico di rocce metamorfiche in facies degli scisti blu e/o verdi, derivanti da sedimenti ricchi in ferro (BIF, meta-ironstone ecc).
Caratteristiche ottiche:
•
Abito:
micaceo, spesso allungato ed in aggregati a covoni.
•
Colore:
variabile sui toni del marrone-rossastro, marrone dorato, giallo pallido.
•
Pleocroismo:
Variabile da marrone oro a marrone rosso, talvolta marrone quasi nero.
•
Colori di interferenza:
Spesso mascherati dal colore del minerale.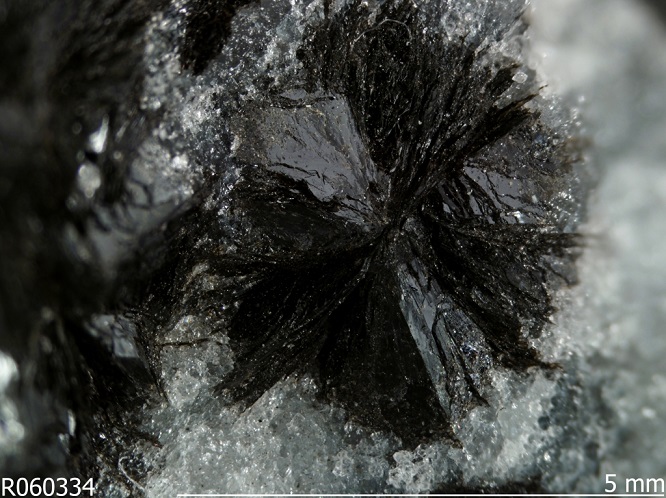 Cristalli micacei di stilpnomelano in associazione con cristalli di quarzo, Blanchard Mountain, Skagit County, Washington, USA. Immagine tratta da RRUFF.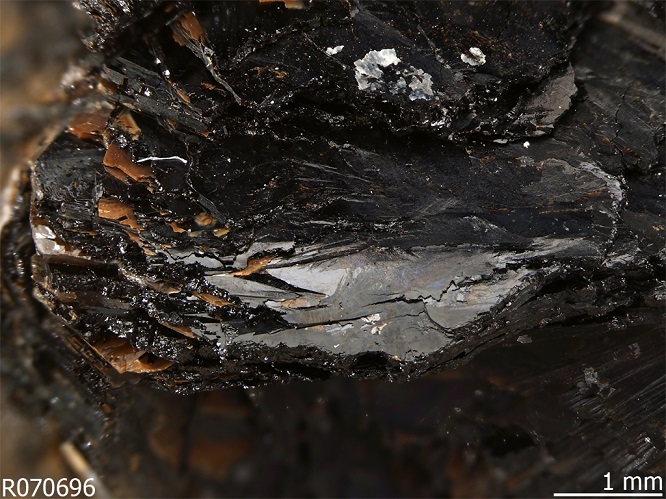 Cristalli micacei di stilpnomelano, Brunsjo, Grythyttan, Vastmanland, Svezia. Immagine tratta da RRUFF.
Bibliografia
Le informazioni contenute in questa pagina sono tratte da:
• Bucher, K., & Grapes, R. (2011). Petrogenesis of metamorphic rocks. Springer Science & Business Media.
• Fossen, H. (2016). Structural geology. Cambridge University Press.
• Howie, R. A., Zussman, J., & Deer, W. (1992). An introduction to the rock-forming minerals (p. 696). Longman.
• Passchier, Cees W., Trouw, Rudolph A. J: Microtectonics (2005).
• Philpotts, A., & Ague, J. (2009). Principles of igneous and metamorphic petrology. Cambridge University Press.
• Shelley, D. (1993). Igneous and metamorphic rocks under the microscope: classification, textures, microstructures and mineral preferred-orientations.
• Vernon, R. H. & Clarke, G. L. (2008): Principles of Metamorphic Petrology. Cambridge University Press.
• Vernon, R. H. (2018). A practical guide to rock microstructure. Cambridge university press.
Foto

| | | |
| --- | --- | --- |
| Cristalli di stilpnomelano (marrone) in una roccia metamorfosata in facies scisti blu. Immagina a N//, 10x (lato lungo = 2 mm) | Cristalli di stilpnomelano (marrone) in una roccia metamorfosata in facies scisti blu. Immagina a N//, 10x (lato lungo = 2 mm) | Cristalli di stilpnomelano (marrone) in una roccia metamorfosata in facies scisti blu. Immagina a N//, 10x (lato lungo = 2 mm) |
| Fels a glaucofane e stilpnomelano. Immagine a N//, 2x (lato lungo = 7mm) | Fels a glaucofane e stilpnomelano. Immagine a N//, 2x (lato lungo = 7mm) | Fels a glaucofane e stilpnomelano. Immagine a NX, 2x (lato lungo = 7mm) |
| Cristalli di stilpnomelano disposti a covone. Immagine a N//, 10x (lato lungo = 2mm) | Cristalli di stilpnomelano disposti a covone. Immagine a NX, 10x (lato lungo = 2mm) | Cristalli di stilpnomelano disposti a covone. Immagine a N//, 10x (lato lungo = 2mm) |
| Cristalli di stilpnomelano disposti a covone. Laytonville quarry, California. Immagine a N//, 2x (lato lungo = 7mm) | Cristalli di stilpnomelano disposti a covone. Laytonville quarry, California. Immagine a N//, 2x (lato lungo = 7mm) | Cristalli di stilpnomelano disposti a covone. Laytonville quarry, California. Immagine a N//, 2x (lato lungo = 7mm) |
| Cristalli di stilpnomelano disposti a covone. Laytonville quarry, California. Immagine a NX, 2x (lato lungo = 7mm) | Cristalli di stilpnomelano disposti a covone. Laytonville quarry, California. Immagine a NX, 2x (lato lungo = 7mm) | Cristalli di stilpnomelano disposti a covone. Laytonville quarry, California. Immagine a N//, 2x (lato lungo = 7mm) |
| Cristalli di stilpnomelano disposti a covone. Laytonville quarry, California. Immagine a N//, 2x (lato lungo = 7mm) | Cristalli di stilpnomelano disposti a covone. Laytonville quarry, California. Immagine a NX, 2x (lato lungo = 7mm) | Cristalli di stilpnomelano disposti a covone. Laytonville quarry, California. Immagine a N//, 2x (lato lungo = 7mm) |
| Cristalli di stilpnomelano disposti a covone. Laytonville quarry, California. Immagine a N//, 2x (lato lungo = 7mm) | Cristalli di stilpnomelano disposti a covone e cristalli di quarzo. Laytonville quarry, California. Immagine a NX, 2x (lato lungo = 7mm) | Cristalli di stilpnomelano disposti a covone. Laytonville quarry, California. Immagine a N//, 2x (lato lungo = 7mm) |
| Cristalli di stilpnomelano disposti a covone. Laytonville quarry, California. Immagine a N//, 2x (lato lungo = 7mm) | Cristalli di stilpnomelano disposti a covone e cristalli di quarzo. Laytonville quarry, California. Immagine a NX, 2x (lato lungo = 7mm) | cristallo di stilpnomelano. Laytonville quarry, California. Immagine a N//, 10x (lato lungo = 2mm) |
| Cristalli di stilpnomelano disposti a covone. Laytonville quarry, California. Immagine a N//, 2x (lato lungo = 7mm) | cristallo di stilpnomelano disposti a covone. Laytonville quarry, California. Immagine a N//, 2x (lato lungo = 7mm) | cristallo di stilpnomelano disposti a covone. Laytonville quarry, California. Immagine a NX, 2x (lato lungo = 7mm) |
| Cristalli di stilpnomelano. Laytonville quarry, California. Immagine a N//, 2x (lato lungo = 7mm) | cristallo di stilpnomelano disposti a covone. Laytonville quarry, California. Immagine a N//, 2x (lato lungo = 7mm) | cristallo di stilpnomelano disposti a covone. Laytonville quarry, California. Immagine a N//, 2x (lato lungo = 7mm) |
| Cristalli di stilpnomelano. Laytonville quarry, California. Immagine a N//, 2x (lato lungo = 7mm) | cristallo di stilpnomelano disposti a covone. Laytonville quarry, California. Immagine a N//, 2x (lato lungo = 7mm) | cristallo di stilpnomelano disposti a covone. Laytonville quarry, California. Immagine a N//, 10x (lato lungo = 2mm) |
| cristallo di stilpnomelano disposti a covone. Laytonville quarry, California. Immagine a N//, 10x (lato lungo = 2mm) | cristallo di stilpnomelano disposti a covone. Laytonville quarry, California. Immagine a N//, 10x (lato lungo = 2mm) | cristallo di stilpnomelano disposti a covone. Laytonville quarry, California. Immagine a N//, 10x (lato lungo = 2mm) |
| cristallo di stilpnomelano disposti a covone. Laytonville quarry, California. Immagine a N//, 10x (lato lungo = 2mm) | cristallo di stilpnomelano disposti a covone. Laytonville quarry, California. Immagine a N//, 10x (lato lungo = 2mm) | cristallo di stilpnomelano disposti a covone. Laytonville quarry, California. Immagine a N//, 10x (lato lungo = 2mm) |
| Cristalli di stilpnomelano con tessitura a covone in una quarzite. Tirolo. Immagine a N//, 10x (lato lungo = 2mm) | Cristalli di stilpnomelano con tessitura a covone in una quarzite. Tirolo. Immagine a NX, 10x (lato lungo = 2mm) | Cristalli di stilpnomelano con tessitura a covone in una quarzite. Tirolo. Immagine a N//, 10x (lato lungo = 2mm) |
| Cristalli di stilpnomelano con tessitura a covone in una quarzite. Tirolo. Immagine a N//, 10x (lato lungo = 2mm) | Cristalli di stilpnomelano con tessitura a covone in una quarzite. Tirolo. Immagine a NX, 10x (lato lungo = 2mm) | Cristalli di stilpnomelano con tessitura a covone in una quarzite. Tirolo. Immagine a N//, 10x (lato lungo = 2mm) |
| Cristalli di stilpnomelano con tessitura a covone in una quarzite. Tirolo. Immagine a N//, 10x (lato lungo = 2mm) | Cristalli di stilpnomelano con tessitura a covone in una quarzite. Tirolo. Immagine a NX, 10x (lato lungo = 2mm) | Cristalli di stilpnomelano con tessitura a covone in una quarzite. Tirolo. Immagine a N//, 10x (lato lungo = 2mm) |
| Cristalli di stilpnomelano con tessitura a covone in una quarzite. Tirolo. Immagine a NX, 10x (lato lungo = 2mm) | Cristalli di stilpnomelano con tessitura a covone in una quarzite. Tirolo. Immagine a N//, 10x (lato lungo = 2mm) | Cristalli di stilpnomelano con tessitura a covone in una quarzite. Tirolo. Immagine a N//, 10x (lato lungo = 2mm) |
| Cristalli di stilpnomelano con tessitura a covone in una quarzite. Tirolo. Immagine a NX, 10x (lato lungo = 2mm) | Cristalli di stilpnomelano con tessitura a covone in una quarzite. Tirolo. Immagine a N//, 10x (lato lungo = 2mm) | Cristalli di stilpnomelano con tessitura a covone in una quarzite. Tirolo. Immagine a N//, 10x (lato lungo = 2mm) |