Brandberg Peralkaline Granite
The Brandberg (Namibia) is one of a group of about 20 early cretaceous igneous complexes which occur along a NE-SW tending zone extending for 350 Km inland from the coast at Cape Cross. They were emplaced into a Precambrian basement. The main focus of cretaceous magmatism was at the site of the present coastline, where extensive food basalt and silicic volcanism formed at 132 Ma.
The brandberg complex comprises a nearly circular body of granite in plan view , 23Km in diameter, which forms a prominent mountain looming some 2000m above the peneplain. Around Brandberg granite massif is a ring of low hills formed by Damaran granites and metasediment covered by volcanic rocks of the Karoo groups.
Main massif
The main granite massif consists predominantly of coarse-grained, equigranular hornblende-granite. Diehl showed a continuous ring of Hornblende granite up to 3 km wide along the perimeter of the massif and a discontinuous ring of fayalite-hedembergite granite at the western and eastern margins. Rocks of the main massif are characterized by Hornblende-biotite granite with zoned plagioclase rimmed by orthoclase, quartz, biotite, hornblende, apatite, zircon, allanite, and secondary minerals.
Amis Peralkaline intrusion
The Amis intrusion consist of numerous sill and dykes of peralkaline granite, which cut the main Brandberg massif and adjacent country rocks at the SW margins of the Brandberg massif. The Amis intrusion is made up of geochemically highly fractionated peralkaline arfvedsonite and Aegirine granites, locally enriched in element of economic importance such as Nb and REE elements. Field evidence offer conclusive evidence that the peralkaline nature of the arfvedsonite and Aegirine granites is a magmatic feature and was not imposed by metasomatism. The dominant rock type is a medium-grained arfvedsonite and Aegirine bearing granite. Quartz microcline and albite are the dominant felsic minerals. Accessory minerals including REE-bearing fluorine, Bastnaesite, Pyrochlore, Monazite, Xenotime and Zircon.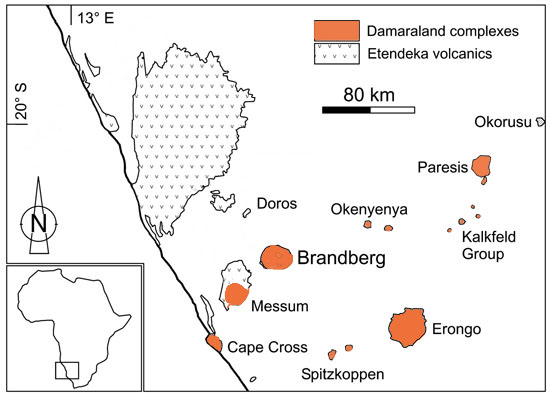 Geological map of the N-central Namibia showing the distribution of Cretaceous igneous complexs. From (A. K. Schmitt 1999).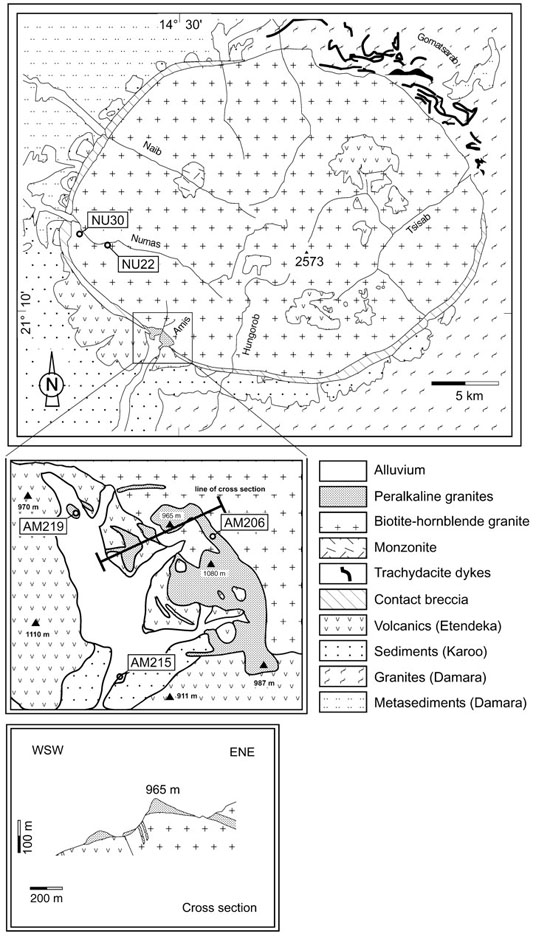 Geological map of Brandberg and Amis massif. From (A. K. Schmitt 1999).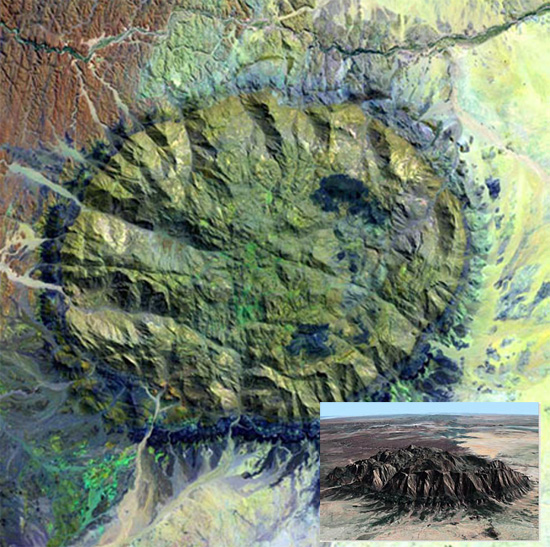 view from the satellite and side-view of the Brandberg massif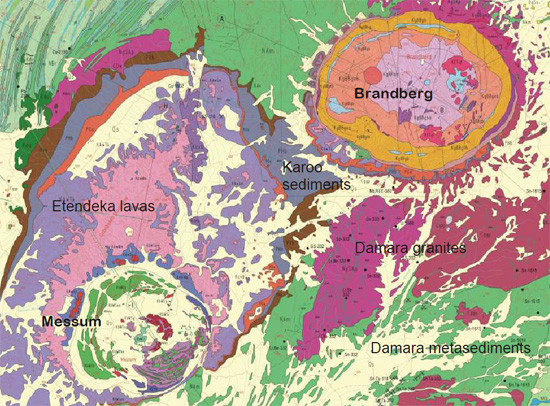 Geological map of Brandberg massif
Bibliography
• Axel K. Schmitt, Robert B. Trumbull, Peter Dulski and Rolf Emmermann Zr-Nb-REE Mineralization in Peralkaline Granites from the Amis Complex, Brandberg (Namibia): Evidence for Magmatic Pre-enrichment from Melt Inclusions. Economic Geology
• Axel K. Schmitt, R. Emmerman, R.B. Trumbull, B. Buhn, F.Henjes-kunst (1999): Petrogenesis and 40Ar/39Ar Geochronology of the Brandberg Complex, Namibia: Evidence for a Major Mantle Contribution in Metaluminous and Peralkaline Granites. journal of petrology
• Eric A.K.Middlemost (1985): Magmas and Magmatic Rocks. Longman, London
• Ron H. Vernon (2004): A pratical guide to rock microstructure. Cambridge editore
• K.G.Cox, J.D.Bell & R.J Pankhurst (1979): The interpretetion of igneous rocks. George Allen&Unwin editori.
• David Shelley (1983): Igneous and metamorphic rocks under the microscope. Campman & Hall editori
Photo

| | | |
| --- | --- | --- |
| Aegirine (grass-green) crystals. Brandberg Complex (Namibia). PPL image, 2x (Field of view = 7mm) | Aegirine (high interference colors) crystals in a fine-grained matrix made of quartz and feldspar (I order gray). Brandberg Complex (Namibia). XPL image, 2x (Field of view = 7mm) | Aegirine (grass-green) crystals. Brandberg Complex (Namibia). PPL image, 2x (Field of view = 7mm) |
| Aegirine (high interference colors) crystals in a fine-grained matrix made of quartz and feldspar (I order gray). Brandberg Complex (Namibia). XPL image, 2x (Field of view = 7mm) | Xenotime (high relief) and small arfvedsonite crystals (blue). Brandberg Complex (Namibia). PPL image, 10x (Field of view = 2mm) | Aegirine (grass-green) crystals and xenotime crystals (high relief). Brandberg Complex (Namibia). PPL image, 2x (Field of view = 7mm) |
| Aegirine and xenotime (high interference colors) crystals in a fine-grained matrix made of quartz and feldspar (I order gray). Brandberg Complex (Namibia). XPL image, 2x (Field of view = 7mm) | Aegirine (grass-green) crystals and xenotime crystals (high relief). Brandberg Complex (Namibia). PPL image, 2x (Field of view = 7mm) | Aegirine and xenotime (high interference colors) crystals in a fine-grained matrix made of quartz and feldspar (I order gray). Brandberg Complex (Namibia). XPL image, 2x (Field of view = 7mm) |
| Aegirine (grass-green) crystals and xenotime crystals (high relief). Brandberg Complex (Namibia). PPL image, 2x (Field of view = 7mm) | Aegirine (grass-green) crystals. Brandberg Complex (Namibia). PPL image, 2x (Field of view = 7mm) | Aegirine (high interference colors) crystals in a fine-grained matrix made of quartz and feldspar (I order gray). Brandberg Complex (Namibia). XPL image, 2x (Field of view = 7mm) |
| Xenotime (high interference colors) and arfvedsonite crystals (blue). XPL image, 2x (Field of view = 7mm) | Arfvedsonite crystals (blue). PPL image, 10x (Field of view = 2mm) | Xenotime (high interference colors) and arfvedsonite crystals (blue). XPL image, 2x (Field of view = 7mm) |
| Aegirine (grass-green) crystals. Brandberg Complex (Namibia). PPL image, 2x (Field of view = 7mm) | Aegirine (high interference colors) crystals in a fine-grained matrix made of quartz and feldspar (I order gray). Brandberg Complex (Namibia). XPL image, 2x (Field of view = 7mm) | Aegirine (grass-green) crystals and xenotime crystals (high relief). Brandberg Complex (Namibia). PPL image, 2x (Field of view = 7mm) |
| Aegirine (high interference colors) crystals in a fine-grained matrix made of quartz and feldspar (I order gray). Brandberg Complex (Namibia). XPL image, 2x (Field of view = 7mm) | Aegirine (grass-green) crystals. Brandberg Complex (Namibia). PPL image, 2x (Field of view = 7mm) | Aegirine (high interference colors) crystals in a fine-grained matrix made of quartz and feldspar (I order gray). Brandberg Complex (Namibia). XPL image, 2x (Field of view = 7mm) |
| Aegirine (high interference colors) crystals in a fine-grained matrix made of quartz and feldspar (I order gray). Brandberg Complex (Namibia). XPL image, 2x (Field of view = 7mm) | Aegirine (grass-green) crystals. Brandberg Complex (Namibia). PPL image, 2x (Field of view = 7mm) | Aegirine (high interference colors) crystals in a fine-grained matrix made of quartz and feldspar (I order gray). Brandberg Complex (Namibia). XPL image, 2x (Field of view = 7mm) |
| Aegirine (grass-green) crystals. Brandberg Complex (Namibia). PPL image, 2x (Field of view = 7mm) | Aegirine (high interference colors) crystals in a fine-grained matrix made of quartz and feldspar (I order gray). Brandberg Complex (Namibia). XPL image, 2x (Field of view = 7mm) | Aegirine (high interference colors) crystals in a fine-grained matrix made of quartz and feldspar (I order gray). Brandberg Complex (Namibia). XPL image, 2x (Field of view = 7mm) |
| Aegirine (grass-green) crystals. Brandberg Complex (Namibia). PPL image, 2x (Field of view = 7mm) | Aegirine (high interference colors) crystals in a fine-grained matrix made of quartz and feldspar (I order gray). Brandberg Complex (Namibia). XPL image, 2x (Field of view = 7mm) | Aegirine (high interference colors) crystals in a fine-grained matrix made of quartz and feldspar (I order gray). Brandberg Complex (Namibia). XPL image, 2x (Field of view = 7mm) |
| Xenotime (high relief) and arfvedsonite crystals (blue). PPL image, 10x (Field of view = 2mm) | Xenotime (high relief) and arfvedsonite crystals (blue). PPL image, 10x (Field of view = 2mm) | Xenotime (high interference colors) crystals in a fine-grained matrix made of quartz and feldspar (I order gray). Brandberg Complex (Namibia). XPL image, 10x (Field of view = 2mm) |
| Xenotime (high interference colors) crystals in a fine-grained matrix made of quartz and feldspar (I order gray). Brandberg Complex (Namibia). XPL image, 10x (Field of view = 2mm) | Arfvedsonite crystals (blue). PPL image, 10x (Field of view = 2mm) | Xenotime (high relief) and arfvedsonite crystals (blue). PPL image, 10x (Field of view = 2mm) |