Ussingite - Na2AlSi3O8OH
Ussingite is a relatively rare mineral found in ultra-agpaitic massifs (e.g Illimaussaq, Mont Saint-Hilare, Lovozero and Khibina). Ussingite occurs in foyaites, lujavrites and naujaites. Compositionally, ussingite is the most agpaitic mineral of all currently known aluminosilicates: Kagp = (Na + K)/Al = 2. Ussingite was first found in the Ilimaussaq intrusion and was described by Bøggild (1913) and it was named after Niels Viggo Ussing (Professor of Mineralogy, University of Copenhagen).
Optical properties:
• Form: Fine-grained, compact.
• Color: Colorless.
• Relief: Low.
• Interference colors: High.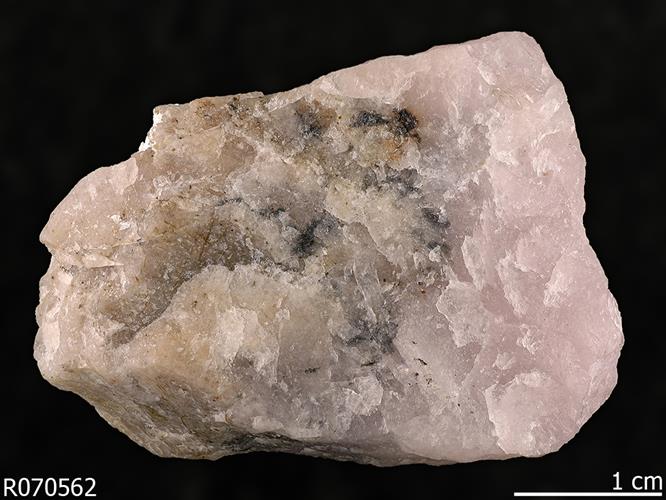 Pink ussingite from Tareq Slope, Ilimaussaq, Narsaq, Kitaa Province, Greenland. Image from RRUFF
Bibliography
• Povarennykh, A. S., Platonov, A. N., & Belichenko, V. P. (1970). On the colour of ussingite from the Ilímaussaq (South Greenland) and Lovozero (Kola Peninsula) alkaline intrusions. Bulletin of the Geological Society of Denmark, 20(1), 20-26.
• Sørensen, H., & Larsen, L. M. (2001). The hyper-agpaitic stage in the evolution of the Ilímaussaq alkaline complex, South Greenland. Geology of Greenland Survey Bulletin, 190, 83-94.
• Rossi, G., Tazzoli, V., & Ungaretti. L. (1974). Crystal-structure of ussingite. American Mineralogist, 59(3-4), 335-340.
Photo

| | | |
| --- | --- | --- |
| Ussingite crystals (colorless and fractured) in a agpaitic syenite, Ilímaussaq, Greenland. PPL image, 2x (Field of view = 7mm) | Ussingite crystals (high interference colors) in a agpaitic syenite, Ilímaussaq, Greenland. XPL image, 2x (Field of view = 7mm) | Ussingite crystals (colorless and fractured) in a agpaitic syenite, Ilímaussaq, Greenland. PPL image, 2x (Field of view = 7mm) |
| Ussingite (high interference colors) and sanidine (gray) crystals in a agpaitic syenite, Ilímaussaq, Greenland. XPL image, 2x (Field of view = 7mm) | Ussingite (high interference colors) and sanidine (gray) crystals in a agpaitic syenite, Ilímaussaq, Greenland. XPL image, 2x (Field of view = 7mm) | Ussingite (high interference colors) and sanidine (gray) crystals in a agpaitic syenite, Ilímaussaq, Greenland. XPL image, 2x (Field of view = 7mm) |
| Ussingite (high interference colors) and sanidine (gray) crystals in a agpaitic syenite, Ilímaussaq, Greenland. XPL image, 2x (Field of view = 7mm) | Ussingite (high interference colors) and sanidine (gray) crystals in a agpaitic syenite, Ilímaussaq, Greenland. XPL image, 2x (Field of view = 7mm) | Ussingite (high interference colors) and sanidine (gray) crystals in a agpaitic syenite, Ilímaussaq, Greenland. XPL image, 2x (Field of view = 7mm) |
| Ussingite (high interference colors) crystals in a agpaitic syenite, Ilímaussaq, Greenland. XPL image, 2x (Field of view = 7mm) | Ussingite (high interference colors) crystals in a agpaitic syenite, Ilímaussaq, Greenland. XPL image, 2x (Field of view = 7mm) | Ussingite (high interference colors) crystals in a agpaitic syenite, Ilímaussaq, Greenland. XPL image, 2x (Field of view = 7mm) |
| Ussingite (high interference colors) crystals in a agpaitic syenite, Ilímaussaq, Greenland. XPL image, 2x (Field of view = 7mm) | Ussingite (high interference colors) crystals in a agpaitic syenite, Ilímaussaq, Greenland. XPL image, 2x (Field of view = 7mm) | Ussingite (high interference colors) crystals in a agpaitic syenite, Ilímaussaq, Greenland. XPL image, 2x (Field of view = 7mm) |