Luxullianite
Luxullianite
: A local name for a variety of porphyritic granite containing abundant tourmaline replacing various minerals. It was spelt luxuliane in the original reference. The name originates from the village of Luxulyan in Cornwall, England, where this type of granite is found.
The Cornubian Batholith
The Cornubian batholith (Fig.1) is a large mass of granite rock, formed about 280 Ma, which lies beneath much of the south-western peninsula of Great Britain. It is exposed onshore in five major plutons (east to west: Dartmoor, Bodmin Moor, St Austell, Carnmenellis and Land's End) and eleven satellite intrusions. The rocks of the batholith are granitic, and their origin is related to the later stages of the Variscan Orogeny (late Carboniferous) that had previously deformed and metamorphosed the sedimentary pile. The batholith is also highly mineralized, with significant quantities of ore minerals, particularly cassiterite (an ore of tin), other minerals include china clay and ores of copper, lead, zinc and tungsten. The dominant rock type exposed (accounting for over 90% of the total outcrop) in the Cornubian Batholith is a medium to coarse grained two mica granite, which is commonly megacrystic, though the size, proportion and alignment of these megacrysts is highly variable (they have a mean size range of 1 - 4 cm, but may reach up to 17 cm in length). Exley and Stone (1982) classified the granites into six petrographic categories:
Type A:
Rafts and inclusions of rocks ranging from granodiorite to quartz diorite. These may be of early igneous origin, but some authors suggest they may represent partially assimilated masses of stoped country rocks.
Type B:
Is the dominant rock type, is a megacrystic biotite-muscovite monzogranite.
Type C:
Fine-grained porphyritic and non-porphyritic granites usually make up less than 10% of the major plutons at outcrop.
Type D:
Lithium enriched granites; only occur to any extent in the St Austell and Tregonning-Godolphin plutons.
Types E and F:
Topaz and fluorite granites are restricted to the western lobe of the St Austell Granite.
Luxullianite in the St Austell granite
Luxullianite has long been regarded as a petrological curiosity, unique to its type locality at Luxulyan, near St. Austell. Distinctive in appearance, it consists of pink alkali feldspar phenocrysts in a black groundmass of tourmaline and quartz, and is characterized texturally by radiate 'suns' of acicular blue-green tourmaline. In the St Austell luxullianite, two distinct tourmaline phases coexist, distinguished by differences in crystal habit and optical characters. The earlier type occurs as relatively large crystals or irregular masses mainly yellow in thin section, the later type (hydrothermal) consists of delicate green prisms. The yellow tourmaline forms relatively massive hexagonal or trigonal prisms often much embayed lay corrosion, and is therefore judged to be primary. The green pneumatolytic tourmaline is the mineral that has made the rock famous. It forms perhaps the most beautiful radial aggregates (stellate aggregates of Sir John Flett) occurring in any British rock.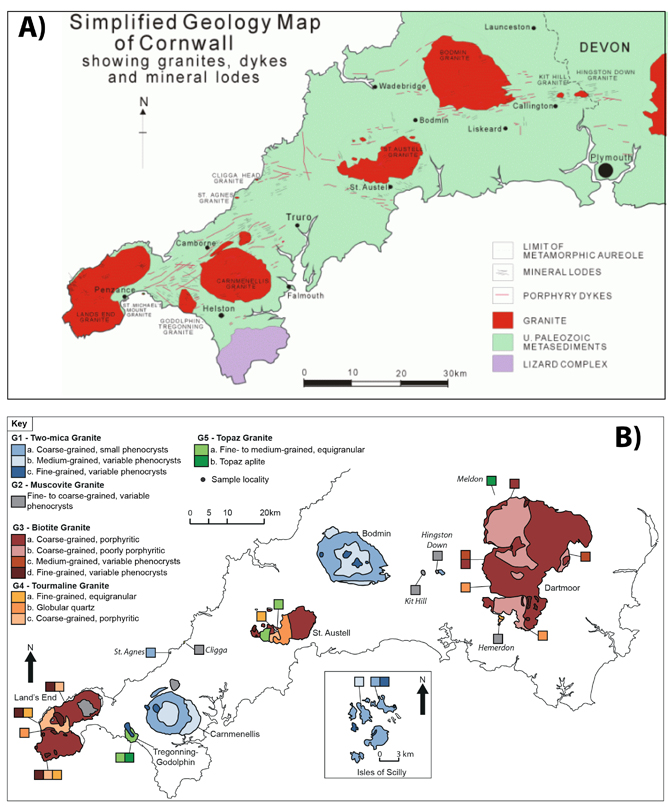 Fig.1: A) simplified geological map of Cornwall, showing the major and minor granite outcrops. B) Map showing the principal mineralogical and textural variations of the Cornubian Batholith, after Simons et al. (2016).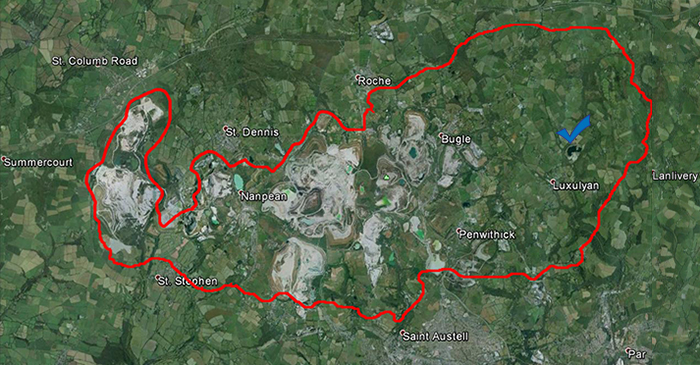 Google Earth picture of Luxulyan area. Red line = limit of St.Austell Granite. The blue arrow indicate the Luxullianite quarry.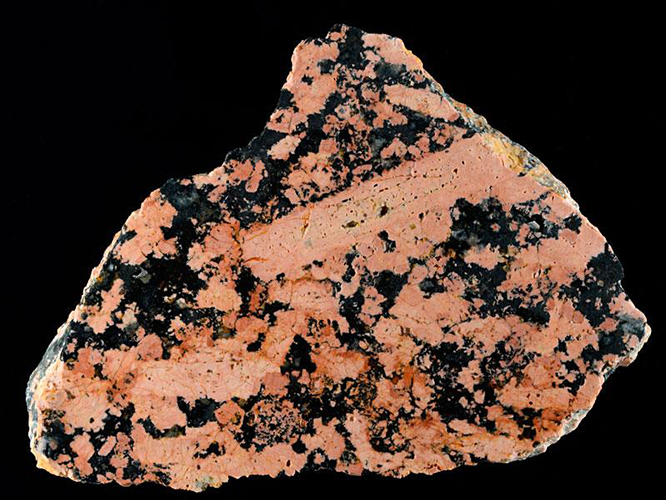 Luxullianite Sample: Ortose (pink), Tourmaline (Black). Photographer: Andy Tindle; (Virtual Microscope website). More on this sample: Here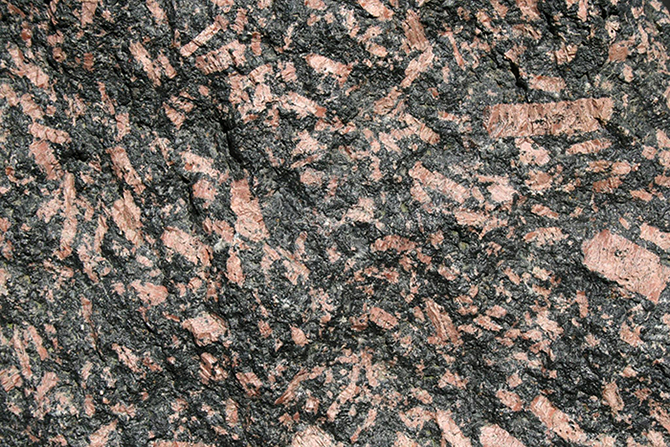 Luxullianite Sample: Ortose (pink), Tourmaline (Black). Photo of Kevin Walsh.
Sample kindly given to me by Robert Gill.
Bibliography
• Simons, B., Shail, R. K., & Andersen, J. C. (2016). The petrogenesis of the Early Permian Variscan granites of the Cornubian Batholith: Lower plate post-collisional peraluminous magmatism in the Rhenohercynian Zone of SW England. Lithos, 260, 76-94.
Photo


Green tourmaline "stellate aggregates". PPL image, 1x (Field of view = 9mm)


Green tourmaline "stellate aggregates". XPL image, 1x (Field of view = 9mm)


Green tourmaline "stellate aggregates". PPL image, 2x (Field of view = 7mm)


Green tourmaline "stellate aggregates". XPL image, 2x (Field of view = 7mm)


Green tourmaline "stellate aggregates". PPL image, 10x (Field of view = 2mm)


Green tourmaline "stellate aggregates". XPL image, 10x (Field of view = 2mm)


Green tourmaline "stellate aggregates". PPL image, 10x (Field of view = 2mm)


Green tourmaline "stellate aggregates". XPL image, 10x (Field of view = 2mm)


Green tourmaline "stellate aggregates". XPL image, 10x (Field of view = 2mm)


Quartz (colorles), yellow tourmaline and green tourmaline stellate aggregates. PPL image, 2x (Field of view = 7mm)


Quartz (I order gray), yellow tourmaline and green tourmaline stellate aggregates (high interference colors). XPL image, 2x (Field of view = 7mm)


Quartz (colorles) and green tourmaline stellate aggregates. PPL image, 1x (Field of view = 9mm)


Quartz (I order gray) and green tourmaline stellate aggregates (high interference colors). XPL image, 1x (Field of view = 9mm)


Quartz (colorles) and green tourmaline stellate aggregates. PPL image, 1x (Field of view = 9mm)


Quartz (I order gray) and green tourmaline stellate aggregates (high interference colors). XPL image, 1x (Field of view = 9mm)


Quartz (colorles) and green tourmaline stellate aggregates. PPL image, 1x (Field of view = 9mm)


Quartz (I order gray) and green tourmaline stellate aggregates (high interference colors). XPL image, 1x (Field of view = 9mm)


Quartz (colorles) and green tourmaline stellate aggregates. PPL image, 1x (Field of view = 9mm)


Quartz (colorles) and green tourmaline stellate aggregates. PPL image, 1x (Field of view = 9mm)


Quartz (colorles) and green tourmaline stellate aggregates. PPL image, 1x (Field of view = 9mm)


Quartz (colorles) and green tourmaline stellate aggregates. PPL image, 1x (Field of view = 9mm)


Quartz (colorles) and green tourmaline stellate aggregates. PPL image, 1x (Field of view = 9mm)


Quartz (colorles) and green tourmaline stellate aggregates. PPL image, 1x (Field of view = 9mm)


Quartz (colorles) and green tourmaline stellate aggregates. PPL image, 1x (Field of view = 9mm)


Quartz (colorles) and green tourmaline stellate aggregates. PPL image, 1x (Field of view = 9mm)


Quartz (I order gray) and green tourmaline stellate aggregates (high interference colors). XPL image, 1x (Field of view = 9mm)


Quartz (colorles) and green tourmaline stellate aggregates. PPL image, 1x (Field of view = 9mm)


Quartz (colorles) and green tourmaline stellate aggregates. PPL image, 2x (Field of view = 7mm)


Quartz (I order gray) and green tourmaline stellate aggregates (high interference colors). XPL image, 2x (Field of view = 7mm)


Quartz (colorles) and green tourmaline stellate aggregates. PPL image, 2x (Field of view = 7mm)


Quartz (I order gray) and green tourmaline stellate aggregates (high interference colors). XPL image, 2x (Field of view = 7mm)


Quartz (colorles) and green tourmaline stellate aggregates. PPL image, 2x (Field of view = 7mm)


Quartz (I order gray) and green tourmaline stellate aggregates (high interference colors). XPL image, 2x (Field of view = 7mm)


Quartz (colorles) and green tourmaline stellate aggregates. PPL image, 2x (Field of view = 7mm)


Quartz (colorles) and green tourmaline stellate aggregates. PPL image, 2x (Field of view = 7mm)


Quartz (I order gray) and green tourmaline stellate aggregates (high interference colors). XPL image, 2x (Field of view = 7mm)


Quartz (colorles) and green tourmaline stellate aggregates. PPL image, 2x (Field of view = 7mm)


Quartz (I order gray) and green tourmaline stellate aggregates (high interference colors). XPL image, 2x (Field of view = 7mm)


Quartz (colorles) and green tourmaline stellate aggregates. PPL image, 2x (Field of view = 7mm)


Quartz (colorles) and green tourmaline stellate aggregates. PPL image, 2x (Field of view = 7mm)


Quartz (I order gray) and green tourmaline stellate aggregates (high interference colors). XPL image, 2x (Field of view = 7mm)


Quartz (colorles) and green tourmaline stellate aggregates. PPL image, 2x (Field of view = 7mm)


Quartz (colorles) and green tourmaline stellate aggregates. PPL image, 2x (Field of view = 7mm)


Quartz (colorles) and green tourmaline stellate aggregates. PPL image, 2x (Field of view = 7mm)


Quartz (I order gray) and green tourmaline stellate aggregates (high interference colors). XPL image, 2x (Field of view = 7mm)


Quartz (colorles) and green tourmaline stellate aggregates. PPL image, 2x (Field of view = 7mm)


Quartz (I order gray) and green tourmaline stellate aggregates (high interference colors). XPL image, 2x (Field of view = 7mm)


Quartz (colorles) and green tourmaline stellate aggregates. PPL image, 2x (Field of view = 7mm)


Quartz (colorles) and green tourmaline stellate aggregates. PPL image, 2x (Field of view = 7mm)


Quartz (I order gray) and green tourmaline stellate aggregates (high interference colors). XPL image, 2x (Field of view = 7mm)


Quartz (colorles) and green tourmaline stellate aggregates. PPL image, 2x (Field of view = 7mm)


Quartz (colorles) and green tourmaline stellate aggregates. PPL image, 10x (Field of view = 2mm)


Quartz (colorles) and green tourmaline stellate aggregates. PPL image, 10x (Field of view = 2mm)


Quartz (colorles) and green tourmaline stellate aggregates. PPL image, 10x (Field of view = 2mm)


Quartz (I order gray) and green tourmaline stellate aggregates (high interference colors). XPL image, 10x (Field of view = 2mm)


Quartz (colorles) and green tourmaline stellate aggregates. PPL image, 10x (Field of view = 2mm)


Quartz (I order gray) and green tourmaline stellate aggregates (high interference colors). XPL image, 10x (Field of view = 2mm)


Quartz (colorles) and green tourmaline stellate aggregates. PPL image, 10x (Field of view = 2mm)


Quartz (colorles) and green tourmaline stellate aggregates. PPL image, 10x (Field of view = 2mm)


Quartz (colorles) and green tourmaline stellate aggregates. PPL image, 10x (Field of view = 2mm)


Quartz (colorles) and green tourmaline stellate aggregates. PPL image, 10x (Field of view = 2mm)


Quartz (I order gray) and green tourmaline stellate aggregates (high interference colors). XPL image, 10x (Field of view = 2mm)


Quartz (colorles) and green tourmaline stellate aggregates. PPL image, 10x (Field of view = 2mm)


Quartz (colorles) and green tourmaline stellate aggregates. PPL image, 10x (Field of view = 2mm)


Quartz (I order gray) and green tourmaline stellate aggregates (high interference colors). XPL image, 10x (Field of view = 2mm)


Quartz (colorles) and green tourmaline stellate aggregates. PPL image, 10x (Field of view = 2mm)


Altered Ortose crystals and green tuormaline aggregates. PPL image, 2x (Field of view = 7mm)


Altered Ortose crystals and green tuormaline aggregates with yellow, relict, tourmaline crystals. PPL image, 2x (Field of view = 7mm)


Altered Ortose crystals and green tuormaline aggregates with yellow, relict, tourmaline crystals. XPL image, 2x (Field of view = 7mm)


Magmatic tourmaline surrounded by green tourmaline aggregates. PPL image, 2x (Field of view = 7mm)


Magmatic tourmaline surrounded by green tourmaline aggregates. XPL image, 2x (Field of view = 7mm)


Green tourmaline aggregates. PPL image, 10x (Field of view = 2mm)


Magmatic tourmaline surrounded by green tourmaline aggregates. PPL image, 10x (Field of view = 2mm)


Green tourmaline aggregates. PPL image, 10x (Field of view = 2mm)


Green tourmaline aggregates and alterd Ortose. XPL image, 10x (Field of view = 2mm)


Green tourmaline aggregates. PPL image, 10x (Field of view = 2mm)


Green tourmaline aggregates. PPL image, 10x (Field of view = 2mm)


Green tourmaline aggregates. PPL image, 10x (Field of view = 2mm)


Green tourmaline aggregates. PPL image, 10x (Field of view = 2mm)


Green tourmaline aggregates. PPL image, 10x (Field of view = 2mm)


Green tourmaline aggregates. PPL image, 10x (Field of view = 2mm)


Green tourmaline aggregates. PPL image, 10x (Field of view = 2mm)


Green tourmaline aggregates. XPL image, 10x (Field of view = 2mm)


Green tourmaline aggregates. PPL image, 10x (Field of view = 2mm)


Green tourmaline aggregates and alterd Ortose. PPL image, 2x (Field of view = 7mm)


Green tourmaline aggregates and alterd Ortose. PPL image, 2x (Field of view = 7mm)


Green tourmaline aggregates, alterd Ortose and quartz crystals. PPL image, 2x (Field of view = 7mm)


Green tourmaline aggregates, alterd Ortose and quartz crystals. XPL image, 2x (Field of view = 7mm)


Magmatic tourmaline surrounded by green tourmaline aggregates. XPL image, 2x (Field of view = 7mm)


Magmatic tourmaline surrounded by green tourmaline aggregates. PPL image, 2x (Field of view = 7mm)


Magmatic tourmaline surrounded by green tourmaline aggregates. XPL image, 2x (Field of view = 7mm)