Wehrlite
Named after Alois Wehrle , a wehrlite is an ultrabasic igneous rock dominated by essential olivine and clinopyroxene with or without small amounts of orthopyroxene. Accessory minerals include plagioclase, spinel, garnet, ilmenite, chromite and magnetite. Wehrlites are a peridotites and a minor component of the upper mantle where they form due to crystallisation of partial melts. Wehrlite occurs as mantle xenoliths within mantle-derived magmas and within the upper portions of the mantle sequence of ophiolites. It can occur in both xenoliths and ophiolites as veins and dykes. Wehrlite can also form as cumulates within layered intrusions associated with gabbro and norite.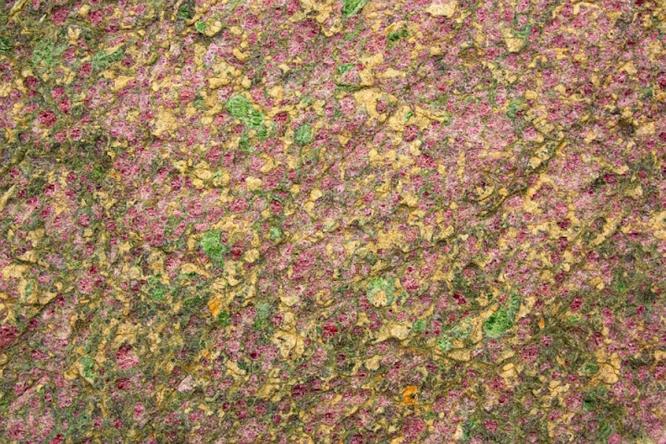 Wherlite with pyrope (red) and Cr-diopside (green). Åheim, Norway. From Sand Atlas.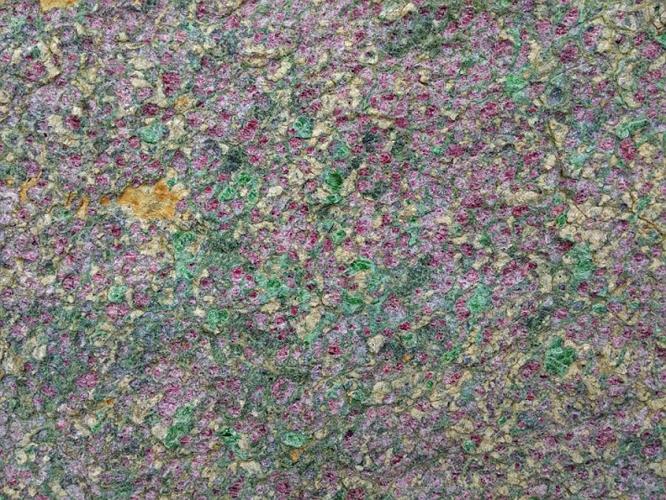 Wherlite with pyrope (red) and Cr-diopside (green). Åheim, Norway. From Sand Atlas.
Bibliography
• Cox et al. (1979): The Interpretation of Igneous Rocks, George Allen and Unwin, London.
• Howie, R. A., Zussman, J., & Deer, W. (1992). An introduction to the rock-forming minerals (p. 696). Longman.
• Le Maitre, R. W., Streckeisen, A., Zanettin, B., Le Bas, M. J., Bonin, B., Bateman, P., & Lameyre, J. (2002). Igneous rocks. A classification and glossary of terms, 2. Cambridge University Press.
• Middlemost, E. A. (1986). Magmas and magmatic rocks: an introduction to igneous petrology.
• Shelley, D. (1993). Igneous and metamorphic rocks under the microscope: classification, textures, microstructures and mineral preferred-orientations.
• Vernon, R. H. & Clarke, G. L. (2008): Principles of Metamorphic Petrology. Cambridge University Press.
Photo


Olivine and pyroxene crystals in a wherlite. XPL image, 1x (Field of view = 9mm)


Olivine, brown spinel and pyroxene crystals in a wherlite. PPL image, 1x (Field of view = 9mm)


Olivine, brown spinel (isotropic) and pyroxene crystals in a wherlite. XPL image, 1x (Field of view = 9mm)


Olivine, brown spinel and pyroxene crystals in a wherlite. PPL image, 1x (Field of view = 9mm)


Olivine, brown spinel (isotropic) and pyroxene crystals in a wherlite. XPL image, 1x (Field of view = 9mm)


Olivine, brown spinel and pyroxene crystals in a wherlite. PPL image, 2x (Field of view = 7mm)


Olivine, brown spinel (isotropic) and pyroxene crystals in a wherlite. XPL image, 1x (Field of view = 9mm)


Olivine and pyroxene crystals in a wherlite. PPL image, 1x (Field of view = 9mm)


Olivine and pyroxene crystals in a wherlite. PPL image, 1x (Field of view = 9mm)


Olivine and pyroxene crystals in a wherlite. XPL image, 1x (Field of view = 9mm)


Olivine and pyroxene crystals in a wherlite. XPL image, 1x (Field of view = 9mm)


Olivine and pyroxene crystals in a wherlite. XPL image, 1x (Field of view = 9mm)


Olivine and pyroxene crystals in a wherlite. XPL image, 1x (Field of view = 9mm)


Olivine and brown spinel crystals in a wherlite. PPL image, 2x (Field of view = 7mm)


Olivine and brown spinel crystals in a wherlite. PPL image, 2x (Field of view = 7mm)


Olivine and brown spinel crystals in a wherlite. PPL image, 2x (Field of view = 7mm)


Olivine and brown spinel crystals in a wherlite. PPL image, 2x (Field of view = 7mm)


Olivine and brown spinel (isotropic) crystals in a wherlite. XPL image, 2x (Field of view = 7mm)


Olivine and pyroxene with exolution lamellae. XPL image , 2x (Field of view = 7mm)


Olivine and pyroxene with exolution lamellae. XPL image , 2x (Field of view = 7mm)


Olivine and pyroxene (gray) in a wherlite. XPL image , 2x (Field of view = 7mm)


Olivine and pyroxene (gray) in a wherlite. XPL image , 2x (Field of view = 7mm)


Olivine and pyroxene (gray) in a wherlite. XPL image , 2x (Field of view = 7mm)


Olivine and pyroxene with exolution lamellae. XPL image , 2x (Field of view = 7mm)


Olivine and pyroxene (gray) in a wherlite. XPL image , 2x (Field of view = 7mm)


Olivine and pyroxene (gray) in a wherlite. XPL image , 2x (Field of view = 7mm)


Poikilitic augite (blue birefringence) with rounded serpentinized olivine inclusions. Wherlite from Cyprus. XPL image. 1x (Field of view = 9mm)


Poikilitic augite (blue birefringence) with rounded serpentinized olivine inclusions. Wherlite from Cyprus. XPL image. 1x (Field of view = 9mm)


Poikilitic augite (blue birefringence) with rounded serpentinized olivine inclusions. Wherlite from Cyprus. XPL image. 1x (Field of view = 9mm)


Poikilitic augite with rounded serpentinized olivine inclusions. Wherlite from Cyprus. PPL image. 1x (Field of view = 9mm)


Poikilitic augite with rounded serpentinized olivine inclusions. Wherlite from Cyprus. PPL image. 2x (Field of view = 7mm)


Poikilitic augite (yellow birefringence) with rounded serpentinized olivine inclusions. Wherlite from Cyprus. XPL image. 2x (Field of view = 7mm)


Poikilitic augite (yellow birefringence) with rounded serpentinized olivine inclusions. Wherlite from Cyprus. XPL image. 2x (Field of view = 7mm)


Poikilitic augite with rounded serpentinized olivine inclusions (colorless and highly fractured). Wherlite from Cyprus. PPL image. 1x (Field of view = 9mm)


Poikilitic augite (gray birefringence) with rounded serpentinized olivine inclusions. Wherlite from Cyprus. XPL image. 1x (Field of view = 9mm)


Poikilitic augite (blue-violet birefringence) with rounded serpentinized olivine inclusions. Wherlite from Cyprus. XPL image. 1x (Field of view = 9mm)


Poikilitic augite (gray birefringence) with rounded serpentinized olivine inclusions. Wherlite from Cyprus. XPL image. 1x (Field of view = 9mm)


Poikilitic augite (gray birefringence) with rounded serpentinized olivine inclusions. Wherlite from Cyprus. XPL image. 1x (Field of view = 9mm)


Poikilitic augite with rounded serpentinized olivine inclusions (colorless and highly fractured). Wherlite from Cyprus. PPL image. 1x (Field of view = 9mm)


Poikilitic augite (gray birefringence) with rounded serpentinized olivine inclusions. Wherlite from Cyprus. XPL image. 1x (Field of view = 9mm)


Poikilitic augite (gray birefringence) with rounded serpentinized olivine inclusions. Wherlite from Cyprus. XPL image. 1x (Field of view = 9mm)


Poikilitic augite with rounded serpentinized olivine inclusions (beige, pale green due to alterartion). Wherlite from Cyprus. PPL image. 1x (Field of view = 9mm)


Poikilitic augite (gray birefringence) with rounded serpentinized olivine inclusions. Wherlite from Cyprus. XPL image. 1x (Field of view = 9mm)


Poikilitic augite with rounded serpentinized olivine inclusions (beige, pale green due to alterartion). Wherlite from Cyprus. PPL image. 1x (Field of view = 9mm)


Poikilitic augite (gray birefringence) with rounded serpentinized olivine inclusions. Wherlite from Cyprus. XPL image. 1x (Field of view = 9mm)


Poikilitic augite (gray birefringence) with rounded serpentinized olivine inclusions. Wherlite from Cyprus. XPL image. 1x (Field of view = 9mm)


Poikilitic augite (yellow birefringence) with rounded serpentinized olivine inclusions. Wherlite from Cyprus. XPL image. 1x (Field of view = 9mm)


Poikilitic augite (blue birefringence) with rounded serpentinized olivine inclusions. Wherlite from Cyprus. XPL image. 1x (Field of view = 9mm)


Poikilitic augite (blue-violet birefringence) with rounded serpentinized olivine inclusions. Wherlite from Cyprus. XPL image. 1x (Field of view = 9mm)


Poikilitic augite (yellow birefringence) with rounded serpentinized olivine inclusions. Wherlite from Cyprus. XPL image. 1x (Field of view = 9mm)


Poikilitic augite (yellow birefringence) with rounded serpentinized olivine inclusions. Wherlite from Cyprus. XPL image. 1x (Field of view = 9mm)


Poikilitic augite (gray birefringence) with rounded serpentinized olivine inclusions. Wherlite from Cyprus. XPL image. 1x (Field of view = 9mm)


Poikilitic augite (yellow birefringence) with rounded serpentinized olivine inclusions. Wherlite from Cyprus. XPL image. 1x (Field of view = 9mm)


Poikilitic augite with rounded serpentinized olivine inclusions (colorless and highly fractured). Wherlite from Cyprus. PPL image. 1x (Field of view = 9mm)


Poikilitic augite (blue-violet birefringence) with rounded serpentinized olivine inclusions. Wherlite from Cyprus. XPL image. 1x (Field of view = 9mm)


Poikilitic augite with rounded serpentinized olivine inclusions (beige, pale green due to alterartion). Wherlite from Cyprus. PPL image. 1x (Field of view = 9mm)


Poikilitic augite (blue-violet birefringence) with rounded serpentinized olivine inclusions. Wherlite from Cyprus. XPL image. 1x (Field of view = 9mm)


Poikilitic augite with rounded serpentinized olivine inclusions (beige, pale green due to alterartion). Wherlite from Cyprus. PPL image. 1x (Field of view = 9mm)


Poikilitic augite (blue-violet birefringence) with rounded serpentinized olivine inclusions. Wherlite from Cyprus. XPL image. 1x (Field of view = 9mm)


Poikilitic augite (gray birefringence) with rounded serpentinized olivine inclusions. Wherlite from Cyprus. XPL image. 1x (Field of view = 9mm)


Poikilitic augite (gray birefringence) with rounded serpentinized olivine inclusions. Wherlite from Cyprus. XPL image. 2x (Field of view = 7mm)


Poikilitic augite (blu-violet birefringence) with rounded serpentinized olivine inclusions. Wherlite from Cyprus. XPL image. 2x (Field of view = 7mm)


Poikilitic augite (gray birefringence) with rounded serpentinized olivine inclusions. Wherlite from Cyprus. XPL image. 2x (Field of view = 7mm)


Poikilitic augite with rounded serpentinized olivine inclusions. Wherlite from Cyprus. PPL image. 2x (Field of view = 7mm)


Poikilitic augite (yellow birefringence) with rounded serpentinized olivine inclusions. Wherlite from Cyprus. XPL image. 2x (Field of view = 7mm)


Poikilitic augite (yellow birefringence) with rounded serpentinized olivine inclusions. Wherlite from Cyprus. XPL image. 2x (Field of view = 7mm)


Poikilitic augite with rounded serpentinized olivine inclusions. Wherlite from Cyprus. PPL image. 10x (Field of view = 2mm)


Poikilitic augite (yellow birefringence) with rounded serpentinized olivine inclusions. Wherlite from Cyprus. XPL image. 10x (Field of view = 2mm)


Poikilitic augite with rounded serpentinized olivine inclusions. Wherlite from Cyprus. PPL image. 10x (Field of view = 2mm)


Poikilitic augite (yellow birefringence) with rounded serpentinized olivine inclusions. Wherlite from Cyprus. XPL image. 10x (Field of view = 2mm)


Poikilitic augite (yellow birefringence) with rounded serpentinized olivine inclusions. Wherlite from Cyprus. XPL image. 10x (Field of view = 2mm)


Poikilitic augite with rounded serpentinized olivine inclusions. Wherlite from Cyprus. PPL image. 10x (Field of view = 2mm)


Poikilitic augite with rounded serpentinized olivine inclusion. Wherlite from Cyprus. XPL image. 10x (Field of view = 2mm)