Quartz Gabbro
Gabbro is a coarse-grained, intrusive mafic igneous rocks chemically equivalent to basalt. Gabbro was named by the German geologist Christian Leopold von Buch after the town "Gabbro" in the Italian Tuscany region. Essexite is named after the type locality in Essex County, Massachusetts, U.S.A.
Gabbros can containing: 25-50% of mafic minerals (Augite, Hyperstene, Olivine, Hornblende) and 45-70% of plagioclase (Labradorite or bytownite). If the plagioclase is less calcic than labradotite, the rock belong in the Diorite family. Some low silica, dark-colored rocks containing olivine and plagioclase of the andesine range are by some petrologist included as gabbros.
Quartz gabbros are also known to occur and are probably derived from magma that was over-saturated with silica. Essexites represent gabbros whose parent magma was under-saturated with silica, resulting in the formation of the feldspathoid mineral nepheline.
The main rocks type that are included under the term gabbro in the larger sense are:
• Gabbro (strict sense): Augite, calcic plagioclase
• Olivine gabbro: Augite, Olivine, calcic plagioclase
• Troctolite: Olivine, calcic plagioclase
• Norite: Hyperstene, calcic plagioclase
• Anorthosite: calcic plagioclase
Gabbro can be formed as a massive, uniform intrusion via in-situ crystallisation of pyroxene and plagioclase, or as part of a layered intrusion as a cumulate formed by settling of pyroxene and plagioclase. Cumulate gabbros are more properly termed pyroxene-plagioclase orthocumulate.
Gabbro is an essential part of the oceanic crust, and can be found in many ophiolite. Long belts of gabbroic intrusions are typically formed at proto-rift zones and around ancient rift zone margins, intruding into the rift flanks.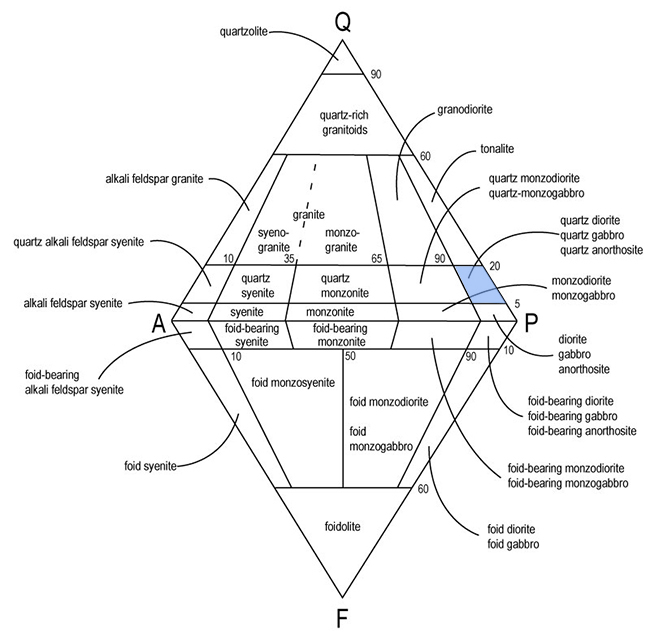 QAPF Diagram Quartz Gabbro field in blue
Gabbro from Skye in scotland. From sandatlas.org





Bibliography
• Eric A.K.Middlemost (1985): Magmas and Magmatic Rocks. Longman, London
• Ron H. Vernon (2004): A pratical guide to rock microstructure. Cambridge editore
• K.G.Cox, J.D.Bell & R.J Pankhurst (1979): The interpretetion of igneous rocks. George Allen&Unwin editori.
• David Shelley (1983): Igneous and metamorphic rocks under the microscope. Campman & Hall editori
Photo

| | | |
| --- | --- | --- |
| Hornblende, plagioclase and interstitial quartz. XPL image. 2x (Field of view = 7mm) | Hornblende, plagioclase and interstitial quartz. XPL image. 2x (Field of view = 7mm) | Hornblende, plagioclase and interstitial quartz. XPL image. 2x (Field of view = 7mm) |
| Hornblende, plagioclase and interstitial quartz. XPL image. 2x (Field of view = 7mm) | Hornblende, plagioclase and interstitial quartz. XPL image. 2x (Field of view = 7mm) | Hornblende, plagioclase and interstitial quartz. XPL image. 2x (Field of view = 7mm) |
| Hornblende, plagioclase and interstitial quartz. XPL image. 2x (Field of view = 7mm) | Interstitial quartz. XPL image. 10x (Field of view = 2mm) | Interstitial quartz. XPL image. 10x (Field of view = 2mm) |