Monticellite - CaMgSiO4
Monticellite was discovered in 1831 and named by H.J.Brooke in honor of Teodoro Monticelli (1759-1845), Italian mineralogist and naturalist who published several works on Mount Vesuvius. The structure of monticellite is essentially the same as that of the (Mg,Fe)-olivines, with an expanded unit cell due to the replacement of half of the (Mg,Fe) by Ca. Monticellite is a calcic-olivine and forms a solid solution to kirschsteinite, the Fe-rich endmember; it occurs in two distinct parageneses: it is as common mineral developed during progressive metamorphism of siliceous and magnesian limestone, and in skarn zone at metasomatized limestone contacts with acid, alkaline and basic intrusions. Less frequently, monticellite occurs as costituent of ultrabasic rocks such as kimberlites, alnoites and carbonatites.
Optical Properties:
•
Form:
As well-formed prismatic crystals; massive, granular.
•
Relief:
Moderate.
•
Cleavage:
Poor on 010.
•
Color:
colorless in thin section.v •
Twinning:
Six-pointed star-shaped forms are common.
•
Interference colors:
Low to moderate (gray-yellow-orange).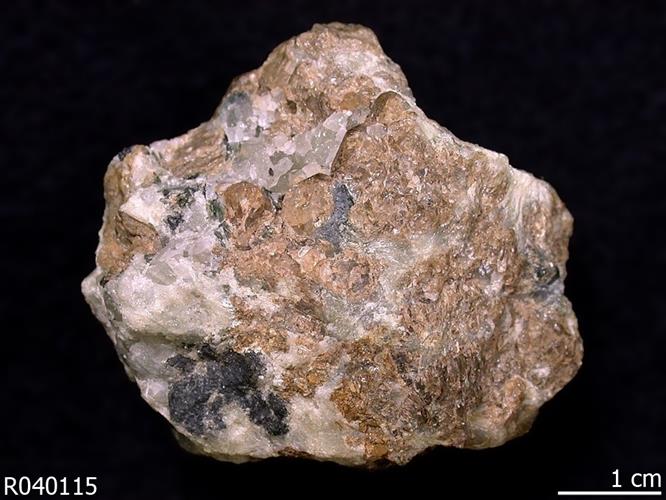 Monticellite (brown) in a carbonatite. Magnet Cove, Arkansas, USA. From RRUFF.
Bibliography
• Cox et al. (1979): The Interpretation of Igneous Rocks, George Allen and Unwin, London.
• Howie, R. A., Zussman, J., & Deer, W. (1992). An introduction to the rock-forming minerals (p. 696). Longman.
• Le Maitre, R. W., Streckeisen, A., Zanettin, B., Le Bas, M. J., Bonin, B., Bateman, P., & Lameyre, J. (2002). Igneous rocks. A classification and glossary of terms, 2. Cambridge University Press.
• Middlemost, E. A. (1986). Magmas and magmatic rocks: an introduction to igneous petrology.
• Shelley, D. (1993). Igneous and metamorphic rocks under the microscope: classification, textures, microstructures and mineral preferred-orientations.
• Vernon, R. H. & Clarke, G. L. (2008): Principles of Metamorphic Petrology. Cambridge University Press.
Photo

| | | |
| --- | --- | --- |
| Calcite, small apatite crystals and monticellite (high relief, colorless and fractured) in a plutonic carbonatite (sövite) from Oka complex, Quebec, Canada. PPL image, 2x (Field of view = 7mm) | Calcite, small apatite crystals (I order gray) and monticellite (I order yellow-orange) in a plutonic carbonatite (sövite) from Oka complex, Quebec, Canada. XPL image, 2x (Field of view = 7mm) | Calcite, small apatite crystals and monticellite (high relief, colorless and fractured) in a plutonic carbonatite (sövite) from Oka complex, Quebec, Canada. PPL image, 2x (Field of view = 7mm) |
| Calcite, small apatite crystals and monticellite (high relief, colorless and fractured) in a plutonic carbonatite (sövite) from Oka complex, Quebec, Canada. PPL image, 2x (Field of view = 7mm) | Calcite, small apatite crystals (I order gray) and monticellite (I order yellow-orange) in a plutonic carbonatite (sövite) from Oka complex, Quebec, Canada. XPL image, 2x (Field of view = 7mm) | Calcite, small apatite crystals (I order gray) and monticellite (I order yellow-orange) in a plutonic carbonatite (sövite) from Oka complex, Quebec, Canada. XPL image, 2x (Field of view = 7mm) |
| Calcite, small apatite crystals and monticellite (high relief, colorless and fractured) in a plutonic carbonatite (sövite) from Oka complex, Quebec, Canada. PPL image, 2x (Field of view = 7mm) | Calcite, small apatite crystals (I order gray) and monticellite (I order yellow-orange) in a plutonic carbonatite (sövite) from Oka complex, Quebec, Canada. XPL image, 2x (Field of view = 7mm) | Calcite, small apatite crystals and monticellite (high relief, colorless and fractured) in a plutonic carbonatite (sövite) from Oka complex, Quebec, Canada. PPL image, 2x (Field of view = 7mm) |
| Calcite, small apatite crystals (I order gray) and monticellite (I order yellow-orange) in a plutonic carbonatite (sövite) from Oka complex, Quebec, Canada. XPL image, 2x (Field of view = 7mm) | Calcite, small apatite crystals and monticellite (high relief, colorless and fractured) in a plutonic carbonatite (sövite) from Oka complex, Quebec, Canada. PPL image, 2x (Field of view = 7mm) | Calcite, small apatite crystals (I order gray) and monticellite (I order yellow-orange) in a plutonic carbonatite (sövite) from Oka complex, Quebec, Canada. XPL image, 2x (Field of view = 7mm) |
| Calcite, small apatite crystals and monticellite (high relief, colorless and fractured) in a plutonic carbonatite (sövite) from Oka complex, Quebec, Canada. PPL image, 2x (Field of view = 7mm) | Calcite, small apatite crystals (I order gray) and monticellite (I order yellow-orange) in a plutonic carbonatite (sövite) from Oka complex, Quebec, Canada. XPL image, 2x (Field of view = 7mm) | Calcite, small apatite crystals and monticellite (high relief, colorless and fractured) in a plutonic carbonatite (sövite) from Oka complex, Quebec, Canada. PPL image, 2x (Field of view = 7mm) |
| Calcite, small apatite crystals (I order gray) and monticellite (I order yellow-orange) in a plutonic carbonatite (sövite) from Oka complex, Quebec, Canada. XPL image, 2x (Field of view = 7mm) | Calcite, small apatite crystals and monticellite (high relief, colorless and fractured) in a plutonic carbonatite (sövite) from Oka complex, Quebec, Canada. PPL image, 2x (Field of view = 7mm) | Calcite, small apatite crystals (I order gray) and monticellite (I order yellow-orange) in a plutonic carbonatite (sövite) from Oka complex, Quebec, Canada. XPL image, 2x (Field of view = 7mm) |
| Calcite, small apatite crystals and monticellite (high relief, colorless and fractured) in a plutonic carbonatite (sövite) from Oka complex, Quebec, Canada. PPL image, 10x (Field of view = 2mm) | Calcite, small apatite crystals (I order gray) and monticellite (I order yellow-orange) in a plutonic carbonatite (sövite) from Oka complex, Quebec, Canada. XPL image, 10x (Field of view = 2mm) | Calcite, magnetite (black), small apatite crystals and monticellite (high relief, colorless and fractured) in a plutonic carbonatite (sövite) from Oka complex, Quebec, Canada. PPL image, 10x (Field of view = 2mm) |
| Calcite, small apatite crystals and monticellite (high relief, colorless and fractured) in a plutonic carbonatite (sövite) from Oka complex, Quebec, Canada. PPL image, 10x (Field of view = 2mm) | Calcite, small apatite crystals (I order gray) and monticellite (I order yellow-orange) in a plutonic carbonatite (sövite) from Oka complex, Quebec, Canada. XPL image, 10x (Field of view = 2mm) | Calcite, small apatite crystals and monticellite (high relief, colorless and fractured) in a plutonic carbonatite (sövite) from Oka complex, Quebec, Canada. PPL image, 10x (Field of view = 2mm) |
| Calcite, small apatite crystals and monticellite (high relief, colorless and fractured) in a plutonic carbonatite (sövite) from Oka complex, Quebec, Canada. PPL image, 10x (Field of view = 2mm) | Calcite, small apatite crystals (I order gray) and monticellite (I order yellow-orange) in a plutonic carbonatite (sövite) from Oka complex, Quebec, Canada. XPL image, 10x (Field of view = 2mm) | Calcite, small apatite crystals (I order gray) and monticellite (I order yellow-orange) in a plutonic carbonatite (sövite) from Oka complex, Quebec, Canada. XPL image, 10x (Field of view = 2mm) |
| Calcite, small apatite crystals (I order gray) and monticellite (I order yellow-orange) in a plutonic carbonatite (sövite) from Oka complex, Quebec, Canada. XPL image, 10x (Field of view = 2mm) | Calcite, small apatite crystals and monticellite (high relief, colorless and fractured) in a plutonic carbonatite (sövite) from Oka complex, Quebec, Canada. PPL image, 10x (Field of view = 2mm) | Calcite, small apatite crystals (I order gray) and monticellite (I order yellow-orange) in a plutonic carbonatite (sövite) from Oka complex, Quebec, Canada. XPL image, 10x (Field of view = 2mm) |
| Calcite, small apatite crystals and monticellite (high relief, colorless and fractured) in a plutonic carbonatite (sövite) from Oka complex, Quebec, Canada. PPL image, 10x (Field of view = 2mm) | Calcite, small apatite crystals (I order gray) and monticellite (I order yellow-orange) in a plutonic carbonatite (sövite) from Oka complex, Quebec, Canada. XPL image, 10x (Field of view = 2mm) | Calcite, small apatite crystals (I order gray) and monticellite (I order yellow-orange) in a plutonic carbonatite (sövite) from Oka complex, Quebec, Canada. XPL image, 10x (Field of view = 2mm) |