Sørensenite - Na4SnBe2Si6O16(OH)4
Sørensenite was first observed in 1962 in the Kvanefjeld area in the north-westernmost part of the Ilimaussaq complex (Greenland), on the north-east slope of Nakalaq. Sørensenite occurs in hydrothermal veins in naujaite in association with analcime, microcline, sodalite, neptunite and aegirine.
Optical properties:
• Form: Lath-shaped or acicular crystals.
• Relief: Moderate.
• Color: Colorless.
• Twinning: Complex.
• Interference colors: Low (pale yellow-grey).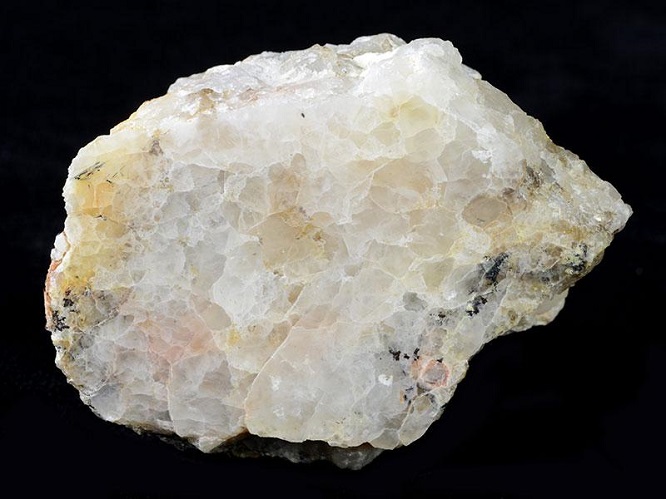 Pale-pink sørensenite crystlals. For more informations: Sørensenite Syenite - Virtual Microscope.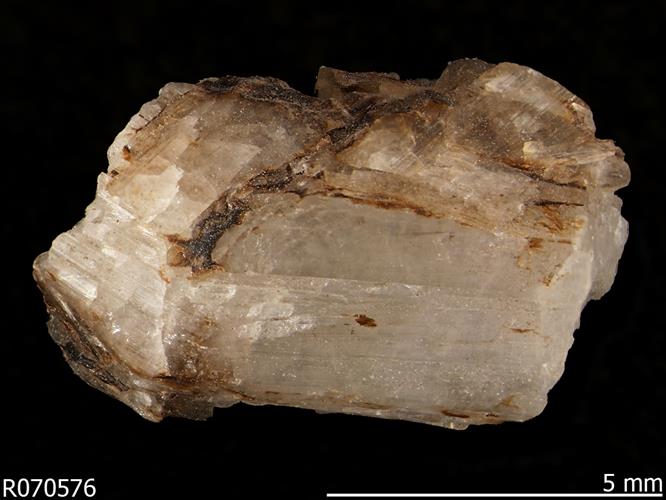 Columnar crystals of sørensenite (with milky white to pinkish-lavender). Kvanefjeld, Ilimaussaq, Narsaq, Kitaa, Greenland. Image from RRUFF
Bibliography
• Semenov, E.I. et al. (1965): Sorensenite, new sodium-beryllium-tin silicate from the Ilimaussaq intrusion, South Greenland. Amer Mineral., 51, 1547-1548.
Photo


Sørensenite crystals (with complex twinning) in a Sørensenite syenite, Ilímaussaq, Greenland. XPL image, 2x (Field of view = 7mm)


Sørensenite crystals (with complex twinning) in a Sørensenite syenite, Ilímaussaq, Greenland. XPL image, 2x (Field of view = 7mm)


Sørensenite crystals (with complex twinning) in a Sørensenite syenite, Ilímaussaq, Greenland. XPL image, 2x (Field of view = 7mm)


Sørensenite (colorless) crystals in a Sørensenite syenite, Ilímaussaq, Greenland. PPL image, 2x (Field of view = 7mm)


Sørensenite crystals (with complex twinning) in a Sørensenite syenite, Ilímaussaq, Greenland. XPL image, 2x (Field of view = 7mm)


Sørensenite (colorless) crystals in a Sørensenite syenite, Ilímaussaq, Greenland. PPL image, 2x (Field of view = 7mm)


Sørensenite crystals (with complex twinning) in a Sørensenite syenite, Ilímaussaq, Greenland. XPL image, 2x (Field of view = 7mm)


Sørensenite crystals (with complex twinning) in a Sørensenite syenite, Ilímaussaq, Greenland. XPL image, 2x (Field of view = 7mm)


Sørensenite (colorless) crystals in a Sørensenite syenite, Ilímaussaq, Greenland. PPL image, 2x (Field of view = 7mm)


Sørensenite crystals (with complex twinning) in a Sørensenite syenite, Ilímaussaq, Greenland. XPL image, 2x (Field of view = 7mm)


Sørensenite crystals (with complex twinning) in a Sørensenite syenite, Ilímaussaq, Greenland. XPL image, 2x (Field of view = 7mm)


Sørensenite (colorless) crystals in a Sørensenite syenite, Ilímaussaq, Greenland. PPL image, 2x (Field of view = 7mm)


Sørensenite crystals (with complex twinning) in a Sørensenite syenite, Ilímaussaq, Greenland. XPL image, 2x (Field of view = 7mm)


Sørensenite crystals (with complex twinning) in a Sørensenite syenite, Ilímaussaq, Greenland. XPL image, 2x (Field of view = 7mm)


Sørensenite (colorless) crystals in a Sørensenite syenite, Ilímaussaq, Greenland. PPL image, 2x (Field of view = 7mm)


Sørensenite crystals (with complex twinning) in a Sørensenite syenite, Ilímaussaq, Greenland. XPL image, 2x (Field of view = 7mm)


Sørensenite crystals (with complex twinning) in a Sørensenite syenite, Ilímaussaq, Greenland. XPL image, 2x (Field of view = 7mm)


Sørensenite crystals (with complex twinning) in a Sørensenite syenite, Ilímaussaq, Greenland. XPL image, 2x (Field of view = 7mm)


Sørensenite crystals (with complex twinning) in a Sørensenite syenite, Ilímaussaq, Greenland. XPL image, 2x (Field of view = 7mm)


Sørensenite crystals (with complex twinning) in a Sørensenite syenite, Ilímaussaq, Greenland. XPL image, 2x (Field of view = 7mm)


Sørensenite crystals (with complex twinning) in a Sørensenite syenite, Ilímaussaq, Greenland. XPL image, 2x (Field of view = 7mm)


Sørensenite crystals (with complex twinning) in a Sørensenite syenite, Ilímaussaq, Greenland. XPL image, 2x (Field of view = 7mm)


Sørensenite crystals (with complex twinning) in a Sørensenite syenite, Ilímaussaq, Greenland. XPL image, 2x (Field of view = 7mm)


Sørensenite crystals (with complex twinning) in a Sørensenite syenite, Ilímaussaq, Greenland. XPL image, 2x (Field of view = 7mm)