Tonalite
Tonalite is an intermediate igneous rock with essential quartz (>20%) and plagioclase feldspar (oligoclase or andesine), mafic minerals (biotite, pyroxene, hornblende,) and minor alkali feldspar (<10% vol). The name is derived from the type locality of tonalites, adjacent to the Tonale Line, a major structural lineament and mountain pass, Tonale Pass, in the Italian and Austrian Alps.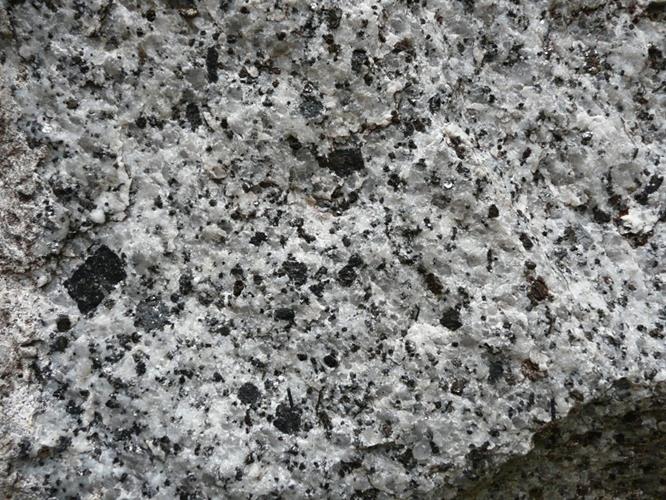 Tonalite: plagioclase (white) and maific minerals (dark). Adamello massif, Italy. From Valle del Chiese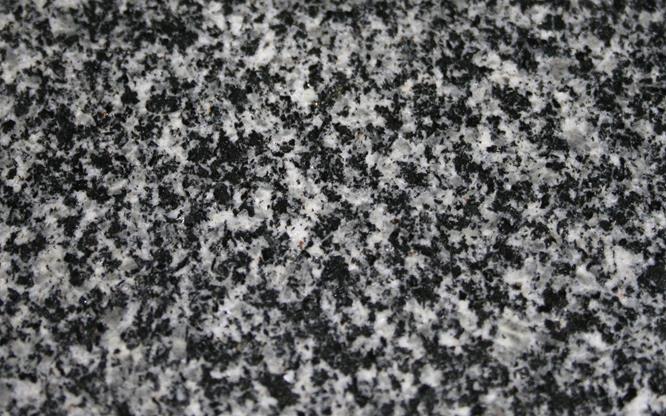 Tonalite: plagioclase (white) and maific minerals (dark). From Magnus Manske
Bibliography
• Cox et al. (1979): The Interpretation of Igneous Rocks, George Allen and Unwin, London.
• Howie, R. A., Zussman, J., & Deer, W. (1992). An introduction to the rock-forming minerals (p. 696). Longman.
• Le Maitre, R. W., Streckeisen, A., Zanettin, B., Le Bas, M. J., Bonin, B., Bateman, P., & Lameyre, J. (2002). Igneous rocks. A classification and glossary of terms, 2. Cambridge University Press.
• Middlemost, E. A. (1986). Magmas and magmatic rocks: an introduction to igneous petrology.
• Shelley, D. (1993). Igneous and metamorphic rocks under the microscope: classification, textures, microstructures and mineral preferred-orientations.
• Vernon, R. H. & Clarke, G. L. (2008): Principles of Metamorphic Petrology. Cambridge University Press.
Photo

| | | |
| --- | --- | --- |
| Plagioclase, quartz and biotite in a tonalite, halkidiki (Grecee). XPL image, 2x (Field of view = 7mm) | Chloritized biotite and secondary epidotes in una tonalite, halkidiki (Grecia). PPL image, 2x (Field of view = 7mm) | Plagioclase, quartz, chloritized biotite and secondary epidotes in una tonalite, halkidiki (Grecia). PPL image, 2x (Field of view = 7mm) |
| Plagioclase, quartz and biotite in a tonalite, halkidiki (Grecee). XPL image, 2x (Field of view = 7mm) | Plagioclase, quartz and biotite in a tonalite, halkidiki (Grecee). XPL image, 2x (Field of view = 7mm) | Plagioclase, quartz and biotite in a tonalite, halkidiki (Grecee). XPL image, 2x (Field of view = 7mm) |
| Plagioclase, quartz and pyroxene in a tonalite, halkidiki (Grecee). XPL image, 2x (Field of view = 7mm) | Plagioclase, quartz and biotite in a tonalite, halkidiki (Grecee). XPL image, 2x (Field of view = 7mm) | Plagioclase and quartz in a tonalite, halkidiki (Grecee). XPL image, 2x (Field of view = 7mm) |
| Clinopyroxene and chloritized biotite in a tonalite, halkidiki (Grecee). PPL image, 2x (Field of view = 7mm) | Clinopyroxene and chloritized biotite in a tonalite, halkidiki (Grecee). PPL image, 2x (Field of view = 7mm) | Hornblende and plagioclase in a tonalite, Antarctica. XPL image, 2x (Field of view = 7mm) |
| Hornblende and plagioclase in a tonalite, Antarctica. XPL image, 2x (Field of view = 7mm) | Hornblende and plagioclase in a tonalite, Antarctica. XPL image, 2x (Field of view = 7mm) | Hornblende and plagioclase in a tonalite, Antarctica. XPL image, 2x (Field of view = 7mm) |
| Biotite and plagioclase (colorless) crystals in a tonalite from Adamello massif, Italy. PPL image, 2x (Field of view = 7mm) | Biotite and plagioclase crystals in a tonalite from Adamello massif, Italy. XPL image, 2x (Field of view = 7mm) | Biotite and plagioclase (colorless) crystals in a tonalite from Adamello massif, Italy. PPL image, 2x (Field of view = 7mm) |
| Biotite and plagioclase crystals in a tonalite from Adamello massif, Italy. XPL image, 2x (Field of view = 7mm) | Biotite and plagioclase (colorless) crystals in a tonalite from Adamello massif, Italy. PPL image, 2x (Field of view = 7mm) | Biotite and plagioclase crystals in a tonalite from Adamello massif, Italy. XPL image, 2x (Field of view = 7mm) |
| Biotite and plagioclase crystals in a tonalite from Adamello massif, Italy. XPL image, 2x (Field of view = 7mm) | Biotite and plagioclase crystals in a tonalite from Adamello massif, Italy. XPL image, 2x (Field of view = 7mm) | Biotite and plagioclase crystals in a tonalite from Adamello massif, Italy. XPL image, 2x (Field of view = 7mm) |