Monzodiorite
monzodiorite is a coarse-grained igneous rock consisting of essential plagioclase feldspar, orthoclase feldspar, hornblende, and biotite, with or without pyroxene. Plagioclase is the dominant feldspar making up 60–90% of the total feldspar and varying from oligoclase to andesine in composition. The presence of the orthoclase feldspar distinguishes this rock from a diorite.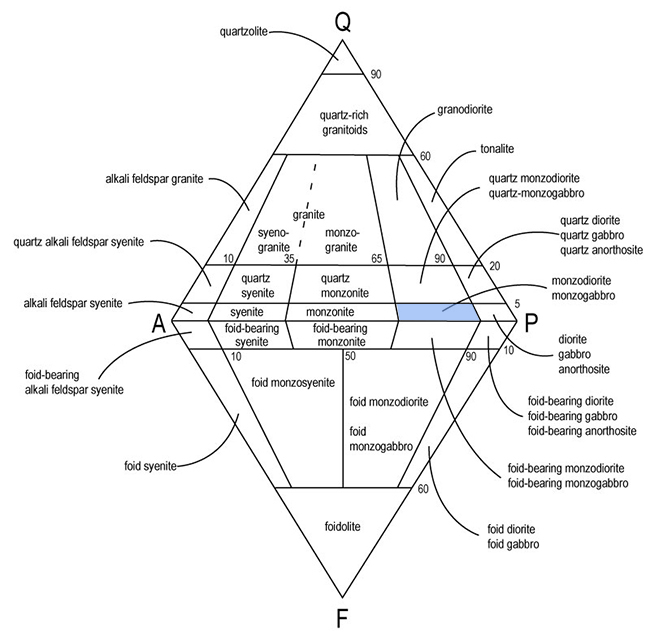 QAPF Diagram: monzodiorite field in blue.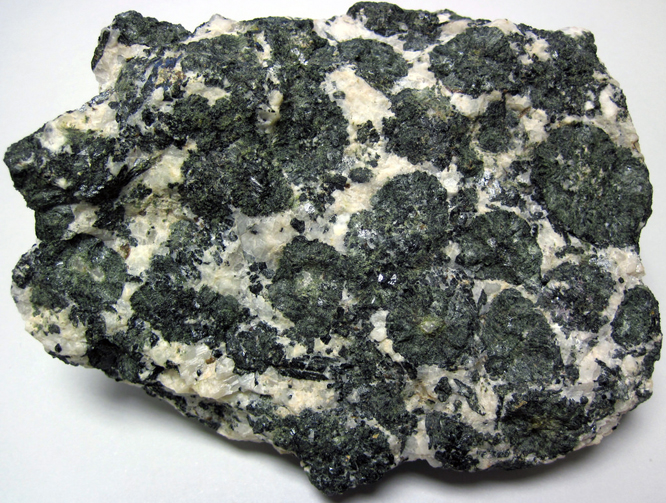 Orbicular monzodiorite, North Carolina, USA. The orbs are composed of radiating augite and hornblende crystals. The light-colored, interorbicle material is a mixture of plagioclase feldspar and microcline feldspar, plus minor quartz.
Bibliography
• Eric A.K.Middlemost (1985): Magmas and Magmatic Rocks. Longman, London
• Ron H. Vernon (2004): A pratical guide to rock microstructure. Cambridge editore
• K.G.Cox, J.D.Bell & R.J Pankhurst (1979): The interpretetion of igneous rocks. George Allen&Unwin editori.
• David Shelley (1983): Igneous and metamorphic rocks under the microscope. Campman & Hall editori
Photo

| | | |
| --- | --- | --- |
| Poikilitic Orthoclase with plagioclase, biotite nad pyroxene inclusions. PPL image, 2x (Field of view = 7mm) | Poikilitic Orthoclase with plagioclase, biotite nad pyroxene inclusions. XPL image, 2x (Field of view = 7mm) | Plagioclase, pyroxene and interstitial Orthoclase. XPL image, 2x (Field of view = 7mm) |
| Plagioclase, pyroxene and interstitial Orthoclase. XPL image, 2x (Field of view = 7mm) | Plagioclase, pyroxene and interstitial Orthoclase. XPL image, 2x (Field of view = 7mm) | Plagioclase, pyroxene and interstitial Orthoclase. XPL image, 2x (Field of view = 7mm) |
| Plagioclase, pyroxene and interstitial Orthoclase. XPL image, 2x (Field of view = 7mm) | Plagioclase, pyroxene and interstitial Orthoclase. XPL image, 2x (Field of view = 7mm) | Plagioclase, pyroxene and interstitial Orthoclase. XPL image, 2x (Field of view = 7mm) |