Naujakasite - Na6Fe2+Al4Si8O26
Naujakasite is a very rare mineral named after the type locality at Naujakasik (Naajakasik), Ilimaussaq complex (West Greenland). Naujakasite is a characteristic, rock-forming mineral of hyperagpaitic naujakasite Lujavrite from the Ilimaussaq complex. For half a century, the only known specimen of this naujakasite was a boulder weighing 350 gram, collected in 1897 by the Swedish mineralogist G.Flink. It constituted 75% of the boulder and was labelled "chlorite?". Many years later, the Danish mineralogist O.B. Bøggild (1930) confirmed that it was a new mineral, and named it after the locality, Naujakasik (now spelled Naajakasik), where the boulder was found. Naajakasik is located on the south coast of the Tunulliarfik fjord in the central part of the complex. Naujakasite was first found in outcrop in only in 1955. Naujakasite is now known to be of widespread occurrence in the Ilìmaussaq alkaline complex in the rock called naujakasite lujavrite. In 1998, the first discovery of the mineral outside Ilìmaussaq was made by in the Lovozero alkaline complex, Kola Peninsula, Russia.
Optical properties:
• Habit: Micaceous (Shiny rhomb-shaped flakes).
• Cleavage: Micaceous.
• Color: Colorless.
• Birefringence: From Low (Gray) to medium (yello-orange).
For more information about the Ilímaussaq magmatic complex, see page:
"Ilímaussaq"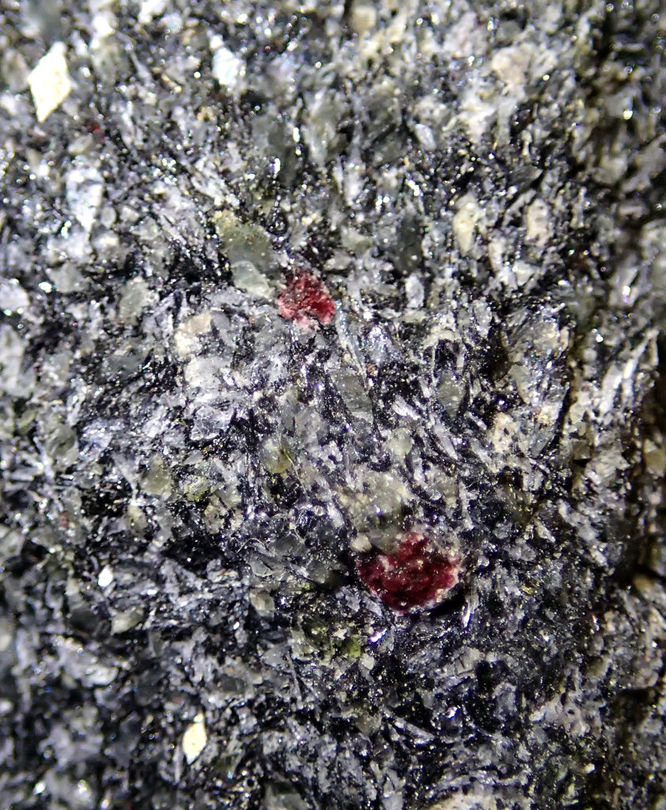 Naujakasite-rich lujavrite. Arfvedsonite (black), villiaumite (red) and naujakasite (lozenge-shaped). Image from e-rocks.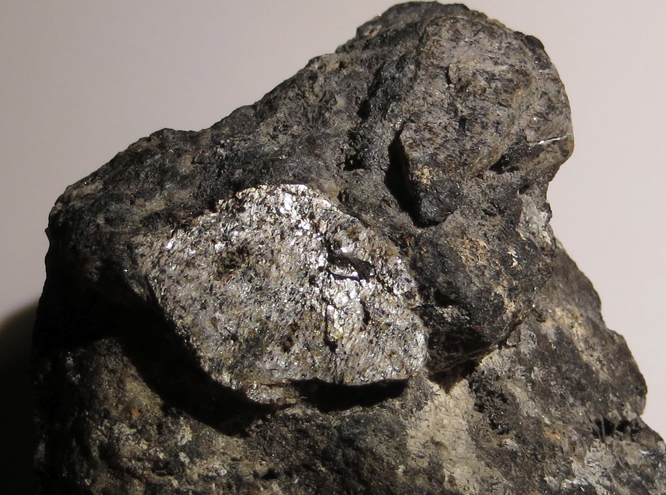 Big naujakasite (lozenge-shaped) in a naujakasite-rich lujavrite.. Image from e-rocks.
Bibliography
• Andersen, T., & Sørensen, H. (2005). Stability of naujakasite in hyperagpaitic melts, and the petrology of naujakasite lujavrite in the Ilímaussaq alkaline complex, South Greenland. Mineralogical Magazine, 69(2), 125-136.
Photo

| | | |
| --- | --- | --- |
| Naujakasite crystals (I order gray) and arfvedsonite (green) in a Lujavrite. Ilímaussaq, Greenland. PPL image, 2x (Field of view = 7mm) | Naujakasite crystals (colorless) and arfvedsonite (green) in a Lujavrite. Ilímaussaq, Greenland. PPL image, 2x (Field of view = 7mm) | Naujakasite crystals (I order gray) and arfvedsonite (green) in a Lujavrite. Ilímaussaq, Greenland. PPL image, 2x (Field of view = 7mm) |
| Naujakasite crystals (colorless) and arfvedsonite (green) in a Lujavrite. Ilímaussaq, Greenland. PPL image, 2x (Field of view = 7mm) | Naujakasite crystals (I order gray) and arfvedsonite (green) in a Lujavrite. Ilímaussaq, Greenland. PPL image, 2x (Field of view = 7mm) | Naujakasite crystals (colorless) and arfvedsonite (green) in a Lujavrite. Ilímaussaq, Greenland. PPL image, 2x (Field of view = 7mm) |
| Naujakasite crystals (colorless) and arfvedsonite (green) in a Lujavrite. Ilímaussaq, Greenland. PPL image, 10x (Field of view = 2mm) | Naujakasite crystals (colorless) and arfvedsonite (green) in a Lujavrite. Ilímaussaq, Greenland. PPL image, 10x (Field of view = 2mm) | Naujakasite crystals (colorless) and arfvedsonite (green) in a Lujavrite. Ilímaussaq, Greenland. PPL image, 10x (Field of view = 2mm) |
| Naujakasite crystals (colorless) and arfvedsonite (green) in a Lujavrite. Ilímaussaq, Greenland. PPL image, 10x (Field of view = 2mm) | Naujakasite crystals (colorless) and arfvedsonite (green) in a Lujavrite. Ilímaussaq, Greenland. PPL image, 10x (Field of view = 2mm) | Naujakasite crystals (colorless) and arfvedsonite (green) in a Lujavrite. Ilímaussaq, Greenland. PPL image, 10x (Field of view = 2mm) |
| Naujakasite crystals (colorless) and arfvedsonite (green) in a Lujavrite. Ilímaussaq, Greenland. PPL image, 10x (Field of view = 2mm) | Naujakasite crystals (colorless) and arfvedsonite (green) in a Lujavrite. Ilímaussaq, Greenland. PPL image, 10x (Field of view = 2mm) | Naujakasite crystals (colorless) and arfvedsonite (green) in a Lujavrite. Ilímaussaq, Greenland. PPL image, 10x (Field of view = 2mm) |
| Naujakasite crystals (colorless) and arfvedsonite (green) in a Lujavrite. Ilímaussaq, Greenland. PPL image, 10x (Field of view = 2mm) | Naujakasite crystals (I order gray) and arfvedsonite (green) in a Lujavrite. Ilímaussaq, Greenland. ZPL image, 10x (Field of view = 2mm) | Naujakasite crystals (colorless) and arfvedsonite (green) in a Lujavrite. Ilímaussaq, Greenland. PPL image, 10x (Field of view = 2mm) |
| Naujakasite crystals (colorless) and arfvedsonite (green) in a Lujavrite. Ilímaussaq, Greenland. PPL image, 10x (Field of view = 2mm) | Naujakasite crystals (colorless) and arfvedsonite (green) in a Lujavrite. Ilímaussaq, Greenland. PPL image, 10x (Field of view = 2mm) | Naujakasite crystals (colorless) and arfvedsonite (green) in a Lujavrite. Ilímaussaq, Greenland. PPL image, 10x (Field of view = 2mm) |
| Naujakasite crystals (twinned) in a Lujavrite. Ilímaussaq, Greenland. XPL image, 10x (Field of view = 2mm) | Naujakasite crystals (twinned) in a Lujavrite. Ilímaussaq, Greenland. XPL image, 10x (Field of view = 2mm) | Naujakasite crystals (twinned) in a Lujavrite. Ilímaussaq, Greenland. XPL image, 10x (Field of view = 2mm) |