Eudialyte

Na15Ca6(Fe2+,Mn2+)3Zr3[Si25O73](O,OH,H2O)3(OH,Cl)2
Eudialyte, whose name derives from the Greek phrase eu and dialytos, meaning "well decomposable" in allusion to its easy solubility in acids, is a rare, red silicate mineral, which forms in alkaline igneous rocks, such as nepheline syenites. Eudialyte was first described in 1819 for an occurrence in nepheline syenite of the Ilimaussaq intrusive complex of southwest Greenland. Prominent localities of eudialyte include Mont Saint-Hilaire in Canada and the Kola Peninsula in Russia, but it is also found in Greenland, Norway, and Arkansas.
The site at Kola Peninsula is one of several sites around the world that have a strange assortment of igneous minerals and are referred to as Agpaitic Pegmatites. These sites are unusually rich in alkali metals especially sodium. They also tend to be rich in what are sometimes termed "difficult elements", elements that are large and/or have unusual charges. These elements do not fit well into ordinary minerals and are thus excluded from earlier crystallized minerals and must wait for their opportunity to crystallize later. Examples of difficult elements are zirconium, beryllium, strontium, cerium, niobium, thorium, barium, yttrium and other rare earth elements. These normally scarce elements become highly concentrated, relatively speaking, and form some unique and wonderful mineral species. Eudialyte is an example of an unusual mineral that comes from these mineralogically unique sites.
Optical properties:
•
Color:
Colorless in thin sections.
•
Pleochroism:
Weak, colorless to pale pink-yellow
•
Form:
Commonly as irregular masses and vein filling.
•
Relief:
Medium.
•
Interference colors:
Low to very Low (pale blue-gray of I order).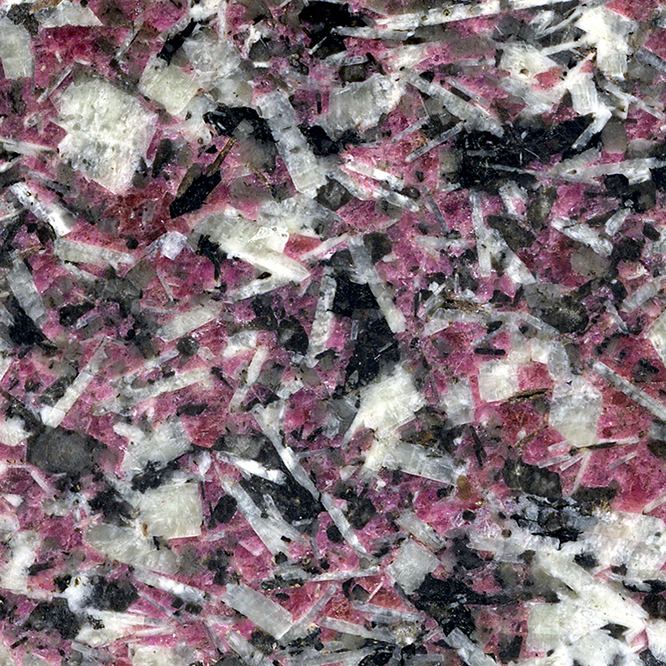 Eudialyte Syenite (The red crystals). Brasil. From Kevin Walsh.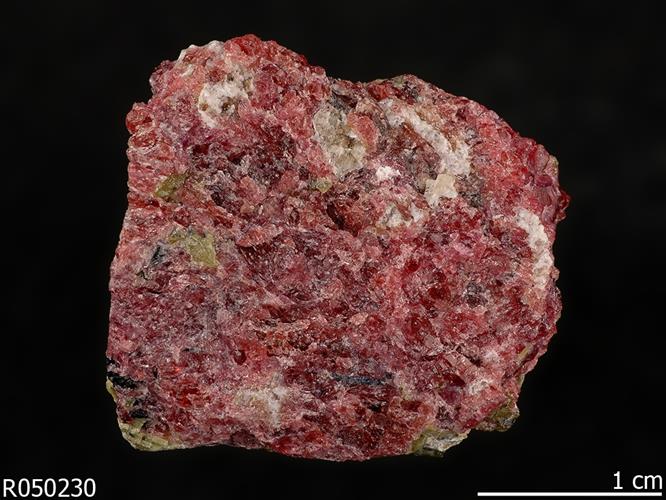 Eudialyte. Kipawa alkaline complex, heffield Lake, Quebec, Canada. From RRUFF.
Bibliography
• Deer, W.A., Howie, R.A., Zussman, J. (1998) Rock-forming Minerals.
• Nesse, William D., 1986, Introduction to Optical Mineralogy: New York, Oxford University Press
Photo

| | | |
| --- | --- | --- |
| Arfvedsonite (green), eudyalite (high relief, white-pale-pink) and feldspar (colorless). Lakarpite from Norra Kärr alkaline complex, Sweden. PPL image, 2x (Field of view = 7mm) | Arfvedsonite, eudyalite (very low interference colors) and feldspar. Lakarpite from Norra Kärr alkaline complex, Sweden. XPL image, 2x (Field of view = 7mm) | Arfvedsonite (green), eudyalite (high relief, white-pale-pink) and feldspar (colorless). Lakarpite from Norra Kärr alkaline complex, Sweden. PPL image, 2x (Field of view = 7mm) |
| Arfvedsonite, eudyalite (very low interference colors) and feldspar (colorless). Lakarpite from Norra Kärr alkaline complex, Sweden. XPL image, 2x (Field of view = 7mm) | Rosenbuschite (small beige crystals), eudyalite (high relief, white-pale-pink) and feldspar (colorless). Lakarpite from Norra Kärr alkaline complex, Sweden. PPL image, 2x (Field of view = 7mm) | Rosenbuschite, eudyalite (very low interference colors) and feldspar (colorless). Lakarpite from Norra Kärr alkaline complex, Sweden. XPL image, 2x (Field of view = 7mm) |
| Eudyalite (high relief, white-pale-pink) and feldspar (colorless). Lakarpite from Norra Kärr alkaline complex, Sweden. PPL image, 2x (Field of view = 7mm) | Eudyalite (very low interference colors) and feldspar. Lakarpite from Norra Kärr alkaline complex, Sweden. XPL image, 2x (Field of view = 7mm) | Arfvedsonite, rosenbuschite (small beige crystals), eudyalite (high relief, white-pale-pink) and feldspar (colorless). Lakarpite from Norra Kärr alkaline complex, Sweden. PPL image, 2x (Field of view = 7mm) |
| Arfvedsonite, eudyalite (high relief, white-pale-pink) and feldspar (colorless). Lakarpite from Norra Kärr alkaline complex, Sweden. PPL image, 2x (Field of view = 7mm) | Arfvedsonite, eudyalite (very low interference colors) and feldspar. Lakarpite from Norra Kärr alkaline complex, Sweden. XPL image, 2x (Field of view = 7mm) | Rosenbuschite (small beige crystals), eudyalite (high relief, white-pale-pink) and feldspar (colorless). Lakarpite from Norra Kärr alkaline complex, Sweden. PPL image, 2x (Field of view = 7mm) |
| Eudyalite (high relief, white-pale-pink) and feldspar (colorless). Lakarpite from Norra Kärr alkaline complex, Sweden. PPL image, 10x (Field of view = 2mm) | Eudyalite (high relief, white-pale-pink) and feldspar (colorless). Lakarpite from Norra Kärr alkaline complex, Sweden. PPL image, 10x (Field of view = 2mm) | Eudyalite (very low interference colors) and feldspar. Lakarpite from Norra Kärr alkaline complex, Sweden. XPL image, 10x (Field of view = 2mm) |
| Euhedral eudyalite (high relief, pale-pink) and arfvedsonite (green) crystals in a red kakortokite. Ilímaussaq, Greenland. PPL image, 2x (Field of view = 7mm) | Euhedral eudyalite (high relief, pale-pink) and arfvedsonite (green) crystals in a red kakortokite. Ilímaussaq, Greenland. PPL image, 2x (Field of view = 7mm) | Euhedral eudyalite (gray) and arfvedsonite (green) crystals in a red kakortokite. Ilímaussaq, Greenland. XPL image, 2x (Field of view = 7mm) |
| Euhedral eudyalite (high relief, pale-pink) and arfvedsonite (green) crystals in a red kakortokite. Ilímaussaq, Greenland. PPL image, 10x (Field of view = 2mm) | Euhedral eudyalite (high relief, pale-pink) and arfvedsonite (green) crystals in a red kakortokite. Ilímaussaq, Greenland. PPL image, 10x (Field of view = 2mm) | Euhedral eudyalite (gray) and arfvedsonite (green) crystals in a red kakortokite. Ilímaussaq, Greenland. XPL image, 10x (Field of view = 2mm) |
| Euhedral eudyalite (high relief, pale-pink) and arfvedsonite (green) crystals in a red kakortokite. Ilímaussaq, Greenland. PPL image, 10x (Field of view = 2mm) | Euhedral eudyalite (high relief, pale-pink) and arfvedsonite (green) crystals in a red kakortokite. Ilímaussaq, Greenland. PPL image, 10x (Field of view = 2mm) | Euhedral eudyalite (gray) and arfvedsonite (green) crystals in a red kakortokite. Ilímaussaq, Greenland. XPL image, 10x (Field of view = 2mm) |
| Euhedral eudyalite (high relief, pale-pink) and arfvedsonite (green) crystals in a red kakortokite. Ilímaussaq, Greenland. PPL image, 10x (Field of view = 2mm) | Euhedral eudyalite (high relief, pale-pink) and arfvedsonite (green) crystals in a red kakortokite. Ilímaussaq, Greenland. PPL image, 10x (Field of view = 2mm) | Euhedral eudyalite (gray) and arfvedsonite (green) crystals in a red kakortokite. Ilímaussaq, Greenland. XPL image, 10x (Field of view = 2mm) |