Melteigite
Melteigite:
"The melanocratic member of the ijolite series, containing 10%-30% of nepheline. Now defined modally as a melanocratic variety of foidite. The name is from Melteig farm, Fen complex, Norway". Le Maitre et al., (2005).
Melteigite is an undersaturated, intrusive igneous rock containing essential nepheline and alkali pyroxene (aegirine or aegerine-augite) and displaying a colour index of 70-90. With decreasing mafic mineral content and increasing nepheline content, menteigites pass into ijolites and then into urtites. All three rocks type are essentially feldspar-free, undersatured syenites and and are well displayed in the Fen intrusive complex of southern Norway.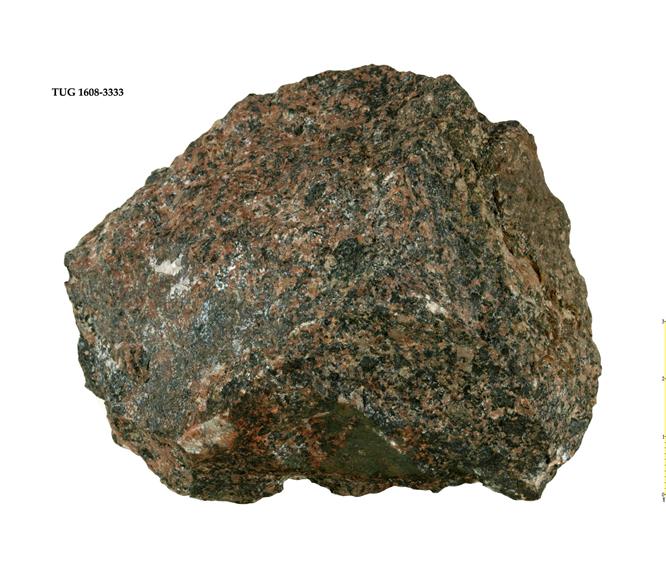 Melteigite sample. From University of Tartu






Bibliography
• Cox et al. (1979): The Interpretation of Igneous Rocks, George Allen and Unwin, London.
• Howie, R. A., Zussman, J., & Deer, W. (1992). An introduction to the rock-forming minerals (p. 696). Longman.
• Le Maitre, R. W., Streckeisen, A., Zanettin, B., Le Bas, M. J., Bonin, B., Bateman, P., & Lameyre, J. (2002). Igneous rocks. A classification and glossary of terms, 2. Cambridge University Press.
• Middlemost, E. A. (1986). Magmas and magmatic rocks: an introduction to igneous petrology.
• Shelley, D. (1993). Igneous and metamorphic rocks under the microscope: classification, textures, microstructures and mineral preferred-orientations.
• Vernon, R. H. & Clarke, G. L. (2008): Principles of Metamorphic Petrology. Cambridge University Press.
Photo

| | | |
| --- | --- | --- |
| Nepheline (clear), sodalite (dusty due to alteration), aegirine (green) and small, brown perovskite crystals in a melteigite from Alnö complex, Sweden. PPL image, 2x (Field of view = 7mm) | Nepheline (I order gray), sodalite (isotropic), aegirine (high birefringence) and small, perovskite crystals in a melteigite from Alnö complex, Sweden. XPL image, 2x (Field of view = 7mm) | Nepheline (clear), sodalite (dusty due to alteration), aegirine (green) and small, brown perovskite crystals in a melteigite from Alnö complex, Sweden. PPL image, 2x (Field of view = 7mm) |
| Nepheline (I order gray), sodalite (isotropic), aegirine (high birefringence) and small, perovskite crystals in a melteigite from Alnö complex, Sweden. XPL image, 2x (Field of view = 7mm) | Nepheline (clear), sodalite (dusty due to alteration), aegirine (green) and small, brown perovskite crystals in a melteigite from Alnö complex, Sweden. PPL image, 2x (Field of view = 7mm) | Nepheline (clear), sodalite (dusty due to alteration), aegirine (green) and small, brown perovskite crystals in a melteigite from Alnö complex, Sweden. PPL image, 2x (Field of view = 7mm) |
| Nepheline (I order gray), sodalite (isotropic), aegirine (high birefringence) and small, perovskite crystals in a melteigite from Alnö complex, Sweden. XPL image, 2x (Field of view = 7mm) | Nepheline (clear), sodalite (dusty due to alteration), aegirine (green) and small, brown perovskite crystals in a melteigite from Alnö complex, Sweden. PPL image, 2x (Field of view = 7mm) | Nepheline (clear), sodalite (dusty due to alteration), aegirine (green) and small, brown perovskite crystals in a melteigite from Alnö complex, Sweden. PPL image, 2x (Field of view = 7mm) |
| Nepheline (clear), sodalite (dusty due to alteration), aegirine (green) and small, brown perovskite crystals in a melteigite from Alnö complex, Sweden. PPL image, 2x (Field of view = 7mm) | Nepheline (I order gray), sodalite (isotropic), aegirine (high birefringence) and small, perovskite crystals in a melteigite from Alnö complex, Sweden. XPL image, 2x (Field of view = 7mm) | Nepheline (clear), sodalite (dusty due to alteration), aegirine (green) and small, brown perovskite crystals in a melteigite from Alnö complex, Sweden. PPL image, 2x (Field of view = 7mm) |
| Nepheline (clear), sodalite (dusty due to alteration), aegirine (green) and small, brown perovskite crystals in a melteigite from Alnö complex, Sweden. PPL image, 2x (Field of view = 7mm) | Nepheline (clear), sodalite (dusty due to alteration), aegirine (green) and small, brown perovskite crystals in a melteigite from Alnö complex, Sweden. PPL image, 2x (Field of view = 7mm) | Nepheline (I order gray), sodalite (isotropic), aegirine (high birefringence) and small, perovskite crystals in a melteigite from Alnö complex, Sweden. XPL image, 2x (Field of view = 7mm) |
| Nepheline (clear), sodalite (dusty due to alteration), aegirine (green) and small, brown perovskite crystals in a melteigite from Alnö complex, Sweden. PPL image, 2x (Field of view = 7mm) | Nepheline (clear), sodalite (dusty due to alteration), aegirine (green) and small, brown perovskite crystals in a melteigite from Alnö complex, Sweden. PPL image, 2x (Field of view = 7mm) | Nepheline (clear), sodalite (dusty due to alteration), aegirine (green) and small, brown perovskite crystals in a melteigite from Alnö complex, Sweden. PPL image, 2x (Field of view = 7mm) |
| Nepheline (clear), sodalite (dusty due to alteration), aegirine (green) and small, brown perovskite crystals in a melteigite from Alnö complex, Sweden. PPL image, 2x (Field of view = 7mm) | Nepheline (I order gray), sodalite (isotropic), aegirine (high birefringence) and small, perovskite crystals in a melteigite from Alnö complex, Sweden. XPL image, 2x (Field of view = 7mm) | Nepheline (clear), sodalite (dusty due to alteration), aegirine (green) and small, brown perovskite crystals in a melteigite from Alnö complex, Sweden. PPL image, 2x (Field of view = 7mm) |
| Nepheline (clear), sodalite (dusty due to alteration), aegirine (green) and small, brown perovskite crystals in a melteigite from Alnö complex, Sweden. PPL image, 2x (Field of view = 7mm) | Nepheline (I order gray), sodalite (isotropic), aegirine (high birefringence) and small, perovskite crystals in a melteigite from Alnö complex, Sweden. XPL image, 2x (Field of view = 7mm) | Nepheline (clear), sodalite (dusty due to alteration), aegirine (green) and small, brown perovskite crystals in a melteigite from Alnö complex, Sweden. PPL image, 2x (Field of view = 7mm) |
| Nepheline (clear), sodalite (dusty due to alteration), aegirine (green) and small, brown perovskite crystals in a melteigite from Alnö complex, Sweden. PPL image, 2x (Field of view = 7mm) | Nepheline (I order gray), sodalite (isotropic), aegirine (high birefringence) and small, perovskite crystals in a melteigite from Alnö complex, Sweden. XPL image, 2x (Field of view = 7mm) | Nepheline (clear), sodalite (dusty due to alteration), aegirine (green) and small, brown perovskite crystals in a melteigite from Alnö complex, Sweden. PPL image, 2x (Field of view = 7mm) |
| Nepheline (clear), sodalite (dusty due to alteration), aegirine (green) and small, brown perovskite crystals in a melteigite from Alnö complex, Sweden. PPL image, 10x (Field of view = 2mm) | Nepheline (clear), sodalite (dusty due to alteration), aegirine (green) and small, brown perovskite crystals in a melteigite from Alnö complex, Sweden. PPL image, 10x (Field of view = 2mm) | Nepheline (clear), sodalite (dusty due to alteration), aegirine (green) and small, brown perovskite crystals in a melteigite from Alnö complex, Sweden. PPL image, 10x (Field of view = 2mm) |
| Nepheline (clear), sodalite (dusty due to alteration), aegirine (green) and small, brown perovskite crystals in a melteigite from Alnö complex, Sweden. PPL image, 10x (Field of view = 2mm) | Nepheline (clear), sodalite (dusty due to alteration), aegirine (green) and small, brown perovskite crystals in a melteigite from Alnö complex, Sweden. PPL image, 10x (Field of view = 2mm) | Nepheline (clear), sodalite (dusty due to alteration), aegirine (green) and small, brown perovskite crystals in a melteigite from Alnö complex, Sweden. PPL image, 10x (Field of view = 2mm) |