Diorite
The term Diorite derives from the greek "Dioritas" (to distinguish, separate) to indicate a rock "with sialic and femic portions well distinct"; the term was used for the first time by RJ Hauy in 1822 that used it to describe a rock formed by a white mineral (feldspar) and a dark mineral (amphibole or pyroxene). hereinafter J.F.L. Haussmann and G. Rose limited the use of the term to a rock essentially plagioclase-anfibolic in composition.
Diorite is a coarse-grained, intrusive igneous rock that is intermediate in composition between granite and gabbro. Diorite is composed primarily of plagioclase feldspar, amphibole, and pyroxine minerals with small amounts of biotite mica. It typically contains very little quartz. Zircon, apatite, sphene, magnetite, ilmenite and sulfides occur as accessory minerals. Varieties deficient in hornblende and other dark minerals are called leucodiorite. When olivine and more iron-rich augite are present, the rock grades into ferrodiorite, which is transitional to gabbro. The presence of significant quartz makes the rock type quartz-diorite (>5% quartz) or tonalite (>20% quartz), and if orthoclase (potassium feldspar) is present at greater than ten percent the rock type grades into monzodiorite or granodiorite.
Diorites may be associated with either granite or gabbro intrusions, into which they may subtly merge. Diorite results from partial melting of a mafic rock above a subduction zone. It is commonly produced in volcanic arcs, and in cordilleran mountain building such as in the Andes Mountains as large batholiths. The extrusive volcanic equivalent rock type is andesite. An orbicular variety found in Corsica is called corsite.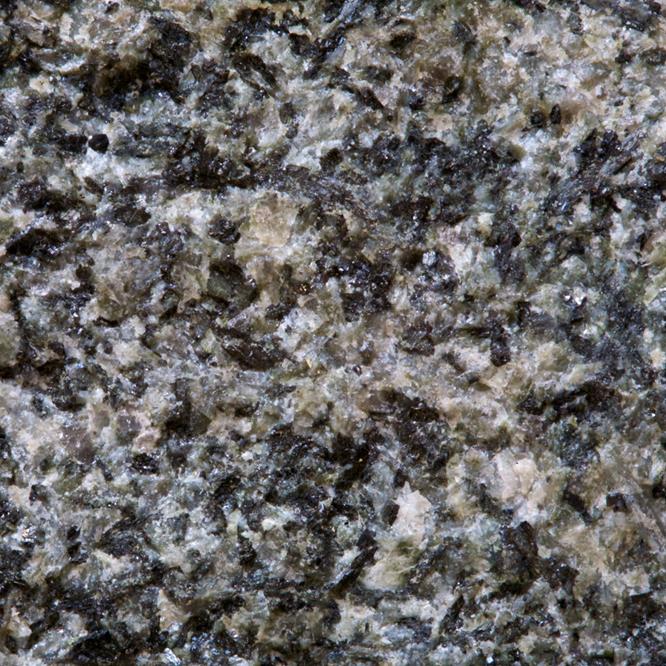 Diorite sample. Isle of Arran, Scotland. From Ian Geoffrey Stimpson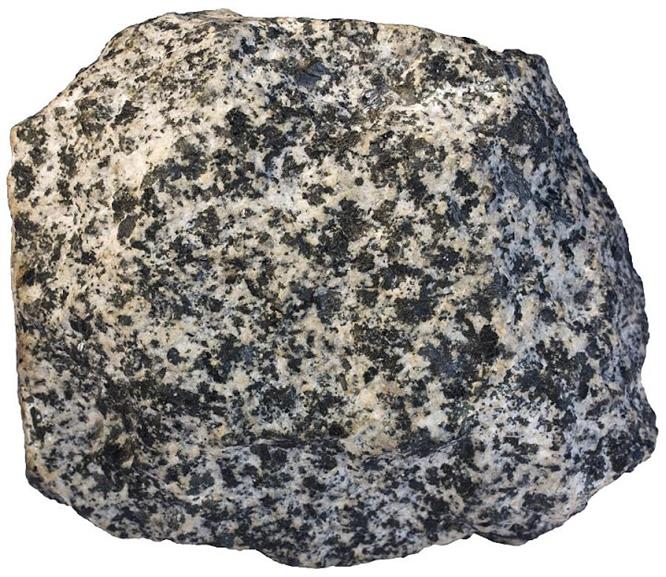 Diorite sample. From Sand Atlas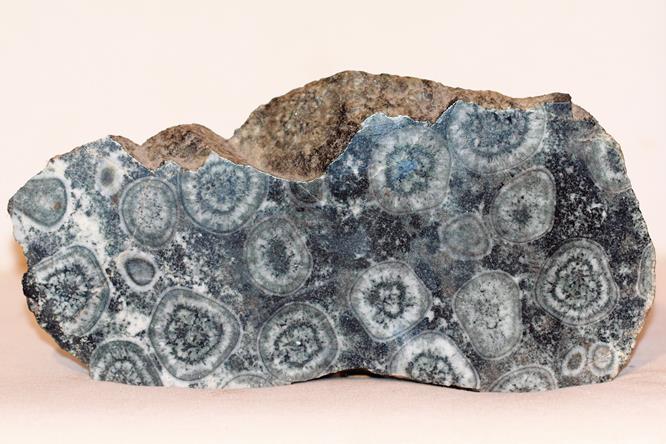 Orbicular diorite (corsite). From Emmanuel Douzery
Bibliography
• Cox et al. (1979): The Interpretation of Igneous Rocks, George Allen and Unwin, London.
• Howie, R. A., Zussman, J., & Deer, W. (1992). An introduction to the rock-forming minerals (p. 696). Longman.
• Le Maitre, R. W., Streckeisen, A., Zanettin, B., Le Bas, M. J., Bonin, B., Bateman, P., & Lameyre, J. (2002). Igneous rocks. A classification and glossary of terms, 2. Cambridge University Press.
• Middlemost, E. A. (1986). Magmas and magmatic rocks: an introduction to igneous petrology.
• Shelley, D. (1993). Igneous and metamorphic rocks under the microscope: classification, textures, microstructures and mineral preferred-orientations.
• Vernon, R. H. & Clarke, G. L. (2008): Principles of Metamorphic Petrology. Cambridge University Press.
Photo

| | | |
| --- | --- | --- |
| Green hornblende and plagioclase altered by sericite in a diorite from Ilmenau, Thuringen (Germany). PPL image, 2x (Field of view = 7mm) | Green hornblende and plagioclase altered by sericite in a diorite from Ilmenau, Thuringen (Germany). PPL image, 2x (Field of view = 7mm) | Green hornblende and plagioclase altered by sericite in a diorite from Ilmenau, Thuringen (Germany). PPL image, 2x (Field of view = 7mm) |
| Green hornblende and plagioclase altered by sericite in a diorite from Ilmenau, Thuringen (Germany). XPL image, 2x (Field of view = 7mm) | Green hornblende and plagioclase altered by sericite in a diorite from Ilmenau, Thuringen (Germany). PPL image, 2x (Field of view = 7mm) | Green hornblende and plagioclase altered by sericite in a diorite from Ilmenau, Thuringen (Germany). XPL image, 2x (Field of view = 7mm) |
| Green hornblende and plagioclase altered by sericite in a diorite from Ilmenau, Thuringen (Germany). XPL image, 2x (Field of view = 7mm) | Green hornblende and plagioclase altered by sericite in a diorite from Ilmenau, Thuringen (Germany). PPL image, 2x (Field of view = 7mm) | Brown hornblende and plagioclase in a diorite. PPL image, 2x (Field of view = 7mm) |
| Brown hornblende and plagioclase in a diorite. XPL image, 2x (Field of view = 7mm) | Brown hornblende and plagioclase in a diorite. PPL image, 2x (Field of view = 7mm) | Brown hornblende and plagioclase in a diorite. XPL image, 2x (Field of view = 7mm) |
| Brown hornblende and plagioclase in a diorite. PPL image, 2x (Field of view = 7mm) | Brown hornblende and plagioclase in a diorite. PPL image, 2x (Field of view = 7mm) | Brown hornblende and plagioclase in a diorite. XPL image, 2x (Field of view = 7mm) |