Niocalite Carbonatite
The Oka complex is part of the Monteregian petrographic province, a group of igneous intrusions lying along an arc extending for about 140 miles from Oka through Montreal to the Western Appalachians. The silica content of the rocks increases eastward and the emplacement of the alkaline rocks is believed to have been controlled by a deep-seated fault system (Gold, 1969).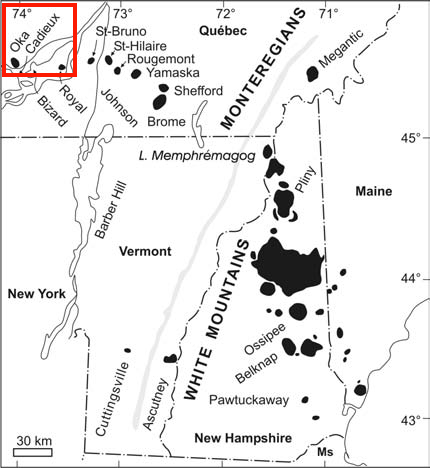 Location and geological setting of the White Mountains and Monteregian Hills (modified after Eby, 1987).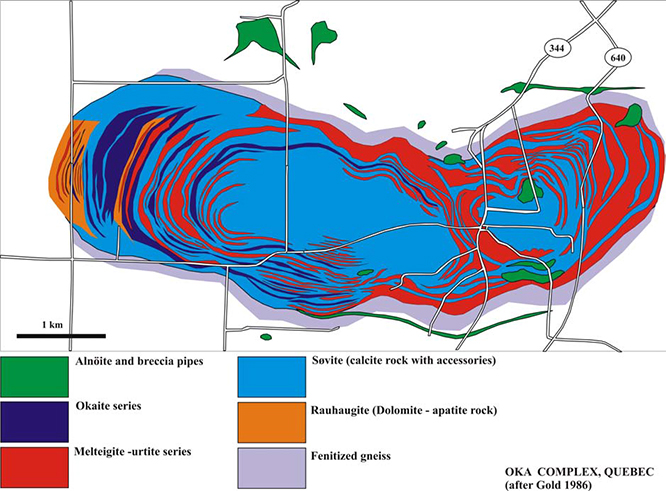 Geological map of the Oka Carbonatite Complex; the complex is elongated NW-SE.
The Oka complex is a double-ring structure with an oval outline (a distorted figure 8 Gold et al. 1986), 4.5 x 1.5 miles, with the major axis trending northwest. It is emplaced into metamorphic rocks which consists of gneisses and anorthosites of the Grenville structural province. An oval-shaped carbonatite core underlies more than half the surface area and is enclosed by crescentic tabular masses and ring-dyke of ultramafic alkalic rocks. Gold (1969) recognized, at least 7 carbonatite units. They consist of medium- to coarse-grained calcite rocks with variable amounts of apatite, magnetite, biotite, pyroxene, melilite, monticellite, melanite, and niocalite as accessory minerals. The units commonly occur in the form of bands concentric with the margins of the complex or as arcuate tabular bodies.
Rocks of the complex can be divided into four series:
1) Carbonatites.
2) Alnoite and alnoite breccia.
3) Melteigite-urtite series. and
4) Okaite series.
1)
Carbonatites are a diverse group, but most of the carbonatite in the Oka complex are coarse-grained calcite-carbonatite (sovite) with accessory amounts of sodian augite, biotite, apatite, nepheline, monticellite, melilite, pyrochlore, perovskite, niocalite (Oka is the type locality), richterite, pyrite and pyrrhotite.
Different phases of sovite can be identified by their distinctive suites of accessory minerals. Dolomite-bearing carbonatites (rauhaugites) occur mainly in the NW end of the complex. Locally the carbonatites become very micaceous (biotite or phlogopite) and qualify as glimmerite.
The economically important rocks here are almost all carbonatites, particularly a pyrochlore-sovite in the northern ring.
2)
Anoites are ultramafic rock with phenocrysts of phlogopite-biotite, olivine and augite in a groundmass of melilite (often altered to calcite), augite and/or biotite with minor perovskite, garnet and calcite. Oka alnoite and more usually breccias with alnoite matrix form dykes and plugs scattered around the complex and in the surrounding gneisses. These are typical Monteregian alnoites, i.e. melilite and perovskite are usually absent.
3)
Melteigite-urtites are the main feldspathoid-bearing species in this complex. Most are fine-grained ijolites - nepheline-bearing (nepheline up to 50%) with variable mafic minerals such as alkali pyroxene, alkali amphiboles, biotite and melilite (being feldspar-free). This series ranges from true urtite (>70% feldspathoid) to ultramafic melteigites (pyroxenites). Some varieties contain exotic phases such as melanite garnet and wollastonite.
4)
Okaite is a melilite-rich rock with accessory amounts of nepheline, hauyne, perovskite, apatite, biotite, magnetite and calcite. In this complex, modal variations link the true okaite with a host of unusual relatives, such as nepheline-okaite, hauyne-okaite, titanaugite-bearing nepheline-okaite, and melilite-pyroxenites, such as nepheline-jacupirangite and jacupirangite.
The emplacement history of the complex is considered to be (Gold et al. 1986):
1. Fenitization of the host rocks by precursor fluids to the first magmas, followed by the emplacement of dykes and ring-dykes of sovite. Some of the country rocks may have been transformed into ijolite by the fenitization (metasomatic addition of Na, Fe3+, P to the Grenville gneisses).
2. Emplacement of early monticellite sovite.
3. Emplacement of okaite-jacupirangite cone sheets.
4. Intrusion of the main pyrochlore sovite, followed by another monticellite sovite.
5. Minor dykes of ijolite, many broken into boudin trains.
6. Hydrothermal activity along cone sheet-type fractures causing biotitization (glimmerites) and thorium metasomatism.
7. Late sovite and rauhaugite cone sheets and dykes (some with rare earth minerals).
8. Late diabase and minette dykes.
9. Alnoite dykes and breccia pipes.
Gold considers the Oka rocks to be differentiates from an alkali peridotite magma. The magma chamber is inferred to have had a cylindrical shape with volatiles being trapped at the top (yielding the carbonate rocks) and kimberlitic rock types being developed near the base. Watkinson and Wyllie (1971), on the basis of experimental studies, suggested that the various Oka rocks could be produced by the fractional crystallization of a carbonated nepheline-rich melt. The crystallization sequence is envisaged as being ijolite series + nepheline okaite + okaite + carbonatite. The sodium-rich, aqueous vapor-phase observed in the experimental runs might correspond to the fenitizing agent.
Bibliography
• Gold, D.P. (1969): The diatreme breccia pipes and dykes and the related alnoite, kimberlite and carbonatite intrusions occurring in the Montreal and Oka areas, Quebec, Part II, The Oka carbonatite and alkaline complex ; In Geology of Monteregian Hills, Cuidebook, Gaol. Assoc. Canada-Min. Assoc. Canada field trips.
•Gold, D.P.; Eby, G.N.; Bell, K.; Vallée, M. (1986): Carbonatites, diatremes and ultra-alkaline rocks in the Oka area, Quebec. In Geological Association of Canada Guidebook; Geological Association of Canada: St. John's, NL, Canada, 1986.
•Shafiqullah, M., Tupper, W.M., & Cole, T.J.S. (1970): K-Ar age of the carbonatite complex, Oka, Quebec. Canadian Mineralogist, 10, pp. 541-552. Eby, G.N. (1987): The Monteregian Hills and White Mountain alkaline igneous provinces, eastern North America. In Alkaline igneous rocks. Edited by J.G. Fitton and B.G.J. Upton.Geological Society Special Publication No. 30, pp. 433-447.
Photo


Apatite (colorless) and calcite in a plutonic carbonatite (sovite) from Oka complex, Quebec, Canada. PPL image, 1x (Field of view = 9mm)


Apatite (I order gray) and calcite in a plutonic carbonatite (sovite) from Oka complex, Quebec, Canada. XPL image, 1x (Field of view = 9mm)


Niocalite crystals (high birefringence), apatite (I order gray) and calcite in a plutonic carbonatite (sovite) from Oka complex, Quebec, Canada. PPL image, 1x (Field of view = 9mm)


Calcite in a plutonic carbonatite (sovite) from Oka complex, Quebec, Canada. PPL image, 1x (Field of view = 9mm)


Calcite in a plutonic carbonatite (sovite) from Oka complex, Quebec, Canada. XPL image, 1x (Field of view = 9mm)


Calcite in a plutonic carbonatite (sovite) from Oka complex, Quebec, Canada. PPL image, 2x (Field of view = 7mm)


Niocalite crystals (high relief), apatite (colorless) and calcite in a plutonic carbonatite (sovite) from Oka complex, Quebec, Canada. PPL image, 1x (Field of view = 9mm)


Niocalite crystals (high birefringence), apatite (I order gray) and calcite in a plutonic carbonatite (sovite) from Oka complex, Quebec, Canada. XPL image, 1x (Field of view = 9mm)


Niocalite crystals (high relief), apatite (colorless) and calcite in a plutonic carbonatite (sovite) from Oka complex, Quebec, Canada. PPL image, 2x (Field of view = 7mm)


Niocalite crystals (high birefringence), apatite (I order gray) and calcite in a plutonic carbonatite (sovite) from Oka complex, Quebec, Canada. XPL image, 2x (Field of view = 7mm)


Niocalite crystals (high birefringence), apatite (I order gray) and calcite in a plutonic carbonatite (sovite) from Oka complex, Quebec, Canada. XPL image, 2x (Field of view = 7mm)


Niocalite crystals (high relief), apatite (colorless) and calcite in a plutonic carbonatite (sovite) from Oka complex, Quebec, Canada. PPL image, 2x (Field of view = 7mm)


Niocalite crystals (high birefringence), apatite (I order gray) and calcite in a plutonic carbonatite (sovite) from Oka complex, Quebec, Canada. XPL image, 2x (Field of view = 7mm)


Niocalite crystals (high relief), apatite (colorless) and calcite in a plutonic carbonatite (sovite) from Oka complex, Quebec, Canada. PPL image, 2x (Field of view = 7mm)


Niocalite crystals (high birefringence), apatite (I order gray) and calcite in a plutonic carbonatite (sovite) from Oka complex, Quebec, Canada. XPL image, 2x (Field of view = 7mm)


Niocalite crystals (high relief) and calcite in a plutonic carbonatite (sovite) from Oka complex, Quebec, Canada. PPL image, 10x (Field of view = 2mm)


Niocalite crystals (high birefringence) and calcite in a plutonic carbonatite (sovite) from Oka complex, Quebec, Canada. XPL image, 10x (Field of view = 2mm)


Niocalite crystals (high relief) and calcite in a plutonic carbonatite (sovite) from Oka complex, Quebec, Canada. PPL image, 10x (Field of view = 2mm)


Niocalite crystals (high birefringence) and calcite in a plutonic carbonatite (sovite) from Oka complex, Quebec, Canada. XPL image, 10x (Field of view = 2mm)


Niocalite crystals (high birefringence), apatite (I order gray) and calcite in a plutonic carbonatite (sovite) from Oka complex, Quebec, Canada. XPL image, 10x (Field of view = 2mm)


Niocalite crystals (high birefringence), apatite (I order gray) and calcite in a plutonic carbonatite (sovite) from Oka complex, Quebec, Canada. XPL image, 10x (Field of view = 2mm)


Niocalite crystals (high relief) and calcite in a plutonic carbonatite (sovite) from Oka complex, Quebec, Canada. PPL image, 10x (Field of view = 2mm)


Niocalite crystals (high birefringence), apatite (I order gray) and calcite in a plutonic carbonatite (sovite) from Oka complex, Quebec, Canada. XPL image, 10x (Field of view = 2mm)


Niocalite crystals (high birefringence), apatite (I order gray) and calcite in a plutonic carbonatite (sovite) from Oka complex, Quebec, Canada. XPL image, 10x (Field of view = 2mm)


Niocalite crystals (high relief) and calcite in a plutonic carbonatite (sovite) from Oka complex, Quebec, Canada. PPL image, 10x (Field of view = 2mm)


Niocalite crystals (high birefringence) and calcite in a plutonic carbonatite (sovite) from Oka complex, Quebec, Canada. XPL image, 10x (Field of view = 2mm)


Niocalite crystals (high birefringence) and calcite in a plutonic carbonatite (sovite) from Oka complex, Quebec, Canada. XPL image, 10x (Field of view = 2mm)


Apatite crystals (I order gray) and calcite in a plutonic carbonatite (sovite) from Oka complex, Quebec, Canada. XPL image, 10x (Field of view = 2mm)


Apatite crystals (I order gray) and calcite in a plutonic carbonatite (sovite) from Oka complex, Quebec, Canada. XPL image, 10x (Field of view = 2mm)


Apatite crystals (I order gray) and calcite in a plutonic carbonatite (sovite) from Oka complex, Quebec, Canada. XPL image, 10x (Field of view = 2mm)


Niocalite crystals (high birefringence) and calcite in a plutonic carbonatite (sovite) from Oka complex, Quebec, Canada. XPL image, 10x (Field of view = 2mm)


Niocalite crystals (high birefringence) and calcite in a plutonic carbonatite (sovite) from Oka complex, Quebec, Canada. XPL image, 20x (Field of view = 1mm)


Apatite crystals (I order gray) and calcite in a plutonic carbonatite (sovite) from Oka complex, Quebec, Canada. XPL image, 10x (Field of view = 2mm)


Niocalite crystals (high birefringence) and calcite in a plutonic carbonatite (sovite) from Oka complex, Quebec, Canada. XPL image, 10x (Field of view = 2mm)


Niocalite crystals (high birefringence) and calcite in a plutonic carbonatite (sovite) from Oka complex, Quebec, Canada. XPL image, 10x (Field of view = 2mm)


Niocalite crystals (high birefringence) and calcite in a plutonic carbonatite (sovite) from Oka complex, Quebec, Canada. XPL image, 10x (Field of view = 2mm)


Twinning Planes in Calcite in a plutonic carbonatite (sovite) from Oka complex, Quebec, Canada. XPL image, 20x (Field of view = 1mm)


Twinning Planes in Calcite in a plutonic carbonatite (sovite) from Oka complex, Quebec, Canada. XPL image, 20x (Field of view = 1mm)


Twinning Planes in Calcite in a plutonic carbonatite (sovite) from Oka complex, Quebec, Canada. XPL image, 20x (Field of view = 1mm)


Twinning Planes in Calcite in a plutonic carbonatite (sovite) from Oka complex, Quebec, Canada. XPL image, 20x (Field of view = 1mm)


Twinning Planes in Calcite in a plutonic carbonatite (sovite) from Oka complex, Quebec, Canada. XPL image, 20x (Field of view = 1mm)


Twinning Planes in Calcite in a plutonic carbonatite (sovite) from Oka complex, Quebec, Canada. XPL image, 20x (Field of view = 1mm)


Twinning Planes in Calcite in a plutonic carbonatite (sovite) from Oka complex, Quebec, Canada. XPL image, 20x (Field of view = 1mm)


Twinning Planes in Calcite in a plutonic carbonatite (sovite) from Oka complex, Quebec, Canada. XPL image, 20x (Field of view = 1mm)


Twinning Planes in Calcite in a plutonic carbonatite (sovite) from Oka complex, Quebec, Canada. XPL image, 20x (Field of view = 1mm)


Twinning Planes in Calcite in a plutonic carbonatite (sovite) from Oka complex, Quebec, Canada. XPL image, 20x (Field of view = 1mm)